Reading Time:
3
minutes
You have made a decision to move to better accounting software because your current system no longer meets all your needs. Changing accounting software is a very delicate task and can affect your business operations, so it's important that you have a plan in place before switching.
When to switch to a new accounting system?
The ideal time to move your data to new software is usually at the end of the fiscal year. For a smooth transfer, you must also plan for a transition phase. This will begin several months before the final migration date. Even before this transition, you will need to set aside time to back up existing data. This will act as a checkpoint for you to start over if things go wayward.
It's important to conduct several checks and determine if there are any errors in your current data. This is also a good time to clean up unwanted data and rectify glitches so that you don't carry them forward into the new system.
These preparations take time, but sticking to a final migration date will relieve some of the stress surrounding the change and cater to long-term results.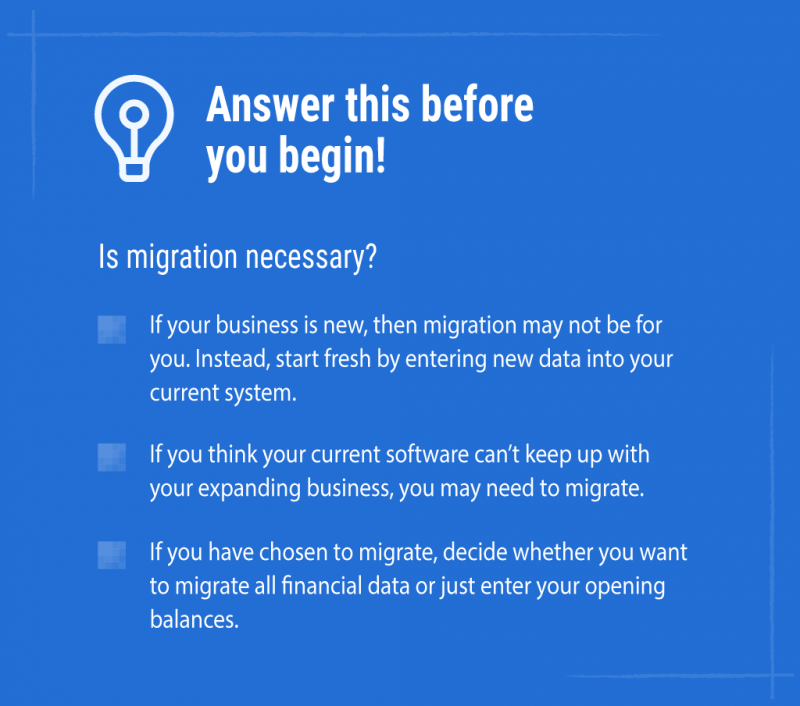 10 Simple Steps to Transition to New Accounting Software
So you are settled on migrating, and you have chosen a date. Now, follow the below steps to transition to a new accounting software.
1. Finalise a cutoff date 
Cutoff date is when you start using the new system and discontinue using the previous accounting system. Although you can be flexible to choose any date, it is a good practice to do bank reconciliation for end of one month and start using new software on the first day of the next month.
2. Inform your accountant
Keep your accountant updated about your decision. Their expertise may even help you choose the right package for your business. They must be comfortable using the software or at least be able to export the necessary information.
3. Research and shortlist the right fit
Know your requirements before you start looking for software. Make use of free trials and see how comfortable you are with different products. Look out for additional useful features, like cloud computing, which you might use as your business grows.
4. Audit your IT infrastructure
Software is only half of the equation. You need to check if the new software is compatible with your existing hardware. If your existing infrastructure can't run the software you'd like, you might have to settle for the next best option or upgrade your hardware. Remember that just because software is expensive doesn't mean it's the best. There are better systems that work well on all browsers and don't have specific hardware requirements.
5. Back up your data
Before you make a system shift, ensure that your data is backed up and readily available. If something goes wrong while migrating, you won't lose important information.
6. Do a trial run
Before shifting all your data to the new system database, run a trial balance or create a balance sheet, and save it. Doing so will ensure the information is computed properly by your chosen software.
7. Define quantifiable goals
Quantifiable goals are ones that regularly track business performance. Defining these goals will help management during the planning, implementation, and control phases of the software transition. It's an important step because it helps you decide the best data format for achieving these objectives and planning future steps.
8. Format and map your current data
Different accounting systems support different data formats when recording information. Before transfer, your data must be error-free and saved in the recommended format. A lot of businesses choose to create a backup on Excel, but the data on these spreadsheets is vulnerable to tampering and transcription errors.
Creating a data map ensures a hassle-free transfer because you know how your information will look in the new format.
9. Test imported data
You must run tests on the imported data to check if the software works optimally with minimal errors. You can also compare the reports from your old system with the new ones to check for descrepancies.
10. Train your users
Allow enough time to train and test your users before executing the new accounting system. Provide standard system procedures to learn the new software, and make sure that users comply to it. This will help you avoid major glitches caused by small issues like inaccurate data entry.
Run your business smoothly
Now that you have an accounting system migration checklist in your possession, try following it without missing any steps. Learn and understand more about the accounting software that you have shortlisted. Think about different software packages and choose the one that makes the cut. Zoho Books cloud accounting system is time-saving, safe and can help you view all your financial records in real-time. Its flexibility allows you and your accountants to make informed decisions from any place, as long as you are connected to the internet. Take our accounting software for a spin for free and learn how it can help your business.