Reading Time:
4
minutes
Hearing the words "bank reconciliation" may make you groan, and we understand why!
Reconciling your accounts manually can be a long, cumbersome process prone to human error and further risks, costing you time and money. If you have a business with multiple accounts, it may be more difficult to oversee the entire process from importing to matching transactions. You may spend more time looking through transactions that actually match, which can increase the risk of you missing incorrect entries.
In a world where we're all looking for instant solutions, cloud-based solutions offer the quickest and easiest way to get your bank reconciliation done. processes. Cloud accounting ensures accuracy and better transparency, while added features and benefits can help you get a better idea of your financial position.
Zoho Books, a complete finance management software running on the cloud, can help with bank reconciliation and make your tedious accounting tasks easier.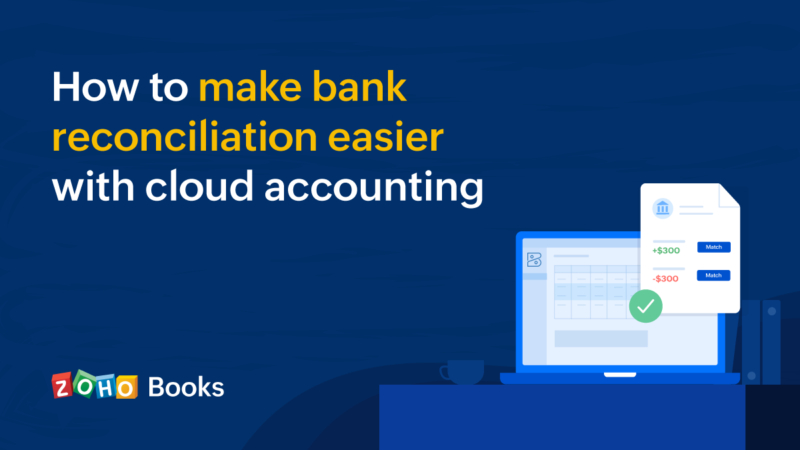 Why do you need cloud accounting for reconciliation?
Your business performance can sway at any time, so it's important to use the right information that's helpful for your business, now and in the long run. With a cloud solution, you'll get real-time, integrated data that you can access anywhere in the world. Reconciling your data smoothly with accurate information will give you a realistic picture of where your business stands, and can help you make smarter business decisions.
Learning how to complete a bank reconciliation isn't all a puzzle—it gets even simpler with the cloud. All you have to do is connect your bank account to your software, and voila! From there, you can import and categorize your bank transactions, then reconcile transactions from specific time periods.
The benefits of cloud accounting for bank reconciliation
It's efficient and quick
Once you add your bank accounts to your software, your data will be pulled from your different accounts and processed efficiently. You can easily view data from your bank statements, compare the data, and spot duplicate transactions. This helps you resolve them faster. Your cloud accounting software will help you find the best match between your bank statement and your records, reducing the workload for you and your staff.
With the online banking integrations Zoho Books offers, you can easily add and connect your bank account to your software to automatically import your financial data. You can even import feeds manually, if required. The banking overview dashboard also highlights duplicate entries, ensuring that your accounts are accurate and up to date. Zoho Books allows you to auto-forward bank statements to ensure that the statements emailed to you will automatically link with the software.
When you have several recurring transactions, like internet charges, transaction rules can help. In Zoho Books, you can automatically categorize your bank feed based on certain criteria you set. For instance, if you want to record certain withdrawals as stationery expenses, you can do so through these transaction rules. Similarly, a magazine subscription can be automatically marked as an expense, and this reduces the number of transactions you have to search for manually.
Moreover, you don't need to scour through each transaction manually while reconciling. If you want to complete an action for multiple transactions together, simply do a bulk action to categorize or delete transactions.
Better visibility and lower chances for fraud
The more people with access to your financial data, the more risky it is for you. This may lead to duplicate or fraudulent transactions that you may be unaware of until reconciliation.
Cloud accounting software, like Zoho Books, ensures that your financial data is secure, preventing further discrepancies from occurring during your reconciliation process. Your data will be stored safely in the cloud, so even if your device is stolen, your information will still be safe. You can also adjust the control your users have over your data, and restrict access to sensitive information to just a few trusted members of your company.
With a great transaction approval system in place, any transactions made by employees can be viewed, edited, and approved by you, making it all the more secure. Besides making this a more organized process, it will be an additional protection measure against errors that could easily be missed by others. When such tasks are streamlined and organized, everyone's on the same page and can make the reconciliation process smoother when it happens at the end of the month.
You can create a transaction approval workflow through Zoho Books, too. With this, employees can only carry transactions forward after you've approved them. For instance, if your employee has created a transaction and wants to mark it as paid, they have to submit it for approval first and can't continue until it's approved.
Provides accurate information
It's easy to miss an amount or misread a figure during reconciliation, and if you don't spot the discrepancy, it could mean more work for you later on. With automation, errors are easily detected so you can be assured that your accounts are consistent and accurate. You can spot and rectify issues while matching and categorizing your transactions, so you can always base your business decisions on accurate information.
Matching and categorizing transactions are made simpler via Zoho Books. Your deposits will automatically be matched, and you can make any adjustments you need to. For example, while reconciling, you may have forgotten an expense or there may be a slight difference between the actual amount and what's in your books. Don't worry! You can easily add an adjustment for anything that wasn't previously accounted for.
Manual transactions can also be matched with the transactions you've made in Zoho Books. If you've incorrectly matched them, you just need to unmatch your transactions, and it will revert  to how it was before the error.
If you select an uncategorized transaction, Zoho Books will automatically suggest the best matches (transactions made on the same date) and possible matches (transactions recorded in the 90 days following the bank statement's date) for that transaction. You even have filters to search for any particular transaction in mind, and can match them accordingly.
Gives a better understanding of your business performance
One of the biggest pros of cloud accounting is the real-time analytical data it provides. Having a clear understanding of your finances will help you when you're comparing your records with your bank statements. You'll have interactive dashboards to show you the progress and status of your incoming and outgoing cash flow, and reports that will display your overall financial position.
With Zoho Books, you'll get a smart dashboard where you can see your pending payments and receipts, as well as an overview of how your business has performed over the last period. This will give you a good understanding of your financial position, and will help you make better business decisions moving forward.
Reconciliation through the cloud can help your business sail smoothly! It's simple, smart, and accurate. When you let your software do most of the work for you, you can focus better and get improved results. It's a win-win situation!