Reading Time:
3
minutes
If you are a business owner who accepts paper checks, you know that it can take a while before the money arrives in your account. Making check payments for your own bills isn't much better because until your vendor has cashed your check, you can't really see how much money you have at your disposal. In addition, you need to deal with the usual complexities that come with running a business: following up with customers for payments, reminding yourself to pay your bills on time, and accounting for all these transactions in your books.
Imagine a situation where you can do all this online—especially the check payment part. That's where ACH comes in. ACH is essentially a system for online checks. Instead of making payments by paper check, you simply enter your bank details online to transfer the money.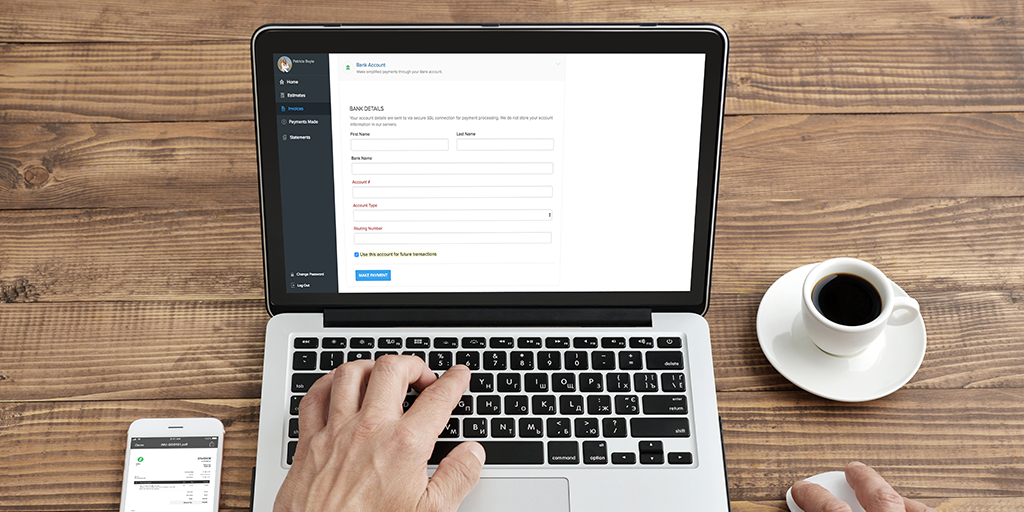 When the ACH mechanism works with an accounting software like Zoho Books, you can automate the entire process, trigger payments, and record transactions in a fraction of the time it would take to complete the paper check payment process.
Let's take a look at how the ACH feature in Zoho Books will simplify your collection, payment, and bookkeeping processes.
Automate repetitive tasks and complete your accounting process
Keeping tabs on your unpaid invoices and following up with customers for payments takes a lot of time. You also need to record each payment that you receive, update the status of the invoice, and reconcile your bank transactions to keep your books updated.
With ACH and Zoho Books, you can automatically send payment reminders to your customers a few days before an invoice is due, and even include a payment link. When the customer makes the payment, the corresponding invoice is automatically marked as paid. If you've set up bank feeds in Zoho Books, the entries will automatically appear in your accounting environment, where you can match them with your invoices and reconcile your accounts easily.
Take control of recurring payments
If you take recurring payments from your customers, you can set up automated payments with ACH and Zoho Books. To do this, your customers must submit an authorization form with their bank. Once you have your customer's approval to pull funds from their account, you can configure the settings in Zoho Books to send an invoice and initiate payment from your end automatically when it is due. With this feature, you can be certain that you will get paid on a certain date, without having to follow up with your customers each time a payment is pending. This puts you in control of the payments that are due to you.
Accepting Customer Payments with ACH in Zoho Books
One-time Payments
With Zoho Books, you can accept ACH payments through Forte or Authorize.net. Once you've set up your account in one of these gateways in Zoho Books, when you send an invoice, a payment link will be included in the email.
If you've set up payment reminders, Zoho Books will automatically send the customer an email reminding them about their unpaid invoice. Your customers can use the payment link that comes along with the reminder to transfer money through ACH. The corresponding invoice is updated as soon as the payment is made.
Recurring Payments
For recurring payments with Zoho Books, you can set up a recurring profile for your customers containing their billing details. You can also associate payment information such as the customer's bank account number and routing number in their profile. The system will then automatically collect the amount due from your customer's account and send them an invoice. Zoho Books will mark the payment status as initiated, and the corresponding invoice will be marked as paid if the transaction is successful. If the transaction fails, the status of the invoice will remain unpaid, and you will receive a notification from Zoho Books so that you can follow up with the customer to figure out what went wrong.
Paying your vendor bills with the ACH feature in Zoho Books
You can use Zoho Books to record and organize all the bills you receive from your vendors. You can also set reminders to help you make bill payments on time. When it's time to make a payment, you just enter your vendor's bank account details and complete the payment procedure. When you initiate the transaction, the system updates the status of your bill and records the payment automatically in Zoho Books. If the transaction fails for any reason, the system will automatically delete the payment and the bill will remain open.
Because your transactions are updated almost instantly, your financial reports such as your cash flow statement will always reflect your current financial status.
Doing things the old-fashioned way may make you feel comfortable. However, you may not realize how many inefficiencies come along with your old process. It is better not to take chances with manual processes when it comes to handling your business finances. Using online accounting software that integrates with ACH, like Zoho Books, will streamline your collections and payables process, automate time-consuming tasks, and always give you an up-to-date picture of your finances.
---

Source: *2017 Consumer Financial Literacy Survey. Retrieved from https://nfcc.org/wp-content/uploads/2017/03/NFCC_BECU_2017-FLS_datasheet-with-key-findings.pdf