Welcome to our blog series on the exciting capabilities of online forms!
Picture this: you're running a thriving e-commerce store and the flood of orders keeps pouring in day after day. Managing a constant influx of orders can be incredibly exhausting, but it's a necessary challenge for the growth of your business.
Here's where online forms come to the rescue! While online forms have long been recognized as effective tools for gathering data, their potential extends far beyond this capability. They can not only get your customers to effortlessly pick the products they desire, select the shipping method, and provide their contact details, but can go on and get you the payment for orders, generate an invoice personalized for each customer, and send confirmation emails to your customers—all of this happening with minimal effort on your part!
From streamlining workflows to improving customer engagement, let's explore the dynamic uses and untapped potential of online forms that often go unnoticed, and discover ways online forms can transform your audience interactions, while propelling your business to new heights, one at a time, in this blog series.
In this post, we'll discuss using online forms to accept payments.
Whether you're selling products, accepting donations, or processing event registrations, online forms provide a secure and user-friendly platform for online payments, while streamlining transactions and creating new opportunities for revenue generation!
How can online payment forms benefit your business?
By incorporating online payment options into your forms, you can:
Provide convenience to your customers. They can easily complete transactions from any location, without manual processes. This may lead to greater customer satisfaction and increased sales.

Eliminate geographical limitations to expand your customer base and market reach. Whether your customers are located in different cities or even different countries, they can make payments from any place with an internet connection.

Ensure customer payment details are exchanged securely and processed quickly. This instills confidence in customers and encourages them to make future purchases.

Reduce the administrative burden on your business. Manual management of payment checks, invoices, and accounting is minimized, saving time and resources. Payment records are automatically updated, eliminating the need for manual data entry.

Deploy reputable online payment gateways that implement advanced security measures to protect customer information. Payment gateways utilize encryption, fraud detection, and other security protocols to ensure secure payment processing and safeguard against unauthorized access and fraudulent activities.

Provide multiple payment gateway options, like PayPal or Stripe. Customers can choose the payment method that suits them best, increasing the chances of successful transactions.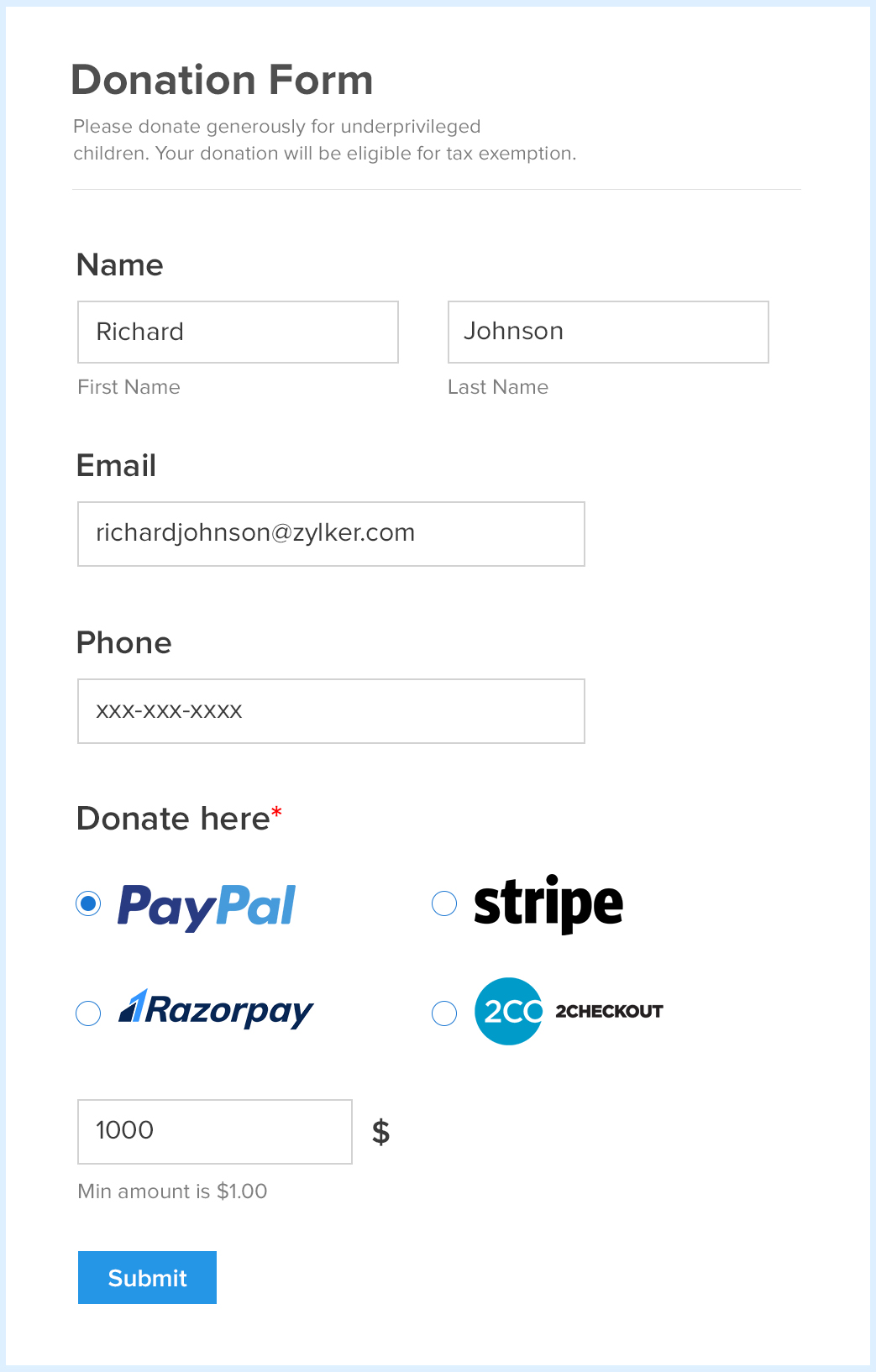 How does Zoho Forms help you collect payments?
Today's customers expect to make payments as soon as they finish adding items to their cart. Zoho Forms is a powerful, cross-industry solution that helps you collect payments through fully customizable online forms using the Payment field. Payments are processed through payment gateways that ensure the money from the customer's bank reaches the merchant's account safely. Zoho Forms seamlessly integrates with popular payment gateways, like PayPal, Stripe, Razorpay, Paytm, 2Checkout, Authorize.Net and Instamojo.
You can:
Provide convenience to your customers by accurately calculating the payment amount and auto-filling it.

Create dynamic payment forms and display customized payment amounts based on specific conditions, such as applying discounts, taxes, or shipping charges based on customer responses or order values.

Allow users to modify the payment amount, or restrict them from doing so, depending on your needs.

Collect payments in your choice of currency streamline your financial operations.

Automatically generate personalized invoices merged with payment form responses, and send them to customers as email attachments.

Trigger workflows, such as approvals, emails, and integrations, upon successful payment
With these effective features, Zoho Forms empowers you to create professional payment forms, sell products or services, and streamline your payment collection processes. Whether you're running an ecommerce store, accepting event registrations, or offering subscription-based services, Zoho Forms offers a comprehensive solution for collecting payments efficiently and securely.
Stay tuned for our upcoming posts as we reveal more powerful capabilities of online forms. See you soon!