The COVID-19 outbreak is doing a lot of economic damage. Unemployment is high and businesses are struggling with lost revenue, supply chain disruptions, quarantine measures, and factory shutdowns.
Economists suggest that recession is coming or already in progress, and the IMF projects the downturn to be the worst since the Great Depression. If you are a worried business owner or a C-suite executive, although the negative impact on the economy is out of your control, you can still work on steering your firm through this crisis.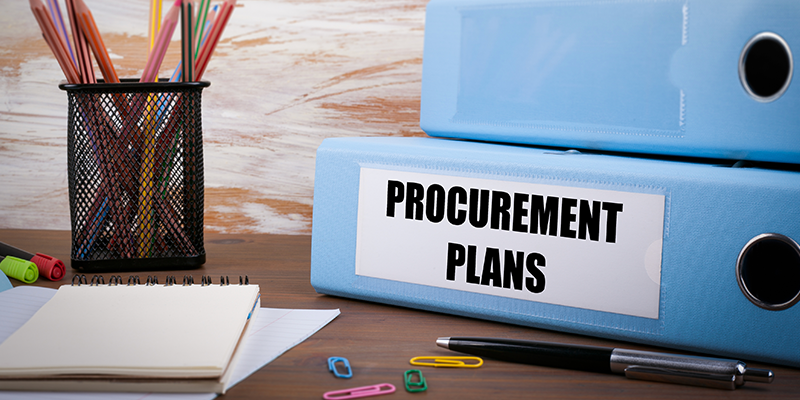 The optimal way to overcome this crisis is to focus on your firm's spend management practices. Typically, at times like these, firms drill deep into their sourcing plans, supply chain processes, risk management, and analytics. And to keep all these factors running smoothly, they first need to get their procurement strategies right. That means procurement is now the primary focus of attention, and rightly so.
A well-structured procurement team can mitigate the worst effects of a recession by helping firms manage their supply chains and associated financial, operational, and contractual risks. By diving deep into the different categories of spend and devising strategies for each, your team could reduce your spend on a whole new scale. 

In this article, we will see some effective procurement strategies for pivoting during a crisis by reducing spend and driving savings within the organization.
Build and maintain a strong procurement team
When the business environment begins to degrade, procurement teams must step in to aid in spend reductions and help their firm weather the storm. For this to happen, you must have a strong procurement team that covers all the areas like purchasing, strategic sourcing, contract management, and data analytics and reporting. As you are honing your procurement team, make it a practice to conduct reviews constantly and perform regular rollbacks when needed. This boosts employee morale, helps avoid massive layoffs, and is better for your firm in the long run.
Invest in contingency planning
Having a plan in place is the first step in risk management in a time of crisis. It's crucial to factor contingencies into your sourcing and procurement strategies, keeping in mind that the market conditions are not always going to be favourable.
Right now, your firm needs to ensure business continuity and avoid supply chain risks. To do this, you need to generate business plans, viable roadmaps, and liquidity scenarios, taking into account the revenue and operational costs of your firm and the different outcomes of current and future market disruptions. You can start by creating a roadmap involving all your stakeholders and getting a cross-functional review (which helps in increasing spend control as views are shared across different units of your firm). Then implement the roadmap by assigning roles and responsibilities to your employees so they can start realizing and tracking the targeted savings. Investing in emergency backup solutions keeps your team prepared and can help operations respond to the disruption efficiently.
Tighten spend and enhance visibility
During uncertain times, firms strive to tighten spend in all possible ways and delay large expenses of all sorts. Cutbacks are scheduled, and capital spend is put on hold. To retain normalcy, the procurement team needs visibility into diverse types of spending, from direct and indirect goods and services procured to contingent labour.
To attain that level of visibility, you need powerful spend analytics and a unified view of all your spend. For example, with visibility into purchase orders, your team can decide if the corresponding spend needs to be delayed, renegotiated, or terminated. Your spend analytics should highlight the increases and decreases in spend from different budget owners across your firm.
By having spend analytics in your repertoire, you can also prevent maverick or bypass spend. This usually occurs when budget owners procure from a non-preferred supplier instead of the preferred one (we will talk more about preferred and non-preferred suppliers in the vendor consolidation part of this article). Visibility into open purchase orders highlights preferred vendor spend and allows the procurement team to address the behaviour of any budget owners who aren't purchasing in accordance with the organization's policies. It can also help implement enhanced purchasing processes and advanced control over requisitions.
Renegotiate contracts
Renegotiating contracts instead of simply terminating them is a proactive way to drive cost savings and mitigate risk during crisis. Here's what you can do to kick off renegotiation:
First, have a clear picture of what your business currently needs. Your procurement team must be aware of what is important to your firm, and what the negotiables and non-negotiables are, before contacting the other party. Next, work on identifying contracts for which you think you can negotiate more favourable terms. For each contract you are considering renegotiating, familiarize yourself with the rights and obligations of both parties. While you are at it, decide on the best mechanisms for amending each contract—for example, would a call or an email sent to the other party regarding changes in the contract be acknowledged and considered an amendment?
It also helps to understand the external factors that could influence the negotiation. For example, in-depth knowledge on industry figures and spend trends could give you the upper hand in a negotiation. Do your homework and gather data to support your position. Another important factor to consider in contract renegotiation is Force Majeure. With the pandemic disrupting so many businesses, some of them have started to invoke the force majeure clauses in their contracts to protect themselves against contractual obligations. If your supplier is seeking to rely on a force majeure clause, they would have to prove a connection between the pandemic and their inability to fulfil the performance obligations cited by the contract. If your firm does not have a force majeure clause in a contract, it is advised to renegotiate and include such a clause.
Successful contract renegotiation requires quick access to contract terms and renewal dates, spend analytics, and solid relationships with the other parties who are ready to reduce spend and support your savings goals. Finally, even if you expect your negotiations to go well, make sure that all communication during the renegotiation is well documented, to avoid unnecessary confusion and to protect you in case of any litigation.
Monitor and strengthen your supplier base
You can't build a strong supplier base from scratch in a week, but you can focus on strengthening the existing one with some restructuring. Your procurement team can do this by effectively streamlining the supplier lifecycle to fit your current needs. This involves planning each step meticulously, from analysing and identifying key suppliers to working on approvals and transactions.
Identifying your key suppliers and building a flexible supplier base can be achieved with a risk-monitoring program with focus on building supply chain resilience. Here's how you can do this:
Proactively monitor your suppliers. Find out which ones are at risk, and which ones have contingency plans and alternatives in place. This provides insights into your suppliers' performance and helps you predict the risk to your own organization.

Monitor the potential trouble indicators: desperately short payment terms, delivery issues, and quality or performance issues.

Once you have identified your key suppliers, effective communication is the key. Educate your suppliers on where your firm stands currently. This in turn helps your suppliers assess how their cash flow would be impacted by their relationship with your firm, and provide services accordingly. Additionally, it's good to keep your suppliers informed if you are willing to continue to purchase the order volumes and pay them as per the previously agreed terms.

Collaborate with your suppliers to understand your cost structures and work on cost reduction strategies. There are many ways to go about this, like looking into different payment options, modifying payment terms, managing inventory in innovative ways, and so on.
To help strengthen your partnerships, make resources available to your critical suppliers to ensure business continuity and boost their cash flow. You might want to consider lending them equipment, or agreeing to shorter payment terms in exchange for discounts. Your procurement team can also leverage online supplier portals to offer your suppliers more visibility into the status of their purchase orders and payments.
Consolidate your vendor list
As a business grows and new products or services are needed, new vendors are brought in one after another. Before your procurement team knows it, you can end up with a mammoth supplier base where each supplier meets just one facet of your firm's needs. However, an oversized supplier base means it actually takes more time and work to get the best possible value. Especially in times of crisis, having a large supplier base is a liability, so vendor consolidation becomes important.
The goal of vendor consolidation is to solve the issue of overlapping suppliers providing the same product or service. It is accomplished by narrowing down the number of suppliers and offering a preferred vendor more orders in exchange for better prices. The increased order volume gives you more leverage with the preferred supplier, which allows you to reduce costs in the long run. Having fewer vendors gives you better visibility and control of your firm's purchasing, helping you reduce your spend. Consolidating vendors makes it easier to track and manage orders, deliveries, and billing, and you'll also find it easier to nurture good relationships with a smaller list of vendors.
Here's your takeaway!
At present, firms are deeply into disaster preparedness and recovery planning. It's important to remember that, apart from the COVID-19 crisis, there are other unconventional circumstances like natural disasters, and economic slowdown that cannot be avoided. The key to overcome such circumstances is to leverage the potential of your firm's procurement functions by focusing on contingency planning, and strengthening your supplier base. Procurement will continue to play an important role in the post-crisis recovery period. Hence, with a well-structured procurement team, and best-in-class strategies, you can help your business act faster and quickly align with the subsequent market conditions when crisis hits.