Reading Time:
4
minutes
When you start your business, hitting new customers is the only way you can progress, irrespective of the resources, time, and energy it consumes. However, without a proper plan, there can be a drastic mismatch between your investment and the actual ROI. That's why a profitable and sustainable business requires tracking your Customer Acquisition Cost (CAC).
If you worry too much about the amount it takes to acquire customers, you might likely miss out on potential customers and revenue. On the other hand, if you spend your funds without caution, you might fail to generate expected profits and be left without any funds to run the business. With the help of CAC analysis, you can find the right balance between how much you invest in attracting a customer and how much that customer is actually worth to the business. This guide will walk you through what CAC is, how to calculate it, and why a subscription business should monitor this metric closely.
What is Customer Acquisition Cost?
Customer Acquisition Cost (CAC) is the cost of acquiring a new customer over a certain period. It includes the money spent on sales and marketing channels over that specific time.
Why tracking CAC is important for any subscription business?
Measuring CAC helps a business prioritize the best-performing customer acquisition channels and effectively optimize the sales and marketing budgets. Let's look at some of the benefits of calculating your CAC as a subscription business owner.
Find the best acquisition channels
Being able to understand the cost to acquire new customers is critical to analyzing the ROI of your marketing and sales efforts. By tracking the CAC of each spend channel separately, you can dissect your entire marketing plan and determine the most cost-effective sources that bring more leads. You can figure out which channels are profitable and which ones are draining your resources.
For example, assume your business uses marketing channels such as social media, print media, and broadcast media to acquire new customers.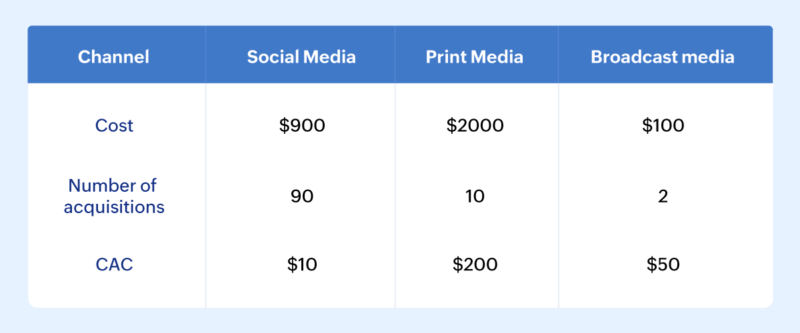 From this table, we can see that social media turns out to be a cost-effective way to acquire more leads when compared to print media, which has a high cost, and broadcast media, which acquired very few customers.
You can consider adjusting your marketing plans to invest more in social media to generate leads. These kinds of insights gained by tracking CAC are critical for your business amid the circumstance of using limited marketing resources to get the best ROI.
Simplifies decision making
It's hard not to include another crucial metric while discussing CAC: the Customer Lifetime Value (CLV).
CLV tells you how much money you can generate from a new customer on a recurring basis throughout their association with your business. When this metric is analyzed with CAC, you can figure out how much money you'll make when you acquire a new customer. The CAC and CLV comparison helps you choose the resources that can be lucratively invested in that customer, fine-tune the marketing strategies, and allocate budgets wisely.
Helps in determining the payback period
After investing substantial money to acquire new leads, it is only natural that you want to know when you can start profiting from them. Knowing your exact CAC value will help you estimate how much revenue each of your paying customers should generate so that you can offset the amount spent in acquiring them and move towards increasing your profit.
For example, let's imagine you spent $250 to acquire a new customer who pays $25 every month. In order to recoup the $250 you invested in acquiring them, that customer has to stay with you for at least 10 months. If that customer cancels their subscription within those 10 months, you have essentially made a loss. Instead, if it took you only $100 to acquire the same customer, you shall get the money back in four months.
This way, you will be able to see how valuable a customer is and know whom to prioritize to improve the profit margin. This profit can be passed on to the customers to improve your business stature in the market.
What are the components of CAC?
While it is obvious to include the marketing and sales cost, there are different indirect expenses, such as employee salaries and travel expenses, that help in acquiring customers that should be included in the total CAC determination. Because these costs are often prone to fluctuation, it's crucial to calculate these expenses each month, or over a specific period to track your CAC closely.
Marketing costs:
It includes the amount spent on digital marketing, traditional marketing, and event marketing (event sponsorships).
Advertising costs for digital marketing: This includes search engine marketing (Example: paid Ads on Google where the amount spent will directly go to adverts for business), social media marketing, affiliate marketing, display advertising, and native advertising.

Advertising costs for traditional marketing: This includes the amount spent on advertising in magazines, television, radio, newspapers, brochures, flyers, and so on.
To determine the ROI of such marketing campaigns, divide the revenue earned through ads by the total money spent on them.
Employee wages:
The salaries and associated benefits provided to the sales and marketing staff.
Software costs:
The costs incurred in using different software, tools, and platforms for managing marketing and sales processes. This may include using Customer Relationship Management (CRM) software like Zoho CRM, Marketing analytics software like Google Analytics, and so on.
Outsourcing costs:
The money spent on different contractors or consultants your business might use, such as freelance copywriters, graphic designers, photographers, influencers, and digital strategists.
Overhead or hidden costs:
Other overhead costs might include travel costs, entertainment and meal costs during meetings, office supplies, publicity costs (including PR), money spent on brand promotion, official events and conferences, or the time and resources spent to support free trial customers.
How is CAC measured?
The Customer Acquisition Cost is measured by calculating the total sum of your sales, marketing, and other costs that went into the customer acquisition process over a given period and dividing it by the total number of customers newly acquired over that period.
The formula for CAC calculation is:

For example, imagine your business spent $4000 on marketing and sales activities to acquire 100 customers.
Let's suppose this $4000 includes:
$1200 (employee salaries) +$600 (Ad campaigns) + $250 (technical costs) + $300 (publishing costs) + $600 (production costs) + $1050 (maintenance costs), and your business has acquired 100 new customers.
The CAC value would be,
Total acquisition cost incurred / Number of customers acquired = $4000 / 100 = $40
Key takeaway
Monitoring CAC value will continue to play a critical role in your company's marketing and sales strategy as the business grows. With the insights, you get from CAC and other important metrics, you can build a sustainable business with steady growth.
By using an online billing management solution that delivers automated reports on the most valuable metrics like CAC, you can derive insights to plan your business strategy while adapting to dynamic market conditions and accelerating your business growth.