What virtual reality (VR) means for the events industry
What virtual reality (VR) means for the events industry
Last Updated: August 10, 2021
4.6K Views
5 Min Read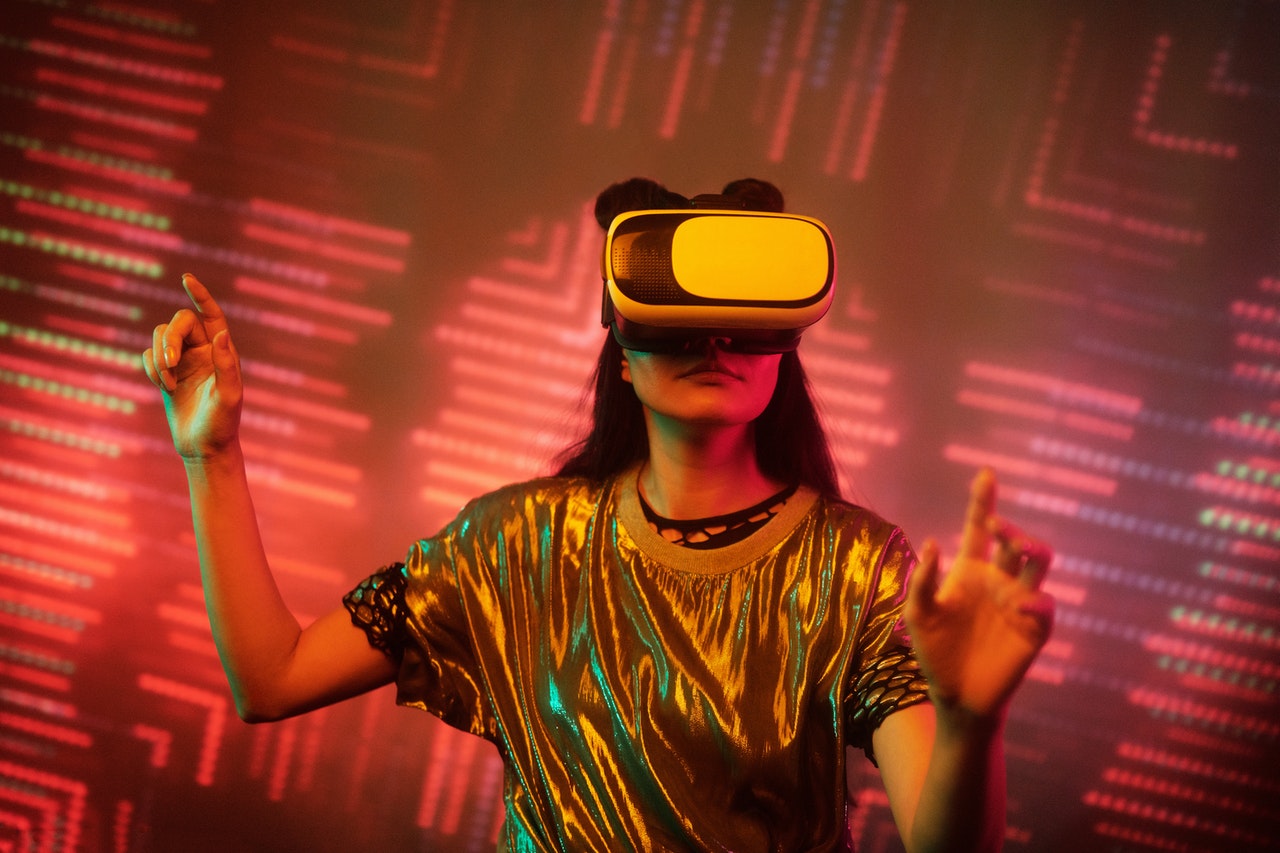 Did you know scientists started working on the concept of virtual reality way back in 1838 when Sir Charles Wheatstone created one of the earliest versions of the stereoscope? For the next 150 years or so, research in the virtual reality space was mostly focused on military and navigation, mainly aerospace. It was only in the early 1990s that VR made its way to the gaming world with 3D arcades.
In 2014, when Facebook acquired the Oculus VR company—one of the pioneers in VR headsets—for a whopping $2 billion USD, VR experiences became one step closer to being accessible by the general public. In the next couple of years, some of the biggest tech giants, including Google, Sony, and Samsung, began creating their own VR headsets.
Some examples of popular VR experiences
It was during this period (early 2015) that VR started making its way to experiential marketing. Notable VR experiences include The Wall Street Journal's VR ride of "21 years of the NASDAQ through a 3D interactive chart showing major events and turning points" in 2015. (If you've got a VR headset or VR viewer on your mobile phone, you can take a look at it here.)
The same year, both The Washington Post and The New York Times released their own VR experiences, the former a walking tour of the street art in Manhattan and the latter the Oval Office at the White House Correspondents' Association Dinner.
At CES in 2017, Intel gave audience members a VR ride that began with a wing suit flight over Moab, Utah and ended with courtside seats at an NCAA basketball game. Here's another interesting one: At the 2016 SXSW fest, Anheuser-Busch gave attendees a virtual tour of their St. Louis brewery where they could see, hear, smell, and even taste how their Budweiser is made.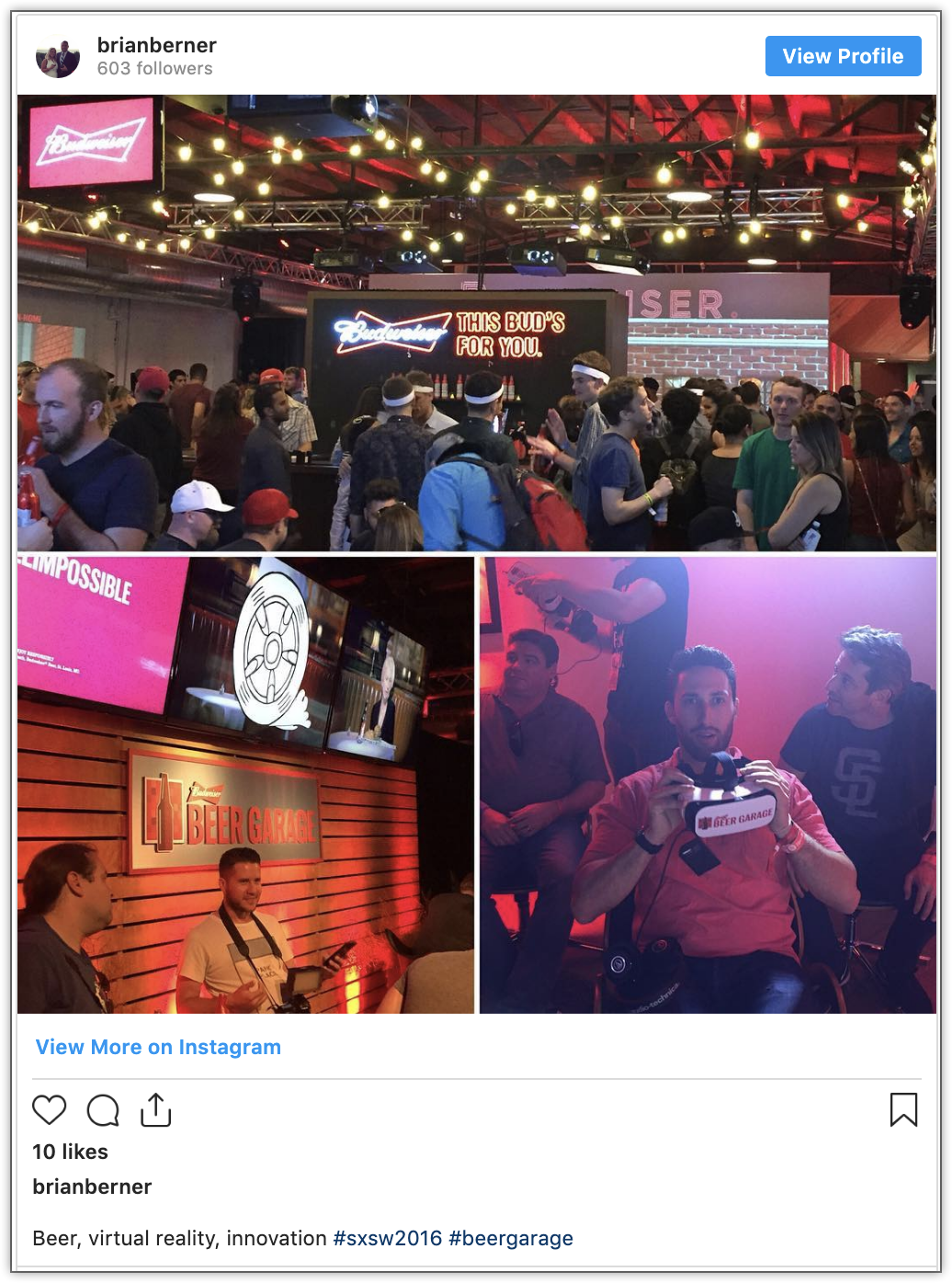 Why VR isn't that big an event trend—yet
While virtual reality has seen some success in the past—particularly with brand activations—the trend hasn't really caught on with the majority of event professionals and organizations. Unfortunately for everyone, despite being in existence for far too many years, VR hasn't proved to be the "future of technology" that most technologists believe it to be. Here are some reasons why:
Cost: Imagine having to rent or buy tens (if not hundreds) of VR headsets for your event, not to mention the other rather pricey technology that comes with creating the virtual reality experience. For most event planners, that's a lot.

Convenience: Maybe you do have the budget to rent some nifty VR headsets. The next problem is usability. How do you charge them? Do attendees have to plug your headset into their phones to view the experience? If so, you'll probably need more charging stations at the venue. Then comes other problems like breakages and repairs, for which you have to make allowances.

Accessibility: Most virtual reality experiences focus heavily on either visuals or sounds. Interactions also require precise movements. All of this means, at least for now, virtual reality experiences can become inaccessible for disabled people.

Discomfort: VR experiences—especially the longer ones—can become uncomfortable. From side effects like stiff shoulders and eye strain to motion sickness and nausea, people have reported many uncomfortable experiences when using VR headsets.
3 ways event organizers are using VR at events
Creating VR experiences at events is hard—of that, there is no doubt. However, recent months have seen a slight increase in the usage of virtual reality both at the actual event and even during the event planning process. One major reason for this is probably the current situation (social restrictions, lockdowns, and more) that have made event planners rely heavily on digital experiences.
The other reason is that, so far, virtual reality is one of the only available technologies to create completely immersive experiences. It also helps that VR rental companies have made renting VR headsets, kiosks, and other VR-related technology more affordable for event organizers.
Here are some ways event planners have incorporated VR into their events:
VR for venue visits
Virtual venue visits came into being more out of necessity than anything else. With in-person events making a comeback and hybrid events picking up pace, many event organizers have found virtual venue visits to be a huge time-saver. Also, with some countries experiencing another wave of COVID-19 infections, virtual visits are also so much safer.
With more and more hotels and venues offering 360º tours, it looks like these VR venue visits will stay long after the situation returns to normal. Not only are they convenient, they are also a sustainable alternative that can help lower an event's carbon impact by reducing travel.
VR for virtual events
Virtual events have a lot going for them, but one thing they are not is immersive. That's where VR comes into play. Creating VR experiences at virtual events is an easy way to give attendees engaging and fully immersive experiences. While people have called VR activities at onsite events isolating and even anti-social, that's not the case with virtual events where VR can make them feel more involved and engaged, especially with virtual event fatigue on the rise. Here's a quote by Daniel Dyboski-Bryant, the organizer of Educators in VR Summit, in an article on Forbes:
"We achieved everything we set out to do and more. We worked with all our preferred platforms. We let our community and volunteers shine. We shined a spotlight on the industry and proved the viability of this tech for education and large events. We got high-level attention. And we had a fantastic time."
The event was hosted in Microsoft's AltSpace VR and had around 170 speakers and over 2000 attendees.
VR for networking
When talking about virtual events, one thing you have to address is networking. Reports say networking is one of the biggest reasons people attend events. The advent of platforms like VRChat and Facebook's integration with Oculus headsets bring new opportunities for VR as a way to make virtual networking more interactive and engaging. Event planners have also started using VR to give virtual networking more depth. From speed networking to icebreaker games, most of the regular networking activities have been transformed into successive VR experiences.
Apart from these, VR has also been used during product launches to provide product demos and as part of event and brand storytelling activities.
Final thoughts
While virtual reality does have some limitations, it's also been stated in multiple reports that the technology is undergoing rapid developments that will solve a lot of our current challenges. VR headsets are also becoming more popular in households. It's said that nearly one in five consumers in the United States own a VR headset and this number is only going to increase in future years. VR reality is also a more eco-friendly option for immersive experiences when compared to onsite events.
All things considered, while VR has a lot going for it and things look positive, it looks like there are two things VR needs to make its place in the event industry—advanced tech and creative event organizers who can tap into this technology's potential and find new ways to use it at their events.
What is your opinion on VR and the events industry? Do you think it is a trend we can look forward to in 2022? Let us know in the comments below.
---
If, like us, you're more of a social person, let's connect on Twitter (@ZohoBackstage) and we'll keep you up-to-date with all the latest event news.
Nisha

Marketing and content at Zoho Backstage. Cultural misfit. Armchair traveler. Productivity geek. Sometimes, I write poetry. Sometimes, it rhymes.
Leave a Reply
Your email address will not be published. Required fields are marked