5 reflections on returning to in-person events beyond COVID-19
5 reflections on returning to in-person events beyond COVID-19
Last Updated: July 8, 2021
1.1K Views
5 Min Read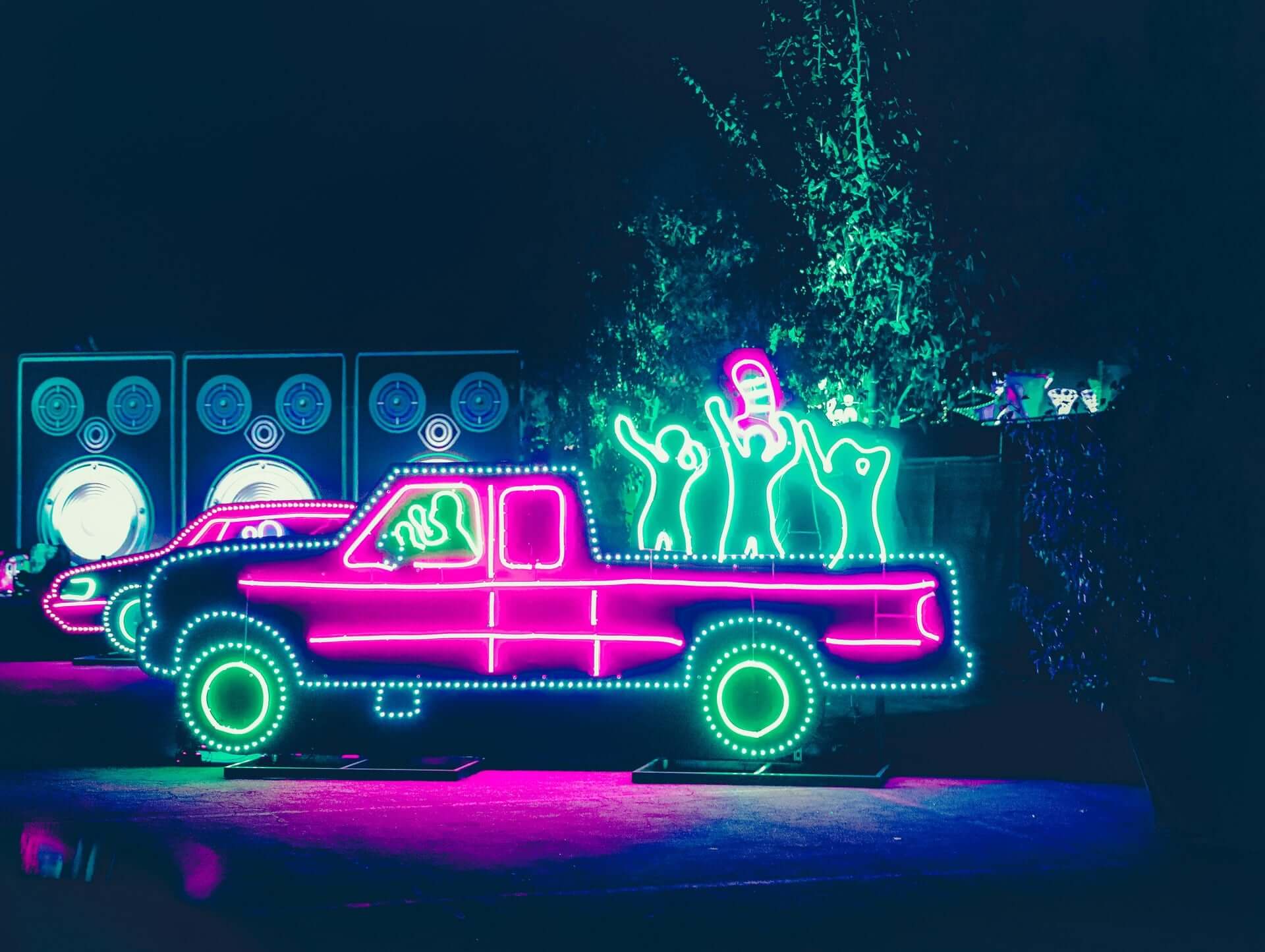 The COVID-19 pandemic might have made it impossible to host in-person gatherings, but there was never any doubt about their return. After all, the global economy depends on the live events industry. Through this time, both event professionals and event technologists have written extensively about how to plan for the future of in-person events—whether about mitigating risk, communicating with attendees, or ensuring safety at the venue. At The Green Room, we even created a whole bunch of resources on organizing events beyond COVID-19.
Now, more than a year later, it looks like in-person events are slowly but surely making a comeback. Many countries like the United Kingdom and Belgium have hosted pilot events to analyze safety and risk-mitigation at large-scale gatherings, and they're finding, for the most part, in favor of in-person events making a comeback. The success of events like MPI's World Education Congress in Las Vegas from July 15 to 17 also points in this direction.
But there's one thing we noticed—theorizing about the return of in-person events is a lot different from hosting one or being at one. Despite all the preparation, a few things caught even the most seasoned event professionals unaware. Here are five such examples.
Revenge-attending but also revenge-pricing
Revenge-attending was something a lot of event planners banked on for the successful return of in-person events. Julius Solaris, the former editor-in-chief of EventMB, compared this phenomenon to the "protection mechanism" that happens during starvation diets in his article. After months of starving for in-person interactions, people will do anything to meet face to face. And in some places, this is happening.
However, no one expected the other revenge phenomenon—revenge-pricing. Maybe it's the problem with global supply and demand, event professionals being used to the lower cost of producing virtual events perceiving the cost of in-person events to be higher, or just inflation, but prices seem to be spiking in both the events and travel industry. Recently, Sarah Shewey conducted a LinkedIn poll where 63% of the 113 participants felt live event vendors charge more now than they did before the COVID-19 pandemic.
And with hybrid events, you can only expect the cost to go even higher.
Anxiety around attending onsite events
A survey conducted by GES Research as early as June and July 2020 showed 88% of respondents were willing to attend tradeshows in person. However, fast forward to 2021, and it's a whole different story. When Linux Foundation conducted a survey of 67,000 of their previous attendees, only 34.5% of attendees were willing to travel domestically for an in-person event by September 2021. For international events, the number is 17.8%. The survey by Business Journals showed better results—around 50% of attendees were willing to attend in-person events—however, even that is a lot lower than the 88% of respondents in the previous year's survey.
Some ways that event planners are coping with this is by using the ABM approach to target quality attendees, being transparent about safety procedures, and offering flexible cancellation and refund policies. The last has been found especially useful in reducing no-shows and giving canceled tickets to people on the waitlist.
Over-stimulation, burnout, and more
When attendees finally overcome their apprehensions and make it to the venue, they face other problems, most notably burnout from too much stimulation. After a year of staying at home and avoiding social situations, attending events—especially multi-day ones—can turn out to be a tiring experience for a lot of attendees.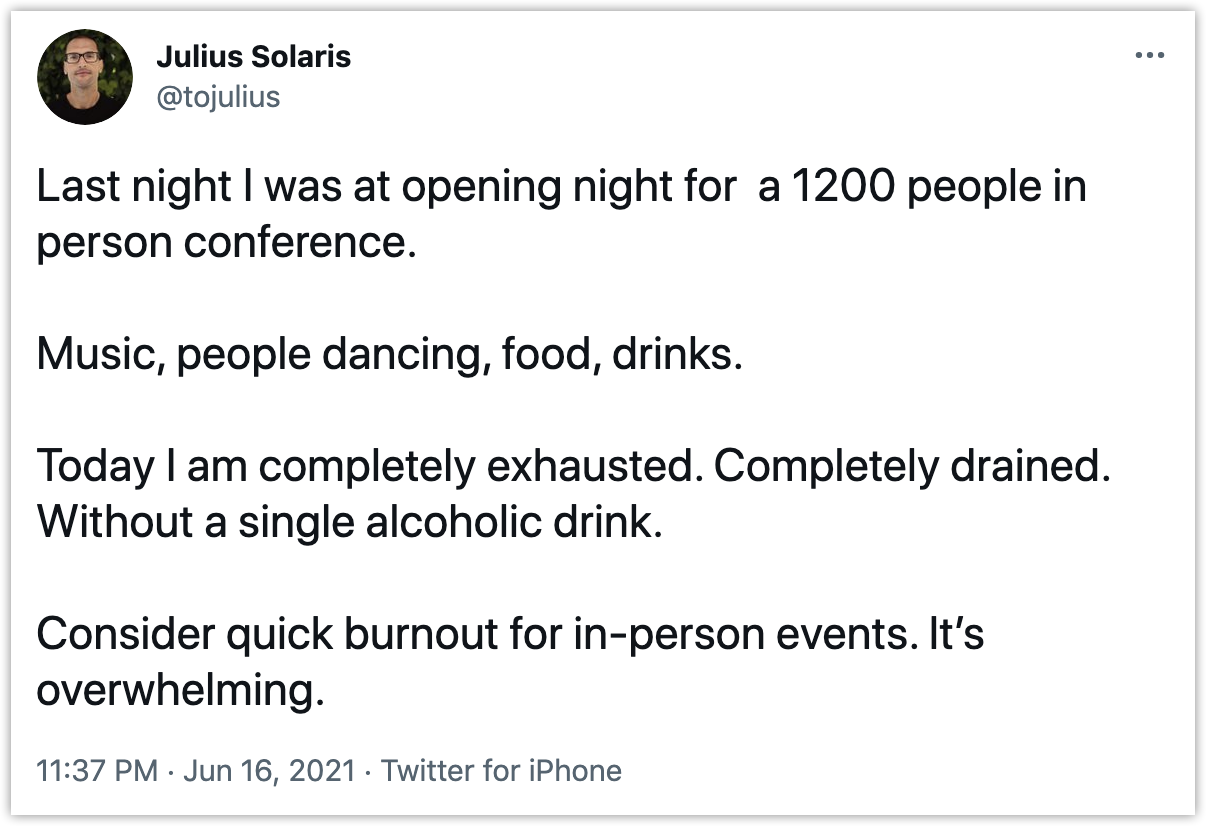 It's not just the fact that attendees are returning to in-person events after a long break, but also the fact that social interaction rules have changed a lot during this time that furthers their stress. For example, how do they greet fellow attendees—a hug, a fist bump, or a wave? Questions like this seem to add to their stress levels. Like event psychologist Victoria Matey mentioned in the above thread: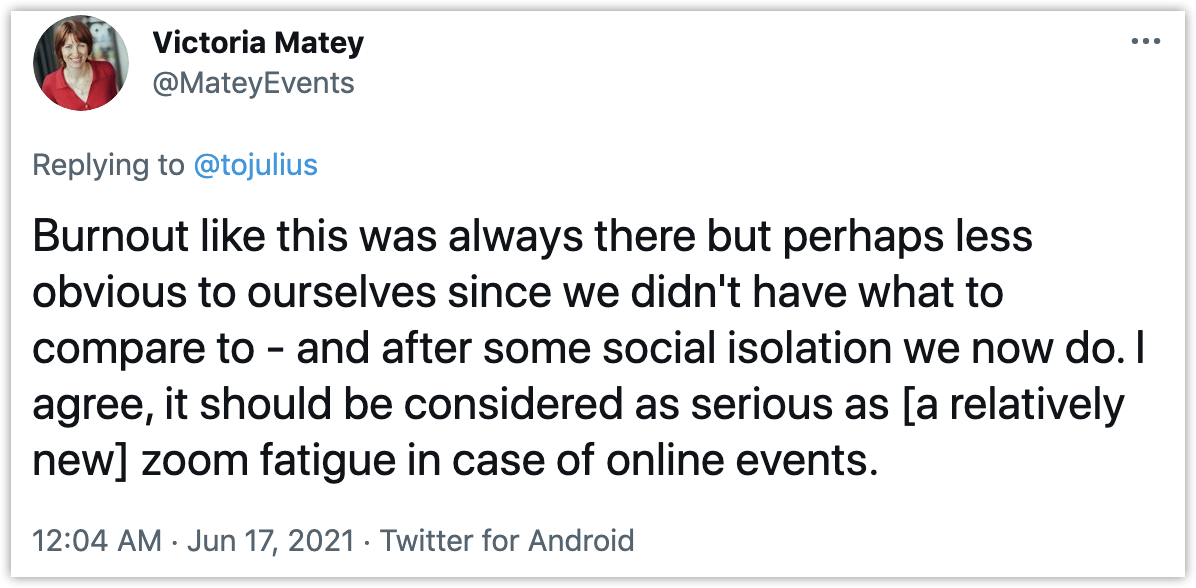 Uncertainty and new challenges
Hosting an in-person event in the current climate is no easy feat. From site visits and keeping a tab on the transmission rate in the destination to problems with supply and demand, not to mention the shortage of workers, the road ahead for in-person events is pretty bumpy.
There is also a lot of uncertainty around new COVID-19 variants—like the delta variant—that's causing concern amongst doctors. This has led to lockdown extensions and stricter social restrictions, all of which influence in-person events in a major way. Other challenges include finding reliable resources, creating waivers and legal agreements, and keeping up with ever-changing government protocols.
Here's some helpful advice from Lara Smedley:
"Predicting the future is a slippery slope during these times. My best advice for anyone looking to plan an in-person event in 2021 is to start by following all mandates or protocols set in place to date. As your event approaches and mandates lift or change, you can adjust. This also helps better manage your budget and expectations of your clients, attendees, or partners."
The confusion around hybrid events
If planning an in-person event is hard, shifting to hybrid is even more so. For most event planners, the hybrid event is a new concept, and dealing with production aspects can be daunting. What model should they go with? Do they bring in virtual speakers? How do they connect in-person and virtual attendees? Is the venue hybrid-ready? Will their hybrid event technology hold? And if you're planning to have hybrid hubs, the challenges multiply as you're in charge of safety and connectivity at not one venue but many.
At the end of the day, all anyone can do is experiment and hope for the best. In the coming months, there will be a lot more surprises, and you might have to redo your event strategy over and over. For our part, we'll do our best to continue updating you about the latest happenings in the events industry so you can stay informed. At the same time, if you come across something that you'd like us to know or a topic you would like us to explore, tweet to us @ZohoBackstage.
---
Connect with us on social media (Twitter and LinkedIn) to stay up-to-date on the latest event news.
Nisha

Marketing and content at Zoho Backstage. Cultural misfit. Armchair traveler. Productivity geek. Sometimes, I write poetry. Sometimes, it rhymes.
Leave a Reply
Your email address will not be published. Required fields are marked