5 event trends to look out for in 2022
Last Updated: February 24, 2022
690 Views
5 Min Read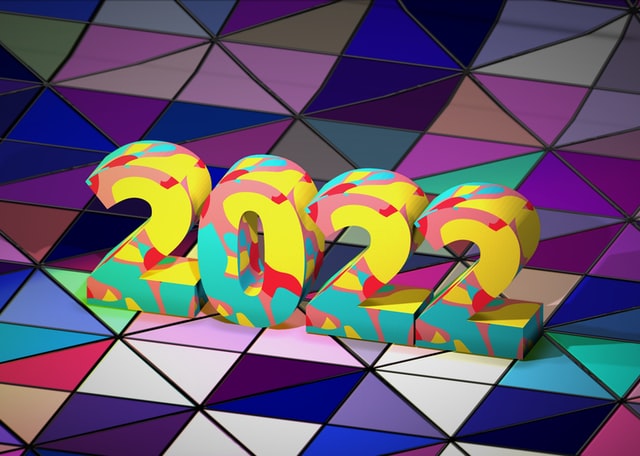 These are exciting times for the events industry. After almost two years of uncertainty, we're finally settling down. More importantly, recent incidents—the COVID-19 pandemic, climate anxiety, and more—have made people more aware of the problems the events industry has more or less ignored in the last decade. Whether it's coalitions requesting government support for live events; more and more people, both eventprofs and attendees, highlighting mental health concerns; or even the increased support for eco-friendly event practices, the MICE industry is slowly pushing its boundaries and exploring new possibilities to create a more sustainable and equitable events space.
In this article, we explore some of the popular trends that rose out of these challenges, trends that we predict we'll be seeing a lot more of in 2022.
Asynchronous hybrid events
For the better part of two years, even when virtual events were at their peak, everyone said hybrid would be the future. We did too. In fact, we wrote an entire ebook on how to host hybrid events that provide both in-person and virtual attendees a unified experience.
However, in the last few months, most event planners have found hosting such synchronous hybrid events to be too much of a hassle. While "hybrid" added to the reach of an event and gave attendees the option to attend the event in their preferred format, creating such fully synced events turned out to be a lot more complicated than people initially expected. Event planners also required a larger team with more technologists and an increased budget to make such events a success. In fact, a survey by EventMB mentions that two-thirds of its respondents were still struggling with their hybrid event strategies.
Here's where asynchronous hybrid events came in. They allowed event organizers to enjoy all the benefits of hosting a hybrid event without having to deal with the challenges. So what exactly is an async hybrid event? It's a hybrid event where the onsite and virtual aspects of an event happen on different days and attendees can choose to attend either only the virtual event, only the in-person event, or both, as per their choice. Convenient, right?
365 (or year-round) community engagement (via virtual events)
If there was one buzzword that's been mentioned repeatedly over the last couple of years, it would be 365 community engagement. Though eventprofs and event tech vendors have been predicting this trend since late 2020, it is only now that they're figuring out how to optimize virtual events for maximum community engagement.
Quoting Julius Solaris, one of the most notable voices in the field of events and event tech, said this:
"The virtual platform will be one-stop-shop where you log into one place [to find] an event-driven community and an activity feed as you would have on Facebook or Twitter, as well as individual events that you can attend."
Essentially, the idea is to use a series of virtual events and networking activities to engage a community throughout the year. We believe this 365 community engagement model will gain even more popularity in the coming years, and people other than event planners like community managers and marketers will also leverage virtual events to build their communities.
Wellness and wellbeing
In McKinsey's 2020 Future of Wellness survey, 79% of the respondents stated they believed wellness to be important, and 42% of them said it was a top priority. Whether it's improving fitness levels, eating healthy food, or practicing mindfulness, most of us have at least some wellness routines that we practice every day.
It's only natural that this love for wellness would find its way into the events industry—whether that's including wellness in an event's agenda or ensuring that eventprofs have a well-balanced lifestyle. Not only have many events started including wellness breaks into their agenda, organizations like EventWell are also partnering with events to create "Quiet Rooms" where event participants can relax, rejuvenate, and recover from sensory overload. Event planners are starting to open up about the stress they face day-to-day and are sharing their experiences dealing with it.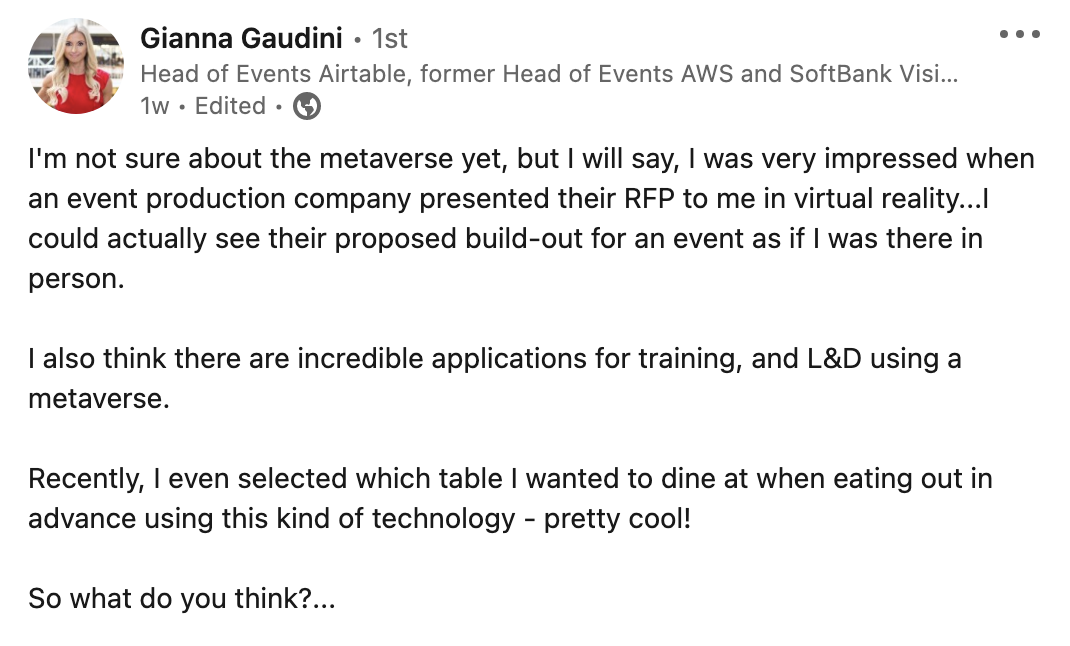 Event technology
Whether it's something exotic like the metaverse, non-fungible tokens (NFTs), and artificial intelligence (AI) to create more immersive experiences or essential technology like creating accessible events and better integrations for streamlined event planning, technology is sure to play a major role in influencing the events of 2022.
Many event planners are already using AR and VR tools for virtual venue tours. At the venue, AR and VR can be used to create 3D models, provide product menus, and even allow attendees to interact better with exhibitors and sponsors.
Sustainability
One of the most-read articles on The Green Room is the one where we talk about social sustainability and the events industry. The other is, of course, the one about eco-friendly event practices. More and more eventprofs have also started doing studies on the impact of events on climate change and how sustainable event management can benefit both the planet and local destinations. Here's a scenario-based study where William Thomson of Gallus Events analyzes how the business events industry in the UK would transform for the better by 2050 if we take a more sustainable approach now. Communities like MeetGreen are also doing a fantastic job educating event planners on the importance of sustainable event practices. Other organizations, like EventCycle, "repurpose and redistribute leftover event materials to charities & community groups as well as back into the events industry."
What's even better is that event folk are finally beginning to recognize the social impact of the events industry—how sourcing local goods and actively involving the host destination can improve community welfare. A side benefit of this is not having to deal with the various global supply and demand challenges—not to mention the lower carbon footprint—as there's not much shipping or transportation.
That's it for our list of favorite trends for 2022. Let us know in the comments about the trends you looking forward to. Or as always, you can tweet us @ZohoBackstage.
---
If, like us, you're more of a social person, let's connect on Twitter (@ZohoBackstage) and we'll keep you up-to-date with all the latest event news.
Nisha

Marketing and content at Zoho Backstage. Cultural misfit. Armchair traveler. Productivity geek. Sometimes, I write poetry. Sometimes, it rhymes.
Leave a Reply
Your email address will not be published. Required fields are marked