Going green: How to host an eco-friendly event
Going green: How to host an eco-friendly event
Last Updated: December 11, 2023
11.2K Views
8 Min Read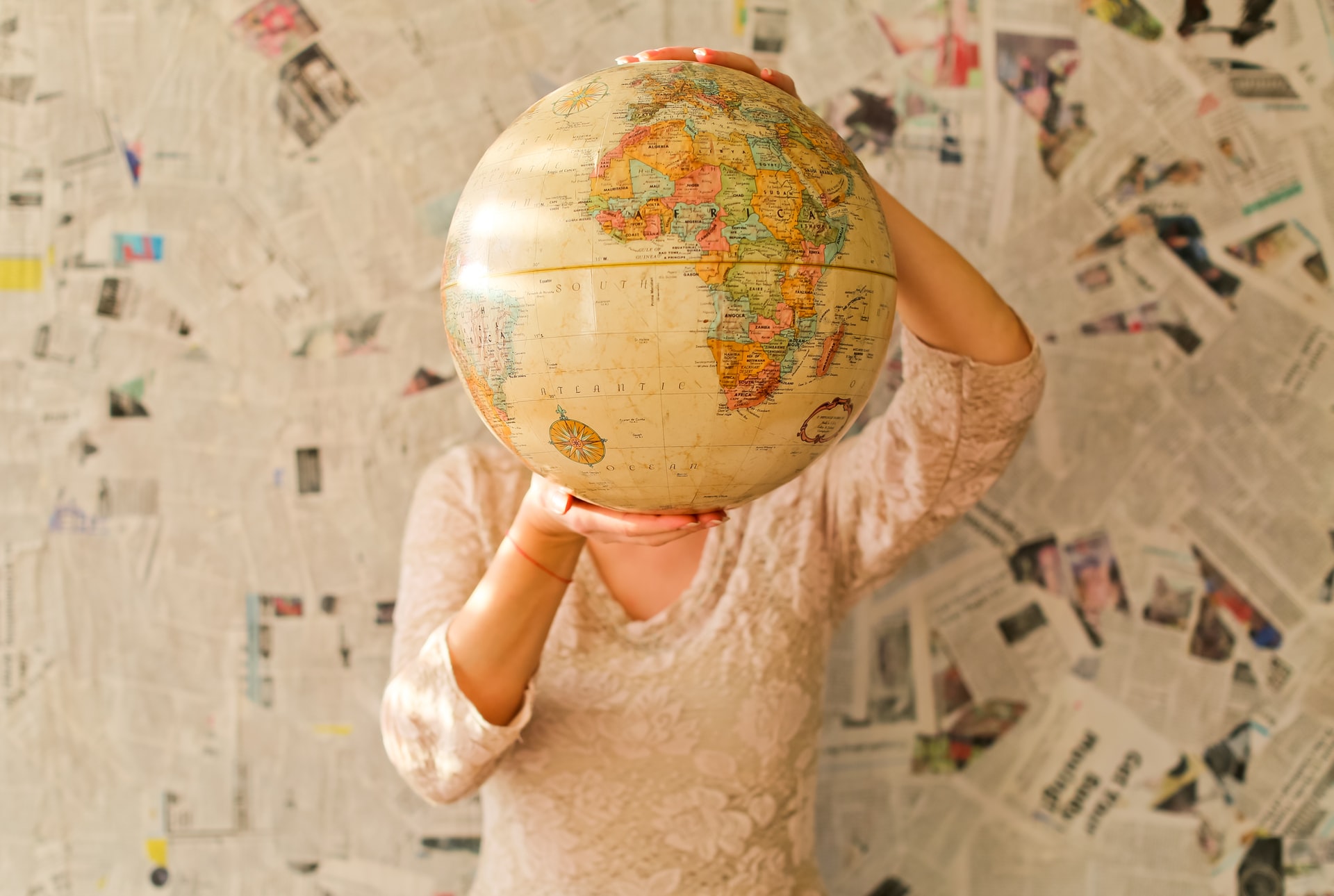 Environmental sustainability is one of those event trends that gets bigger and bigger every year. In the past few years, many people—and not just those from the scientific community—have spoken and written extensively about their growing concern over the far-reaching effects of climate change and pollution. All of this collective activism has resulted in hundreds of people voicing their support for environmental protection. This meant more and more brands, organizations, and individuals adopted an eco-friendly approach in their many activities, including events. Today, sustainable event planning has become so popular, it's no longer a trend or a fad—it's a movement in its own right.
The benefits of eco-friendly planning
Did you know on average an event attendee produces around 1.85 kilograms of waste per day, and most of this waste ends up in landfills? Here's another: music festivals generate 23,500 tons of waste. This includes food, packaging, and even abandoned tents. According to a report by Powerful Thinking, 20 kilotons of CO2 are emitted annually onsite, and this goes as high as 100 kilotons if you include audience travel. These are just a few problems you can solve by creating an event that's sustainable and eco-friendly.
At the same time, going green with your event not only results in a better and less-polluted planet Earth, it will also benefit your brand and event in many other ways. Here are a few advantages of sustainable event planning:
---
Subscribe to The Green Room
Sign up here and get all the most relevant MICE industry content delivered right to your inbox once a month.
By submitting this form, you agree to the processing of personal data according to our Privacy policy.
---
8 tips to make your event eco-friendly
When it comes to sustainable event planning, various aspects have to be taken into consideration—venue, travel, accommodation, food and beverages, and even technology—as they all impact the environment in different ways. And this can turn out to be pretty challenging. In this post, we look at eight basic steps that can go a long way in making events more eco-friendly.
Pick a green location and venue
Almost every step in your event sustainability checklist would depend on your event venue in one way or the other. At the same time, it's also easier and more cost-efficient to fill the missing gaps than to start from scratch. Some points to keep in mind when choosing a venue for your event are:
Apart from this, you can also check if the venue holds any certificates on sustainability from third-party organizations like LEED, Green Key, or Green Leaders.
Reduce paper usage
Did you know in the last 40 years, approximately two million trees have been cut down every day to make paper for global consumption? That's four billion trees every year. Now let's look at events—from agendas and brochures to posters and worksheets, a lot of paper is used. By avoiding these and going with digital and more eco-friendly alternatives, you can cut down on cost, reduce waste at the event, and save a few hundred trees. These are some ways you can reduce the usage of paper at your next event.
Finally, we get that going completely paperless might not be possible. However, you can ensure that all paper is recycled or upcycled. For example, in 2015, the music festival Coachella designed a "Pulp Pavilion" using over a ton of waste paper. And as no chemicals were added to it, it could easily be composted or recycled.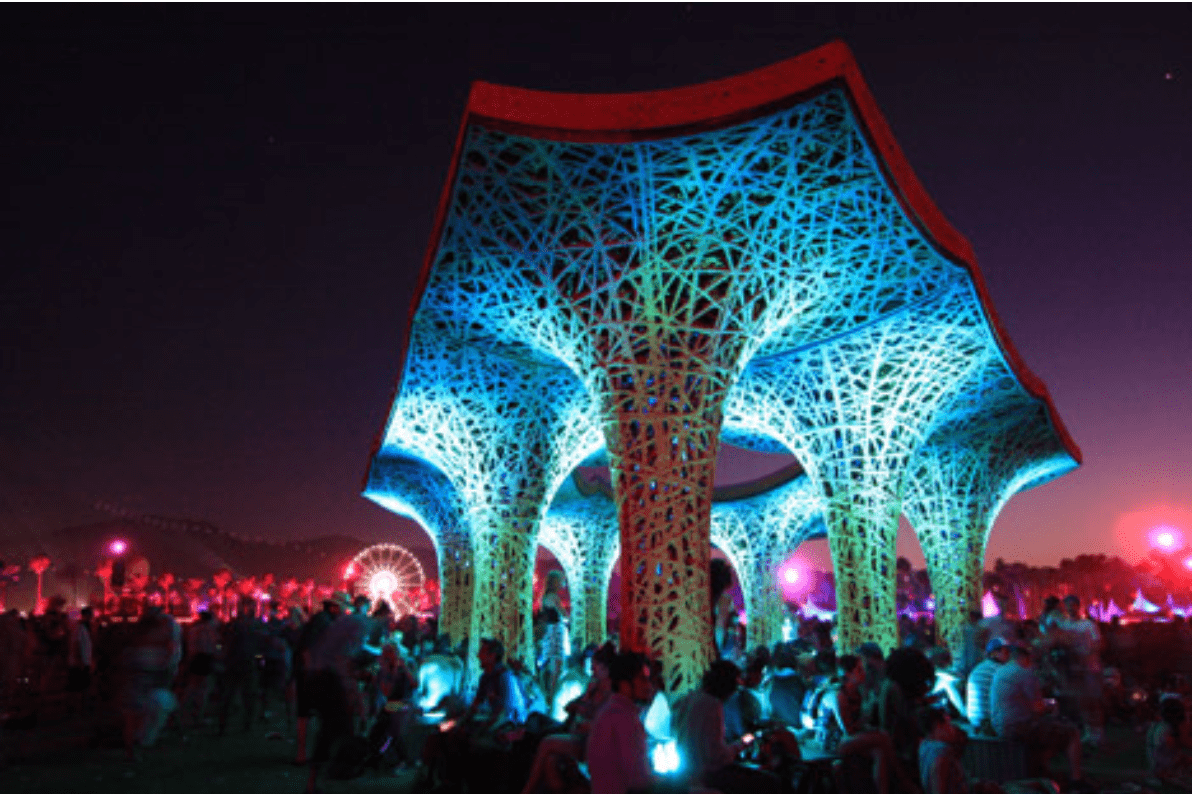 Photograph by Chris Bell (Source: dezeen.com)
Plan for proper waste disposal
According to a study by EventMB, 41 percent of event waste ends up as landfill. For a 1000-attendee, three-day event, that's 3480 kilograms of waste. However, with a sustainable waste management program, you can reduce the amount of waste sent to landfills.
Waste management happens during the event planning stages itself wherein you should make a list of the types of waste your event would produce and how you plan to deal with it—be it by reusing, reducing, or recycling. A typical event would have the following four types of waste:
Organic waste: This includes all bio-degradable waste like food scraps, beverages, flower arrangements, lawn clippings, and more.

Recyclable waste: These are things that can be converted into new material that can be reused like paper waste, cardboard, metal, and plastic.

General waste: Waste that can neither be composted nor recycled—soft plastic, balloons and other decorative material, single-use plates and cups, tissues—can be categorized here.

Hazardous waste: This is waste that can be toxic to human health like industrial chemicals and medical waste.
Once you've decided how to deal with each category of waste, you can start setting up your waste disposal system. This means you'll have to plan where to have the bins and what signage to include for each bin, designate people to monitor and empty the bins, educate exhibitors and attendees on how to deal with waste, contact waste collection services to pick up the waste from your venue, and so on.
Give away eco-friendly swag
Swag has become a must-have for events. Good swag can give you some visibility and brand awareness and attendees a lot of joy. An easy way to keep swag interesting and highlight your sustainability goals is by choosing something that's ethical and sustainable. Today, you can find an eco-friendly alternative to most common event promotional items. For example, you can get your conference totes made from recycled cotton or event merchandise made from sustainable fabric. There are even companies like Sprout World or Planet Earth Promotions that provide sustainable swag to events.
Partner with the local community
When you get things for your event from far-off places, you add on to your event's carbon footprint (everything has to be shipped to your event's location), there's more waste from all the extra packaging, and finally, it costs a lot more. By using local services and vendors, you also get a chance to give back to the community. Another thing you can do is work with your caterer to reduce "food miles" by having food service that's seasonal and prominent in the local cuisine of the area with produce that can be sourced locally.
Use eco-friendly event decor
Green decoration is gaining a lot of popularity in recent times. From using ecological materials like upcycled pallets to recycled paper decorations, events have seen an increase in green decor. There are also decor companies like Kunst deco that specializing in eco-friendly event decor that you can contract for your event.
Other ways to make your event decor sustainable include using live plants for decoration and reusing decorations for events. You can also opt for greener alternatives to regular decoration items. For example, beeswax candles and glass holders can be used in place of regular candles (that are high in chemicals) and plastic holders (that are non-biodegradable and sometimes, even non-recyclable).
Make food-service sustainable
The food you serve at events can result in not just a lot of waste but also increase your event's overall carbon footprint. According to Meegan Jones, author of Sustainable Event Management: A Practical Guide, "Food into landfill is a major cause of landfill methane emissions, a global greenhouse gas emissions contributor. Food waste at events also contributes to startling global food waste statistics, estimated at 1/3 of all food produced being lost or wasted."
It's not just this either. The single-use plastic plates, cups, straws, and other packaging material also result in a lot of waste that can neither be recycled nor composted. Then there's the carbon footprint of transporting exotic produce that's not native to your event location from thousands of miles away. Collectively, the impact of all of this on the environment is quite large.
That's why it's important for event organizers to be mindful of their event menu and their food service. Little things like biodegradable tableware, reusable cutlery, tap water instead of bottled water, fewer food miles, and not over-ordering food can result in a big change. Plans should also be made to send the leftover food from the event to orphanages and shelters.
Reduce your event's carbon footprint
Earlier in this post, we talked about the amount of carbon dioxide emissions that happen at events. Most of this is due to travel—cut down here and you see a significant reduction in the carbon footprint of your event. Here's what you can do:
Finally, let everyone know about the different measures you've taken to ensure your event is sustainable and eco-friendly. Educate your team members and attendees on how they can help you with your green goals—where the waste bins are, how to segregate waste, what digital alternative they can use in place of paper, and more. This is very important because, without the support of your attendees and team, your sustainability goals can never reach their full potential. Also, if you're looking to go the extra mile, you should definitely think about making your event socially sustainable too.
---
If, like us, you're more of a social person, let's connect on Twitter (@ZohoBackstage) and we'll keep you up-to-date with all the latest event news.
Nisha

Marketing and content at Zoho Backstage. Cultural misfit. Armchair traveler. Productivity geek. Sometimes, I write poetry. Sometimes, it rhymes.
Comments(
1

)
Elim resort

February 9, 2023 at 4:24 PM

Almost every step in your event sustainability checklist would depend on your event venue in one way or the other. At the same time, it's also easier and more cost-efficient to fill the missing gaps than to start from scratch.As a discerning traveler, this visit can blow your trees welcoming you a getaway filled with local flavors and nature's bounty reflecting a connection with yourself. The resort is specifically located amidst nature, giving you ample opportunities to soak in nature in all.
Leave a Reply
Your email address will not be published. Required fields are marked