Kickstart your free CRM trial today
Defining Embedded Analytics
Embedded Analytics is defined as the integration of analytical capabilities to an existing web application or a software. The tight integration is achieved through the BI solution's single-sign-on (SSO) function, along with customizable UI elements and embedding capabilitites.
Source: Gartner research
Why businesses use embedded analytics
Embedded Analytics is one of the fastest growing software markets in the world and has proven to be the finest analytical asset that businesses can invest in. Building an analytics platform from scratch consumes a lot of time and becomes tedious, especially when the software provider doesn't have the expertise or resources to build an analytics tool internally. The ability to integrate with an existing application, while allowing the end users to easily access their reports and dashboards, serves immense value for businesses implementing the embedded analytics model.
Essential building blocks of embedded analytics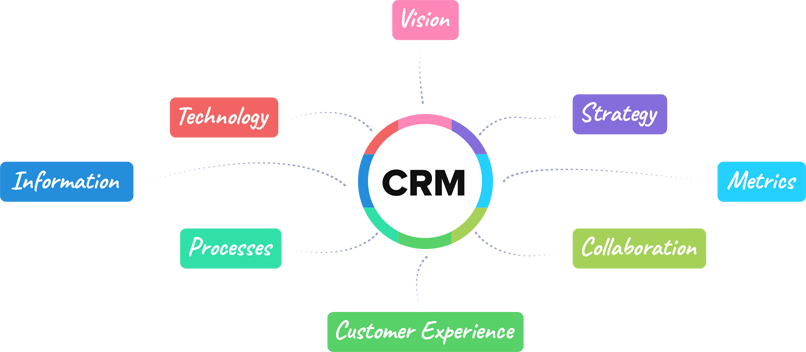 When to implement embedded analytics?
Whether you're a small business looking for a place to store information and have it accessible across multiple devices, or you're a large business wanting to manage customer interactions and focus on improving customer satisfaction, eventually you're going to need a Customer Relationship Management (CRM) software if your current process is unable to find solutions to these pressing problems.
Getting answers to the most basic questions
Ask yourself if you can get quick answers to the most basic questions like these - What's my number of customers and how many did we win/lose in the previous quarter? What was my revenue last month? Who closed the most deals?
Checking the entry of incorrect data
Bad decisions come from bad data. Failure to check the accuracy of data entering your system is a real cause of concern. Once you have a validation scheme with automated data entry, the inflow of incorrect information can be prevented before it causes you any trouble.
Connecting with customers and prospects
Customers can come from a variety of mediums—websites, social media, phone calls, etc.— and only a multi-channel communication system can bring them closer to your business and lets you cover all customer touch-points that are relevant to your selling process.
Personalizing marketing efforts
Your marketing endeavours can simply go down the drain if your methods are not attracting prospects to try out your service. Tasks like sending out promotions, newsletters, etc. can be personalized to ensure that it connects with every customer on a personal level.
Bringing teams together
When every team is an island of their own, it becomes a massive bottleneck for any organization to grow. Real-time customer information cannot be shared across teams which in turn affects the way you serve your customer needs.
Who uses embedded analytics?
Customer relationship management systems can be easily customized to meet the specific needs of any business type and size. Start-ups, large enterprises, and verticals like real-estate, healthcare, insurance, legal, media, restaurants, travel, banking, tax, freelancers, and non-profits all use a customer relationship management software for increasing their sales, marketing, and customer support efforts.
BENEFITS OF USING EMBEDDED ANALYTICS
Domain specific
business insights
* Growth metrics reported by Zoho CRM customers in an internal survey.
With embedded analytics you get,
300%
Improvement in
lead conversion rates.
41%
Revenue increase
per salesperson.
27%
Improvement in
customer retention.
24%
Decreased
sales cycles
23%
Decreased sales and
marketing costs.
Get more leads, track your pipeline, and close more deals faster.
Kickstart your
Zoho CRM trial for free.
Get Started
Key features of embedded analytics software
Wonder what's next?
Start your analytics journey with Zoho
We, at Zoho Analytics, strive ceaselessly to give our best in whatever we do. We're confident that our embedded analytics adn white label solutions are the best fit for your business. You can explore the analytic capabilities of Zoho Analytics by signing up for a free trial here.
Access Zoho CRM