Extract deep insights from your Teamwork data
Use the seamless integration of Zoho Analytics with Teamwork to track your key project metrics. Slice and dice your project data by creating insightful reports and dashboards. Share and collaboratively analyze reports with your project management team.
Sign up in less than 60 seconds
Analyze key project management metrics. Be empowered.
The Teamwork Advanced Analytics connector enables you to easily analyze the data in Teamwork, empower yourself with key project performance metrics, and take informed business decisions to optimize your project execution. It is now easy for you to create project status reports, billing reports, burndown reports, projected revenue reports, top-bottom performers reports, and more.
Measure your progress

Analyze task with reports grouped by status, milestone, priority, owner, and percentage complete. Also, craft your own custom reports.

Billing and time tracking

Easily analyze timesheet and find out hours logged by every team member, measure effective ROI of projects by billable hours and do much more.

Risk analysis

Track risks in each of your project by date, impact, and owner with the risk analysis dashboard. Arrive at a mitigation/response plan so your team knows what to do when a risk develops into an issue.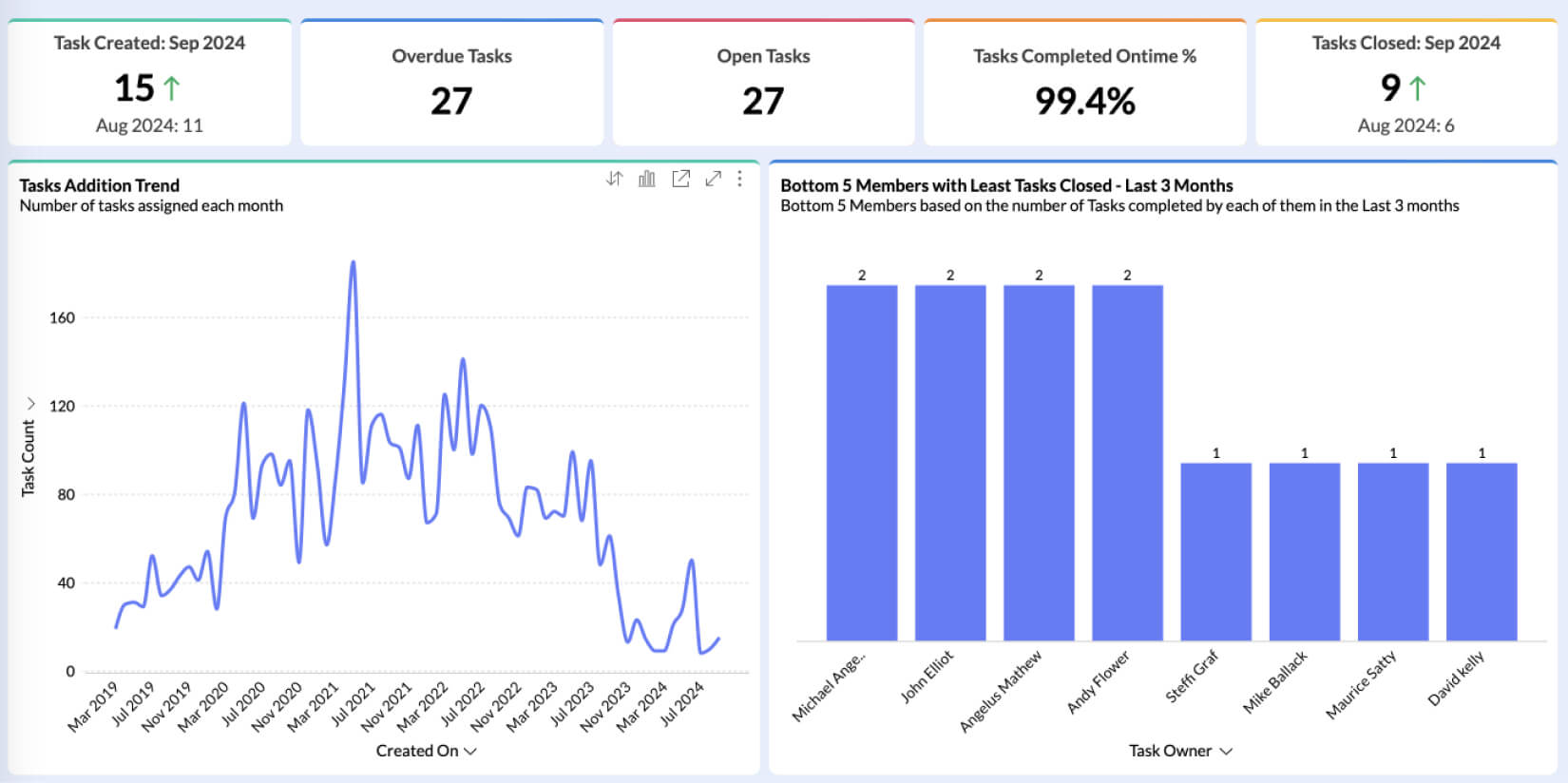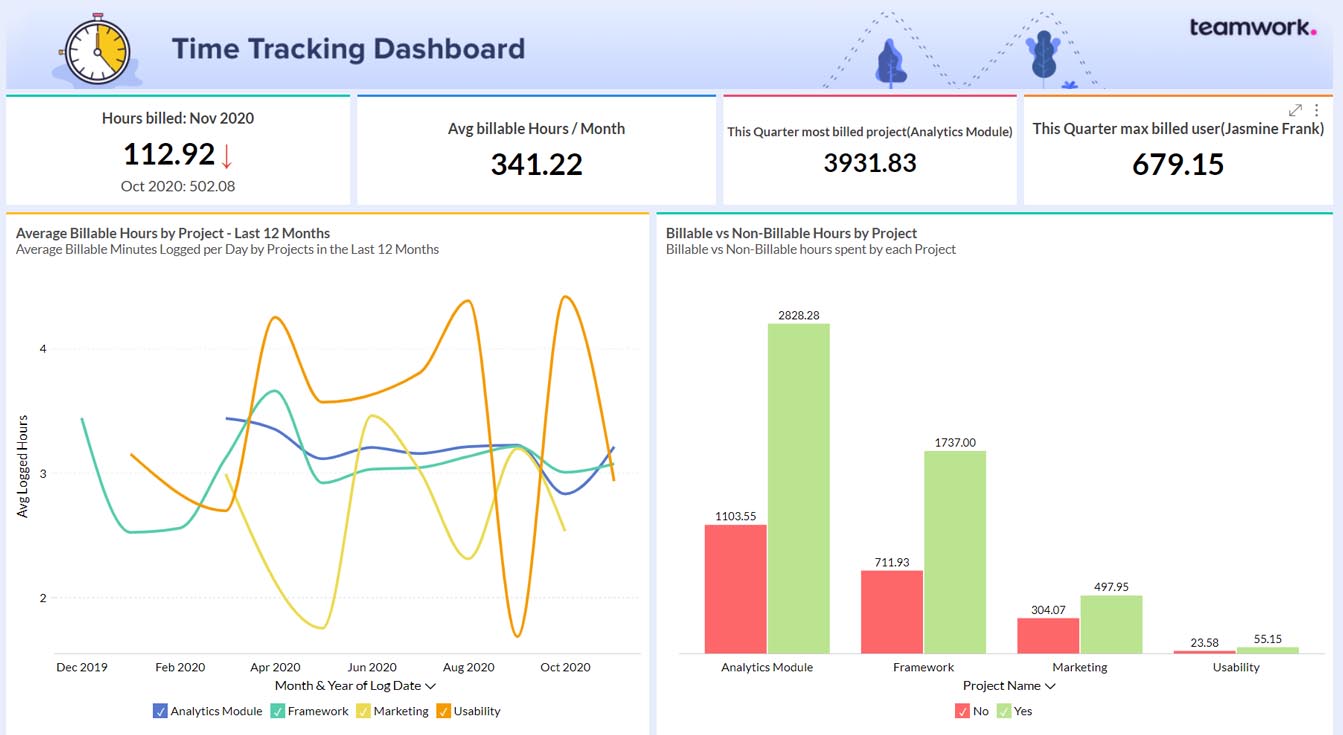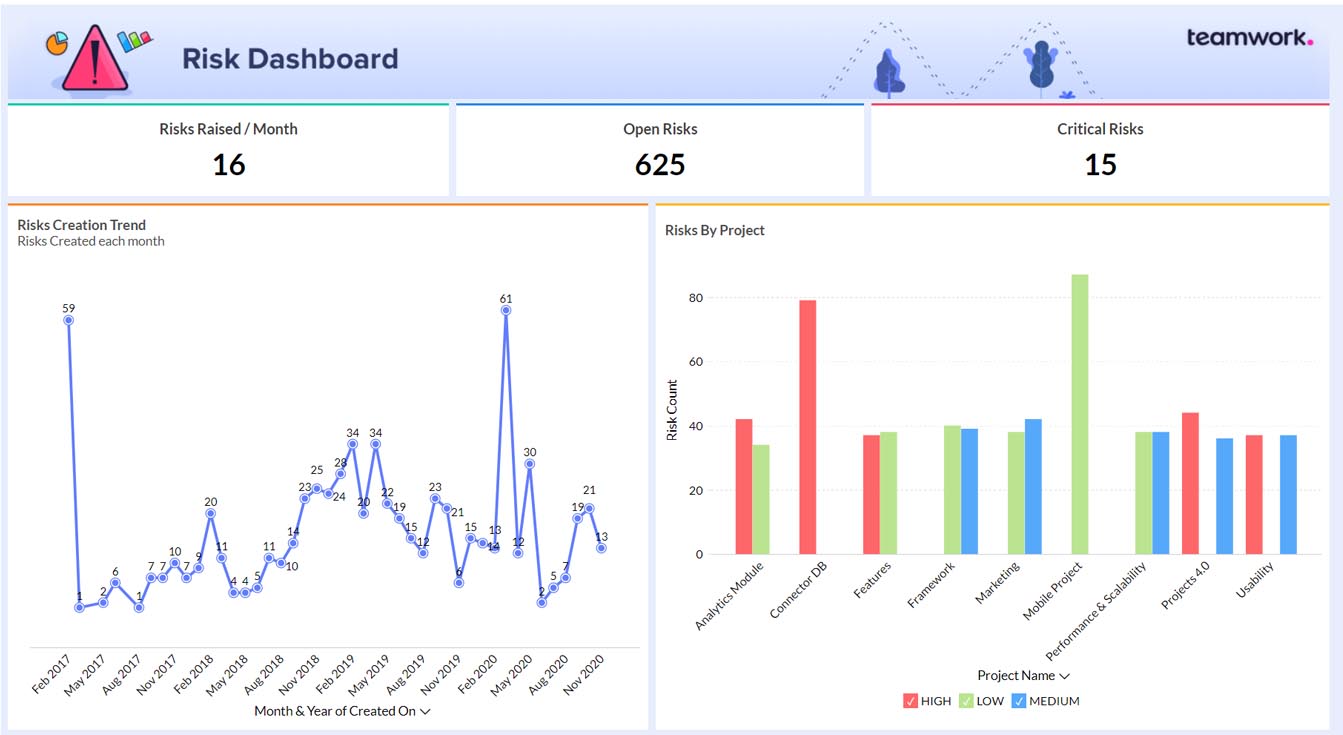 Boost your team's productivity with in-depth Analytics
2 Million Users. 50 Million Visualizations. 1 Analytics Platform.
Seamless integration

Your Teamwork data gets seamlessly synced to Zoho Analytics. Access a fully featured BI tool to analyze your project management data in depth.

Pre-built visualizations

The Zoho Analytics connector provides you with more than 50 hand-picked, ready made project management reports and dashboards that you'll like and find great value in instantly.

Email, export and print reports

Reports & dashboards can be scheduled for emailing or can be exported into a variety of file formats for offline access.

Data blending

Combine data from different sources and create cross functional reports. Gain insights that wouldn't be possible with data from multiple locations.

Smart analytical assistant

Type out your questions, and see Zia, our AI-powered assistant, come up with suitable answers in the form of reports and KPI widgets.

Embedded analytics

Get a powerful BI, reporting, and analytics solution in your own brand name, embedded within your product/application or setup as a standalone portal.
"We use this app for our internal process dashboards. The flexibility has allowed us to emulate our process flow for 14 major milestones on ever project. Projects move from dashboard to dashboard, with different staff members handling different milestones. Customer service is amazing - excellent! They really want this to be a great product! "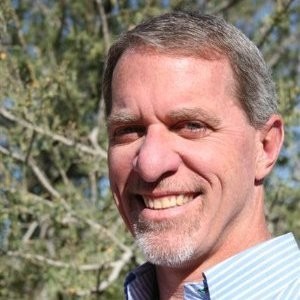 Joseph Cunningham
Co-Founder, Director of Operations at Sunny Energy