In-depth analytics for Teamwork Desk
Visually analyze your Teamwork Desk data. Create insightful reports and dashboards to measure your support team's performance. Share reports, collaborate with your colleagues and make data-driven decisions.
Sign up in less than 60 seconds
Empower your team with key help desk metrics
Easily analyze all of your Teamwork Desk data. Slice and dice your data the way you want. Make informed decisions and gain insights into your customer support activity. Measure and track agent performance, SLA compliance, ticket inflow, customer satisfaction rating, and much more.
Seamless integration

Your data from Teamwork Desk is synced automatically to Zoho Analytics, giving you a full-fledged BI tool to analyze your data in depth.

Ready made reports and dashboards

Analyze from over 50+ hand-picked, ready made reports and dashboards that will enable you to quickly analyze your support activity.

Visual analysis

Visually build and analyze insightful reports and dashboards with the easy drag-and-drop interface. No IT help or experience required.

Wide variety of reporting tools

Use a wide variety of charts, pivot tables, KPI widgets, and tabular view components to build insightful reports and dashboards.

Data blending

Combine data from different sources and create cross functional reports. For example, combine your Teamwork Desk data with your CRM data to create a tickets vs. leads report.

Collaborative analytics

Develop and analyze reports together with your peers and share them securely with fine-grained access controls.

Embed reports anywhere

Embed your reports and dashboards across websites, blogs, applications or intranets for wider consumption.

Email, export and print reports

Export or print reports for offline access. Schedule your reports and dashboards to be emailed automatically to the given recipients.
Advanced analytics for Helpdesk systems
View More
"Zoho reports is a pretty good business intelligence tool. It is very user friendly. My favorite part about this software is that it has a very short implementation plan. You can set it up and implement in no time at all."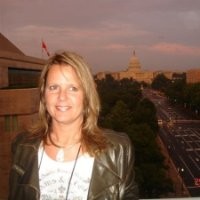 Deb Turner
Director of Information Technology, Bluffton University