Working with a Summary View
View Underlying data
Zoho Analytics enables you to view the data that makes up the Summary View. You can click on any cell in the Summary View to view its underlying data in a pop up table. You can also view the overall data by right clicking the column header and selecting View Underlying Data option or by clicking the Underlying Data button in the toolbar (View Mode).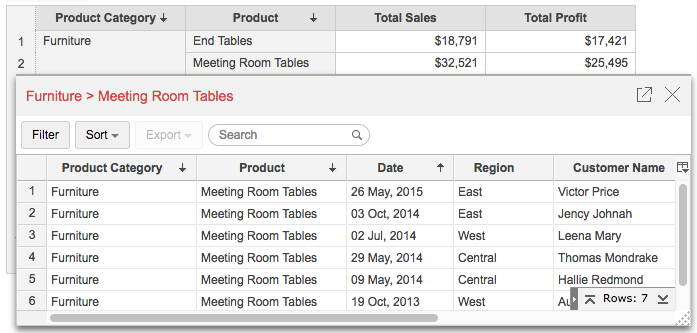 Exporting
Zoho Analytics allows you to export the summary view that you have created into various file formats like CSV, PDF, XLS or HTML.
To export the summary view, click Export > Export this View.
Click here to know how to export your Summary View.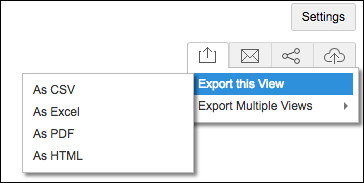 Sharing
Zoho Analytics offers a very easy and effective way to collaborate on reports with your colleagues and friends. Any user with whom you share your data, reports and dashboards, can access them online from any where, any time. You can also create groups for easy sharing and collaboration.
To share your summary view, click Share > Share this View to New Users
Click here to know how to share your reports.
Publishing
Zoho Analytics offers a wide range of publishing options to enable easy distribution and collaboration. You can publish the reports and dashboards that you create in Zoho Analytics as live embedded reports in your websites/webpages. While using the publishing options you could still control the access privileges and permissions provided to the users who access the reports or dashboards published.
To embed your report, click Publish > Embed in Website/Blog.
Click here to know how to publish your reports.