Leverage Orchestly to get rid of your approval woes
Here's a sample blueprint that we created on Orchestly for a content approval process.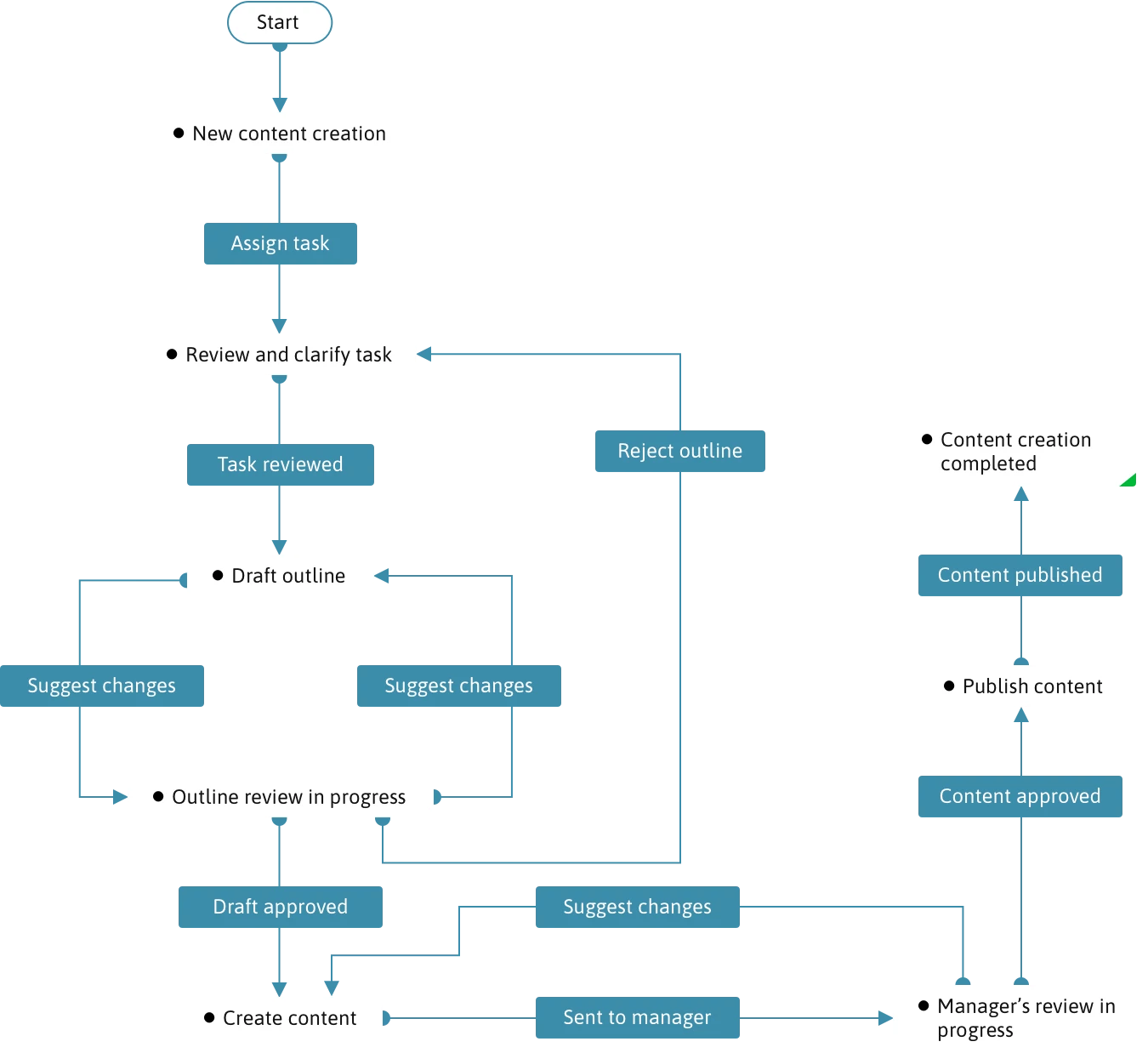 Your own workflow can be simpler or more complex, depending on your company's particular needs.
How does your content approval process benefit from using Orchestly?
Content creators
Content reviewers
Content creators
01

Complete, upload, and notify

Just complete your draft, upload your document, and click on the transition.

02

Whole process, one blueprint

Eliminate delays due to ambiguity. View the entire blueprint at any time to see what your next step should be.

03

One-stop tracking for every task

Keep track of all your ongoing tasks on the Jobs page, and stay one step ahead of your deadlines.

04

On time, every time

Notify colleagues and escalate tasks based on the due date to get reviews done on time.

05

Simplify communication

Use smart email templates to notify stakeholders, and save time otherwise wasted on typing emails.

06

Eliminate email hunting

Access all project-related documents in the same place.
Content reviewers
01

Auto-assign tasks

The review process can be auto-assigned to managers/reviewers, and content creation to writers.

02

No more version errors

Access every document in one place, so you know you're always working on the correct version.

03

Comprehensive audit trail

View the history of every task on the Job Details Page.

04

24/7 tracking

View the details of the project on the Jobs page, at any time, from any device.

05

Detailed reports for better analysis

Get detailed performance report metrics to help plan resources better.

06

More work, in less time

Automate notifications and free up more time to focus on the important stuff.

07

Everyone on the same page

View the details of every ongoing project, by every team member, all in one place.

08

Simultaneous approvals

Set up parallel transitions for documents requiring multiple approvals. The content will only be approved when each party has clicked Approve.

09

Do more with integration

Integrate other tools, like Google Drive or Slack, to make even better use of Orchestly.