What's New
2021
2020
2019
Oct
Enhancement
Internal Timesheet Approval
To streamline the approval process, Workerly now lets you choose an approval mode:

- Client Approval: As soon as a timesheet is created, the client will be notified via email.
- Agency Approval: As soon as a timesheet is created, agents will have access to an approve/reject button in the respective timesheet details page.
- Auto-Approval: As soon as a timesheet is created, it is auto-approved.
Sep
Integrations
Zoho Flow Integration
With Zoho Flow, you can now integrate Zoho Workerly with over 300 apps without writing any code. It works based on a trigger that sets your workflow and a series of actions that are executed automatically as a result of that trigger.
Aug
Break language barriers with Zoho Workerly's Translations feature. When you choose your language in Zoho Workerly, it applies to all the modules, custom fields, and picklist values. This can pose a barrier if you have users who do not know your language.
 
Learn More
Integrations
A better way to manage temporary hiring needs
Good news! Zoho Recruit has integrated with Zoho Workerly. With the integration, you can convert your Candidates for temporary jobs in Zoho Recruit as Temps in Zoho Workerly and experience conflict-free temp scheduling.
May the tempforce be with you!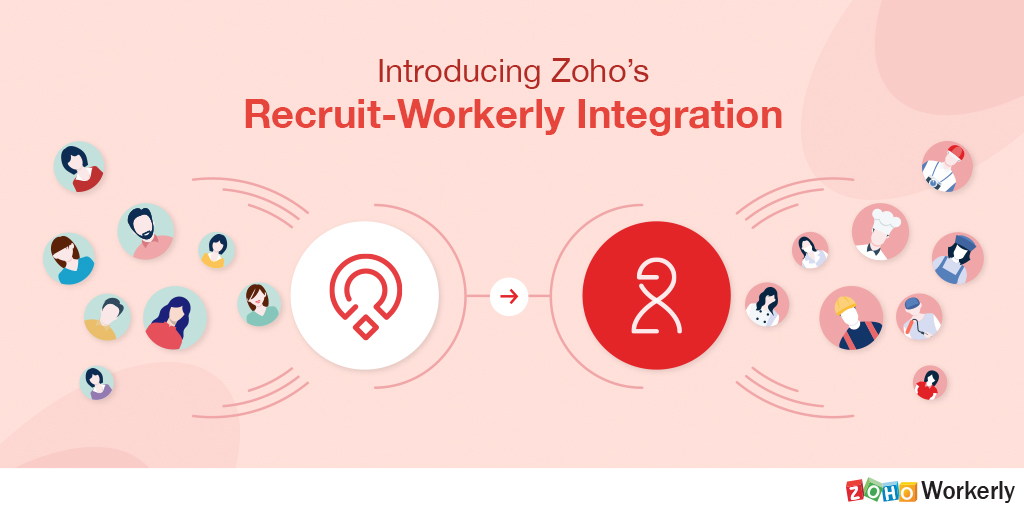 Learn More
Jul
Zoho Workerly provides email authentication standards that will allow the agencies to increase the trustworthiness of their email origin when they choose to send emails from Zoho Workerly using their domain. To authenticate your emails sent from Zoho Workerly, you need to validate the following authentication standards:
- Domain Verification
- DKIM (Domain Keys Identified Mail)
- SPF (Sender Policy Framework)
Learn More
Jun
You have timesheets approved, you can extract a ready-made, detailed report. Introducing export to payroll in Workerly. You can now export approved timesheets to your payroll and start processing temps' payments with a click. 
May
Enhancement
Bulk Timesheet Approvals
Timesheet approvals can be time-consuming. Workerly's bulk timesheet approval makes this easier and faster for clients.
Enhancement
Export timesheets as PDF
Submitted timesheets can be now downloaded as PDF and saved to the system. These can be used to send to clients for approval, or so as you can have a physical copy of the timesheet.
It's always helpful to stay informed about a temp's availability. If they are unavailable, you can easily assign another temp and avoid confusion. Temps can mark their unavailability through temp portal.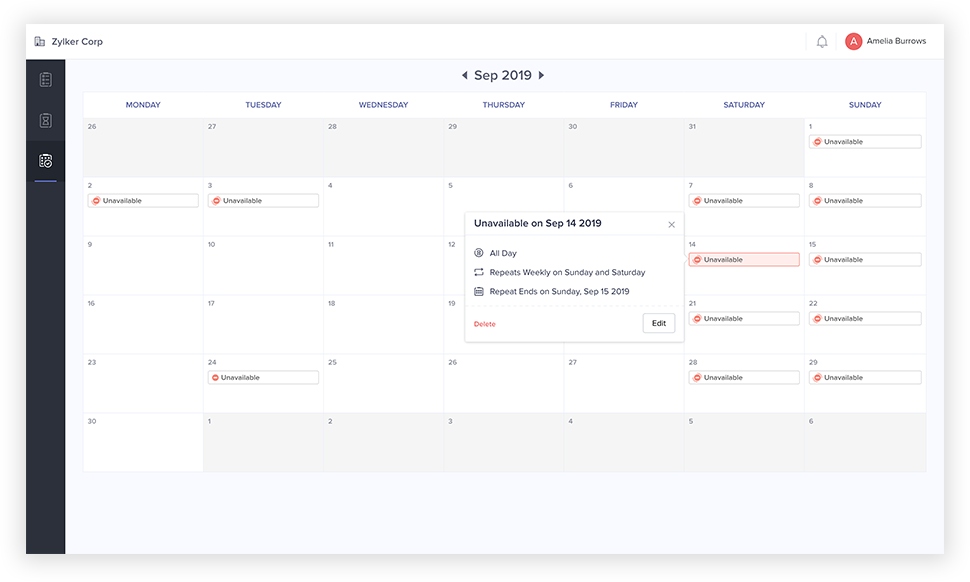 Learn More
Apr
New
White Label Custom Domain
If your company name is Zylker Corp, the URL by default will look like this: "zylkercorp.zohoworkerly.com". How about customizing to "zylker.com"? White label Workerly from your company URL. Let it be temp login, agent login, or any other interface, then customize the URL with your own company domain name. Additionally, you can now add a logo for a more personalized look.
 
Learn More
Enhancement
Job Description in Temp Portal
Temps can get a better picture of the kind of work they are offered with the job description in Temp Portal. Agents can now add job time, number of temps required, and other details which will be available for temps to view in Temp Portal when they are assigned to the job.
Mar
New
Workerly Marketplace- Zoho Sign, DocuSign, Adobe Sign
Introducing Workerly Marketplace!
Get documents signed and approved faster with e-sign integration. Workerly is now equipped with Zoho Sign, DocuSign and Adobe Sign for faster and safer document approval.
Zoho Sign | DocuSign | Adobe Sign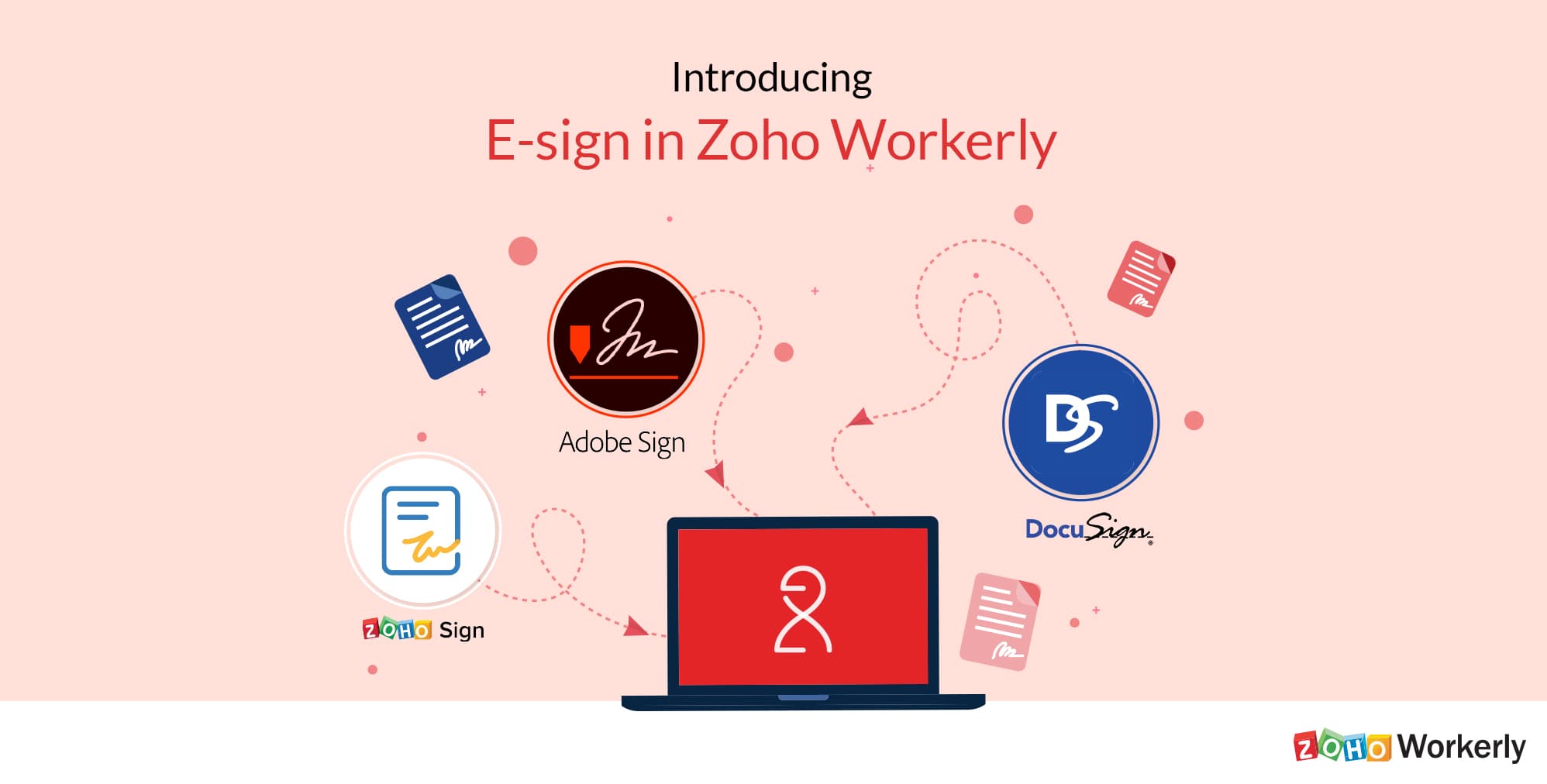 With Workflow, you can create SMS alerts. Our SMS Gateway also enables the user to send messages quickly and communicate with the temps and other contacts.
Zoho Workerly supports vendors to purchase credits to be used for sending messages. The main advantage of using this feature is to instantly notify information to temps and other contacts.

SMS Gateway | Workflow Management
Twilio is integrated with Zoho Workerly offering options to organize your agency's incoming and outgoing messages from within Zoho Workerly. You can configure Twilio to manage messages with temps, contact, and clients in your Workerly database.
Learn More
Feb
New
Notifications in Workerly's worker app
Temps' worker app is now equipped with notification feature. This lets the temps know about any changes in the job or schedule; they can also request a timesheet cancellation.
New
Real-time clock-in and clock-out
With Workerly's worker app, temps can clock-in and clock-out with a tap, and data is saved real-time. Clock-in and clock-out date and time are then used for generating timesheets. Temps can also record their break hours. Agents get the same updates in the record page located in their respective timesheet in the timesheet module.

Jan
Strategize your process with a set of pre-bundled reports and dashboards. Measure the performance of your agents, the progress of your assigned jobs and pending jobs, and more, to fine-tune your strategies.
We have implemented the following:
Summary Report on revenue from Jobs
Summary Report on revenue for the agency
Break-up of total revenue on different cost basis
Summary Report on revenue from Jobs handled by agents
Enhancement
Timesheet Attachments
At times, agents may need to attach copies of physical documents from clients or timesheets for reference. Workerly's timesheet attachments allow users to attach scanned copies of physical documents in any format.
Europe's new privacy policy law provides more control to individuals over their data. This control over information is given through multiple rights. Zoho Workerly has brought in features to help you comply with GDPR.