Social distancing and remote staffing
Social distancing is an important measure during this crisis, and having a tool to manage your remote workforce and productivity at home is essential. When it comes to temporary workforce management, temp staffing software is a great choice. Trust Zoho Workerly's temp scheduling software, designed for agents to seamlessly schedule jobs, generate timesheets, and send out invoices—all while working remotely.
Accelerate remote staffing with Zoho Workerly
Zoho Workerly is a great fit for all temp staffing agencies, regardless of their size or industry. It empowers agents with organized dashboards for seamless job scheduling and time recording.
Temp and client management
It's not always about scheduling, timesheets, or invoices. As you look for a virtual staffing process, you'll also need a database to manage your clients and temps. By signing up with Zoho Workerly, you can gather all your temp and client data in one place. If you have it on spreadsheets, no worries! You can simply import them to Zoho Workerly.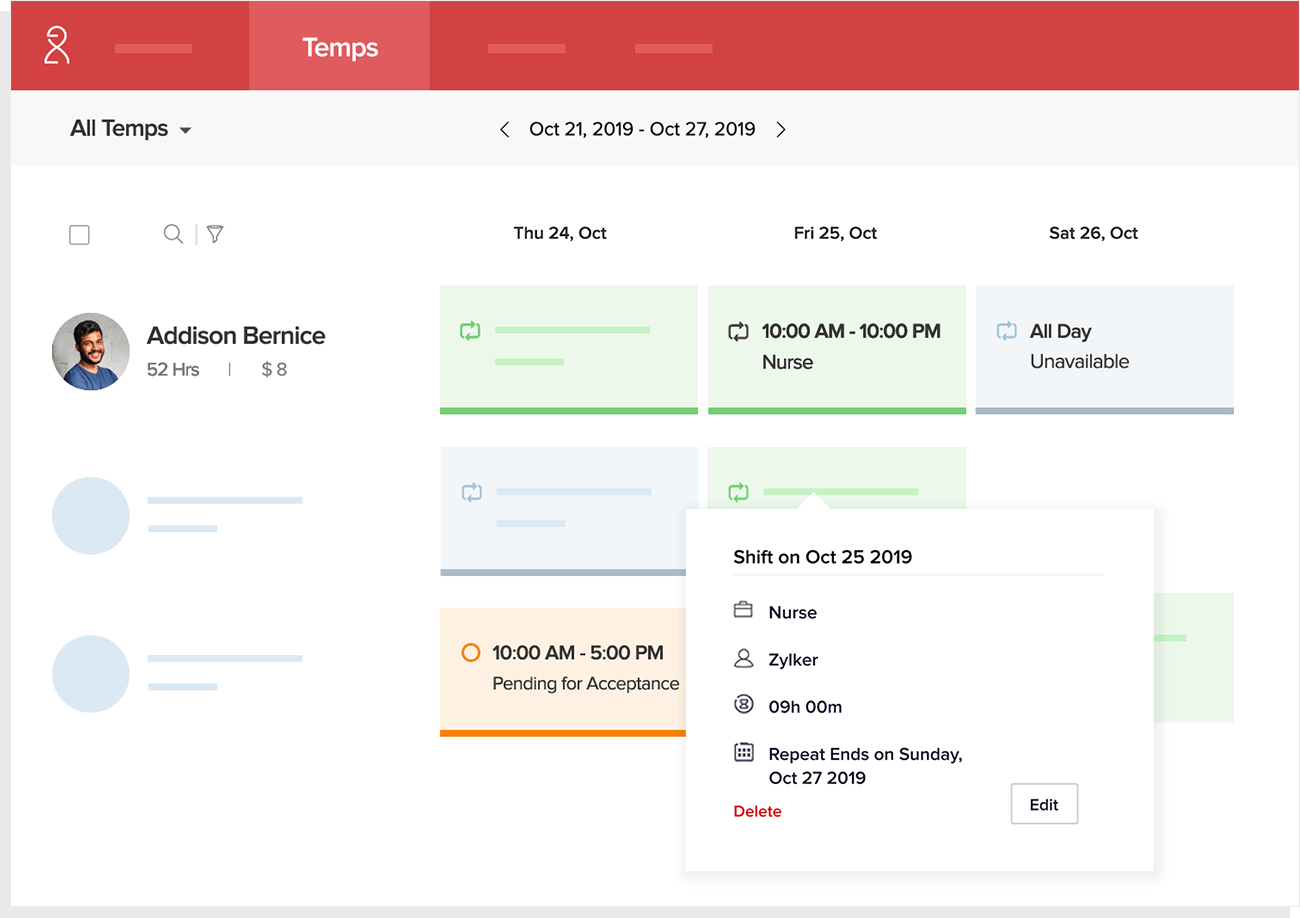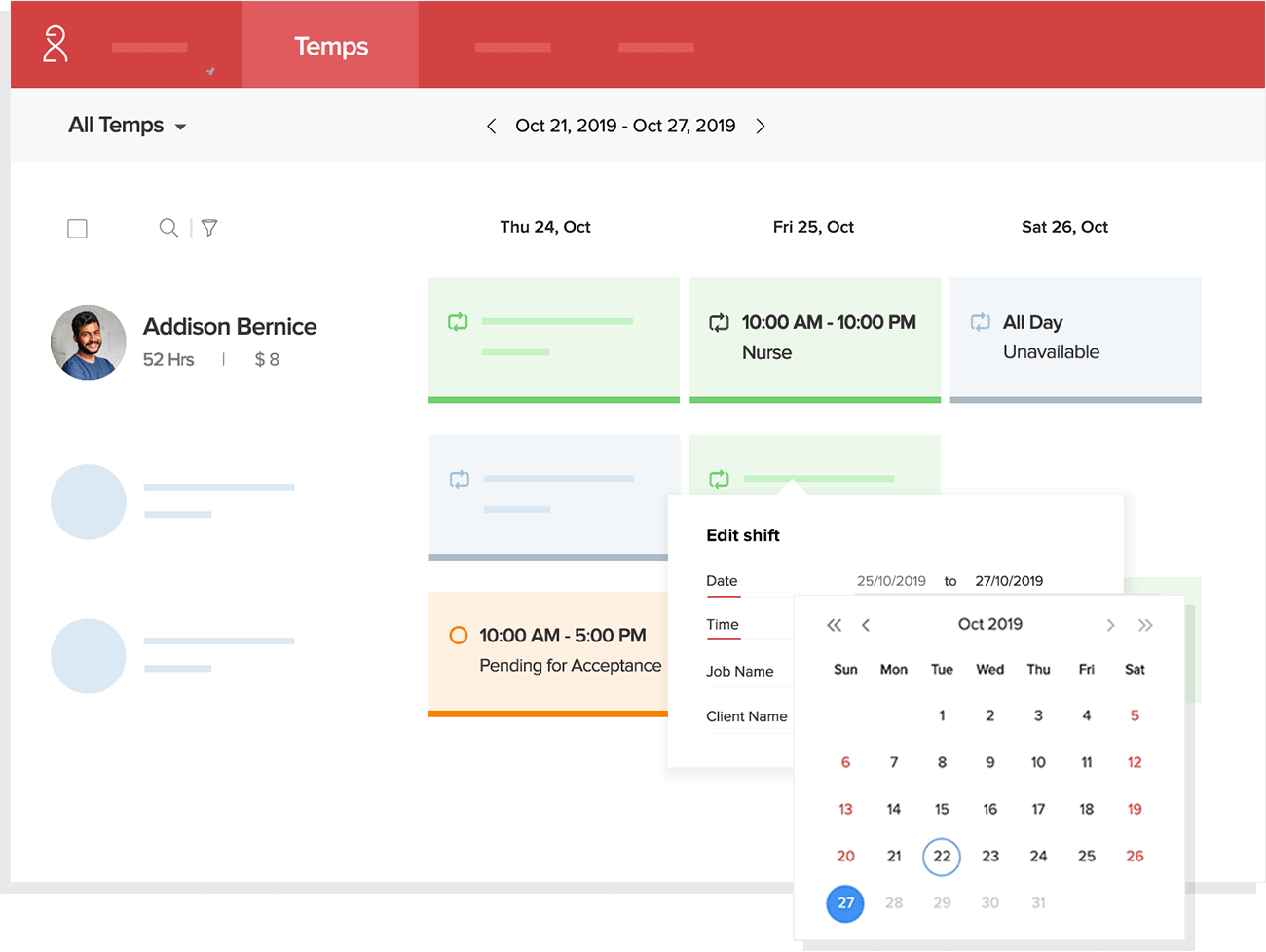 Flexible shift scheduling
When you have your temp's details, scheduled shifts, and availability all in one place, remote workforce management becomes a breeze. Whether it's scheduling, rescheduling, or cancelling a schedule, Zoho Workerly's Roster View makes it easier than you imagine.
Electronic timesheets
When you're looking to digitize remote temp staffing, timesheets in Zoho Workerly help out! It's a fast and an accurate way to monitor and manage the number of hours spent by each of your temps. To top it off, it makes processing payments for temp work simple.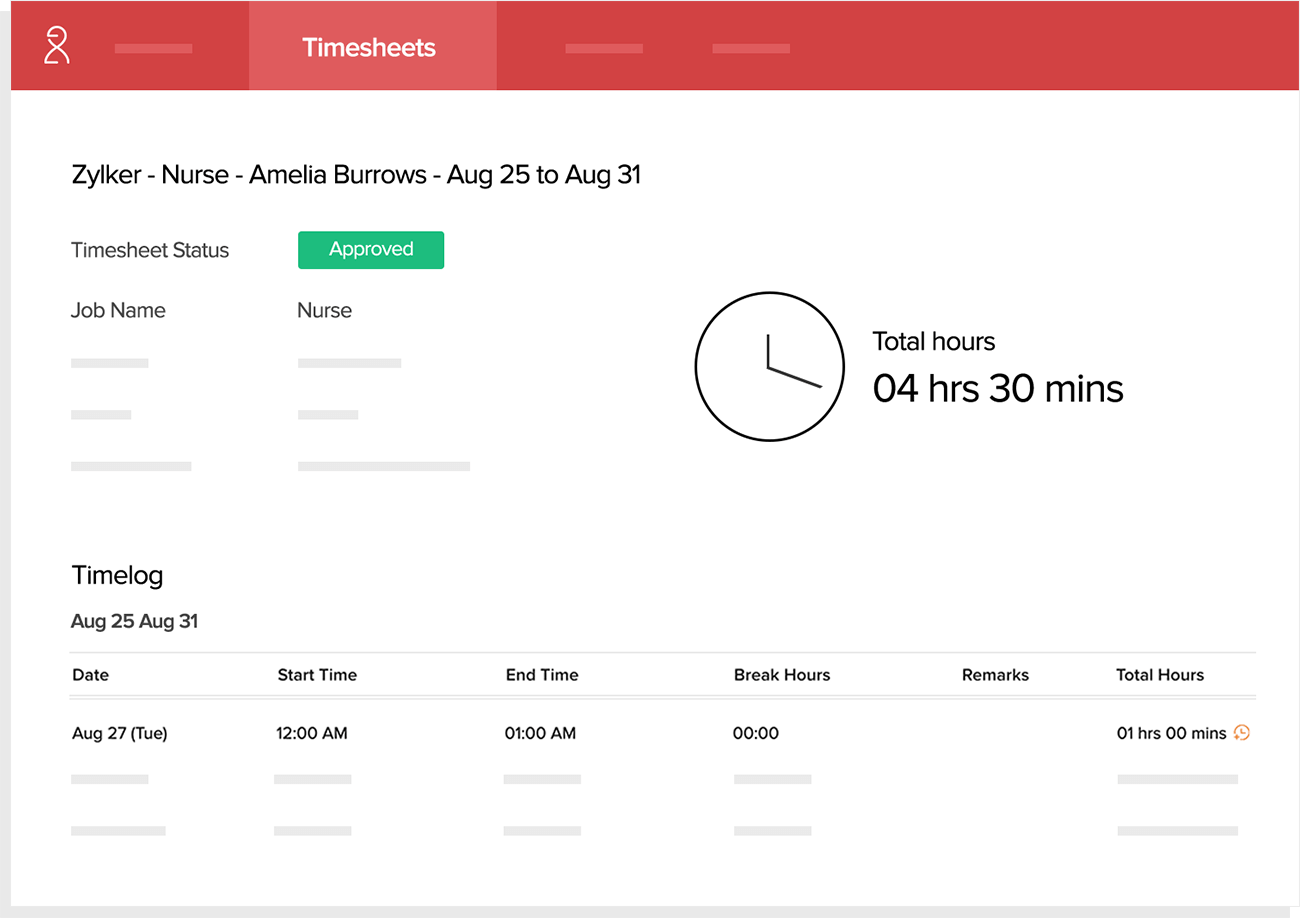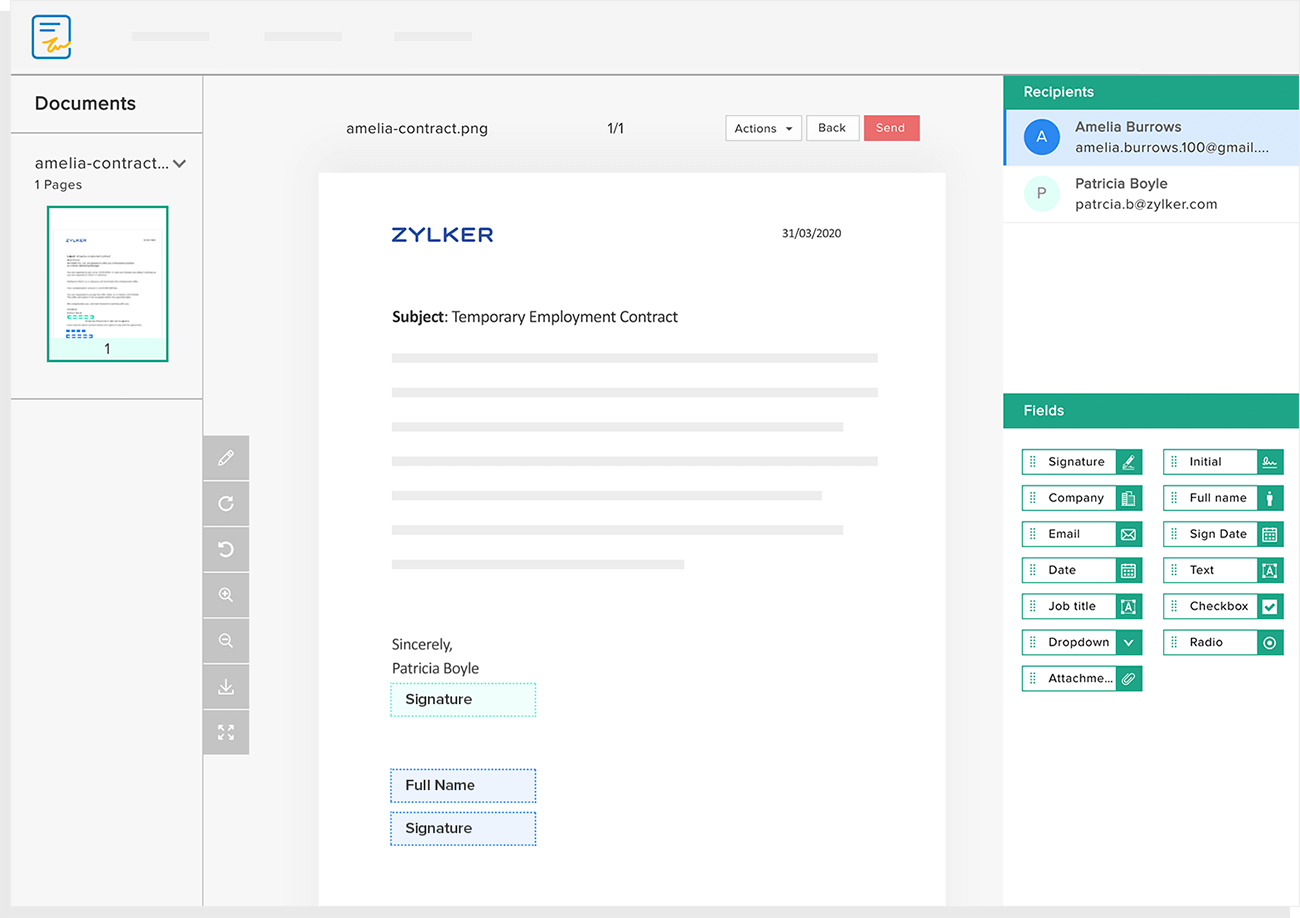 Digital approvals using e-sign
For temp staffing agents who are into remote staffing, Zoho Workerly has its marketplace equipped with e-sign integrations. Use Zoho Sign , DocuSign , and Adobe Sign for a quick, easy, and paperless way to get documents signed/verified by temps or clients.
Timely invoice generation
A temp staffing software that enables easy invoice generation and processing is vital. Zoho Workerly's 'Export to Payroll' feature with our built-in Zoho Books integration helps you create invoices and process payments quickly.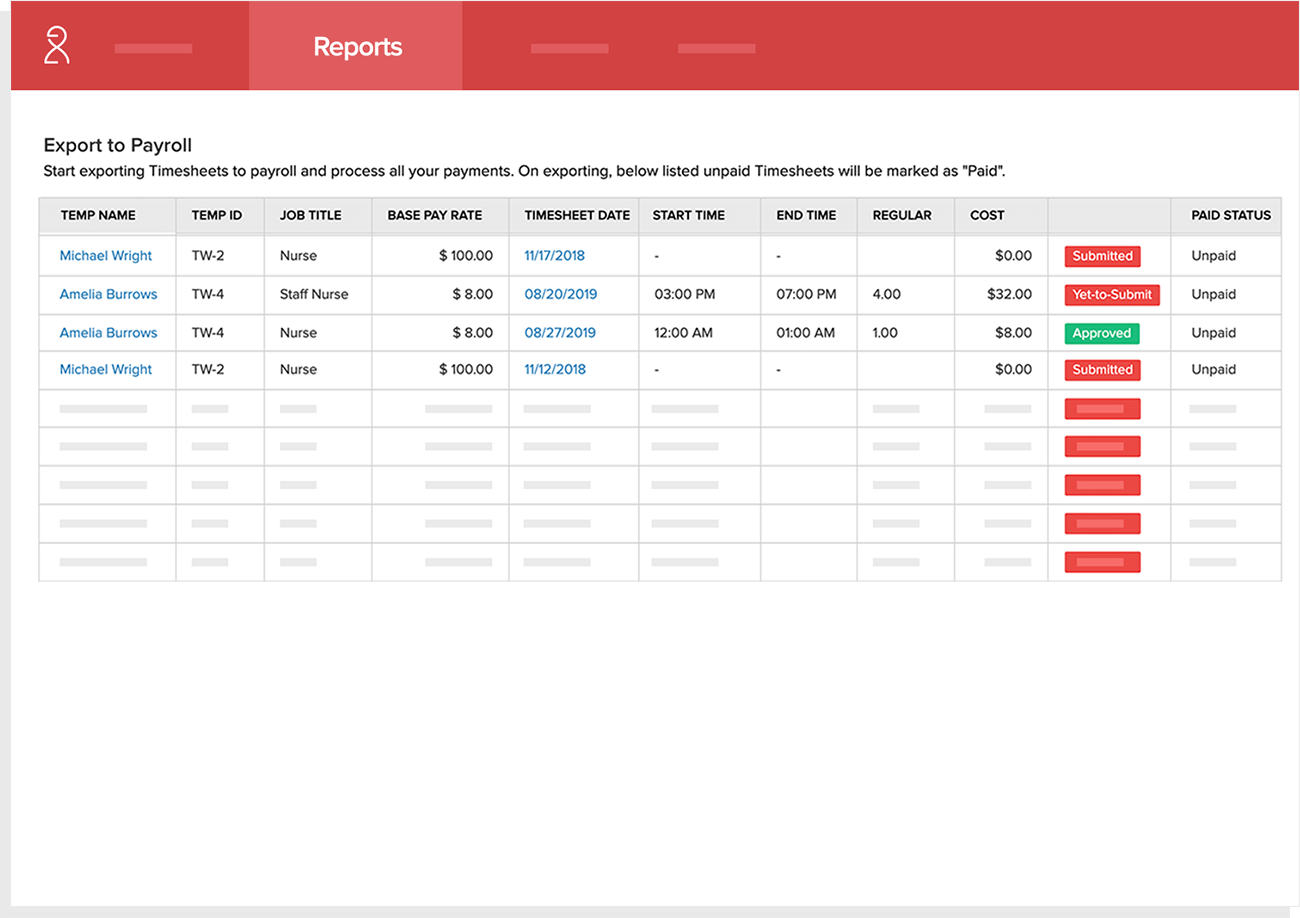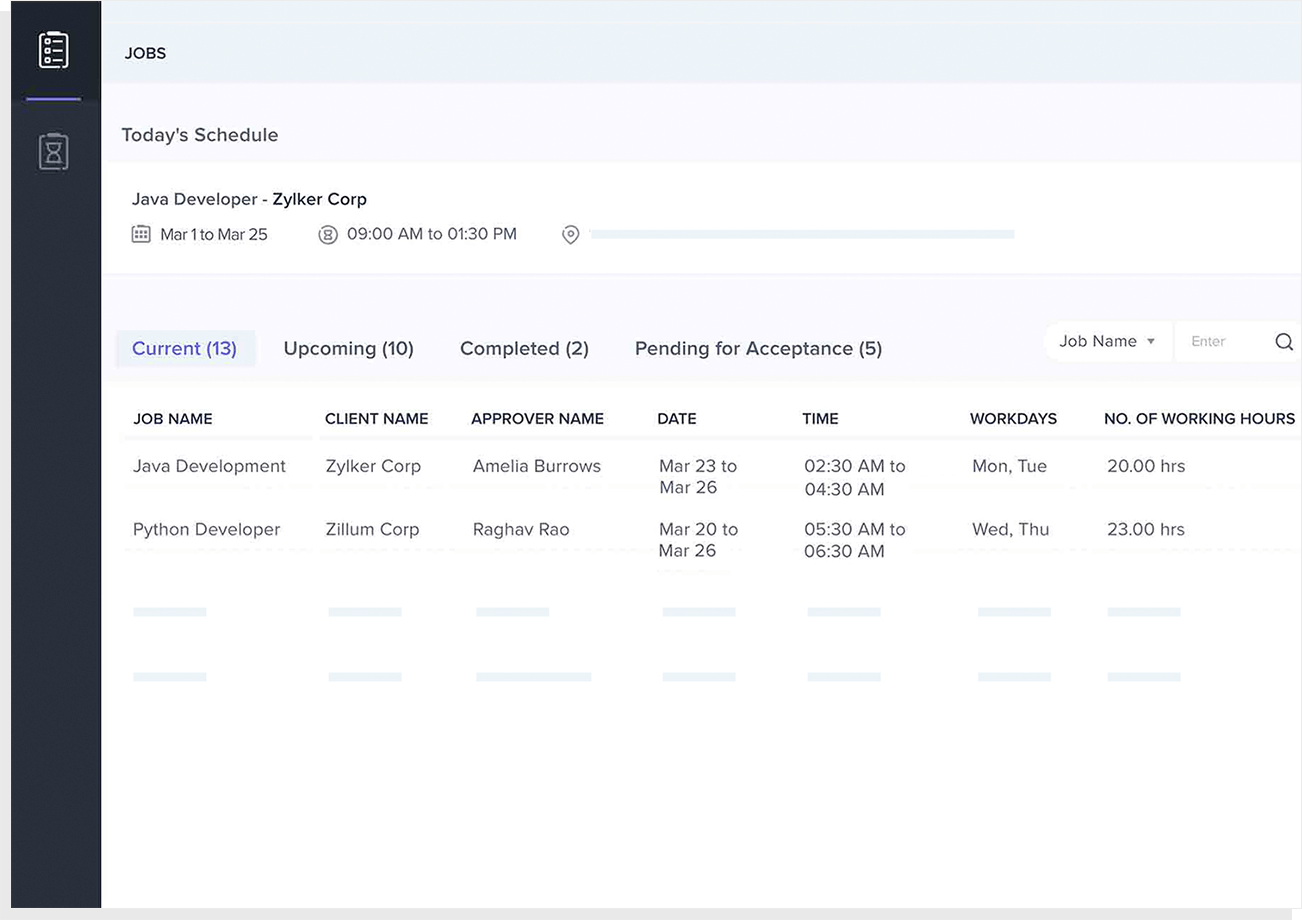 Temp Portal
With Zoho Workerly's dedicated temp portal, temps can track their current, upcoming, and completed schedules. They can also clock their work hours and mark their unavailability. These time logs can be further used for generating timesheets.
Be in the know
Keeping everyone informed is always a top priority, and it's especially crucial for remote staffing. Using Zoho Workerly's integration with third-party vendors - Twilio, Screenmagic, Clickatell, and Messagemedia , you can easily get in touch with temps and clients. You can also send bulk messages and emails to temps and clients, informing them about updates to their scheduled shifts.