What is Staff Scheduling Software?
Staff Scheduling Software is a platform that streamlines the process of scheduling temps in just a few clicks. Assigning jobs and communicating shift changes can be time-consuming, while a minor mistake can prove chaotic and harm a staffing agency's reputation. A reliable scheduling solution does the hard work so you can focus on matching the best candidates with the best jobs.
Get Started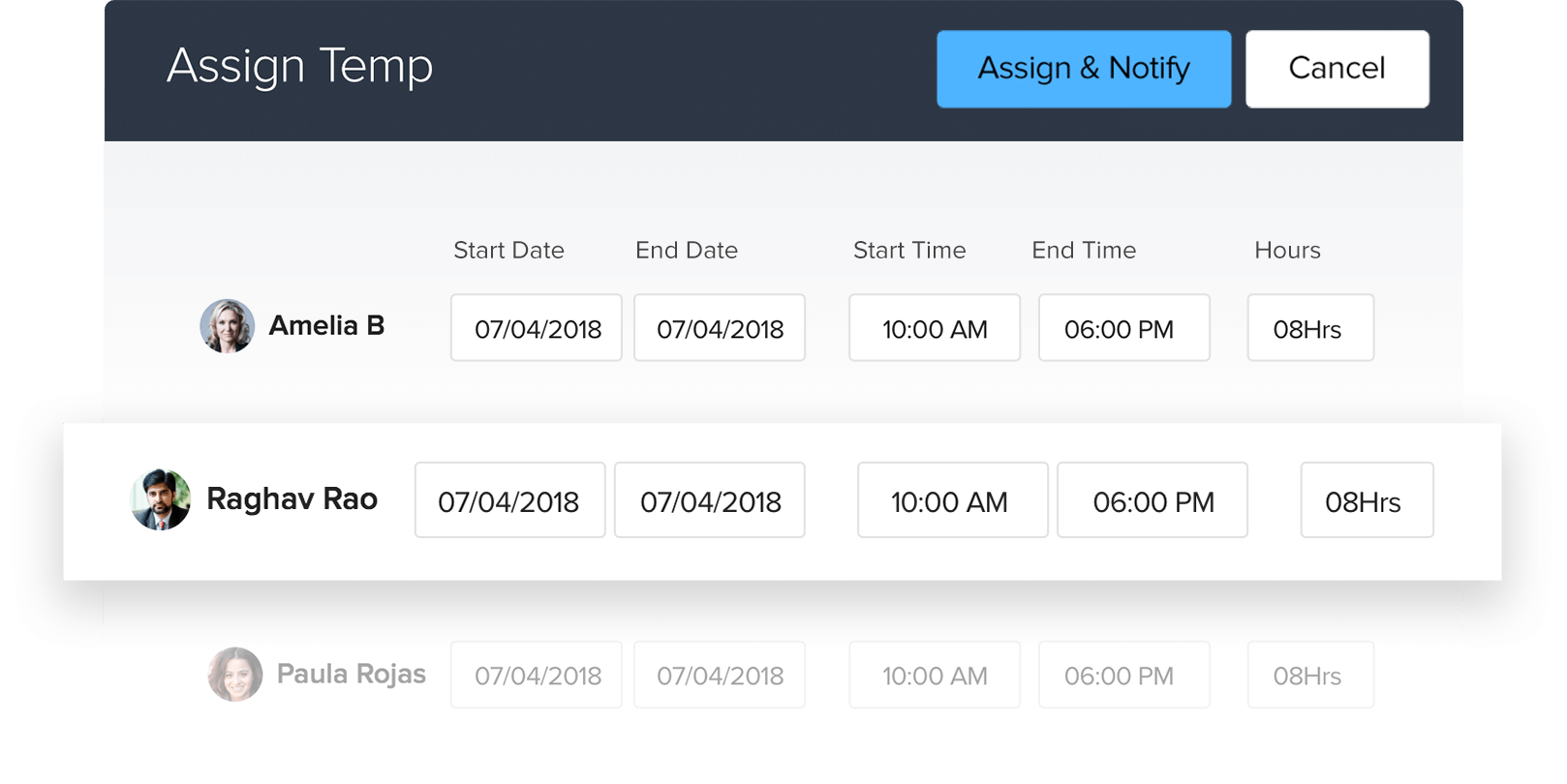 Why do you need Temporary Staff Scheduling Software?
Companies across the globe are revamping their hiring efforts and relying on temp workers more than ever. Temp Scheduling Software allows temp staffing agencies to work more efficiently by collecting your temps into an easily searchable database, allowing you to track their availability and schedules, and empowering you to communicate with them better.
Advantages of Temporary Staff Scheduling Software
Using software to manage temp scheduling creates an order and flow to your business. Quickly search your temp database for the best available match, add or remove them from the job with a single click, and then notify them immediately. You can also schedule invoices to be automatically generated once a job is complete. Staff Schedule Software allows you to manage the whole process using a single interface, saving you time and reducing the possibility of human error.
Quickly adapt to changes in temp availability
Having a buffer in case of schedule changes is crucial to avoiding shift clashes. Staffing and Schedule Software helps you adapt to sudden schedule changes, avoiding temp no-shows by marking them unavailable in the Temp Portal.
Improve temp communications
Keeping everyone informed will ensure temps make it to their assigned jobs/duties. Sending alerts on new shifts and schedule changes can be automated with a Staffing and Scheduling Software. 
Procedural consistency
Having software that will walk you through routine procedures reduces the possibility of human error. For example, you can track and process time-off requests without the fear of misplacing, overlooking, or forgetting them completely.
Static/dynamic scheduling
Whether your clients have fixed work shifts or those that change dynamically, Temp Scheduling Software can handle both cases and facilitate an organized workflow.
Key Temporary Staff Scheduling Software features
Schedule overview
Viewing your weekly, biweekly, and monthly schedule can give you perspective regarding your temp's schedule. Customize your view based on time, location, and more.
Real-time communication
Having real-time access to your temps through text messages and emails is essential. Often Temporary Staff Scheduling Software will offer mobile apps that ensure everyone receives timely notifications about announcements, updates, or changes.
Automatically assign shifts
Assigning numerous temps with the right jobs can be time-consuming and exhausting. The implementation of AI in Temp Scheduling Software means it does the hard work for you. Using a given criteria, the AI can assemble a list of temps and automatically schedule or re-schedule them to the job that's perfect for them.
Shift swapping
Temps can easily trade shifts or pick up available shifts. This is beneficial because agents can prevent double-booking one temp to a specific shift and stay compliant with a company's overtime rules, avoiding unplanned overtime costs.
Integrations
Temporary Staff Scheduling Software can integrate with invoicing and expense systems to automatically generate invoices when the job is finished. Now, after all that hard work, you'll never again forget the most important part—getting paid.
Conflict-free Temporary Staff Scheduling with Zoho Workerly
A complete view of all your temps, clients, and jobs in one place
Getting stuck with endless spreadsheets, manual data entry, or tracking physical paperwork? With Zoho Workerly, maintain a complete overview of all your important stakeholders with a single interface.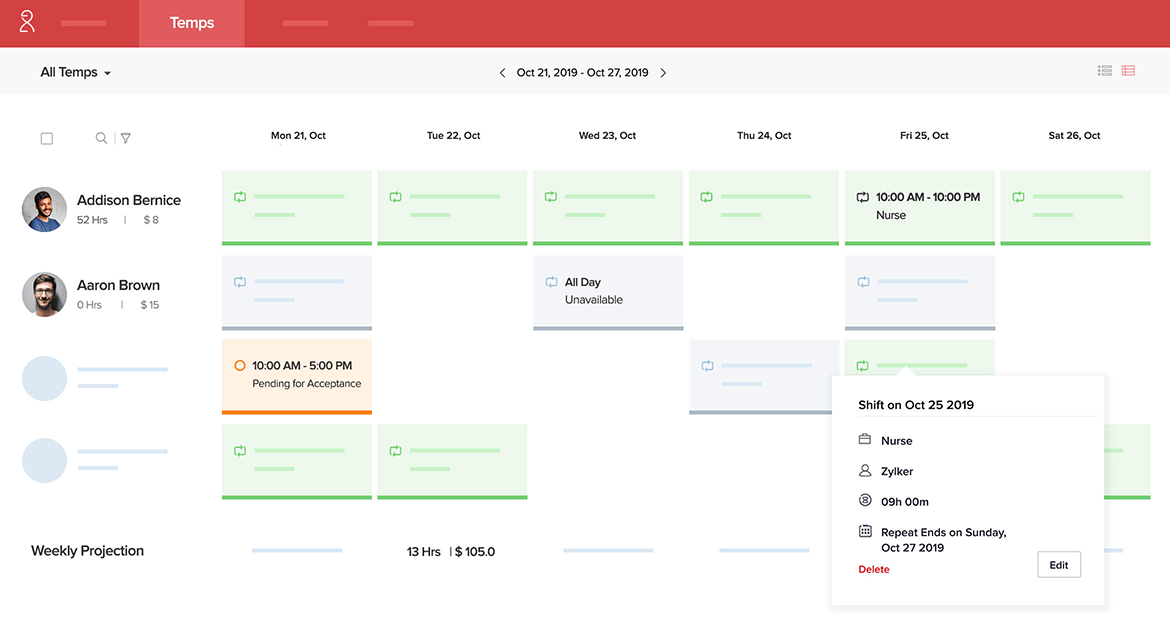 Advanced search for faster scheduling 
Say goodbye to manual search! Zoho Workerly's smart matching algorithm brings all the matching temps to your scheduling dashboard so you can choose the best option to complete your job within the timeframe.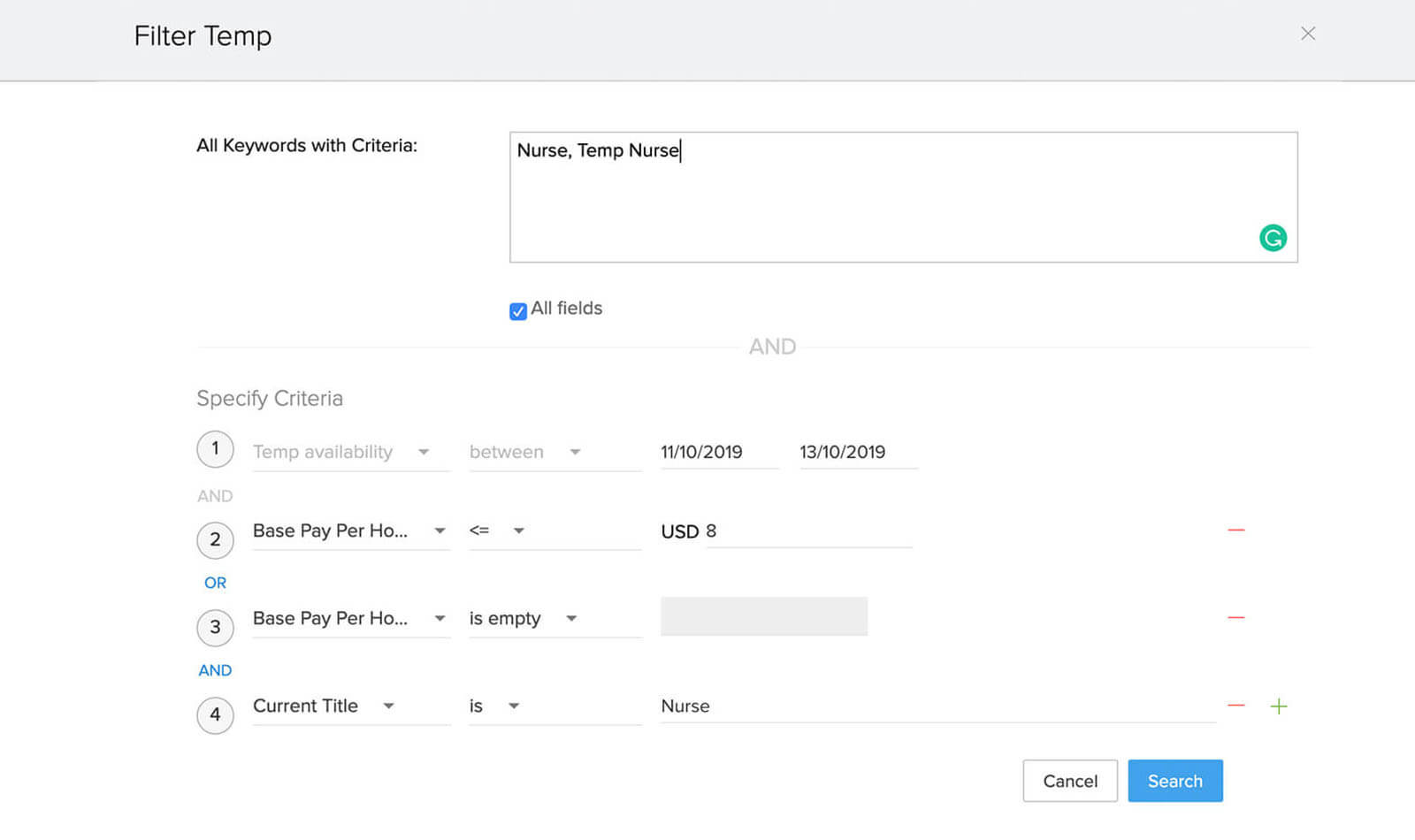 Temp Portal
Notify temps about new job or schedule changes with a push notification via temp portal. Further, temps are given an opportunity to accept/reject the assigned job.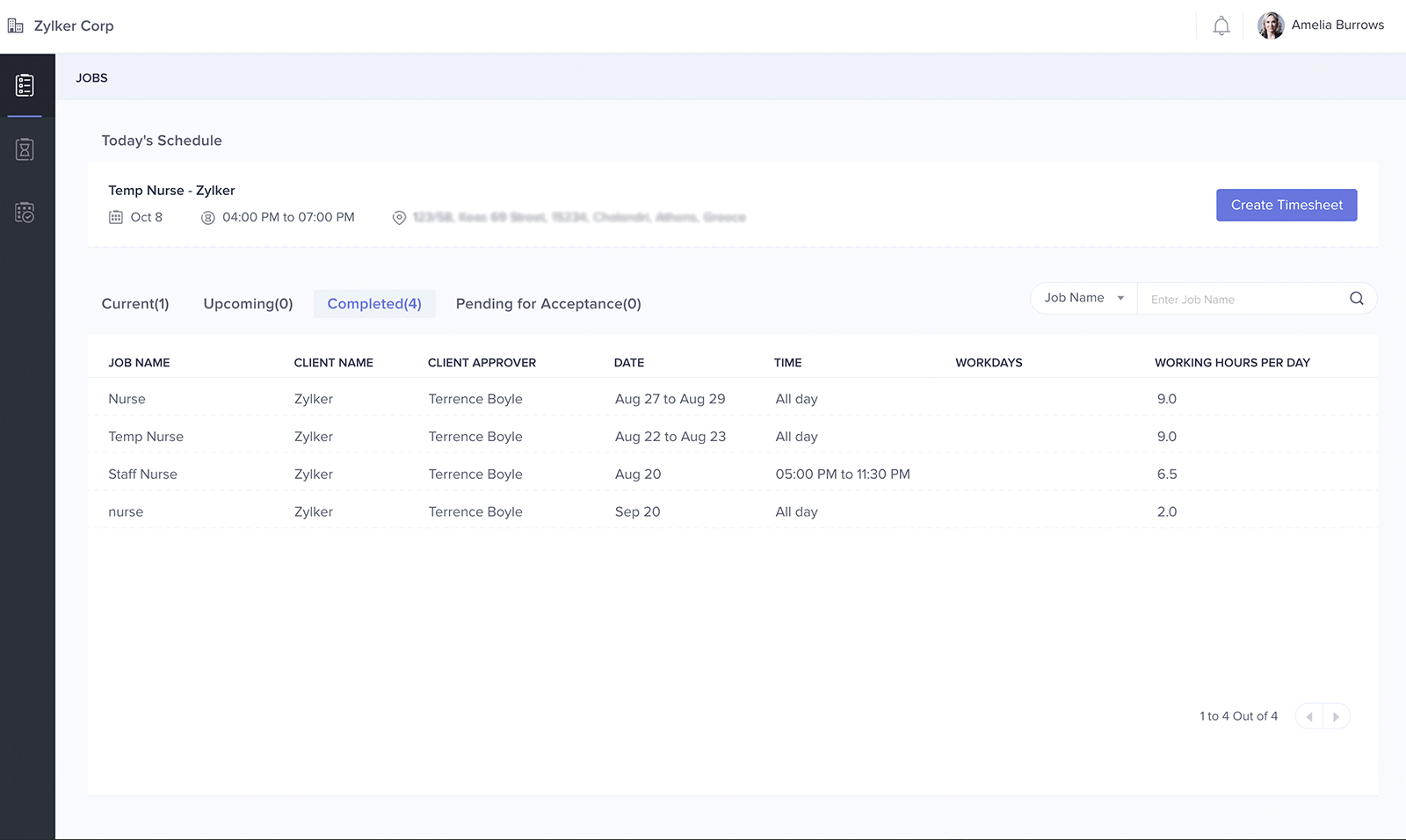 Temp Availability
Having temp's unavailability marked well in advance can avoid shift conflicts.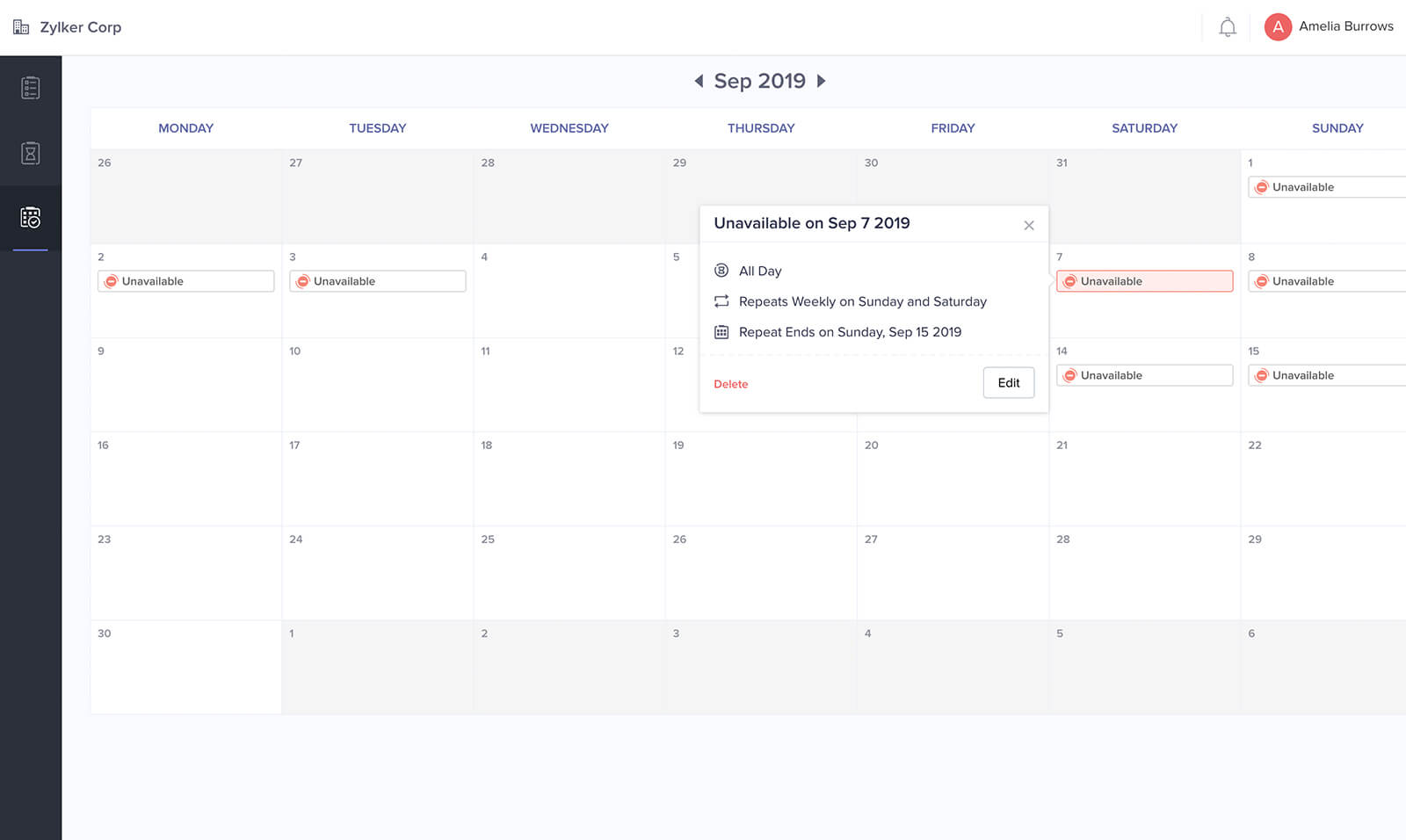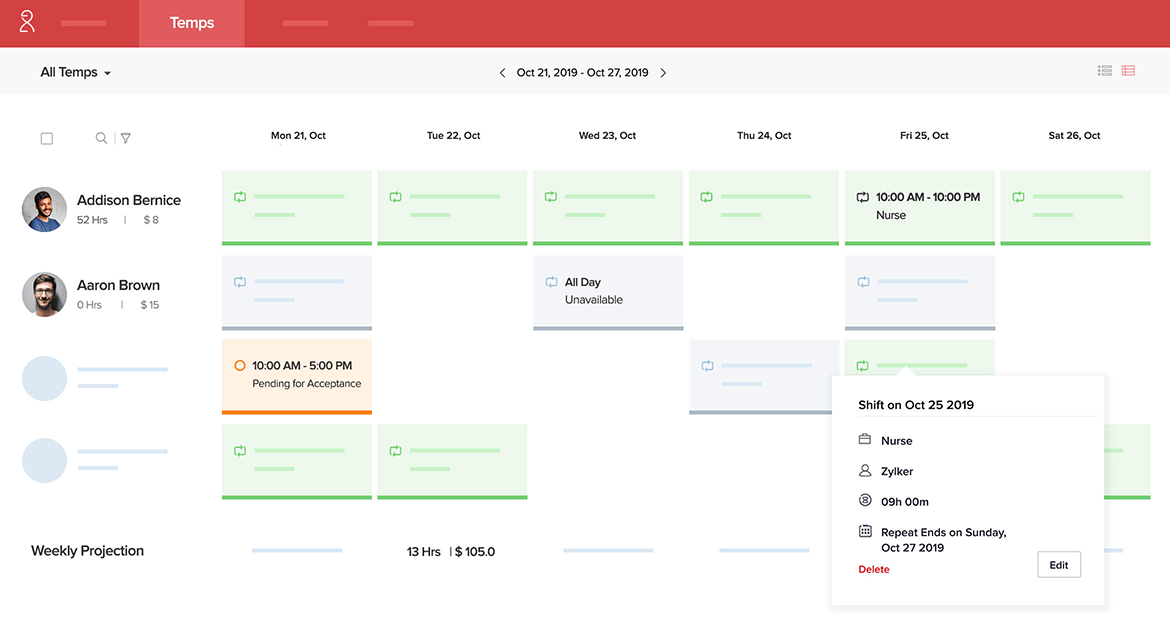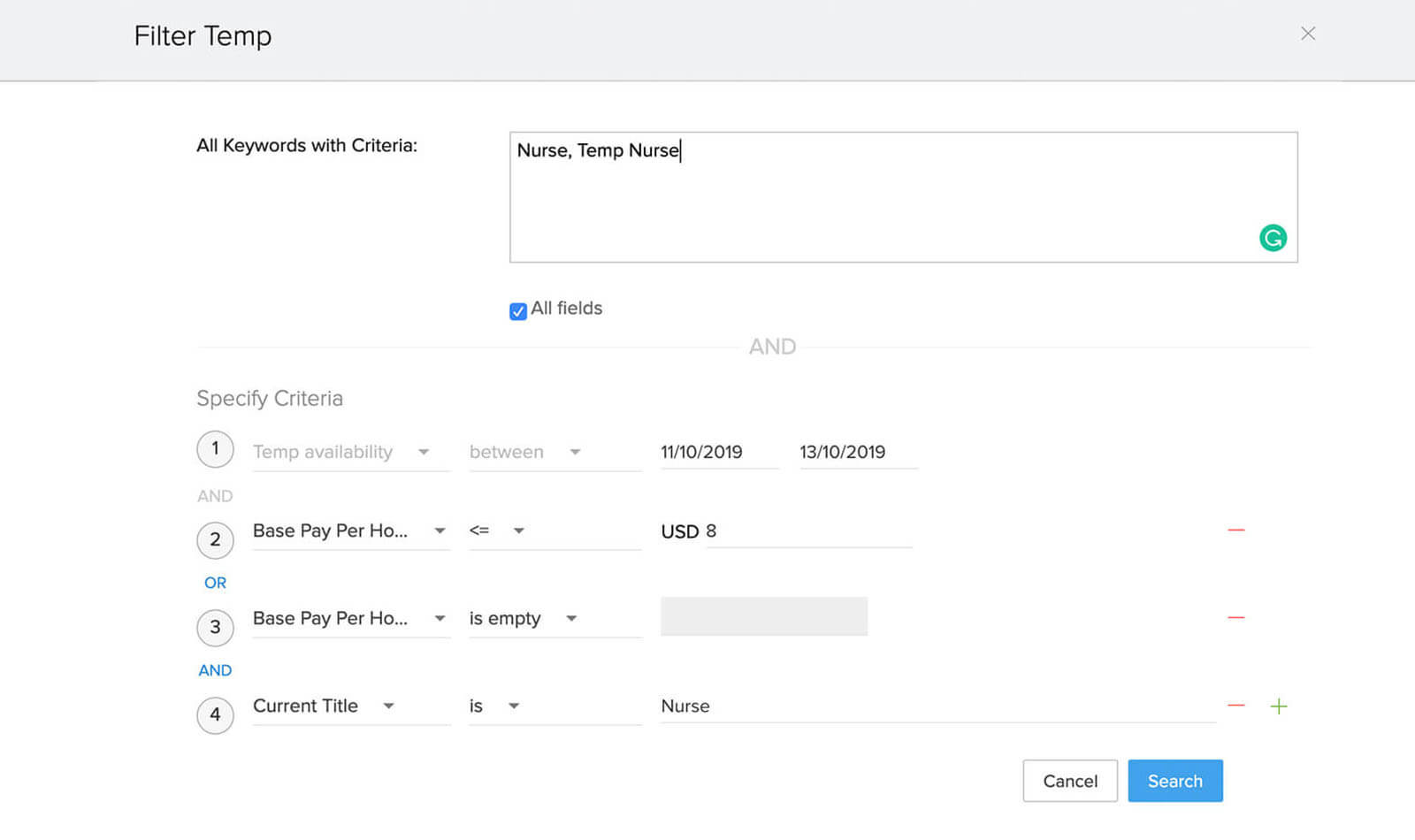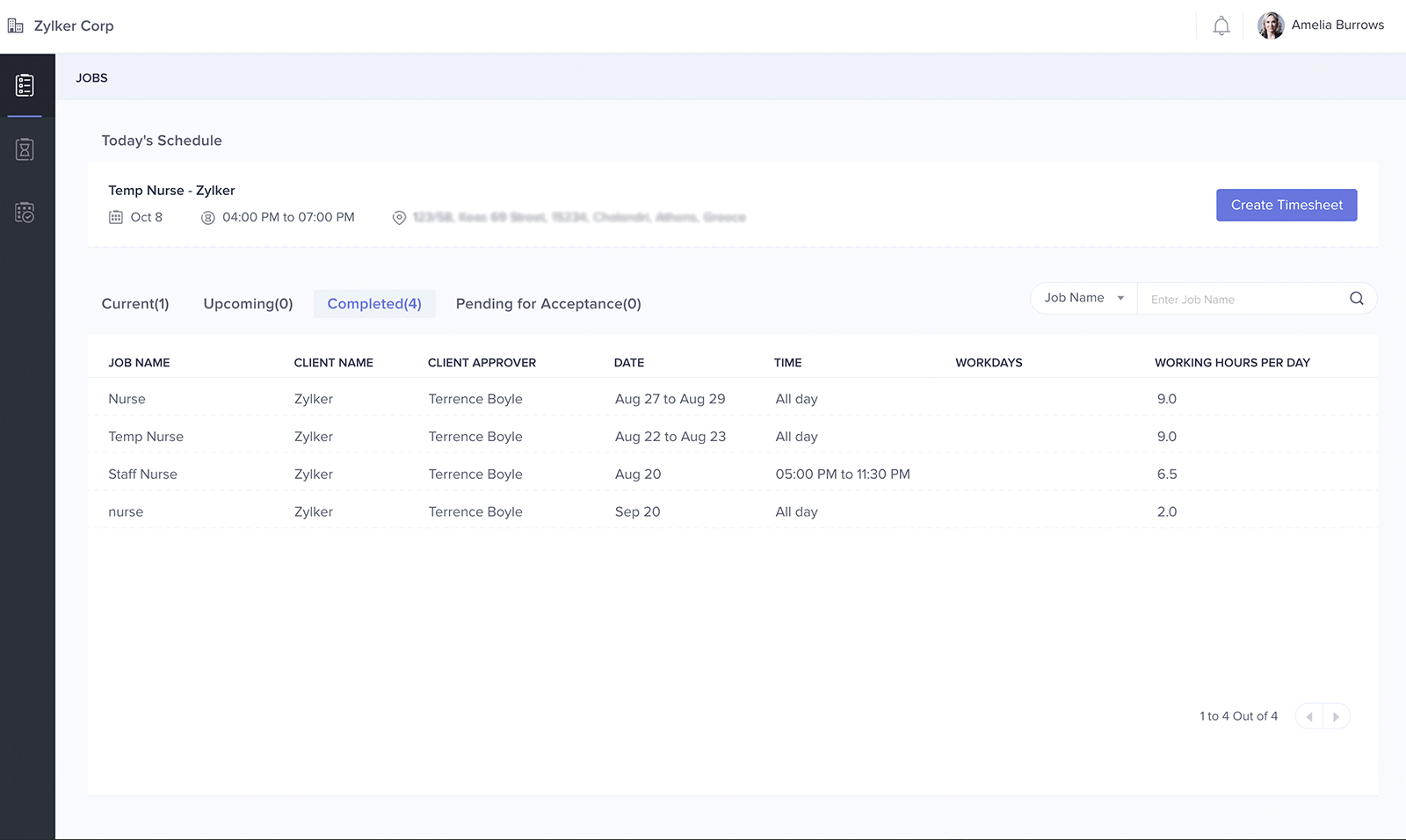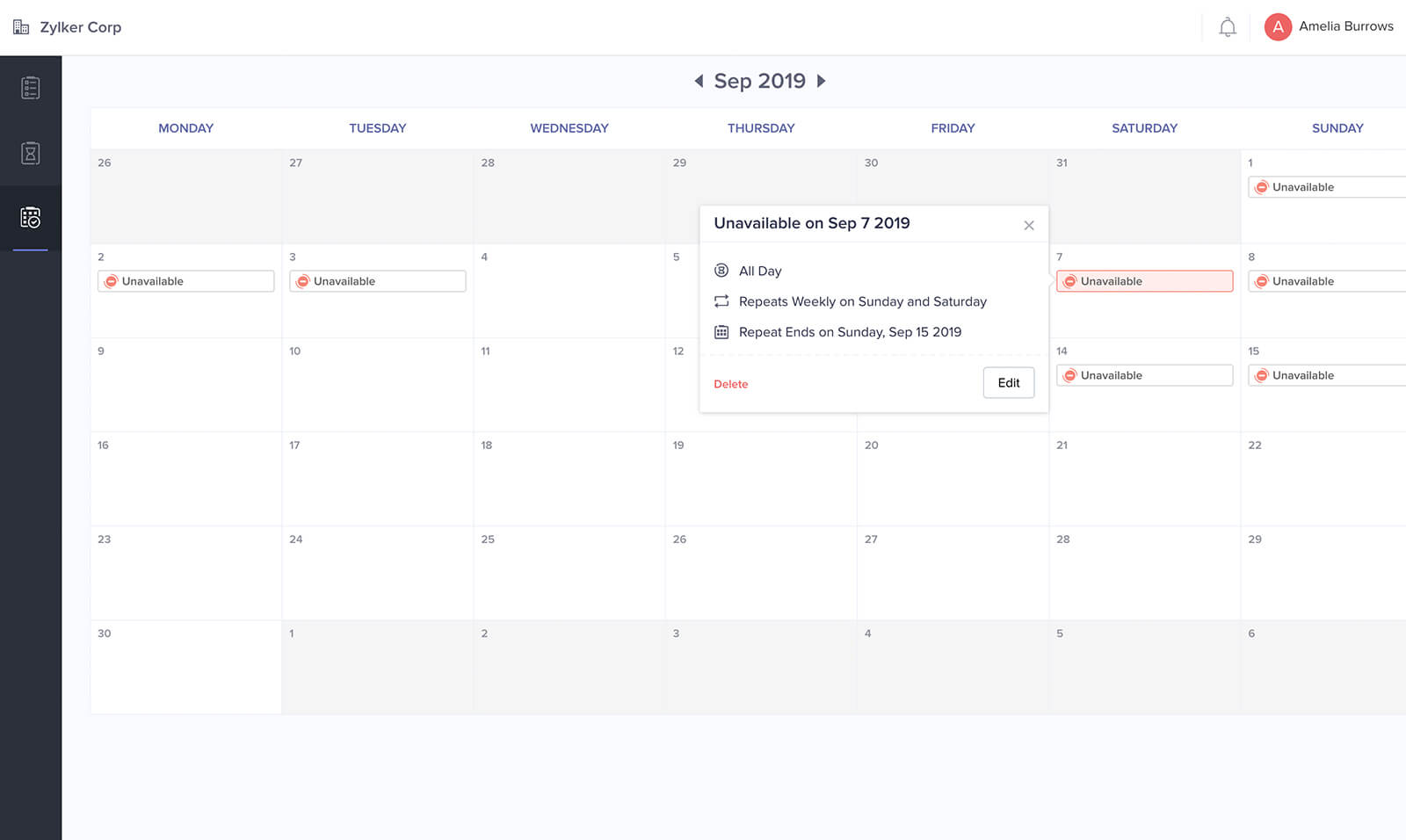 Basic pricing starts for 50 temps
Unlimited Recruiters
Unlimited Jobs
14-Day-Free Trial with Unlimited Temps
In-built invoice generation
iOS and Android apps for Temps
Interactive Temp Portal
Temp Engagement Channels
Local taxes (VAT, GST, etc.) will be charged in addition to the prices mentioned.
Temporary Staff Scheduling made simple with Zoho Workerly
Zoho Workerly is a staffing agency scheduling software designed to schedule, track, and communicate with temps.
Get Started