Stay HIPAA compliant with Zoho WorkDrive
Keep your patient's Protected Health Information (PHI) safe with Zoho WorkDrive, a cloud-storage and file-sharing solution that helps healthcare providers securely manage medical records in a HIPAA-compliant manner.
SIGNUP FOR FREE
Watch Video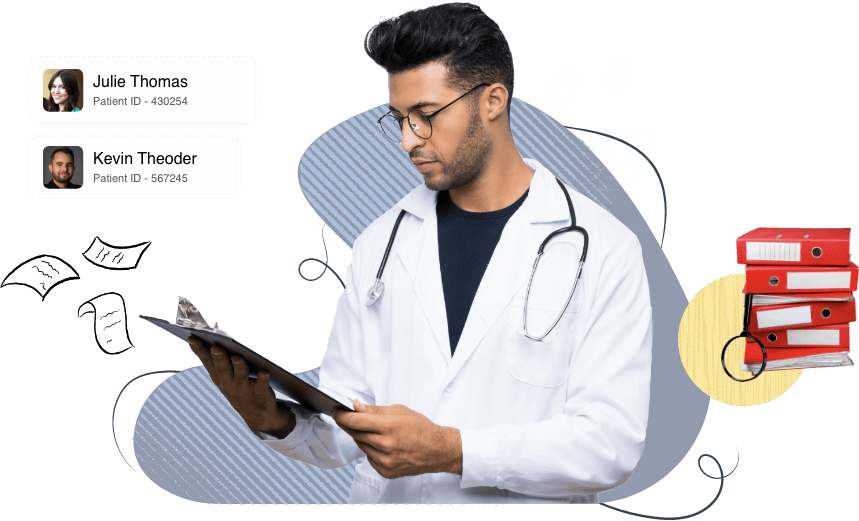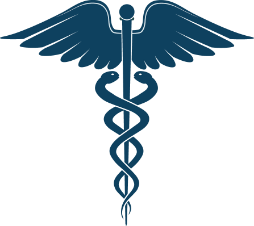 What is HIPAA?
The Health Insurance Portability and Accountability Act (HIPAA), which includes the Privacy Rule, Security Rule, Breach Notification Rule, and Health Information Technology for Economic and Clinical Health (HITECH) Act, requires Covered Entities and Business Associates to take certain measures to protect health information that can identify an individual, as well as provides certain rights to individuals.
Maintain HIPAA compliance with Zoho WorkDrive
Organizations that fall within the scope of HIPAA are responsible for implementing policies, procedures, and technologies to protect PHI. To help users stay compliant in their information handling, WorkDrive provides the following tools to meet HIPAA requirements:
Learn More
Store and protect PHI with access control
Create an archive of your medical records and assign role-based access to doctors, assistants, and other necessary staff for patient reports.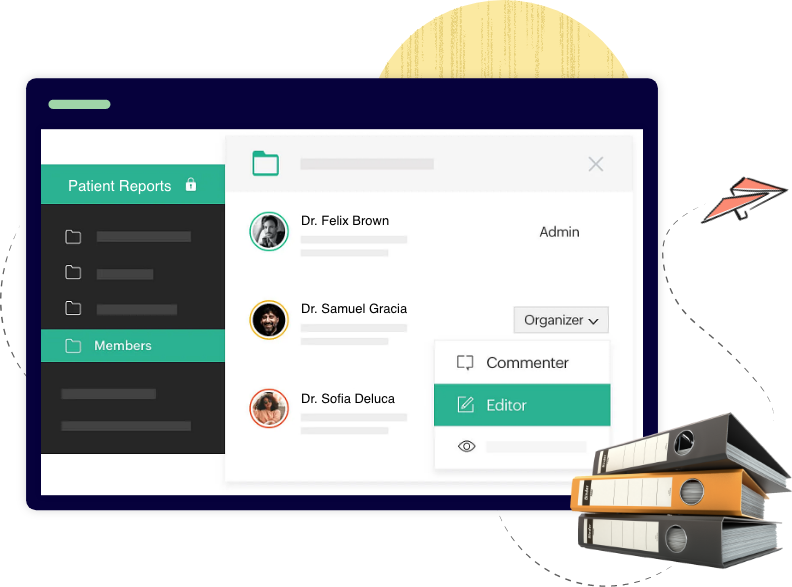 Keep an eye on your files
Track everything happening in your file storage platform. With WorkDrive notifications, you can receive instant updates on any changes made to your sensitive files and monitor every activity performed on your documents.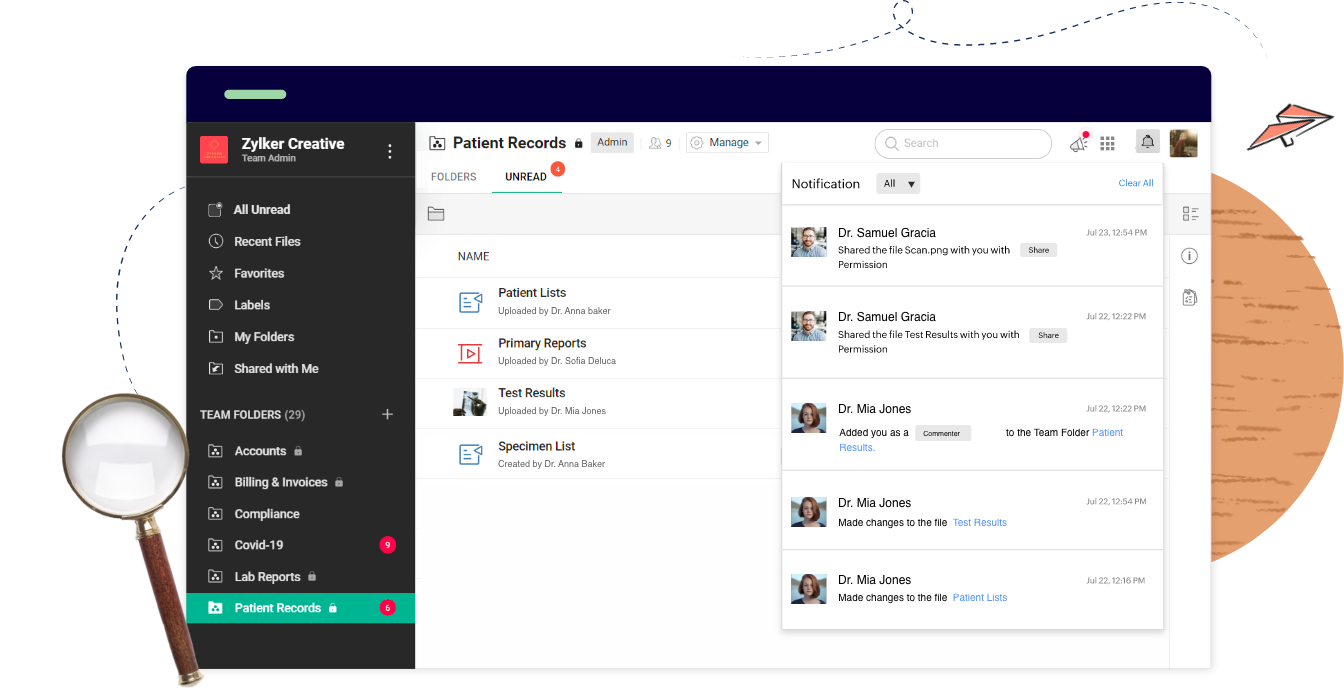 Restore lost data
Anyone can accidentally delete a file. WorkDrive provides an option to recover accidentally deleted files and folders from the trash, ensuring your data stays with you all the time.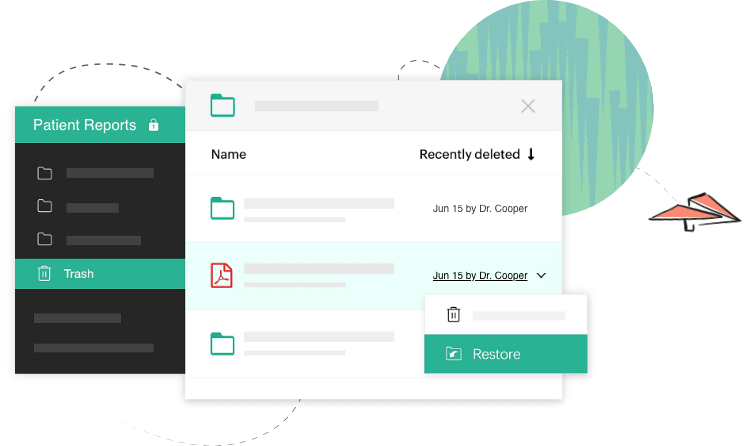 Access your files any time, from anywhere
Mobile devices and bring-your-own-device programs can improve your organization's accessibility and efficiency. The WorkDrive app for iOS and Android gives you secure access to medical records, even offline. Keep your data safe by quickly disconnecting and remotely wiping data from a device if it's lost or stolen.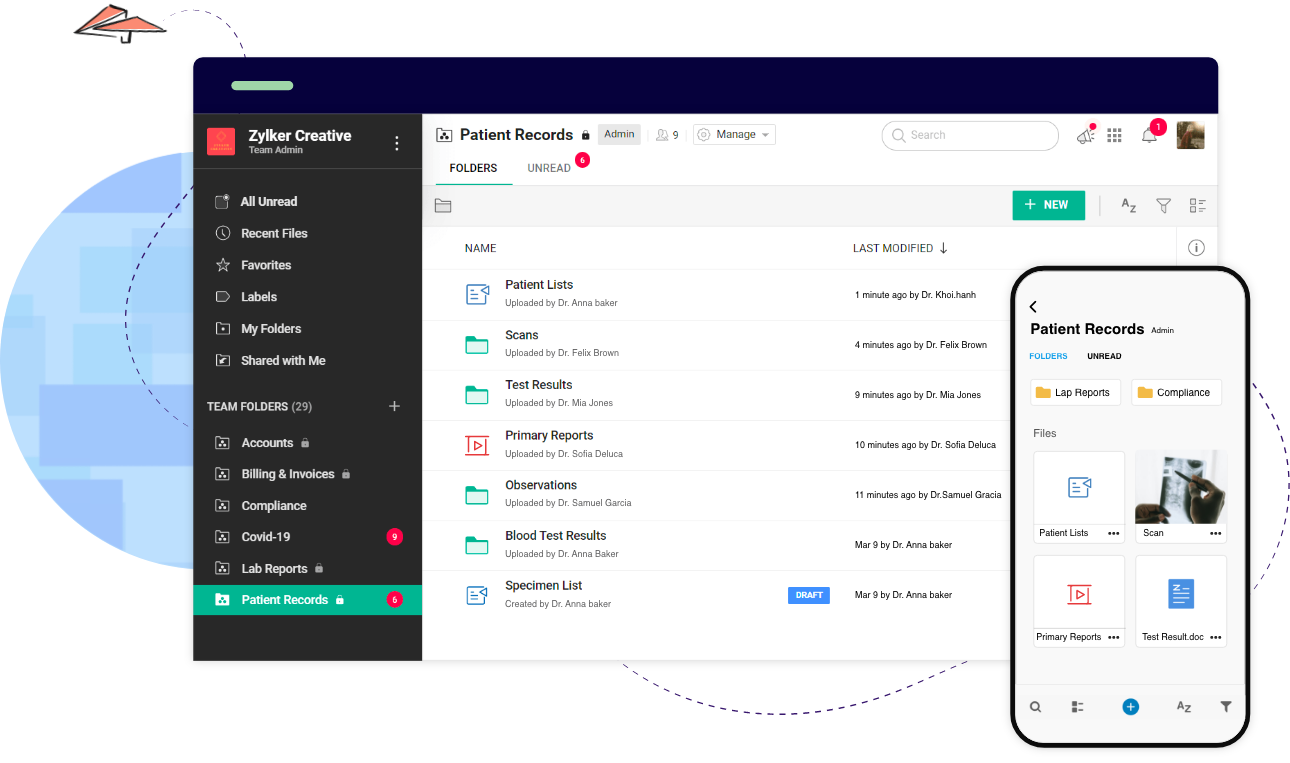 Protect your PHI
Taking the right steps can protect your organization from any HIPAA-related fines, fees, or penalties. Files in Zoho WorkDrive are encrypted at rest with 256-bit Advanced Encryption Standard (AES). During transit, we follow the latest TLS protocol version 1.2/1.3. We also implement perfect forward secrecy and enforce HTTPS Strict Transport Security (HSTS).