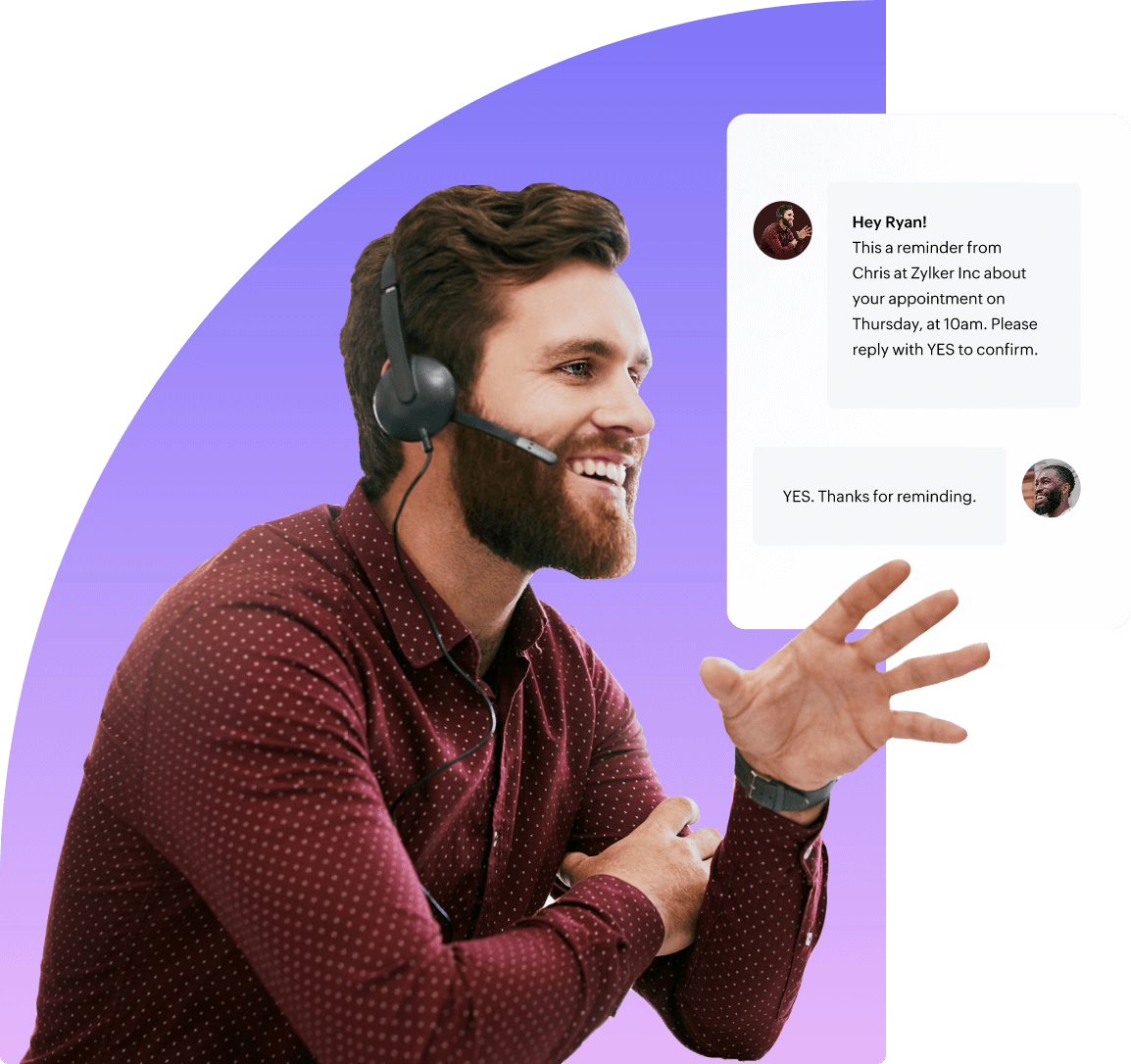 Integrated Cloud Contact Center
An intuitive, insight-driven, personalized cloud contact center solution designed for today's hybrid workforce that enables agents to work smarter, faster, and more collaboratively by leveraging seamless integrations with CRM, Desk, Bigin, ManageEngine ServiceDesk Plus to deliver optimal customer success.
What you get
Contact centre types
Pricing
Features
FAQs
Bringing the power of cloud innovation to your communication platform
Advanced call routing
Seamless integrations
Mobile contact center solution
Two-way SMS services
Holistic reporting and analytics
Improved flexibility and scalability
Assured call quality
Round-the-clock availability
Regulatory compliance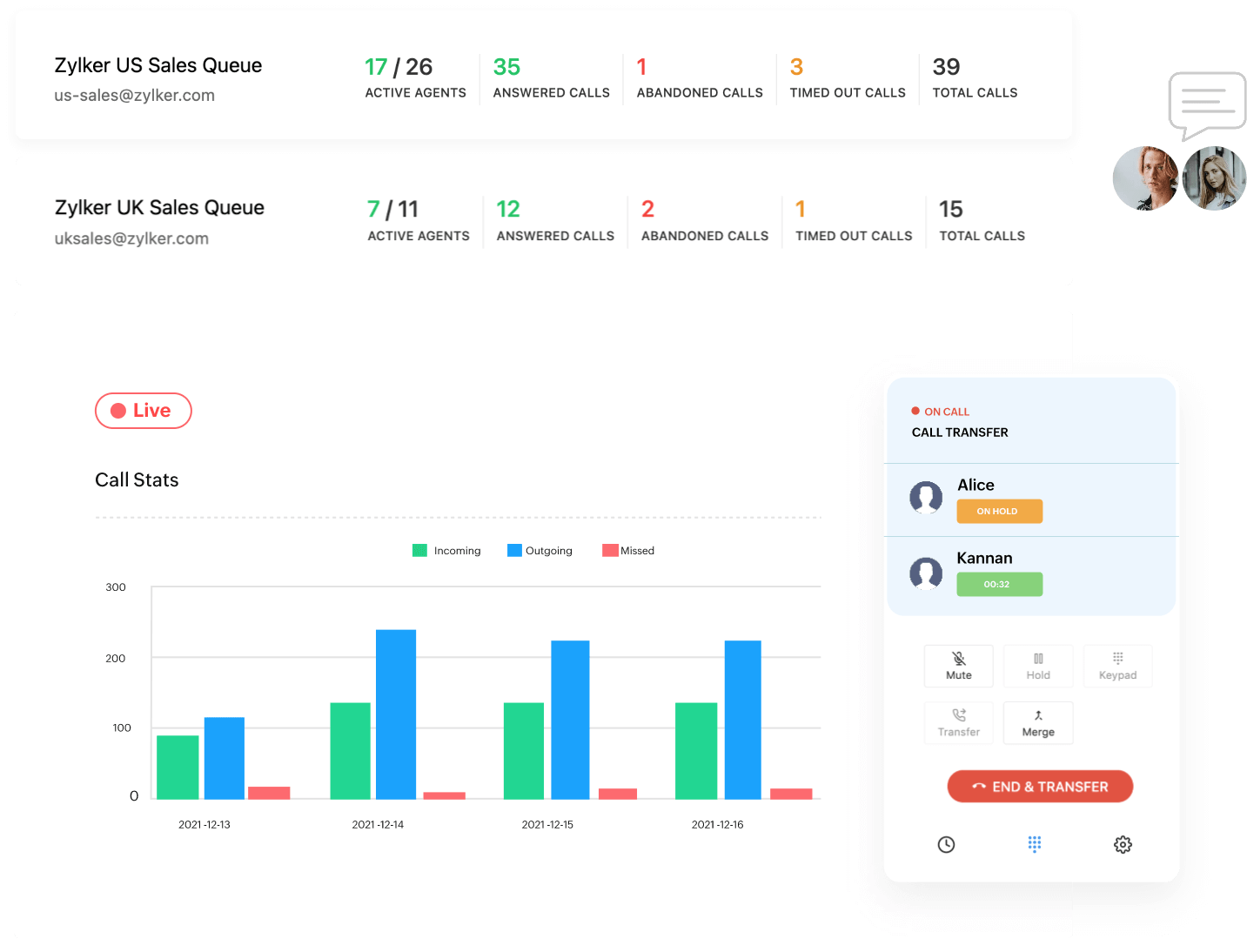 Advanced call routing
Route incoming calls to the right department by configuring IVRs with predefined rules. Promptly assist VIP customers by having them dial a number that is assigned to a specific set of agents, managers, or executives. Define your business hours and holidays, and allow your callers to leave voicemails during off-duty hours. Reduce the number of missed calls and improve the overall customer experience.
Live call monitoring
Listen to live calls, talk to agents without the caller hearing, or jump into a live call to start a three-way conversation. Ensure quality sales and support assistance by monitoring calls and training agents in real time. Record your calls and analyze them later to further enhance the quality of your services.
Seamless integrations
Integrate your virtual contact center system with Zoho CRM and Zoho Desk to streamline your communications. Manage calls directly from CRM and Desk with handy features, such as click-to-call, call pop-ups, and call notes. View relevant caller information from screen pop-ups and quickly understand the context for all customer interactions.
Mobile contact center solution
Take your contact center service wherever you go so you can provide timely support on the move. Manage calls using just your mobile phone and an internet connection. Zoho Voice's mobile app is available for both iOS and Android platforms.
Two-way SMS services
Send and receive SMS with voice and SMS-enabled local numbers. Strike up a quick conversation with your customers or effortlessly track the conversations of your agents. Make yourself easily reachable to build a consistent and pleasant customer experience.
Holistic reporting and analytics
Dive deep into your call data from the dashboard and get a macro view of outgoing, received, and missed calls. Easily look up and analyze completed calls by filtering the call logs based on date, agent, department, queues, and numbers so you can manage your workforce efficiently. Track performance with queue analytics and customer feedback ratings.
Improved flexibility and scalability
Route incoming calls to the right department by configuring IVRs with predefined rules. Promptly assist VIP customers by having them dial a number that is assigned to a specific set of agents, managers, or executives. Define your business hours and holidays, and allow your callers to leave voicemails during off-duty hours. Reduce the number of missed calls and improve the overall customer experience.
Assured call quality
Zoho Voice ensures high quality calls with the help of WebRTC TURN servers. These servers are installed in multiple locations across the globe to relay call traffic. By bringing the communication infrastructure close to you and completely encrypting your calls with Secure Real-time Transport Protocol (SRTP), we guarantee safe and efficient transmission of call traffic.
Round-the-clock availability
With robust disaster recovery and business continuity programs in place, Zoho ensures high availability and smooth operations with minimal or no loss of time, even if one data center fails. You can check service availability, performance metrics, and incident history on the service status page.
Regulatory compliance
Stay compliant with all contact center regulations such as consensual call recording and encrypted storage of health data. We ensure the confidentiality, integrity, and availability of your data by maintaining compliance with standards and regulations like ISO, GDPR, and HIPAA.
The contact center software for growing businesses
Inbound contact center - Support teams
Enable just inbound services and effectively manage all incoming calls using IVRs, call queues, voicemails, Zoho Desk integration, and much more. Provide reactive support and sales assistance for customers and prospects who initiate interactions.
Outbound contact center — Sales teams
Activate just outbound services and allow sales and marketing teams to initiate interactions or campaigns that proactively hunt for leads or prospects. Reach out to more leads in less time with the power dialer, Zoho CRM integration, and other great features.
Blended contact center — Hybrid teams
Provide both inbound and outbound contact center services with Zoho Voice's blended contact center by enabling both incoming and outgoing services. Increase agent versatility and productivity by granting them access to all the advanced contact center features.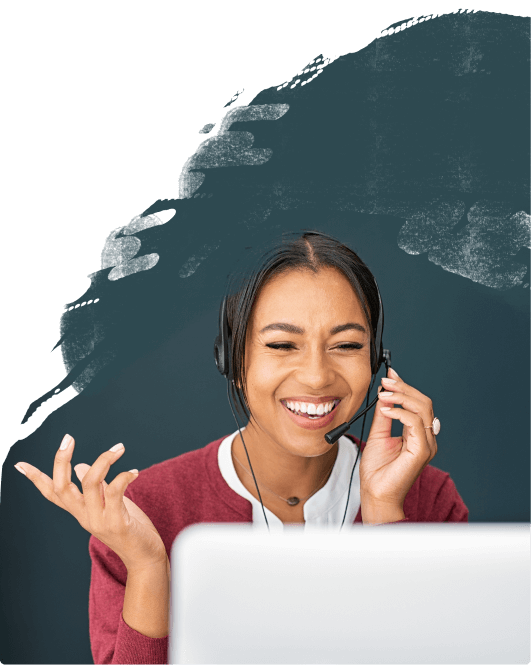 Simple, affordable pricing
$74/user/month*
Zoho Voice's Contact Center includes all premium contact center features.
Each licensed user gets a free phone number and 3000 minutes of free calls**.
See full plan details
* Billed yearly. Call charges applicable after free mins.
**1 US, Canada, UK, or Australia local number.
Explore our popular features
Virtual phone numbers
Interactive Voice Response (IVR)
Call queues
Queue performance
Call listening, whispering, and barging
Call transfer
Voicemails and call back
Power dialer
Post-interaction CSAT rating
Call disposition
Call notes
Call analytics
Virtual phone numbers
Get personal, local, and toll-free numbers from 100+ countries. Allow your customers to call you at standard local rates or free of cost.
Interactive Voice Response (IVR)
Configure multilevel IVR trees to help your callers reach the right team or agent. Welcome your callers with custom messages by setting up a text-to-speech recording or uploading an audio file.
Call queues
Organize your agents into teams and easily route calls to the relevant group. Choose whether they'll receive calls simultaneously or in sequential order.
Queue performance
Closely monitor the performance of various agent teams by tracking special KPIs, such as average call duration, maximum waiting time, and longest call.
Call listening, whispering, and barging
Quietly tune in to calls and monitor them in real time. Interact with your agents behind the scenes, or intervene on live calls to ensure call quality and elevate customer satisfaction.
Call transfer
Transfer a call to another agent or queue if you need help handling a caller's request or if the caller wants to reach out to a different agent. Merge the calls to enable three-way interactions.
Voicemails and call back
Allow your customers to leave a voicemail when you're unavailable to pick their calls. Reach out to them swiftly with easy call back capabilities.
Power dialer
Automate your outbound calls with outbound campaigns and improve agent productivity by refining the wait time between calls to leads and prospects.
Post-interaction CSAT rating
Measure customer satisfaction by allowing callers to rate the quality of service offered by your agents.
Call disposition
Easily identify call outcomes and categorize them accordingly. Track the call trends to identify areas for improvement.
Call notes
Record the key points of your conversations during a live call and easily access them later for regular follow-ups.
Call analytics
Make data-driven decisions with KPIs to measure productivity, detect any gaps in your customer interactions, and improve efficiency.
Frequently asked questions
What is a contact center?

A contact center acts as a primary contact point for businesses, and it provides customers and prospects with access to information, expertise, and resources in real time through multiple communication channels. A cloud-based contact center software like Zoho Voice allows you to manage customer communication from anywhere and on any device through the internet.

What is a virtual contact center?

What are the benefits of a virtual contact center?

Do I need any special telephony equipment to set up a virtual contact center?

What is the difference between a contact center and a call center?

What channels are supported in the Zoho Voice contact center?

How can I monitor remote employees through Zoho Voice?

Can I use the Zoho Voice contact center with my personal email address?

Can I personalize IVR and welcome message audio?