Unmatched Information Security & Privacy
The secrets that you store on Zoho Vault literally remain secrets. The data remains completely private and can be decrypted only by you. Zoho Vault uses the host-proof-hosting technique for storing secrets. All the data are encrypted (AES-256) at the browser itself and Zoho (which hosts the Zoho Vault service) stores only the encrypted data. The 'Passphrase' that you enter to access Zoho Vault, is used as the key to encrypt and decrypt the data at the browser. The passphrase is not stored anywhere in Zoho Vault and hence even Zoho cannot access your data. This design ensures not only information security, but also complete privacy. In addition, the other security measures adopted by Zoho include physical security practices (like 7x24x365 security, video monitoring, biometric access, bullet-resistant walls), network security (encryption, intrusion detection / prevention), people processes and redundancy / business continuity. Refer to 'Security' section for more details.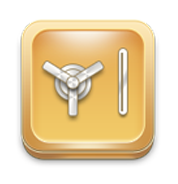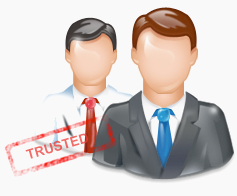 Comes from 'Zoho', the Suite Trusted by Over 30 Million Users
Zoho Vault comes from Zoho, the company with a comprehensive suite of award-winning online business, productivity & collaboration applications trusted by over 30 million users across the globe.
Secure Sharing
While ensuring data privacy, Zoho Vault allows you to securely share your secrets among the trusted members of your organization.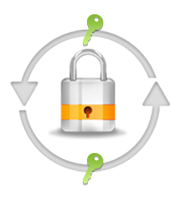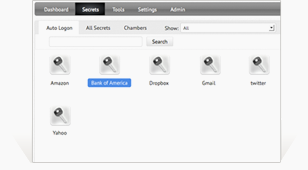 Simple, Intuitive and Easy-to-Use
Your passwords should be complex, but the password vault should be simple and easy-to-use. Keeping this in mind, Zoho Vault has been designed to be intuitive and easy-to-use. You can just signup and get started within a few minutes. You need not have to be an IT geek to setup and use the vault.
Appealing to Businesses of all Sizes, Types
Zoho Vault has been designed keeping in mind the requirements of businesses of all sizes and types. Whether you are an SMB or Enterprise or MSP or Online Marketing Firm or Web Professional or Head of IT or just a layman, Zoho Vault comes in handy if you are struggling with shared passwords!

Brings Significant Productivity Gains
Eliminates the pain of passwords
Serves as a secure central repository with entitlements
Protects your online credentials
Helps gain visibility into password access and usage
Enhances productivity of end users with one-click auto logon
Helps adopt password management best practices
Free for Personal Use; Affordable for Enterprises!
Zoho Vault pricing is quite simple and straight-forward - it is fully based on the number of users in your organization. It gives you the flexibility to add as many number of passwords as you want - absolutely no restriction. There are no long-term commitments or hidden charges when you use Zoho Vault. You can sign up as a monthly / annual customer, and use our services for as long as you need. Canceling your account is a hassle-free, one-click process. Zoho Vault comes with a 'Personal Plan', which is absolutely Free. Check out Zoho Vault Pricing & Plans for more details.