Inventory
How to add a new sales tax?
Before using sales tax in your transactions, you need to create a new tax. For example, the State sales tax rate of Utah is 4.7%.
Click the gear icon on the top right and select Taxes.
Now click the + New Tax button in the taxes page.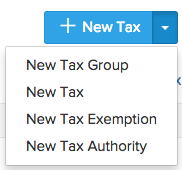 Enter the required tax details and click the Save button.
Tax Authority can be created here in the New Tax form and by choosing New Tax Authority from the + New Tax drop down as well.