Inventory
Can I obtain shipping rates from different carriers before I choose my mode of shipment?
When you ship your goods using a shipment provider, you can get rates from all the shipping channels you have integrated with. To do so:
Create a package.
Open the package slip.
Click on the Ship button.
Choose the Ship via Carrier option in the drop down to proceed.
The shipment page will open up.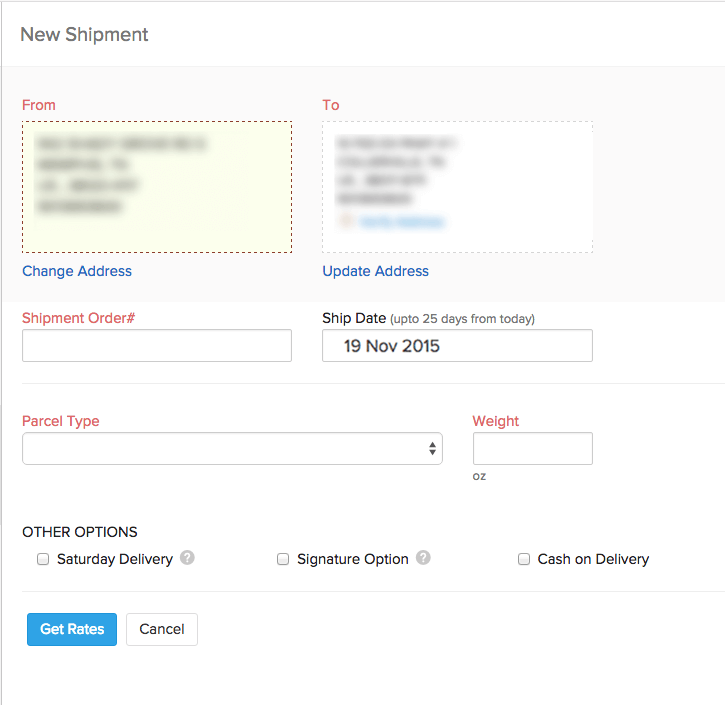 By default the From address will be the address of your organization and the To address will be the shipping address of the customer that you have stored in contacts.
The Package field will also be automatically populated with the package number of the concerned package you ship.
You can verify address and you can also Change address if the need arises by clicking on the options below the address field. (Note: Only US addresses can be verified)
Enter the Shipment order and the shipment date either the ones for your reference or the ones provided by your shipper in the Shipment Order# tab and ship date tab.
Choose a standard parcel type or add a custom one.
On choosing a custom package, you have to provide the package dimensions in the respective fields.
Enter the weight of the product.
Choose other options like Saturday delivery, signature option and Cash on delivery if applicable
Click on the Get Rates button to get current shipment rates for the package.
The rates from shipping services will be displayed below.
You can also choose to recalculate rates, if you wish to make any changes by clicking on the Recalculate Charges button.
After making your choices, click on the Save button to successfully create a shipment.