Zoho and PayPal: Making payments painless
With PayPal integrated to Zoho Finance products, all you need to think about is your sales while we take care of the rest. From hassle free checkouts to security, experience the simpler way to accept payments.
What makes Paypal stand out?
Sell globally
The integration is available in over 200 countries and 25 currencies, so you can accept payments across borders.
Accounting made easy.
With PayPal and Zoho working together, you can track payments from each customer, fetch transaction details directly, and reconcile them easily in Zoho Books.
Simple yet secure.
With the stringent 256 bit encryption and PCI compliance, your customers' payments are secure.
Smoother refunds.
Although you can't avoid a refund, you can avoid the pain that comes with it. Process your refunds sooner within Zoho Subscriptions, and see it reflected in Zoho Books.
Get paid faster.
When your customers have easier checkouts, you get paid faster. The integration allows them to save their credit card information or checking account number, so they can skip the hassle of entering their details every time.
Payments Made Easier
Receive PayPal Standard or Business payments
to your PayPal account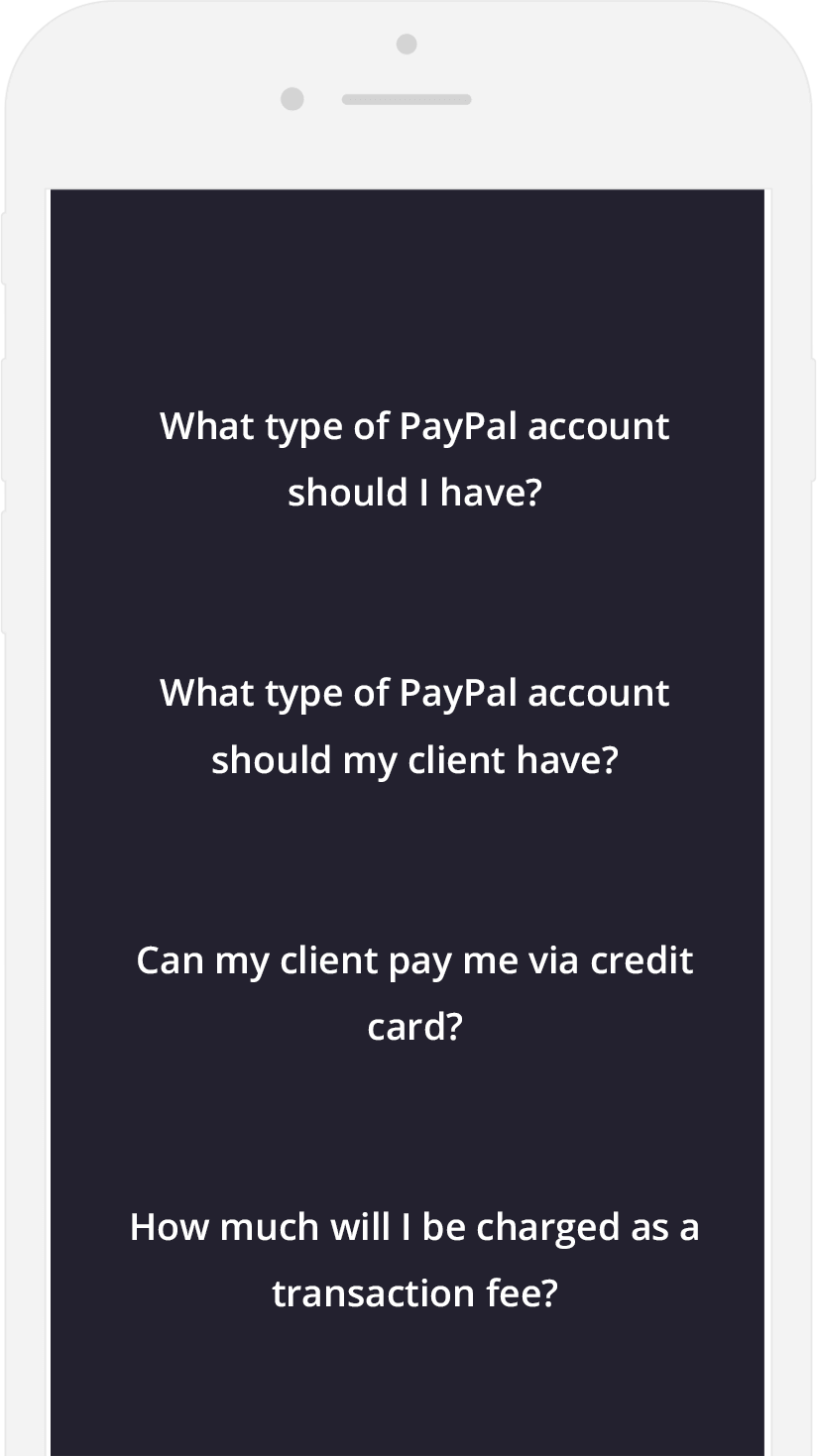 No, only via an eCheck or PayPal balance
PayPal Standard
PayPal Business
What type of PayPal account should I have?
What type of PayPal account should my client have?
Can my client pay me via credit card?
Yes
No, only via an eCheck or PayPal balance
How much will I be charged as a transaction fee?
% of your invoice amount
Flat fee of 50 cents
Integrate Paypal with our Zoho finance suite now
Frequently Asked Questions
×

What type of cards are supported with PayPal?

PayPal accepts all major credit cards from Visa, MasterCard, American Express, and Discover.

×

How is PayPal Business more cost-effective than PayPal Standard?

PayPal Business payments let you collect online payments for a flat fee, instead of a percentage. This is a much more cost-effective option for any invoice (to a maximum of $10,000).

×

Do you store my customers credit card information?

No, we don't store your credit card information. You can always take a look at our Privacy Policy to learn more.

×

How do I receive payments online?

When you send out an invoice to your customer, simply enable the payment modes of your choice under the 'Payment Options' field.

×

Will Zoho charge me for using PayPal as my payment gateway?

We don't charge any additional fee from our end. Transaction charges are applicable based on the type of account you have chosen with PayPal.

×

Can I account my multi-currency transactions with Zoho?

With our latest integration, all of your multi-currency PayPal accounts can be set up in Zoho Books, and the individual currency's transactions can be tracked in separate ledgers.

×

What information do I need to provide when I sign up?

There's no mystery to signing up with PayPal. Just provide the email address associated with your PayPal account and the bank account where you want the money to be reflected.

×

Can I fetch transactions directly into Zoho Books from a PayPal account?

Zoho Books fetches PayPal transactions for the past 90 days. Once retrieved, you can categorize and reconcile the transactions.