Improved email deliverability

Zoho Survey is now HIPAA compliant

Increase relevancy by narrowing answer choices

Keep track of each action using audit logs

Conduct timed surveys

Collect your respondents' geolocation

Expand your reach with our offline survey feedback collection app

Prevent multiple responses through IP address

Ask questions effectively

More detailed reporting

Zoho Survey-Recruit integration
Improved email deliverability:
Trigger emails are one of the most effective ways of staying on top of things, especially that concern customer satisfaction. Through DKIM (DomainKeys Identified Mail) authentication, we've increased the chances of your emails reaching your recipients' inboxes, instead of their spam folder. This improves the deliverability of your trigger emails that have been set up through Zoho Survey.
Zoho Survey is now HIPAA compliant:
Collecting healthcare related information is essential to providing healthcare services of the highest standards. It is equally important for us to protect all data that is classified as ePHI (electronic Protected Health Information). Any sensitive information related to healthcare is treated with the utmost confidentiality, thus making us compliant to HIPAA guidelines.
Who can say no to an extra layer of security? Our survey tool also supports custom field encryption, which allows you to encrypt any information being collected from your respondents. It makes it easy to collect and store sensitive data with a multi-layer security protocol.
Increase relevancy by narrowing answer choices:
Understand your respondents better by showing them only what is necessary. This helps you and the respondent by significantly cutting down on the time spent on each question. Display or hide certain answers based on the responses to the previous question(s). Apart from general answer choices, this option can also be applied to "comments" and "not
applicable" fields.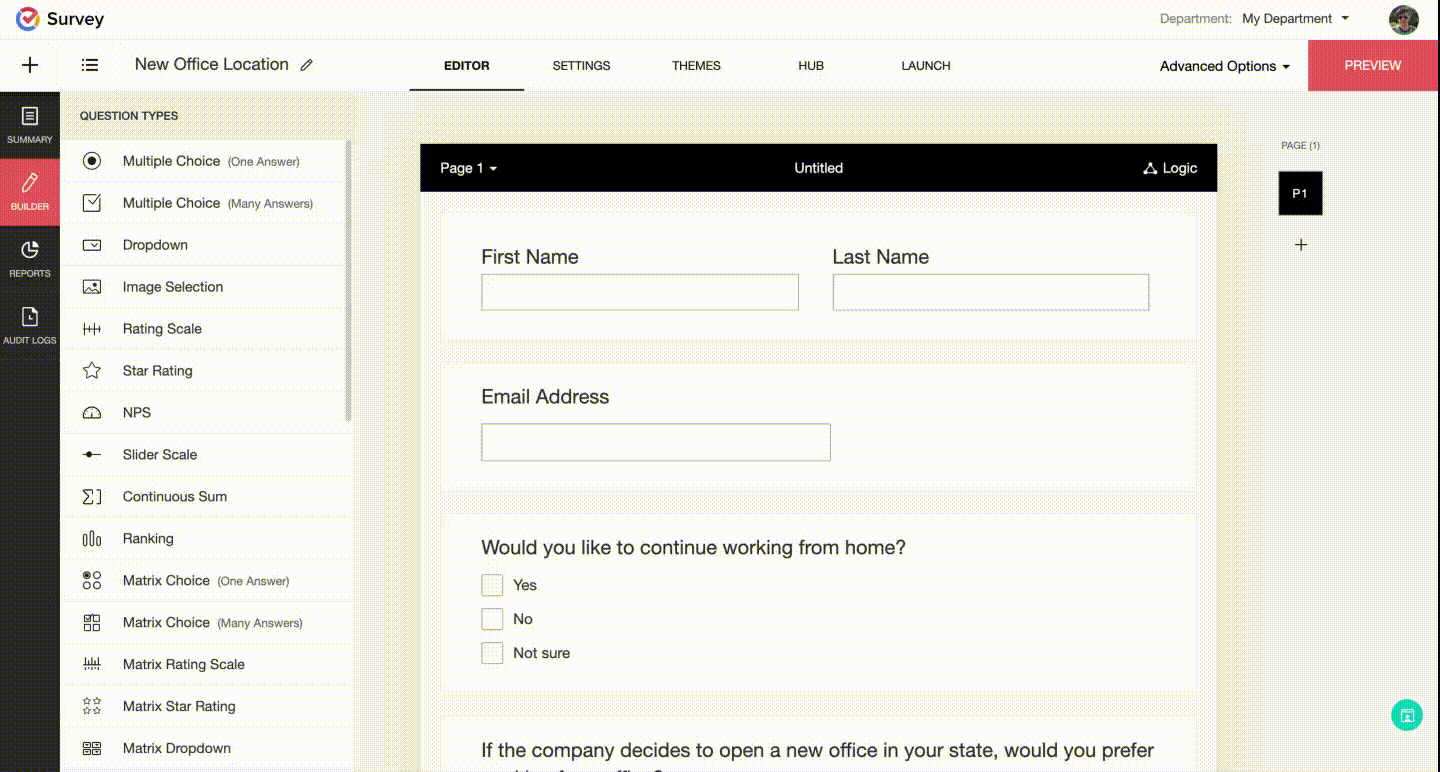 Keep track of each action using
audit logs:
In the case of multiple users, you can stay informed by tracking each significant action performed on the survey platform. Any activity related to portals, departments, or surveys, like creation, editing, and distribution, will be recorded in chronological order with the exact time stamp, username, and full details of the activity. The log data is retained for viewing for 180 days, and you can export it into a CSV file for long-term records. What's more? Track all ePHI (electronic Protected Health Information) modifications, protect and retain the data as per HIPAA guidelines.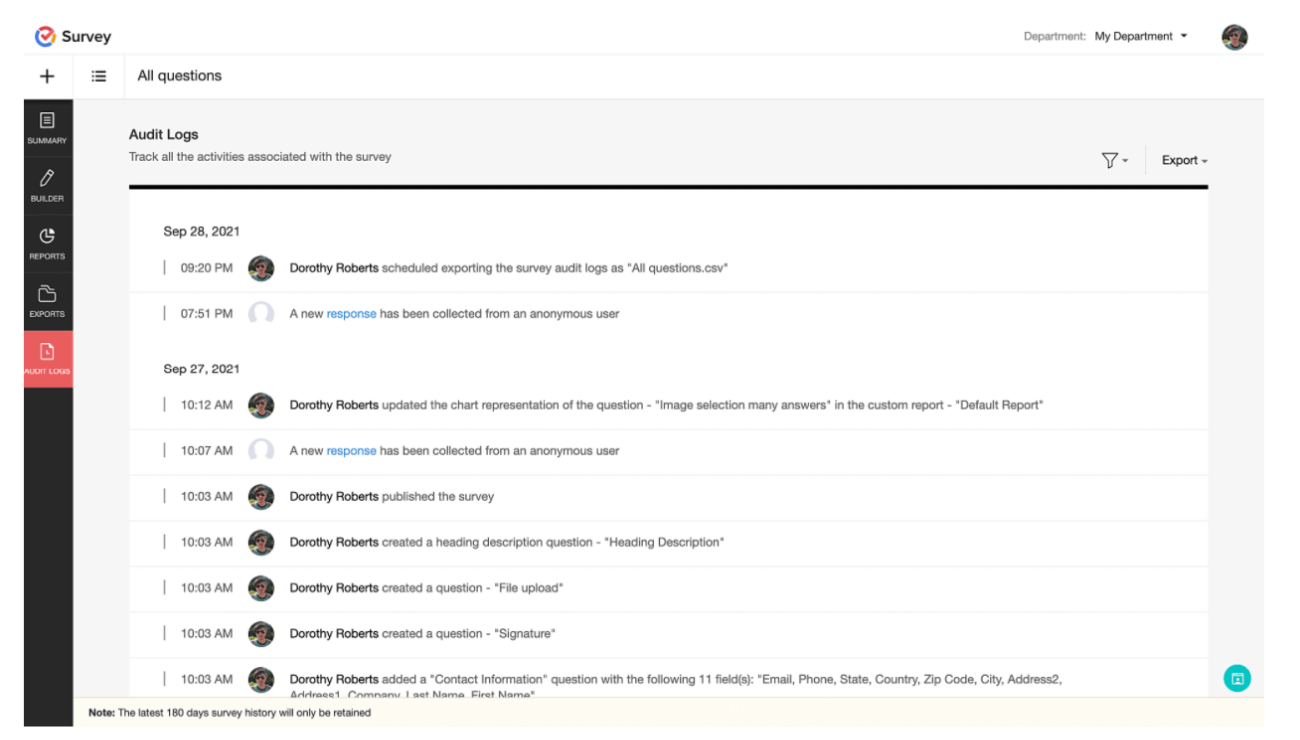 Conduct timed surveys:
It's as simple as it sounds. With our new timer feature, you can ensure quality responses for your market research surveys. This helps you prevent potential speeders, cheaters, and bots from submitting responses. Flawlessly conduct online tests and quizzes by using page and survey timers.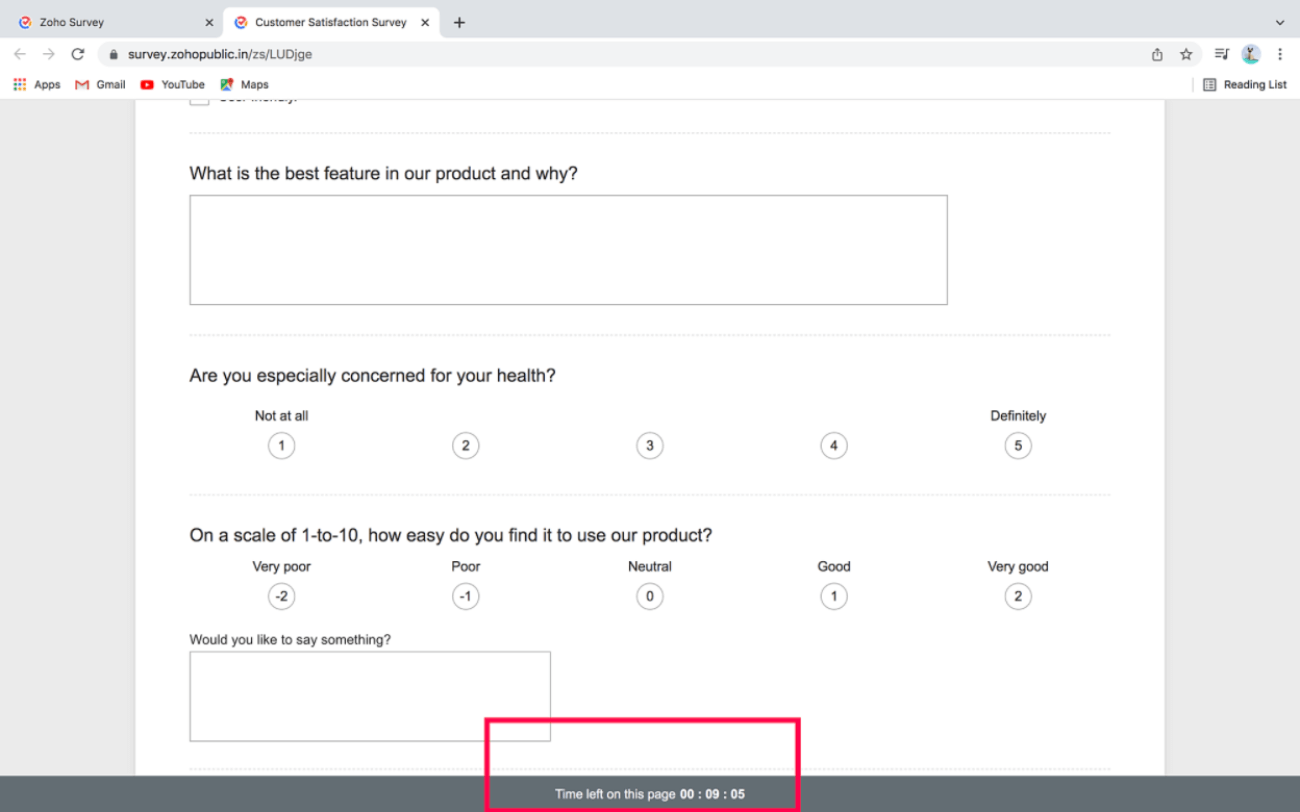 A survey timer allows your respondent to see how much time they have left to complete the survey. It allows you to set a minimum and maximum limit by calculating the approximate time it may take to complete a survey. This feature also automatically submits the survey once the time is up.
A page timer is useful during an online test. You pre-set a specific time allowed to answer the questions for a specific page. This gives time for the respondents to answer the questions without giving enough time to search for answers online. Once the time is up, the page automatically submits responses and loads the next page.
Collect your respondents' geolocation:
Enrich your market research by identifying respondents based on their geolocation. This helps you validate product campaigns or additional research you want to do in specific areas. Our geolocation feature locates respondents based on their latitude and longitude. This also allows you to filter out responses based on regions, areas, postal codes, and even street addresses, giving you an in-depth understanding of different behaviors and attitudes across various regions.
Expand your reach with our offline survey feedback collection app:
Unreliable network? No problem. Need to collects surveys from places without internet connectivity? Leave it to us! Introducing our offline survey feedback collection app. If you're an admin and can't collect responses by yourself, you can assign a third-party to do the fieldwork for you, without giving them access to create or edit surveys. Collect responses anytime and anywhere. It's available for iOS and now available for Android
devices as well.
How does it make your work easier?
Collect responses offline:
Simply click on a survey from your list and start collecting responses on your tablet. Perfect for collecting feedback in mall kiosks, at public counters, and on field visits. By activating kiosk mode you can also configure survey settings, timers, and reloads.
View and auto-upload responses:
Once you're done collecting responses, you can view the responses and choose to automatically upload them into your survey account as soon as internet connectivity is available.
Translate multiple languages (iOS):
Set up your surveys to meet the needs of your respondents. Translate your surveys to multiple languages on-location, even while offline.
Prevent multiple responses through
IP address:
Skewed results are a threat to authentic surveys and clean data. One major cause of skewed results is multiple responses from a single respondent. Zoho survey's response restriction feature allows you to restrict one response per user's IP address. Once the survey link has been accessed, it prevents the respondent from re-opening the link again. Other ways to prevent multiple responses supported are:
One response per email

One response per device

One response per unique URL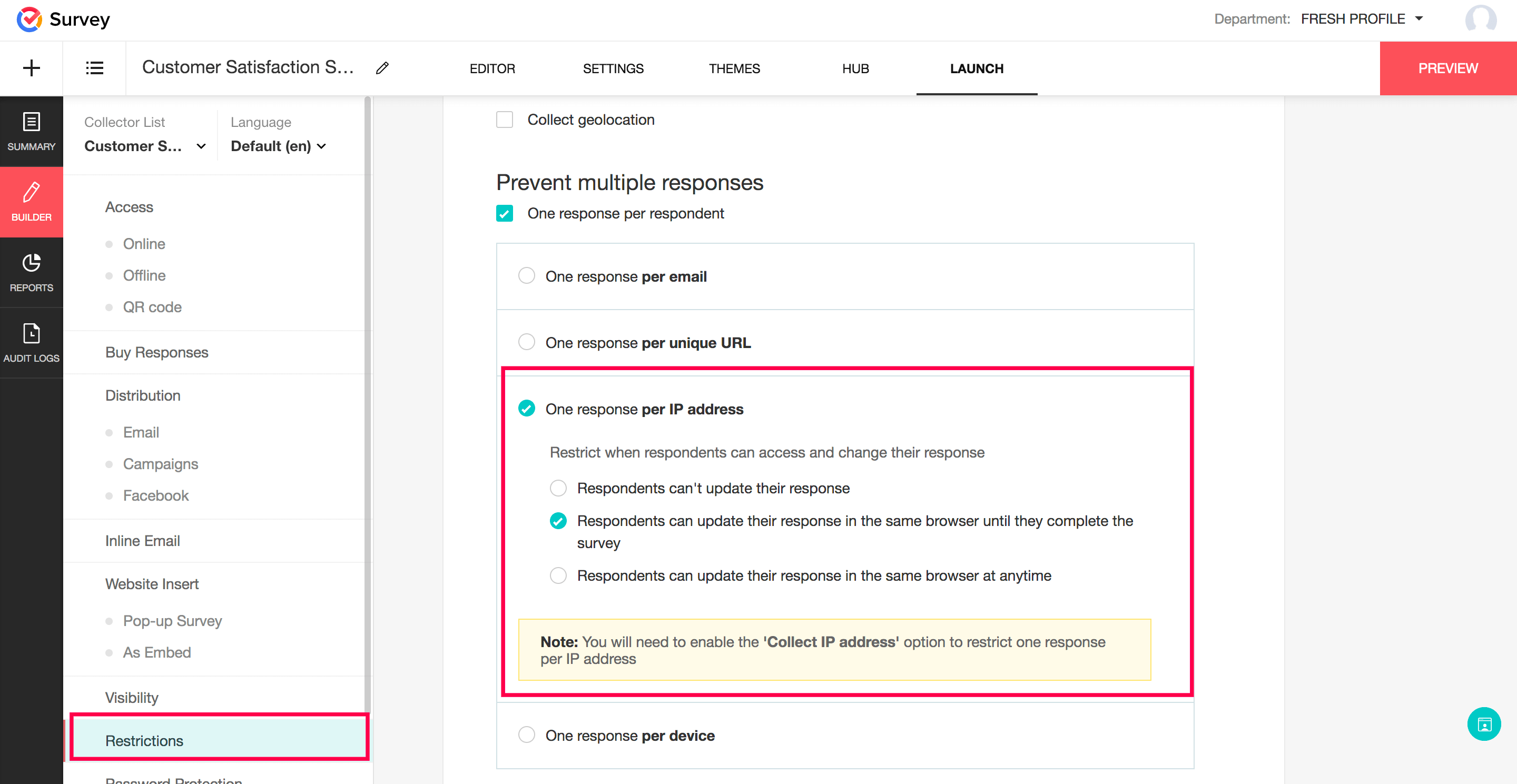 Ask questions effectively:
Choose to ask a question from a wide range of question types available. Our latest additions are especially useful in asking impactful questions and giving you a new perspective on the answers. Some of our question types are:
Dropdown (many answers):
Allow your respondents to choose multiple choices from a drop-drown format.
Boolean:
This question type can be used to ask Yes/No format questions with an additional toggle option.
More detailed reporting:
Visualized reports are key to understanding survey results. Our enhanced features make it easier than ever to extract coherent data. Here are a few specific updates that make report creation and management:
Chart customizations:
Visual summaries of answers are useful for both deep perusing and quick skimming. Charts can now be displayed based on different metrics, like scores, frequency, and answer distribution.
Label edit:
Users can edit the question and answer choices of the survey in the reports without making the change in the original survey. Add and remove labels for survey questions and answer choices in reports for personal convenience and better understanding of a certain question and answer.
Zoho Survey-Recruit integration:
Zoho Recruit is an efficient hiring management tool that makes your recruiting process a breeze. To make things easier, the integration with Recruit makes it fast and simple to build a survey, reach out to your candidates on every device, and view real-time test results in the form of reports.
The Zoho Survey integration allows you to gather information, then analyze and draw insights from it to improve your hiring process. The result is a smoother experience for both candidate and recruiter, from applying for a job, to screening, assessment, and negotiation.
To sum it all up, 2021 has taught us to expect the unexpected and to keep exploring and expanding our boundaries. Unafraid to try new things while keeping our customers' best interests in mind. We think we've successfully reached our first milestone (year) of the decade.
As for 2022, we raise our glass to a flourishing year ahead.