Reading Time:
5
minutes
Let's say you own a SaaS business. You offer a wide range of services like networking, cloud storage, data analytics, etc and one of your customers has subscribed to five different services. To collect payments, your finance team would have to spend time and effort in creating an invoice for each service individually, which makes it five invoices for the same customer. The problem does not stop here. When the customer receives multiple invoices on the same day or on successive days, they could end up missing an invoice, ultimately delaying the payment.
This is where consolidated billing helps. You can group multiple subscriptions of a customer and send out a single invoice. This simplifies the billing process when it comes to customers with multiple subscriptions.
This guide will walk you through what consolidated billing is, how it can benefit your business, and some factors to be kept in mind while implementing consolidated billing.
What is consolidated billing?
Consolidated billing is the method of combining multiple subscriptions of a customer into a single invoice. Typically, at the end of every subscription cycle, individual invoices are generated to collect payment from the customers. However, to avoid hassles of missed or delayed payments and to reduce the time and effort involved in generating individual invoices, they are grouped together as a consolidated invoice.
What are the benefits of consolidated billing?
Prevent missed payments
Some of your customers may subscribe to more than one product or service that you offer. By default, a separate invoice is generated for each subscription renewal. However, when multiple subscriptions renew on the same day, your customer ends up receiving too many invoices from you. This is likely to confuse customers and lead them to miss payments. To overcome this, consolidated billing combines all the subscription charges into a single invoice. Customers are less likely to miss a single invoice, so you don't have to spend time tracking your customers to get your missing payments. Customers can also pay for all their subscriptions in a single transaction via their desired payment method.
Saves time and effort
Creating multiple invoices for a single customer is time-consuming, and affects your productivity. Consolidated invoice is one way you can simplify and accelerate the process of invoicing. For instance, let's consider a cloud hosting service that offers monthly subscription plans that provide a set of services like database management, web apps, file storage, and sharing. Here, the customers are allowed to access additional services over and above the plan benefits for a per transaction fee. A consolidated invoice will be sent to customers for every single purchase made during the month, including the plan amount and the add-ons.
Stay organized
Conventional billing involves a lot of paperwork, which makes it difficult to keep track of records and analyze the business revenue growth. Consolidated billing brings a definite order to the payment and billing cycles, enabling you to predict the income with near-perfect accuracy, and plan the future enhancements accordingly. Also, with consolidated billing, your customers can keep track of all their purchases in one place and organize their expenses easily.
What are some factors to be considered before implementing consolidated billing?
There are a few factors to be considered before you decide to implement consolidated billing for your subscription business.
Share the same billing date
To generate a consolidated invoice for multiple subscriptions, they need to have the same billing date. If they have different billing dates, you can consolidate them by following either of these two methods.
The charges of all the subsequent subscriptions are grouped and invoiced on the billing date of the first subscription.

For instance, let's suppose a customer subscribes to a product on April 10. This subscription will be renewed on the 10th of every month. Later, the same customer subscribes to three different products from the same company at different periods as listed in the table below.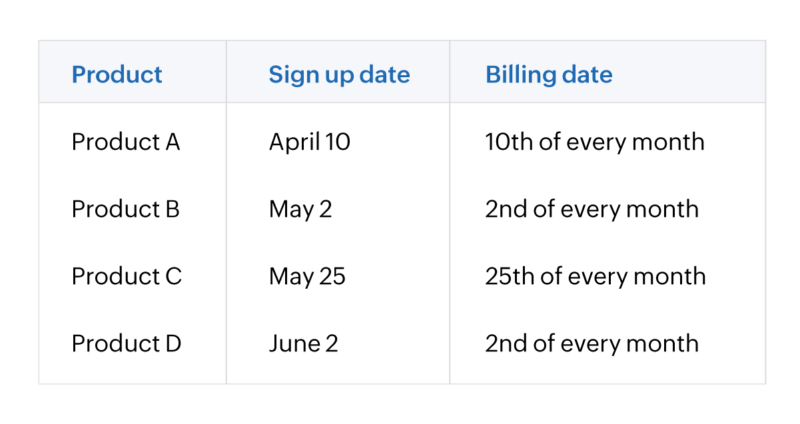 In order to consolidate all these subscriptions and generate a single invoice, they must share the same billing date – which is not the case here. This means, on the billing date of the first subscription which is on the 10th of every month, the consolidated invoice will be generated with the charges of the other three subscriptions prorated accordingly.
By another method, a new common billing date can be set up for all the subscriptions to generate a consolidated invoice.
For example, let's assume that a customer has two subscriptions that are renewed on different dates.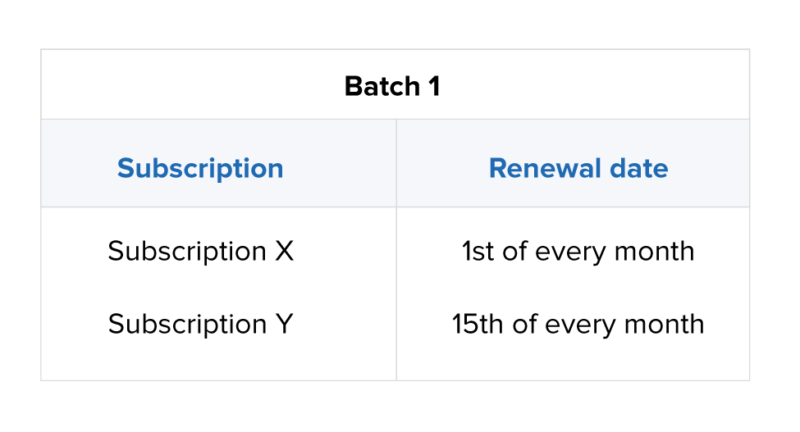 Now, a new billing date is introduced for the customer: the 20th of every month. The existing subscriptions will have this date as their billing date on the next renewal, and corresponding prorated charges shall be raised for each subscription.

Now that both the subscriptions share the same billing date, their invoices can be combined to generate a consolidated invoice on the 20th of every month. To consolidate the invoices of both these subscriptions, you can adjust the billing dates of these subscriptions so that they coincide with the new billing date (August 20). For that, prorated charges can be applied on subscription X for the billing period August 1 to August 20, while for subscription Y, the charges can be applied for the days between August 15 and August 20. This way, both subscriptions X and Y will have the same billing date and get renewed on 20th of every month.
Uniform collection method
Subscriptions covered in consolidated billing share the same payment collection method (either offline or automated).
For instance, let's consider a customer who has multiple subscriptions and see how the invoice consolidation happens.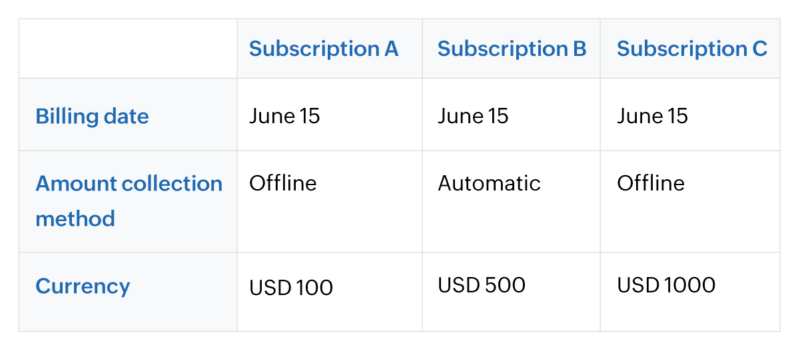 In this example, since subscription A and C have the same collection method (offline), their invoices shall be consolidated, while a separate invoice is raised for subscription B.
The consolidated invoice combines charges of multiple subscriptions into a single transaction and hence the invoice is paid by a single payment method (for example, paid in full by credit card, ACH, or direct deposits).
Consider this example of multiple subscriptions of a single customer.

 Here, the payments of subscriptions A and C are collected through credit card, while B and D are collected via ACH. Hence, this results in two consolidated invoices – one for subscriptions A and C and another for subscriptions B and D.
The charges of the subscriptions you wish to consolidate should have the same currency.
For instance, consider the multiple subscriptions of a customer below.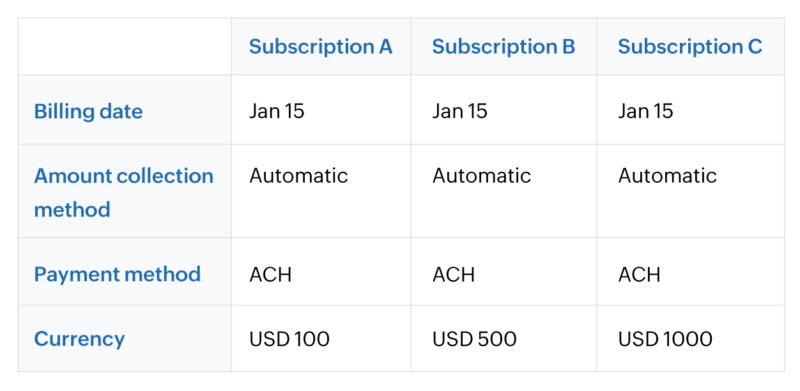 The currency of subscriptions B and C are uniform (USD). hence, they are consolidated while a separate invoice is raised for subscription A.
Businesses that are best suited for consolidated billing
Consolidated billing is best suited for subscription businesses where ongoing services are provided and customers are charged recurrently. It also works well for long-term projects that have several billing stages and each of the services provided in the stages are billed individually.
Best practices in consolidated billing
Though setting up consolidated billing is quite similar to the typical billing procedure, there are some best practices followed by businesses to keep the process simple.
Determine the billing cycle
Before sending out consolidated invoices, it's important to determine the billing cycle—especially when you are providing ongoing services and are working on long-term projects. This helps your customer clearly understand when the payments are expected to be made. It is advised to keep the billing cycle shorter, like weekly or monthly billing cycles over quarterly ones, as this is simple and easy to keep track of. Committing to long billing cycles might affect the steady flow of revenue into your business.
Include all the required details
Payments may get delayed if your customers fail to understand the contents of the invoice, or need additional information to justify the charges. This makes having all the relevant details listed in the consolidated bill essential.
The invoice should contain the following information:
Invoice issue date

Invoice number

Subscribed plans

Subscribed plan amount

Subscription ID
Total amount inclusive of taxes if any

Payment due date

Contact information

Additional one time charges for products or services rendered if any

Other business-related information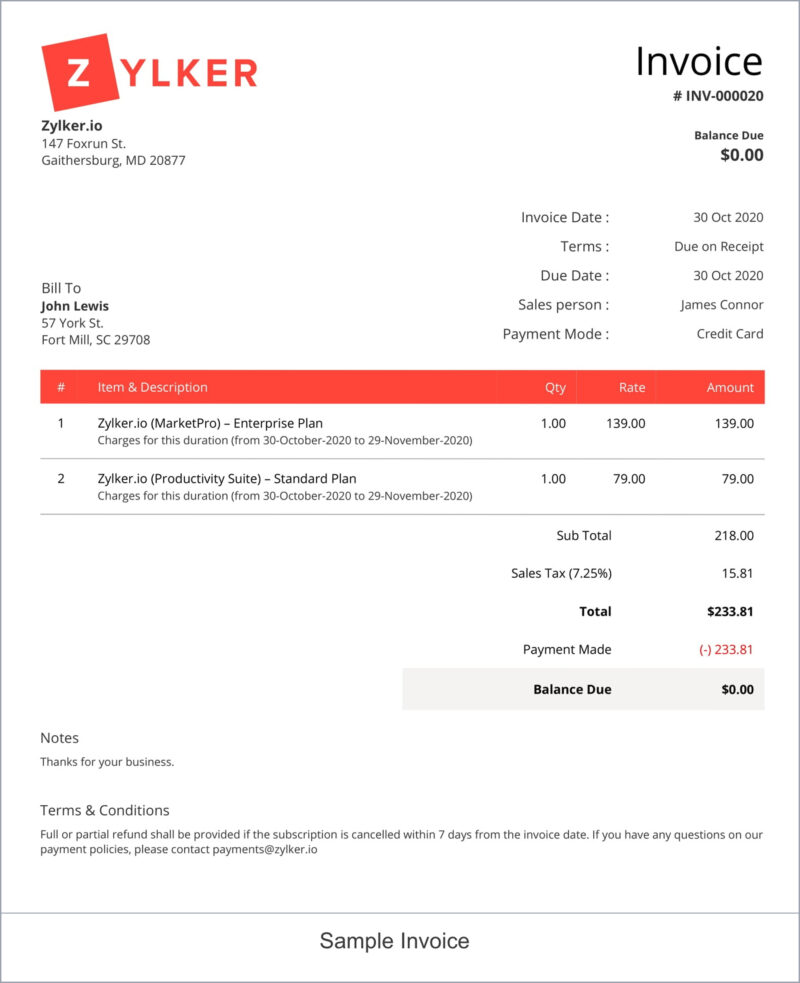 Ultimately, your billing method should simplify and accelerate payment collection. With subscription businesses, billing for multiple subscriptions on different dates, for different customers becomes challenging. Without the right billing method in place, you could end up tracking invoices and chasing payments. With Consolidated billing, your customers can pay for multiple subscriptions at once, which in turn prevents delayed payments and saves you loads of time.