Measure your website performance
Get a complete overview of how each of your web pages perform. Optimize your website with consolidated data on critical metrics like top pages, website visitor footprint, drop-offs, and more.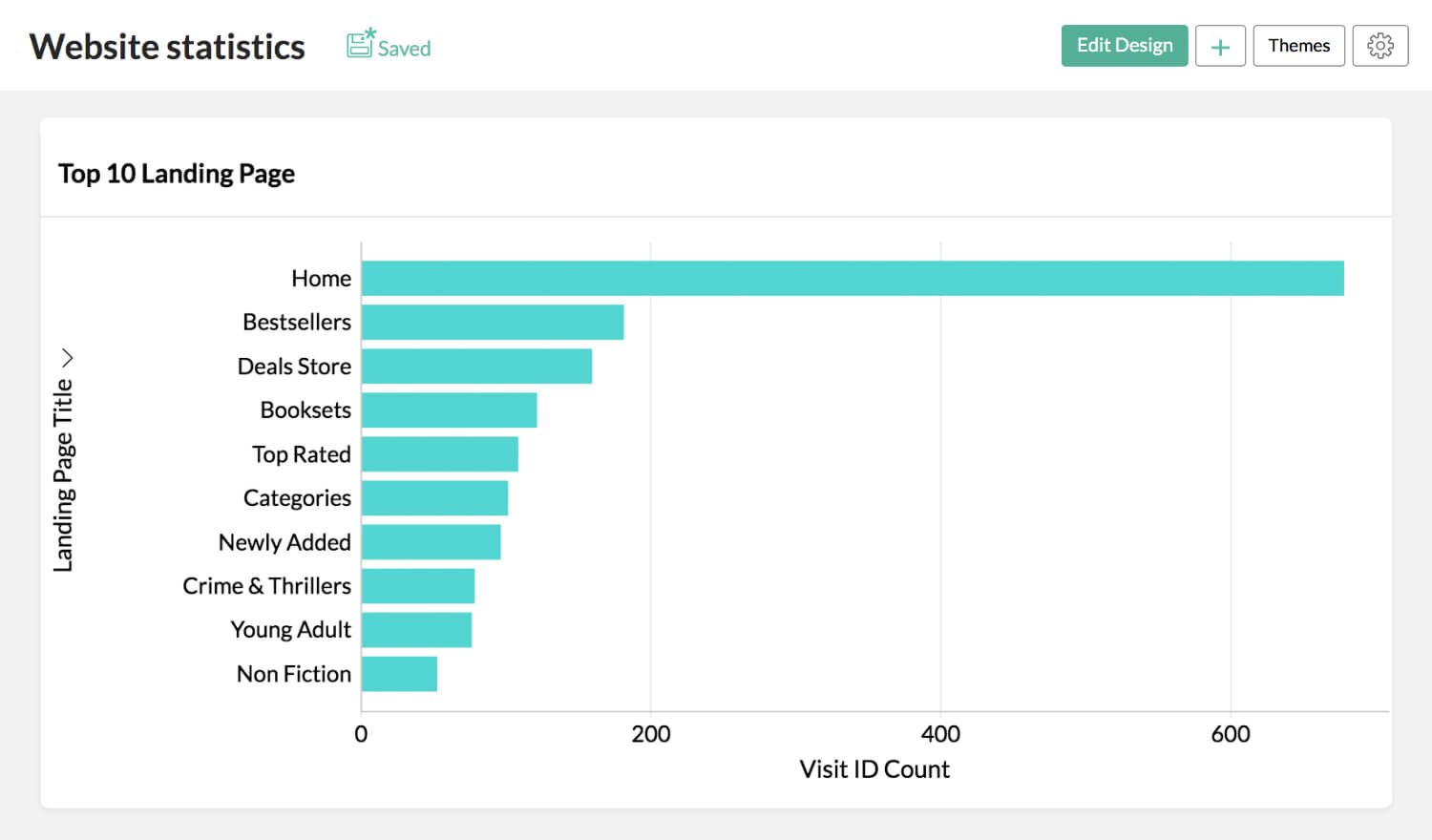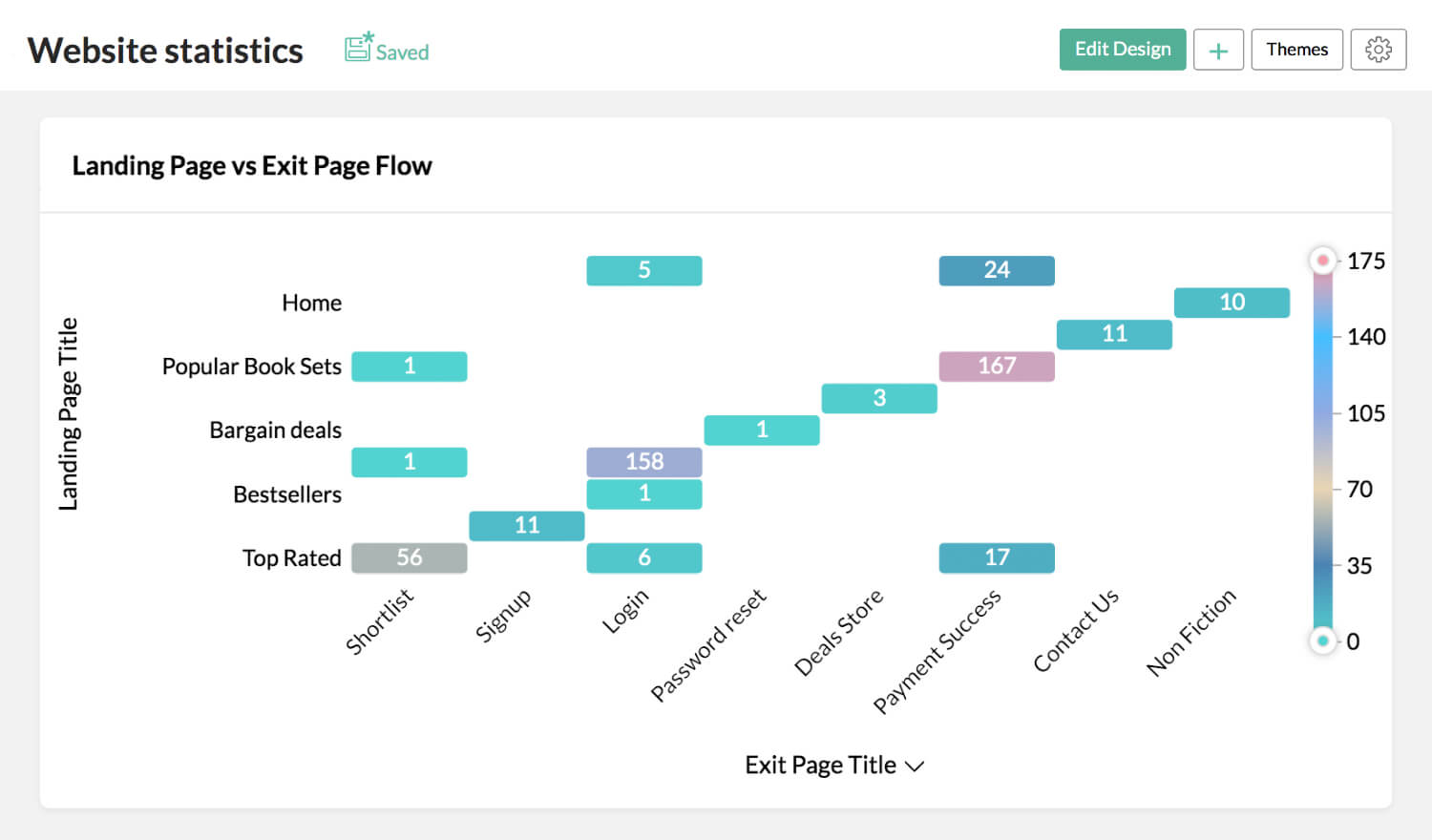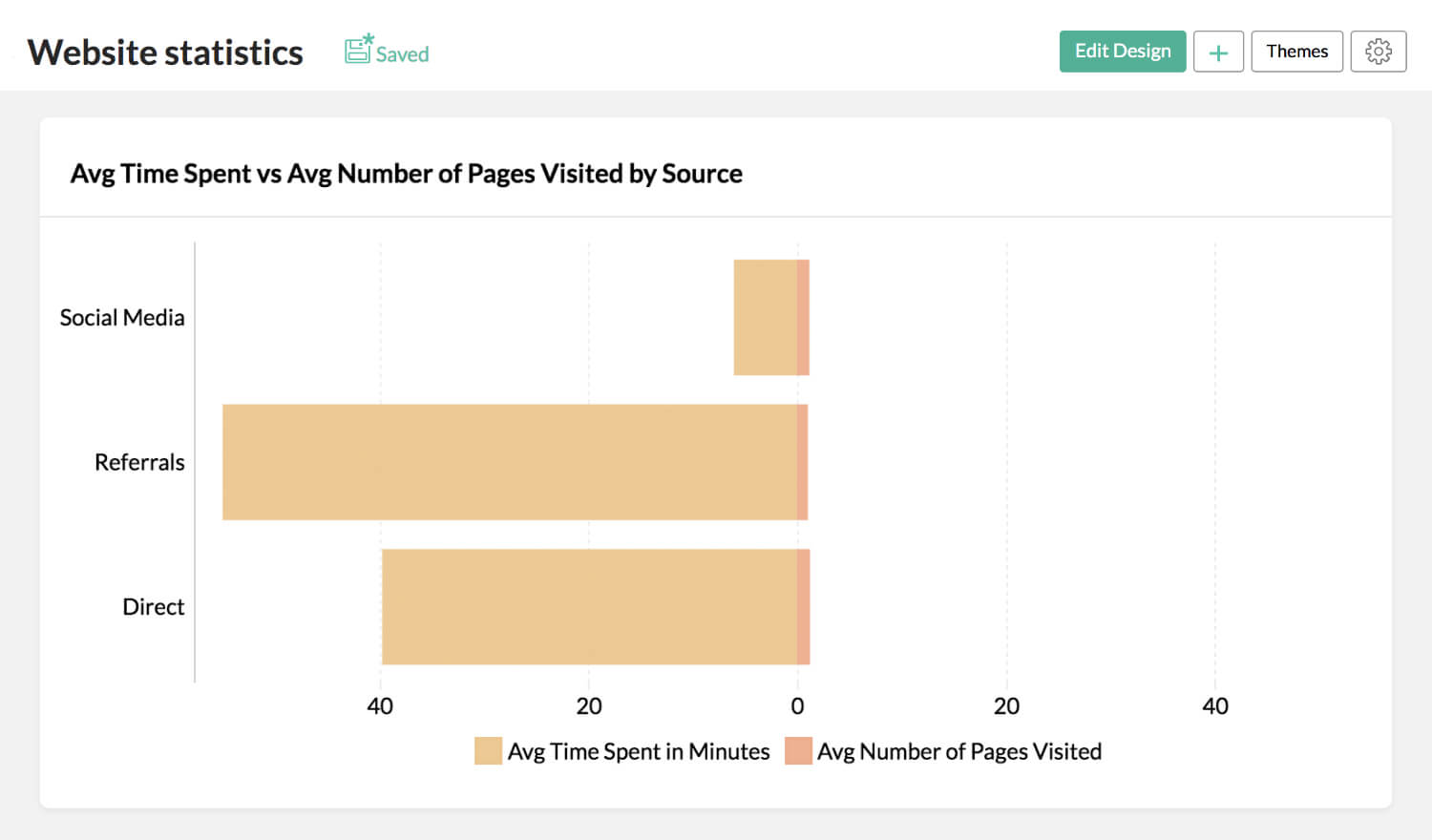 Analyze the return on your lead generation efforts
Gain insights through visitor and customer analytics, and calculate the effectiveness of your marketing efforts with drilled-down reports on traffic source, visitor location, pages visited, average visits per visitor, time spent, actions, and more.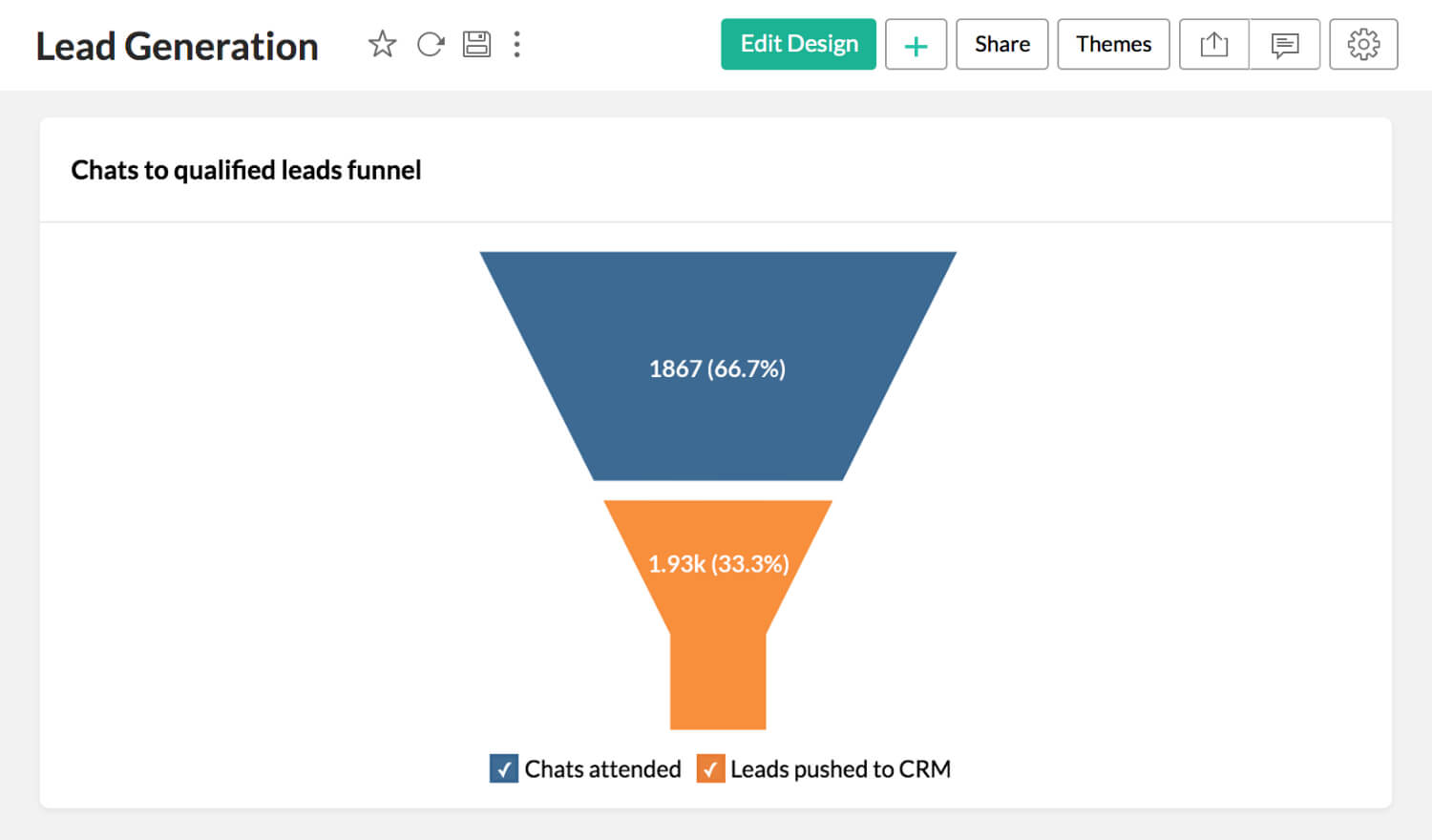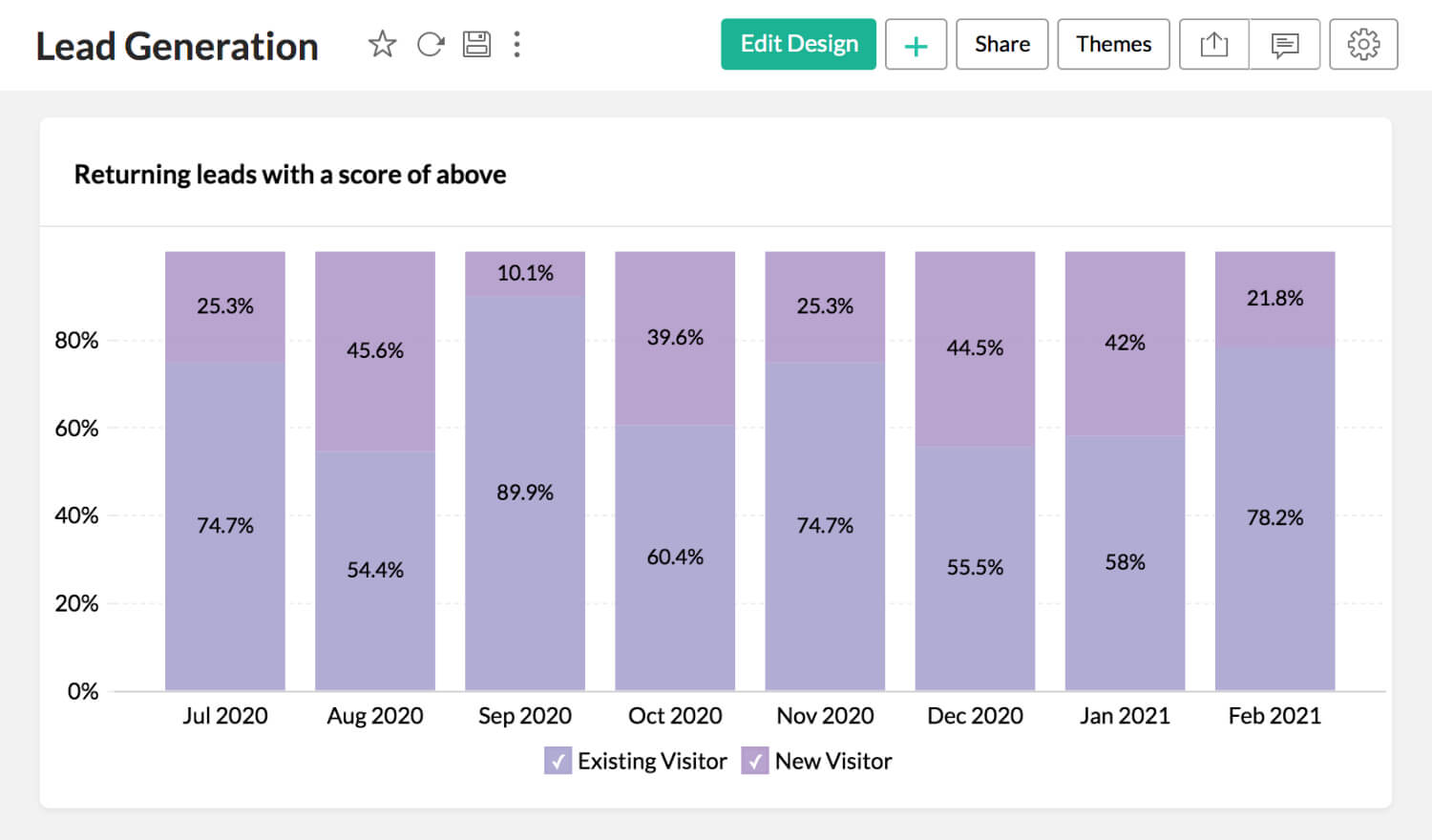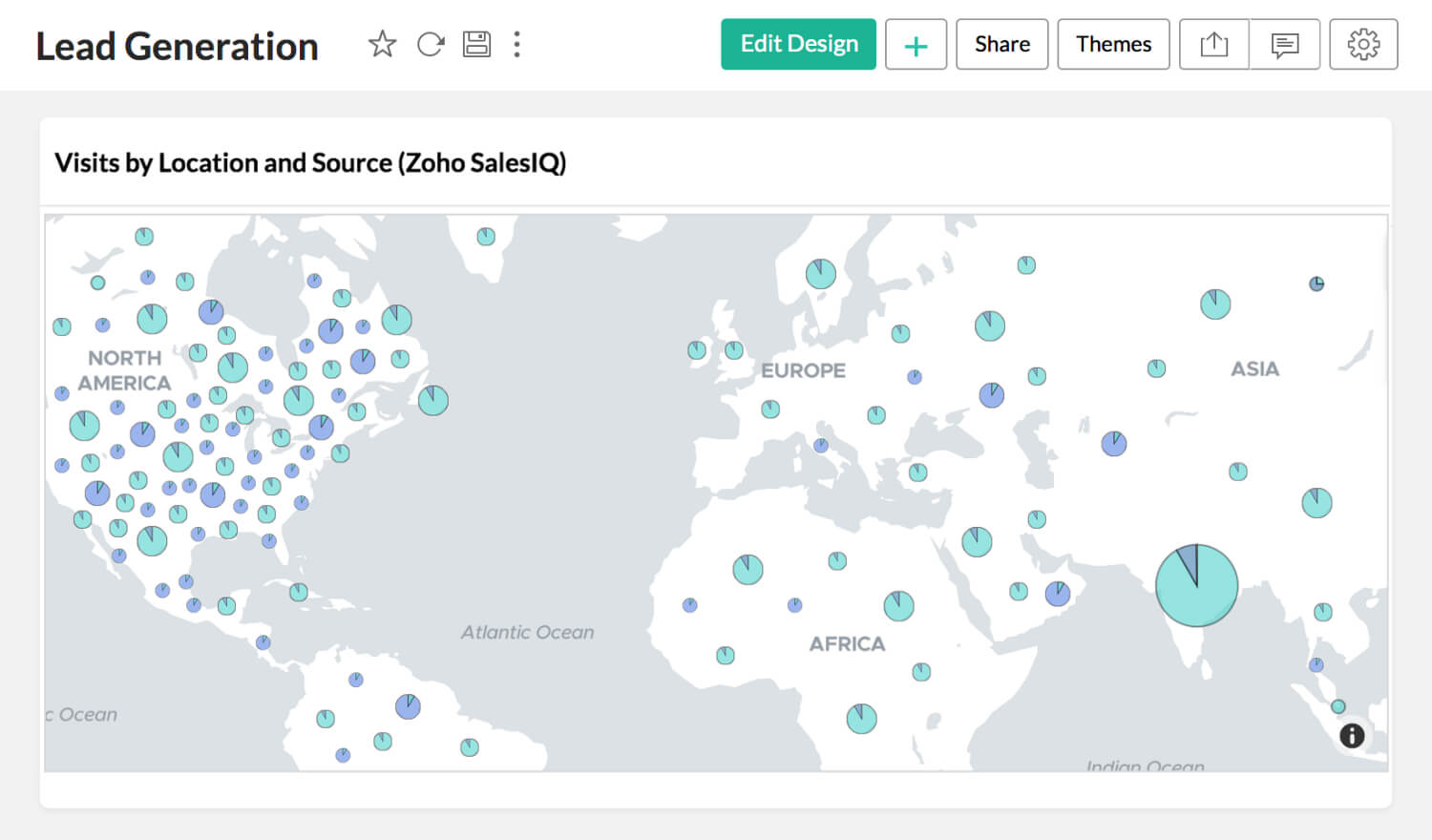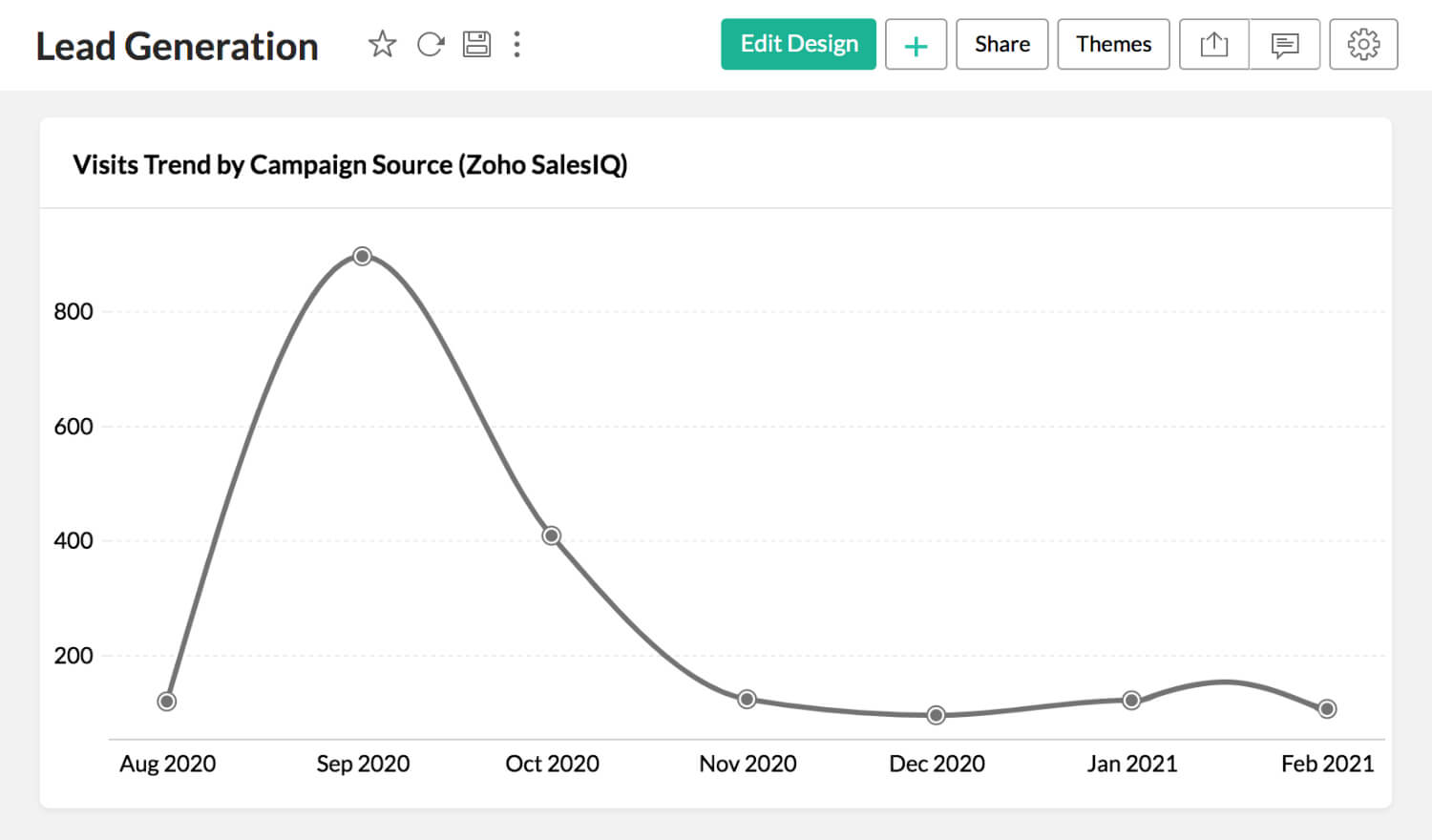 Improve sales and support team performance
Identify top performers and train your team better based on important KPIs like missed chats, average waiting and response time, chat duration, chats converted to tickets, feedback, and ratings of each team member with detailed live chat analytics.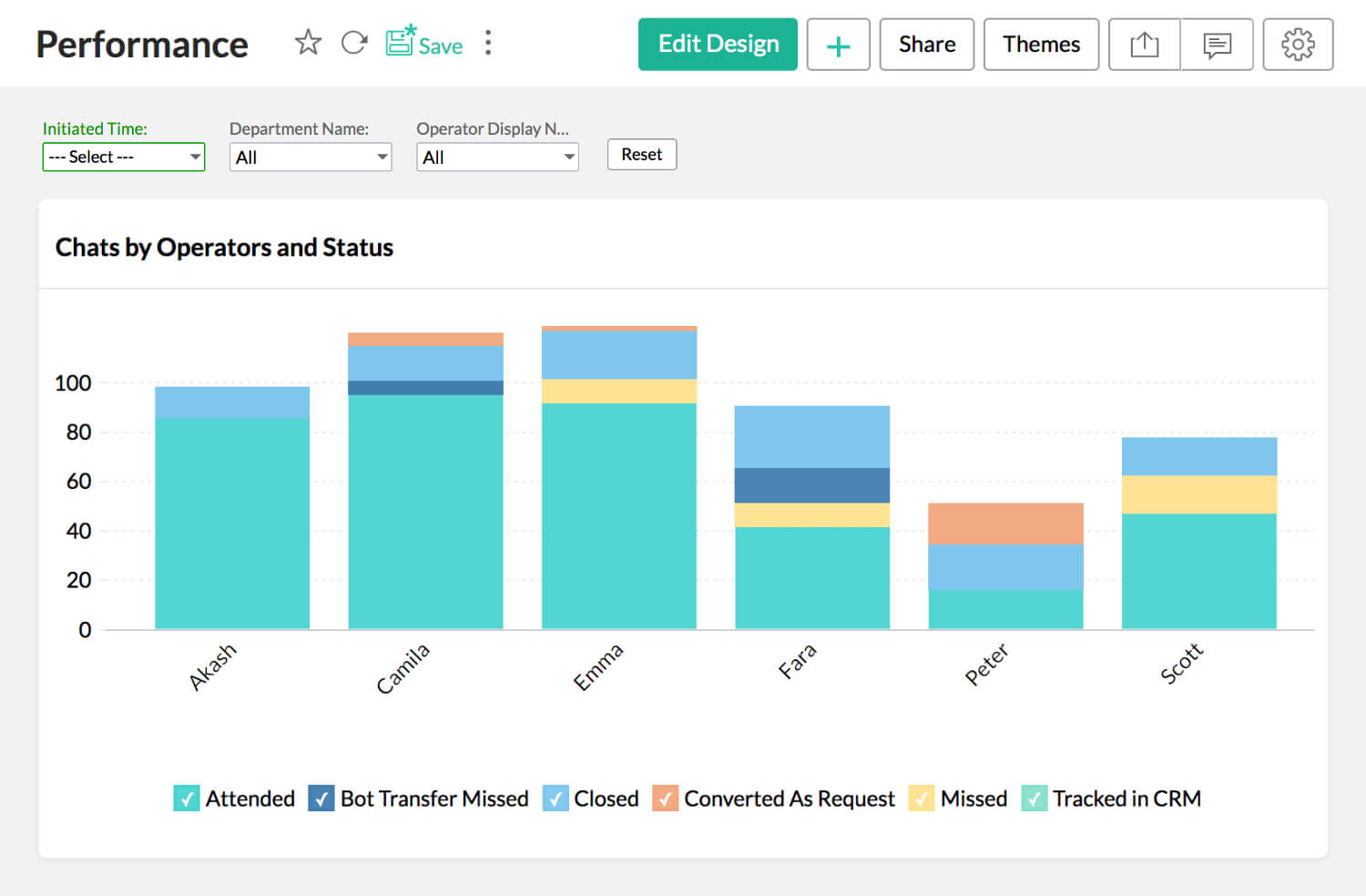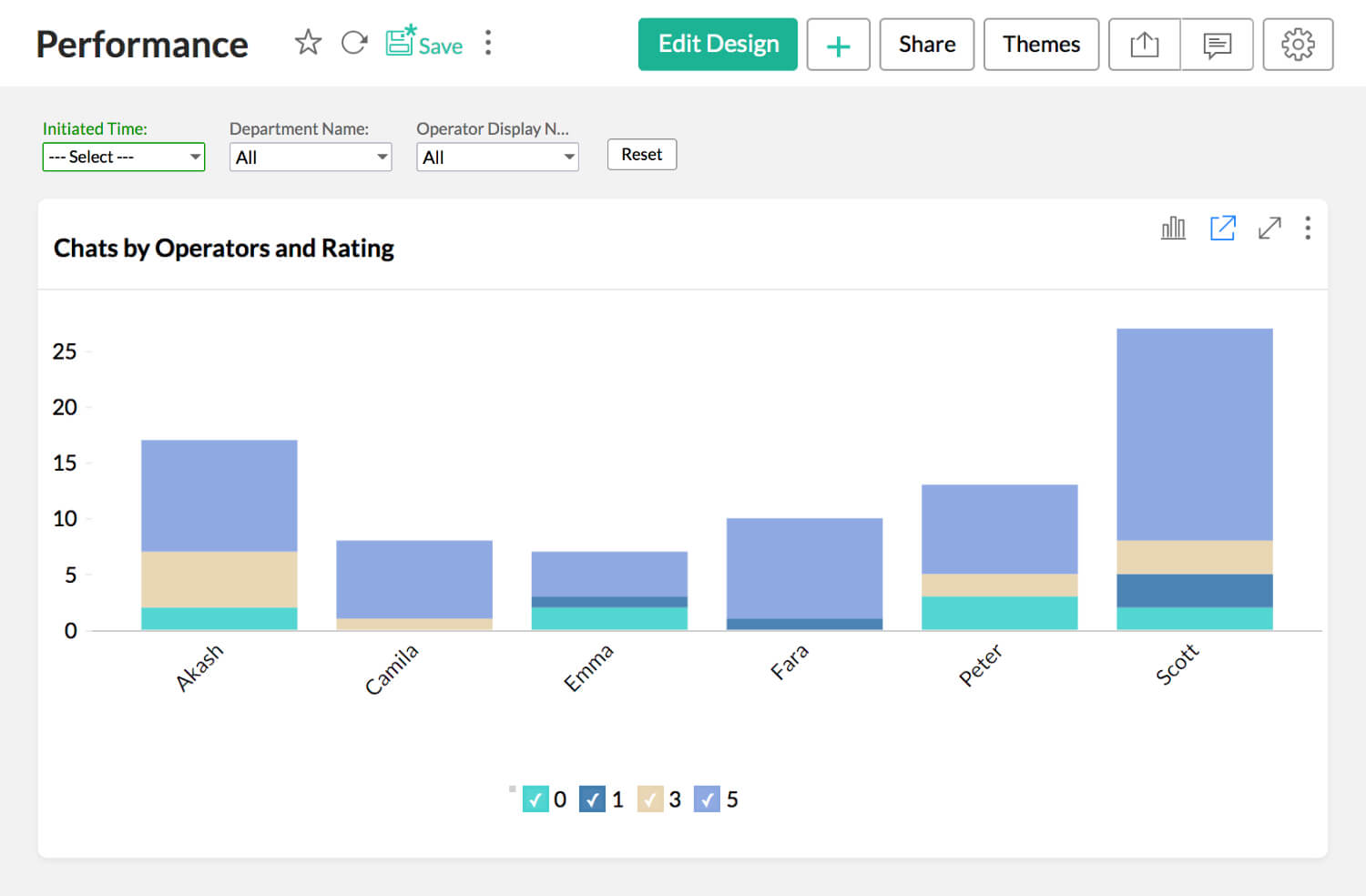 Set up alerts on key performance metrics
Keep abreast of changes to critical business metrics by setting up alerts on the SalesIQ-Zoho Analytics dashboard. This notifies you when a goal you've set is met or when an unexpected event happens so you can take immediate action.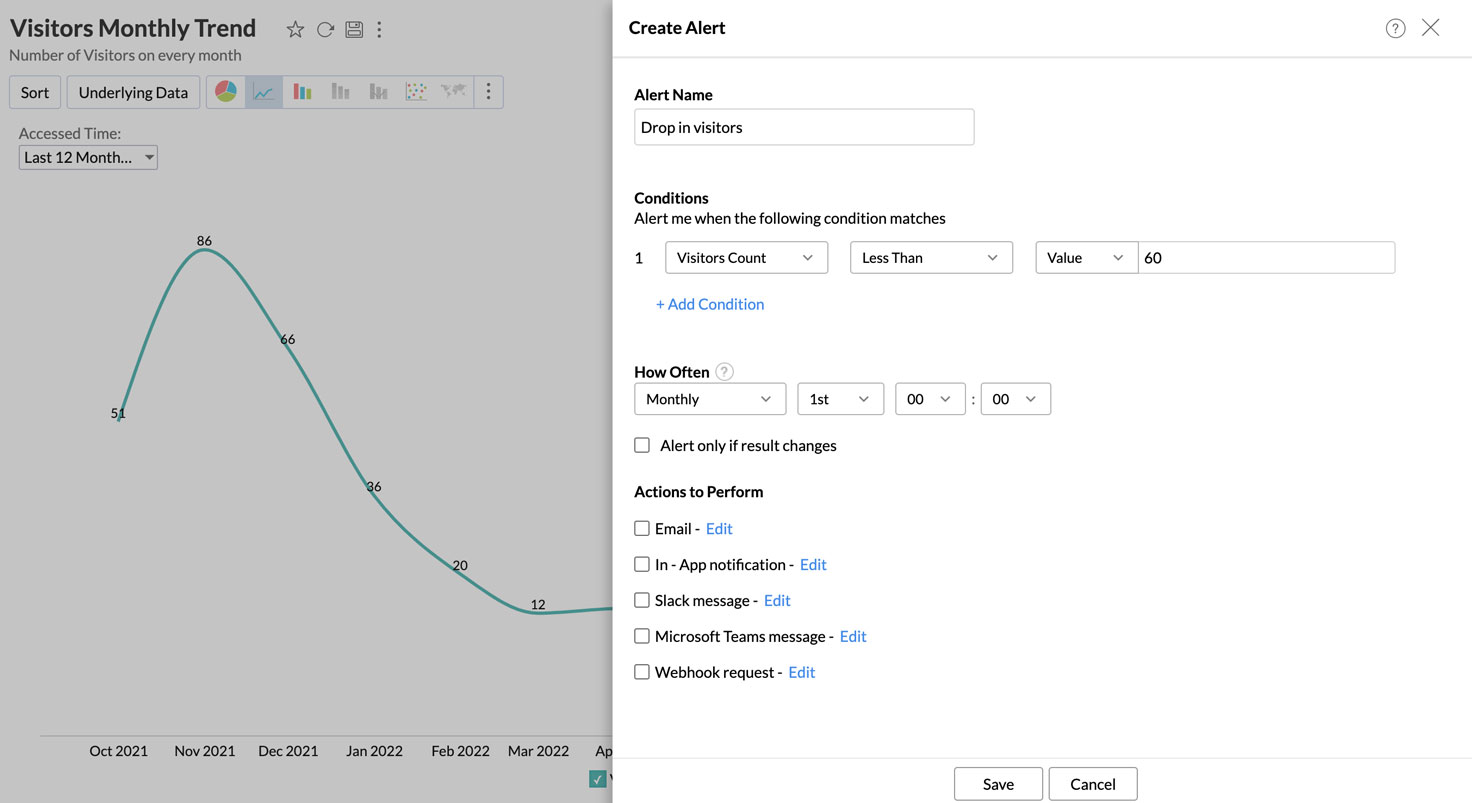 Analyze conversation data to manage your team's workload
Measure your chat influx and customer waiting time, identify your busiest hours, and determine commonly asked questions. These live chat analytics from Zoho SalesIQ data help you train your chatbot and plan a suitable staffing roster to prepare your team to handle high volumes.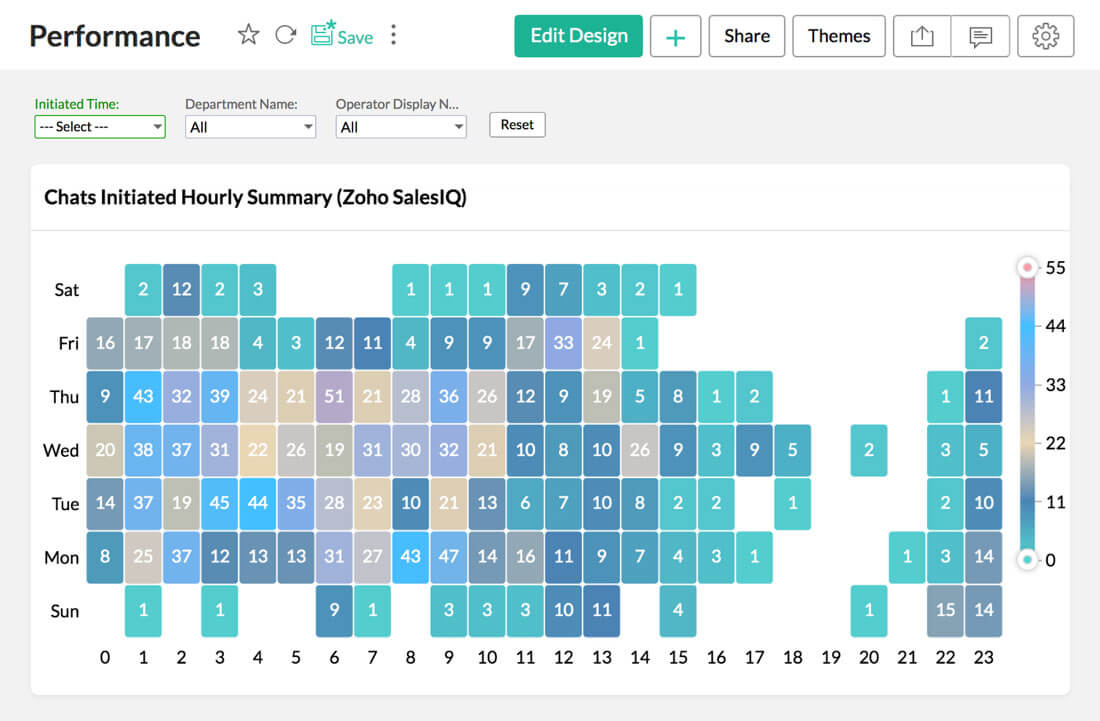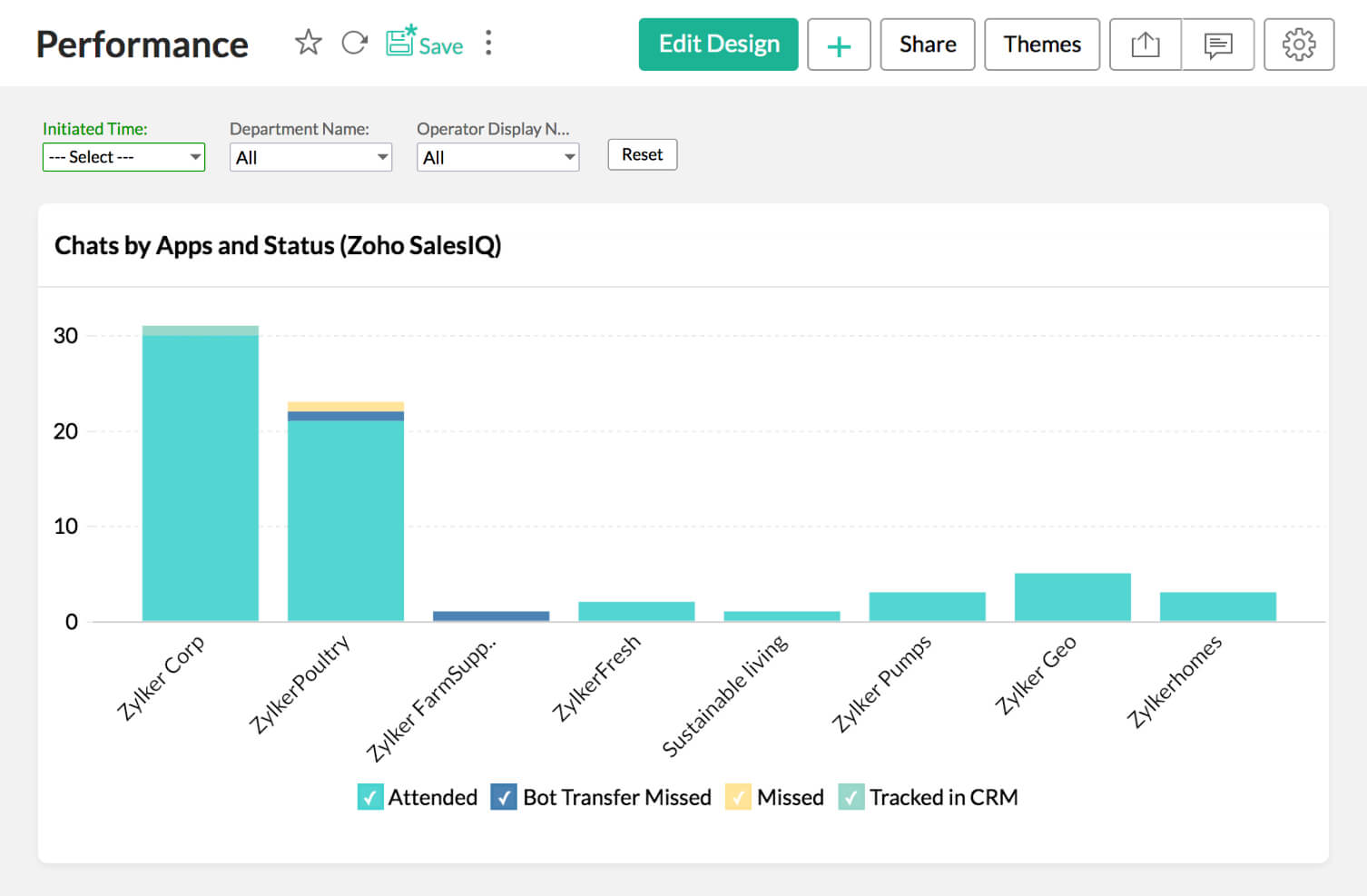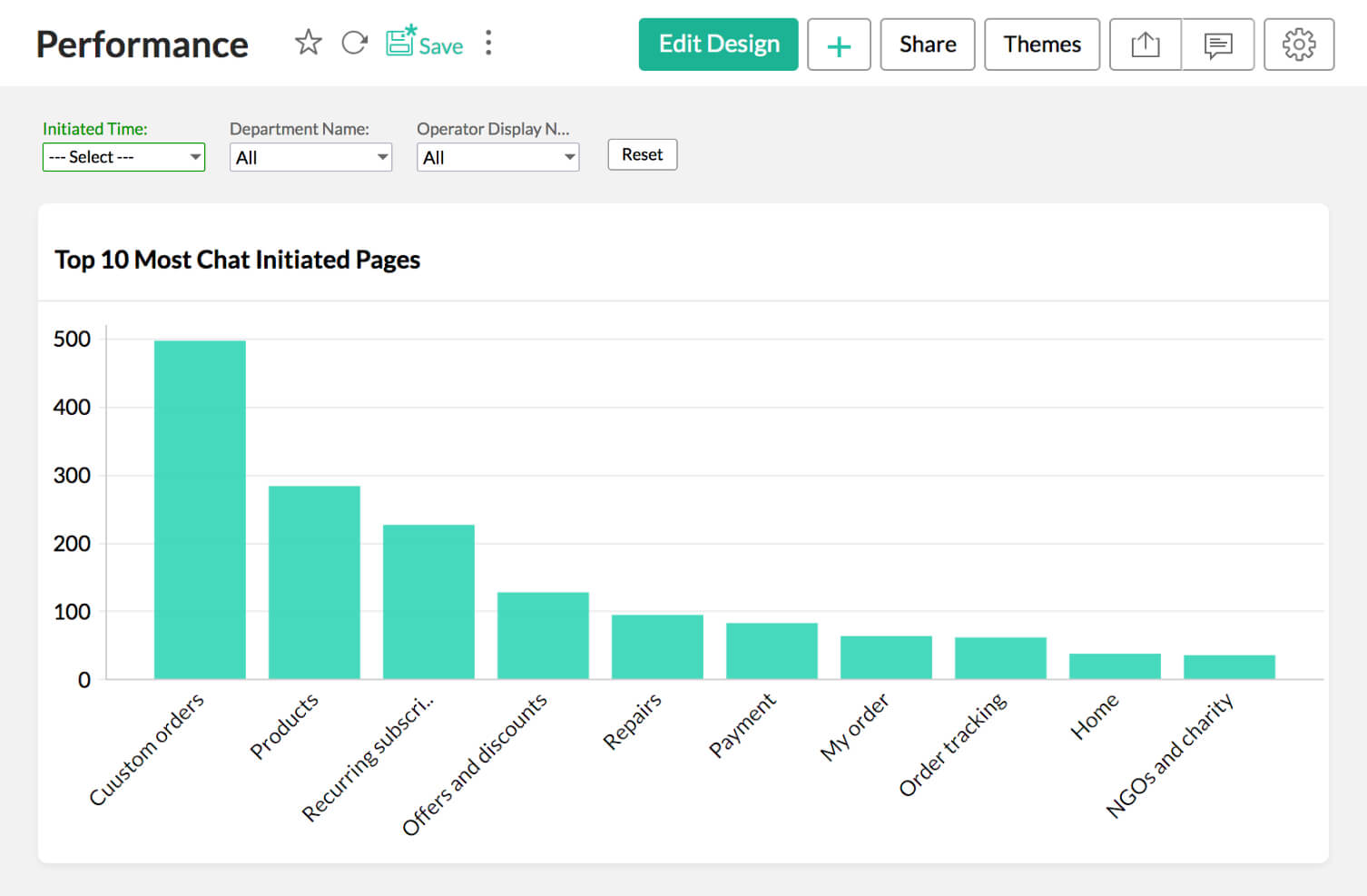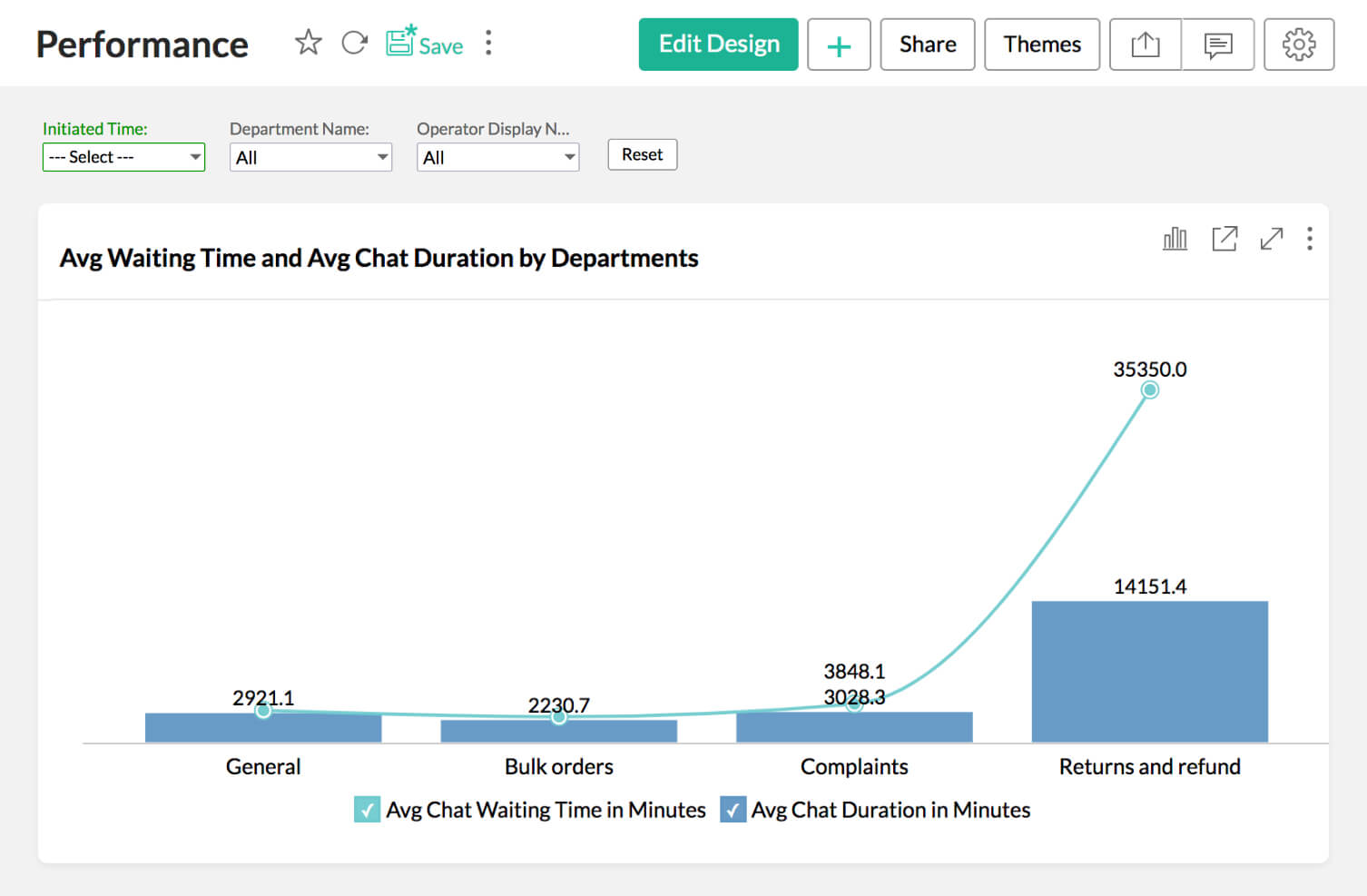 Merge cross-functional data with Zoho SalesIQ reports
Combine and analyze all your business parameters in one place.
Bring in data from Zoho and third-party tools
Import customer data from Zoho CRM, Salesforce CRM, Zoho Desk, and more and merge them with SalesIQ for end-to-end customer analytics.
Combine local data with SalesIQ reports
The Zoho SalesIQ-Zoho Analytics integration also allows you to import data from your local drives, servers, cloud databases, and even email attachments and merge them with your SalesIQ analytics to get more insights into your customer engagement operations.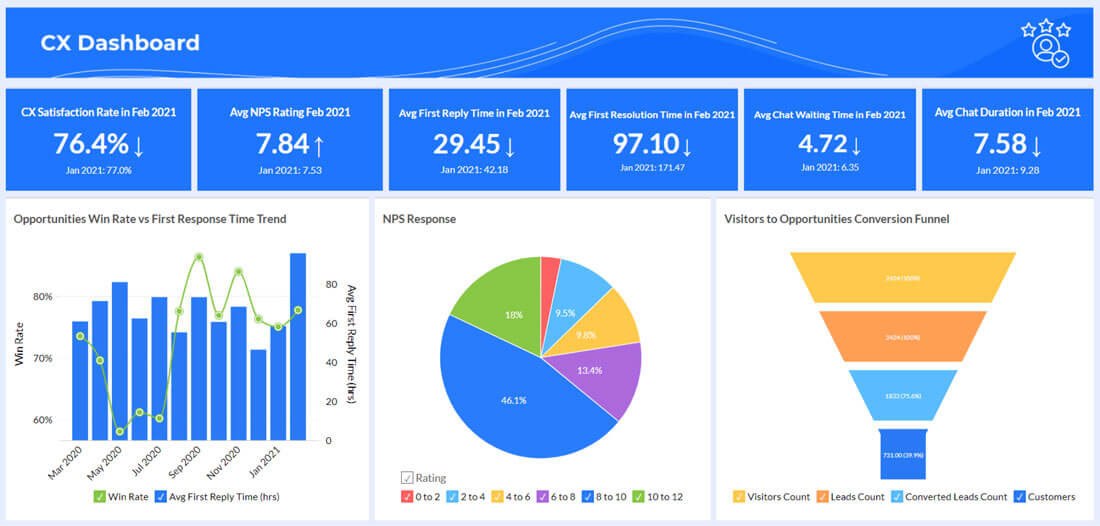 Stay updated on KPIs with prebuilt reports and dashboards
The Zoho SalesIQ-Analytics integration provides 75+ ready-made reports and dashboards to give managers a convenient view of daily site visits, lead generation conversion rates, customer service performance, and overall customer engagement reports. No complicated setup process is required.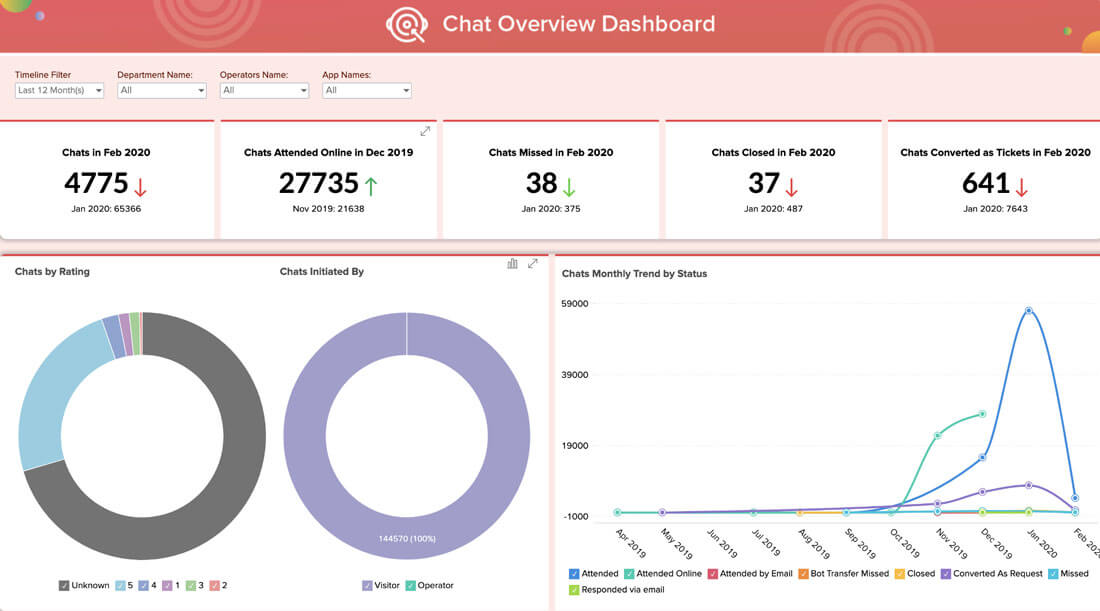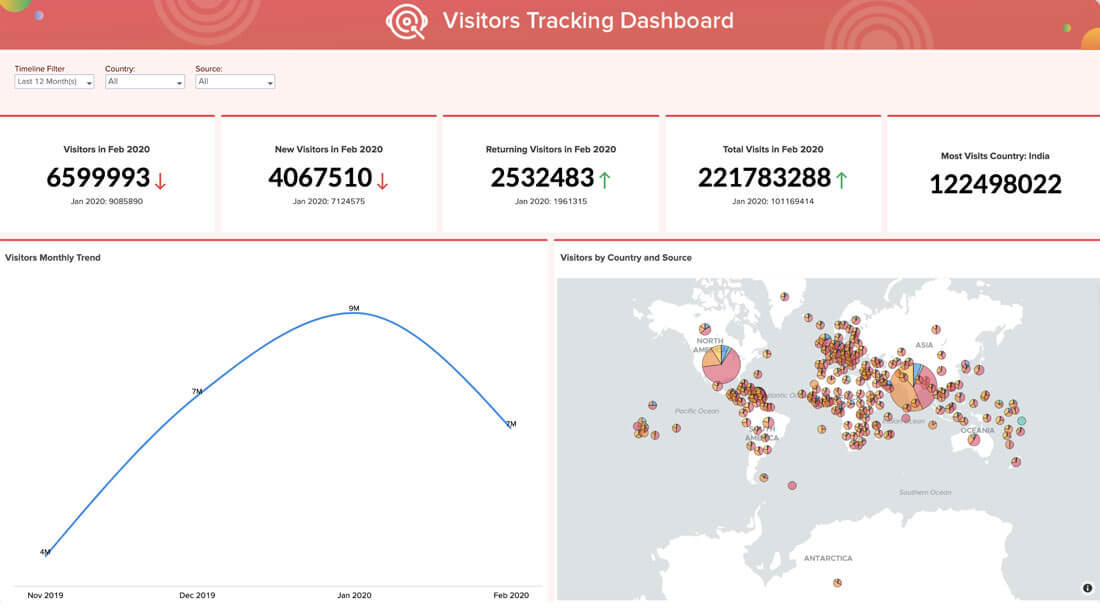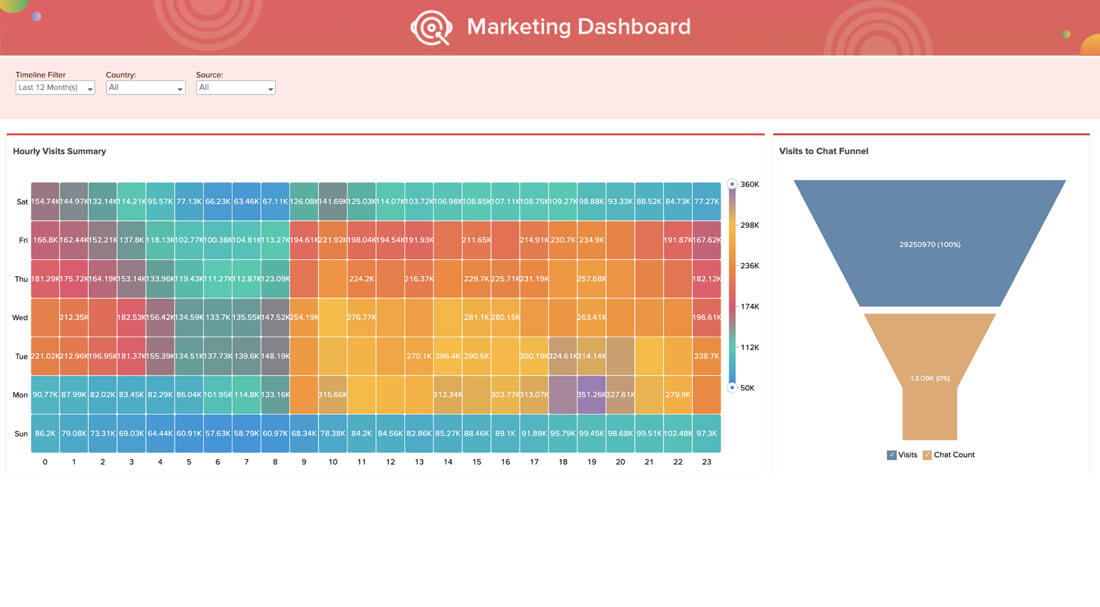 Collaborate on SalesIQ Analytics with your team
Share analytics reports and dashboards with your team or colleagues to arrive at collective decisions or discuss your team's performance. Don't worry about data security. With fine-grained access permissions in Zoho Analytics, you choose who gets to see and/or work on your Zoho SalesIQ data.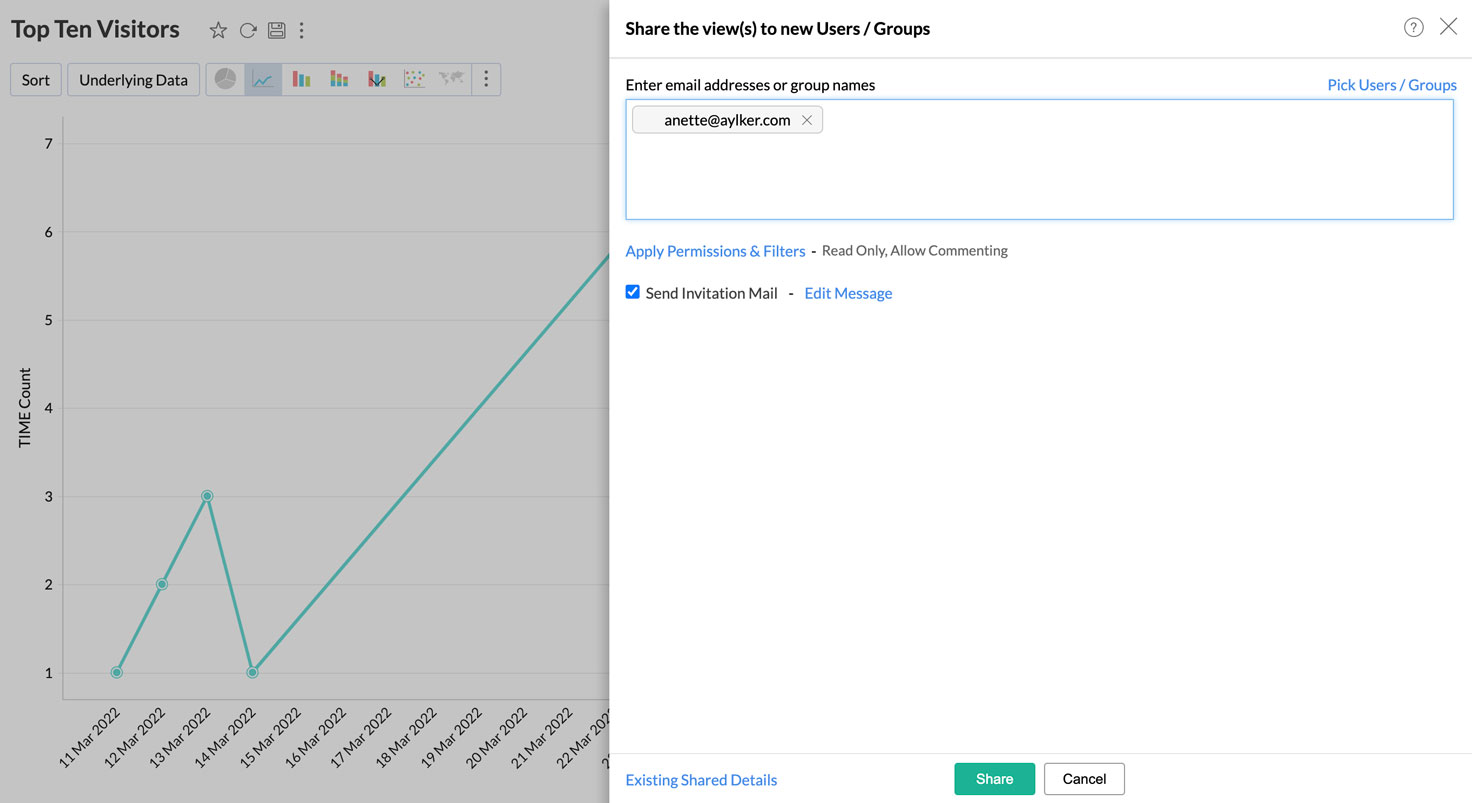 How to integrate Zoho Analytics with Zoho SalesIQ?
Sign in to your Zoho SalesIQ account.
Navigate to Integration under settings and select Zoho Analytics.
Click on 'Add' to initiate the integration process.
From the list of workspaces, choose the one you want to integrate with.
Configure the integration settings based on your specific requirements.
Test the integration to ensure it's functioning correctly, and optimize it as needed.
Follow this detailed guide and learn to enable the Zoho Analytics integration for SalesIQ in just a few clicks.
Frequently asked questions
What is Zoho Analytics?
Zoho Analytics is a self-service business intelligence and analytics software solution that helps you visualize and analyze raw data to uncover meaningful insights.
Why should I integrate my Zoho SalesIQ account with Zoho Analytics?
The success of customer-centered business operations like marketing, sales, and customer support relies on real-time data about customer experience, previous numbers and trends, employee and staffing effectiveness, and more. Though Zoho SalesIQ gives you all this data in real time, it helps to automate its analysis and have this data represented in an easy-to-understand, visualized manner. The Zoho SalesIQ-Zoho Analytics integration does exactly this and helps you make sense of your Zoho SalesIQ reports with the utmost ease.
Who can access the Zoho SalesIQ-Zoho Analytics integration?
Users with paid accounts in both Zoho SalesIQ (Professional plan onwards) and Zoho Analytics (Basic plan onwards), and Zoho CRM Plus/Zoho One users can use Zoho SalesIQ's integration with Zoho Analytics. Users with the Administrator role in Zoho SalesIQ can enable and configure it.
What data from Zoho SalesIQ will reflect in my Zoho Analytics workspace?
You can sync the following data from Zoho SalesIQ to your Zoho Analytics workspace:
Apps
Conversations
Departments
Events
Operators
Visitors
Visits