Zoho recognized as a leader in the Nucleus Research Talent Acquisition Technology Value Matrix 2023
Nucleus Research, a global provider of ROI-focused technology research recognized Zoho Recruit as a leader in their Talent Acquisition Technology Value Matrix for 2023.
get access to the report
Try for free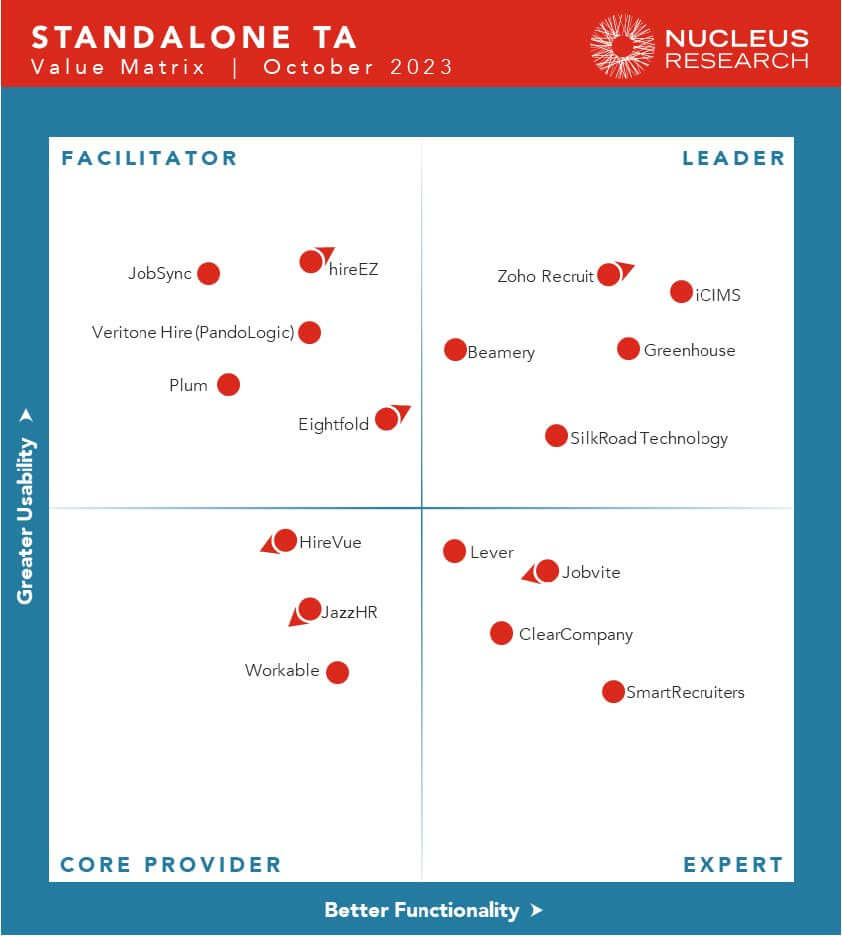 "Zoho Recruit can significantly reduce candidate drop-off and contribute to maintained engagement throughout the employee lifecycle once a candidate is hired, subsequently reducing employee flight-risk.
Changes in the recruitment landscape and a rise in telecommuting have left organizations with disconnected talent acquisition processes that require comprehensive solutions. Zoho Recruit's cloud-native talent acquisition solution for corporate hiring and staffing agencies combines candidate sourcing, interview scheduling, background screening, and digital signatures to accelerate talent hiring.
Get your complimentary report here
The criteria for evaluation included multiple parameters around the completeness of vision and ability to execute. The key benefit areas Nucleus Research identifies in Zoho Recruit are:
Reduced
time-to-hire
Increased
quality of slate
Reduced candidate
drop-off
About the report:
The report addresses questions on vendors that provide comprehensive information based on their product usability, functionality, and the value that customers realize from the capabilities of the product.
Read more:
How Zoho Recruit boosts hiring efficiency
Value matrix based on better functionality and great usability
Overview of the talent acquisition market
Nucleus research evaluation of Zoho Recruit as a talent acquisition leader
Zoho Creator, a low-code app development platform from Zoho has been named leader in the latest LCAP Technology Value Matrix by Nucleus Research. Regardless of the complexity of your requirements and coding expertise, Zoho Creator lets you launch custom, mobile-ready apps in minutes. Zoho Recruit and Zoho Creator together provide the best of both worlds. Create custom functions using deluge to meet your recruitment needs.
Over
6,000 +

companies trust Zoho Recruit
Zoho Recruit leads among online hiring softwares