Hiring that Works your Way.
Reach candidates like never before. The new Zoho Recruit makes it easy to find the ideal candidate by posting to job boards, social media and your careers website page. Learn More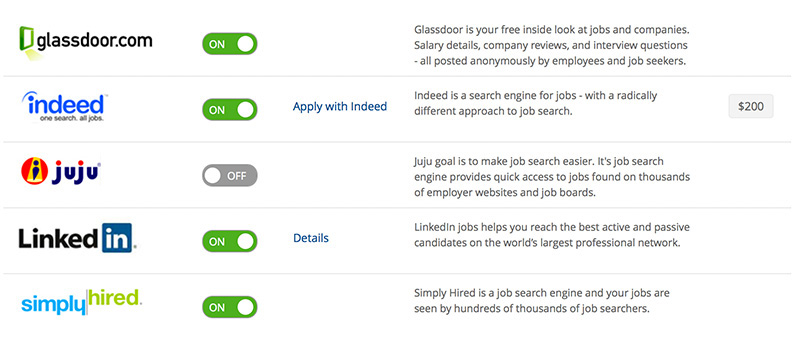 Website Integration
Use the power of your brand to find candidates by creating a custom Careers Website Page that seamlessly blends with the rest of your site.
Post Jobs to Job Boards
Zoho Recruit lets you post job openings to the most popular job boards like CareerBuilder, Indeed and LinkedIn with just a few simple clicks.
Utilize Social Media
Connect with candidates on social media. Post individual job openings or your company career page to your Facebook, LinkedIn or Twitter pages.
Don't get bogged down with tedious tasks. Let Zoho Recruit take care of those daily actions so you can focus on what is most important -- finding and talking to candidates. Learn More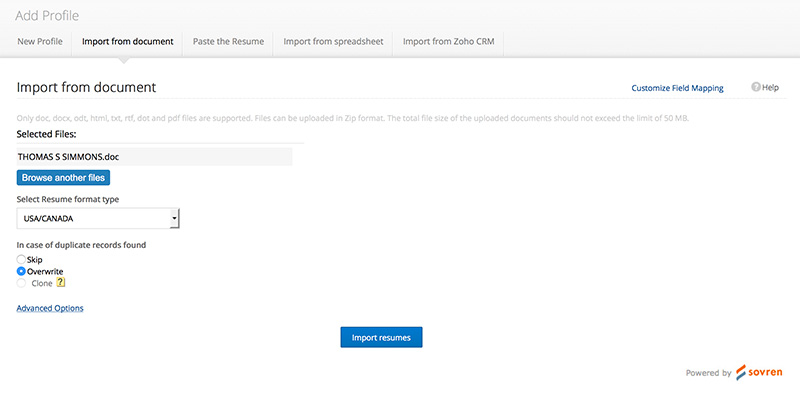 Gather Resumes from Multiple Sources
Automatically capture and import resume information from email attachments, your website, Outlook inbox and more.
Import from Document
Utilize resume parsing tools Rchili & eGrabber seamlessly to parse multiple resumes and import candidate information directly to your database.
Document Collaboration
Share and edit documents with specific people or everyone in your organization for easy and efficient collaboration.
Know everything about your candidates and track their activity inside your database from sourcing to hiring. Stay organized and informed to ensure you make the best hire possible. Learn More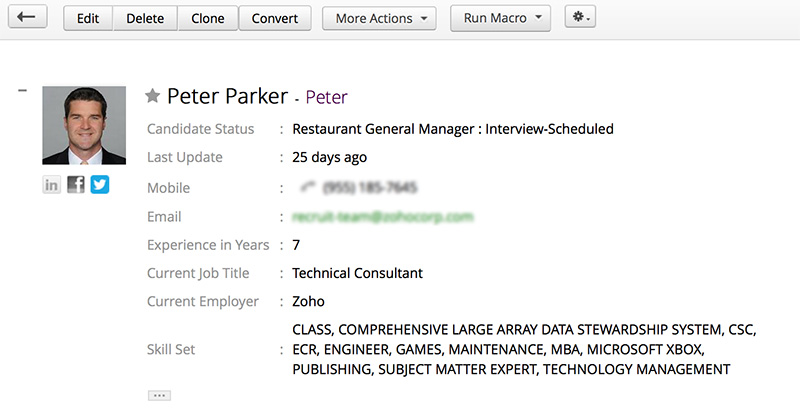 Manage Your Activity
Stay informed and up-to-date on all activity from one location inside Zoho Recruit.
Event Management
Zoho Recruit reminds you about all events on your schedule and keeps you free from the stress.
Track Candidate Source
Zoho Recruit automatically tracks the source of your candidate so you can see who performs well and which ones need more attention.
Manage every aspect of your resumes with ease. Parse candidate information directly to your candidate database, streamline the application process and format and brand resumes easily before sending them off to clients. Learn More
Parse Resumes
Parse multiple resumes and transfers candidate details directly into Zoho Recruit candidate database.
Candidate Login
This new feature allow applicants to create an account and save personal information into the database for future use.
Format and Brand Resumes
Add your company logo or watermark and edit candidate contact information on resumes before forwarding them to clients for review.
Every recruiter has a set of tasks he or she completes manually after completing an initial task. Automate this process and eliminate time-wasting tasks by managing your workflow. Learn More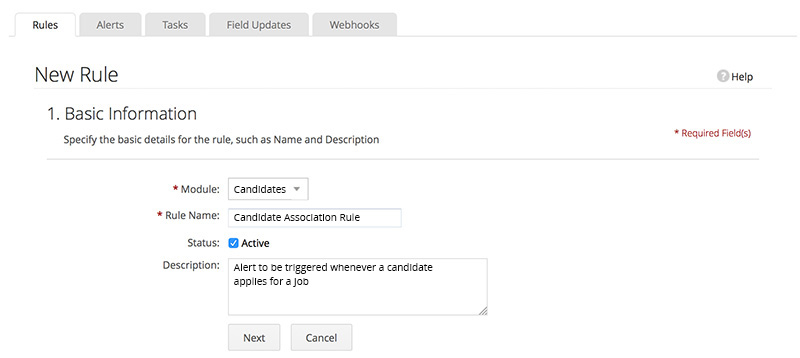 Create Workflow Rules
Customize your user experience by creating custom workflow rules to fit your routine.
Send Workflow Alerts
Use an email template to notify specified recipients when a a workflow is triggered and carried out.
Automate Tasks
Using Macros function, compress a set of tasks or actions into one click of a button.
Let the power of your brand attract candidates. Create a custom careers web page, post job openings directly to your website and automatically capture candidate information to your Zoho Recruit database. Learn More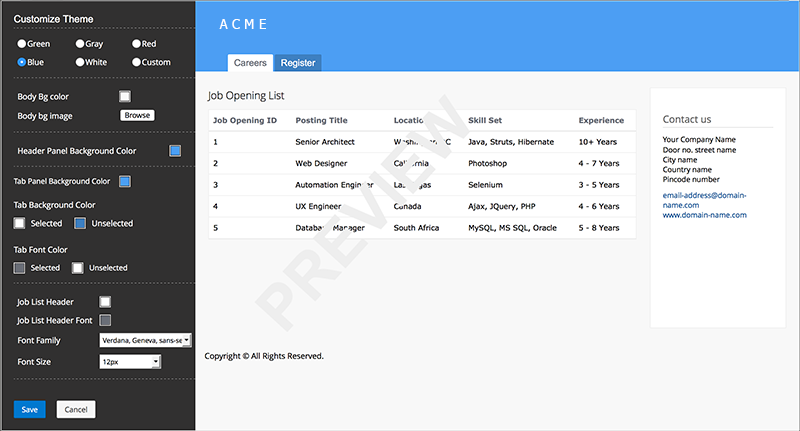 Showcase Job Openings on career portal
Showcase all job openings for your company in a single location. Visitors can then create an account and apply to multiple job postings.
Target your postings
Find out what works best for your company by creating multiple pages and targeting them at a specific audience.
Build Your Brand
Create a custom careers page on your website that seamlessly blends in with your brand and company message.
Control every aspect of your Zoho Recruit account by creating and managing different users, his or her roles in the organization, user groups and defining data each user can and cannot see in the database. Learn More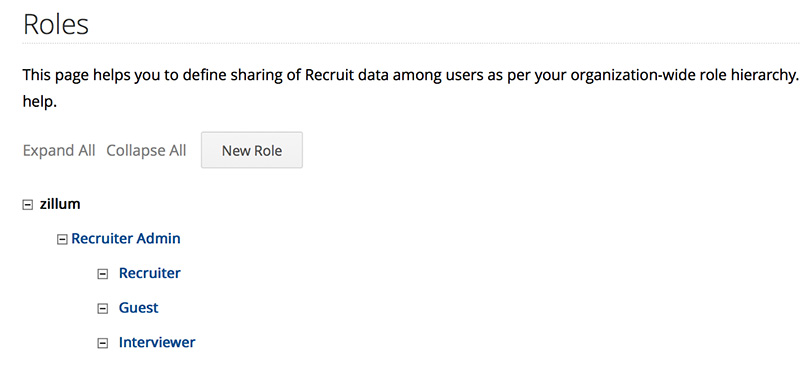 Manage Users, Profiles, Roles & User Groups
Manage all recruiter activity by creating profiles that define the access permission for each user.
Assign Roles & Permissions
Assign different roles to users in your account.
Share only the data you want
With the data sharing settings you can give access rights to users in other roles or groups.
Use Zoho Recruit alongside other great Zoho apps, social media sites and even third-party applications from Google to maximize your daily productivity. Learn More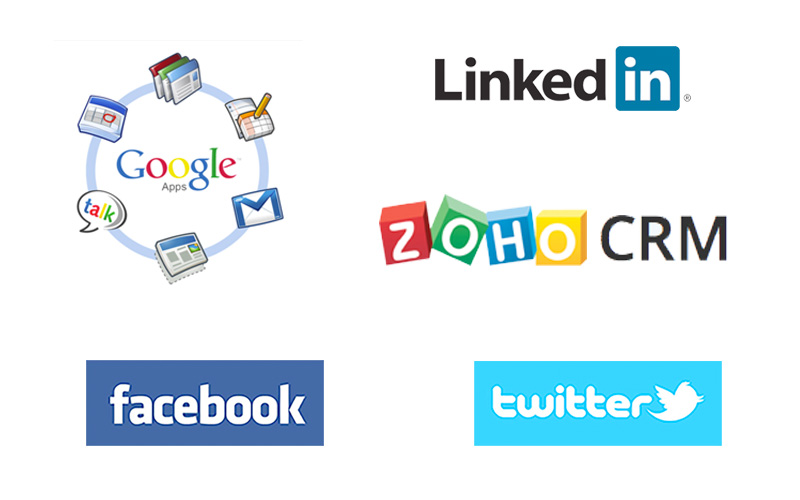 Import Clients from Zoho CRM
Use Zoho Recruit along with Zoho CRM to easily import client contact information directly into your Recruit database.
Source Talent through LinkedIn
Source and hire candidates from the leading professional social network thanks to the LinkedIn integration.
Create and Analyze Reports
Analyze every piece of data in your database, create custom reports and export to increase your efficiency & overall recruiting power.
Set up your Zoho Recruit to work the way you want it to. Create custom modules, organize your tabs, tag records for easy recall and personalize organization settings for an amazing user experience. Learn More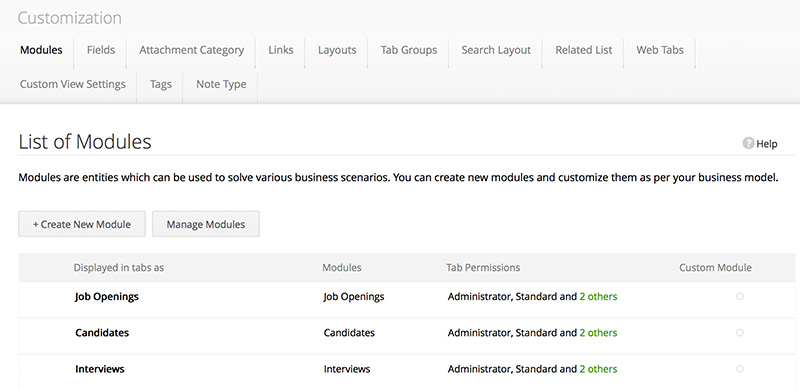 Create Custom Modules
Utilize the custom modules function in Zoho Recruit to use pre-existing workflows to accomplish tasks with ease.
Organize Tabs
Don't like the tabs inside Zoho Recruit? Customize all tabs to your liking by renaming them, removing unwanted tabs and even creating new web tabs.
Personalize Organization Settings
Zoho Recruit gives the user complete control. Personalize the organization settings to your liking for ease of use.
If you have a large recruiting firm, you may need to split candidates and clients among your recruiters based on geography. Zoho Recruit lets you create groups, assign territory and create rules for what information recruiters can view. Learn More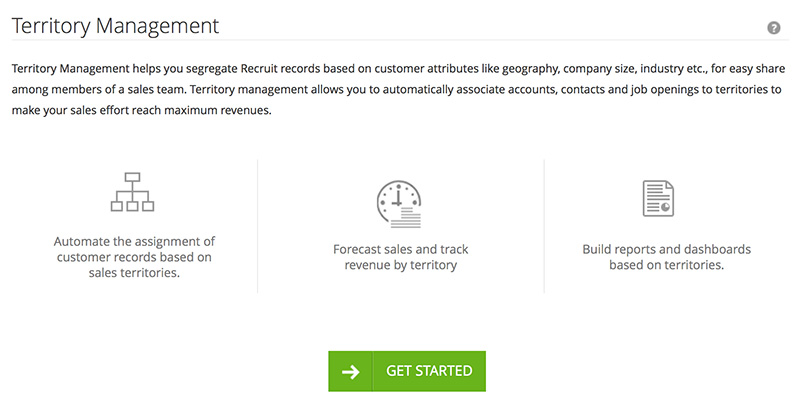 Split Candidates and Clients between Recruiters
Split candidates, job openings and clients between your recruiters based on specified criteria.
Create Territory Rules
All recruiters don't need to view the same data. Create rules for who can view and edit fields based on industry, job title or geography.
Assign Territories
Decide which of your recruiters can access certain data or portals in your Zoho Recruit dashboard.
Learn everything you can from your data. Zoho Recruit gives you the power to analyze your data with custom reports as well as the ability to share the information with your team. Learn More

Create Custom Reports
Utilize the 20 standard reports or create custom ones inside your Recruit portal to visualize every piece of data.
Work Better Together
Zoho Recruit lets you distribute daily, weekly or monthly reports to your team members.
Create your Own View
Use charts, pivot tables and tabular view components to create in-depth reports.
Creating a positive candidate experience means engaging and communicating with candidates throughout the hiring process. Integrate your email, Outlook inbox and send SMS/Text messaging easily in Zoho Recruit. Learn More

Communicate via SMS
Send an SMS to a candidate about a scheduled interview or to a client after making a new hire.
Integrate Your Email
The Zoho Mail integration lets you send, receive and track all email correspondence with candidates and client contacts inside Zoho Recruit.
Microsoft Outlook Plug-in
Want to use your Outlook email account in Zoho Recruit? Now you can with the Microsoft Outlook plug-in.