For Corporate HR
Right from vendor portal, custom careers pages and employee referral, Zoho Recruit has it all to helping modern corporate hiring teams find candidates that best suit the company.
Sourcing Techniques
Enhance the visibility of your job openings to find talent through Zoho Recruit's candidate sourcing tools.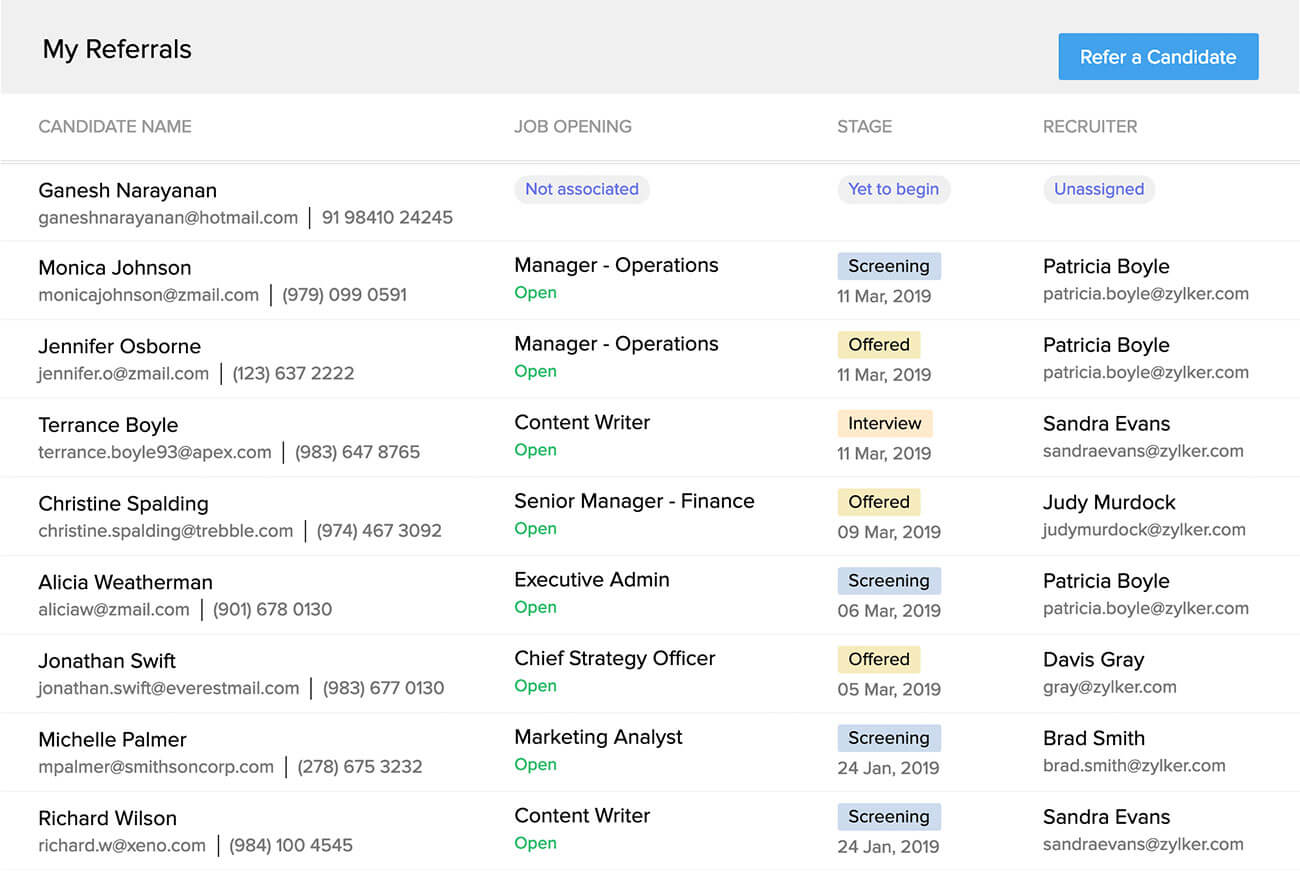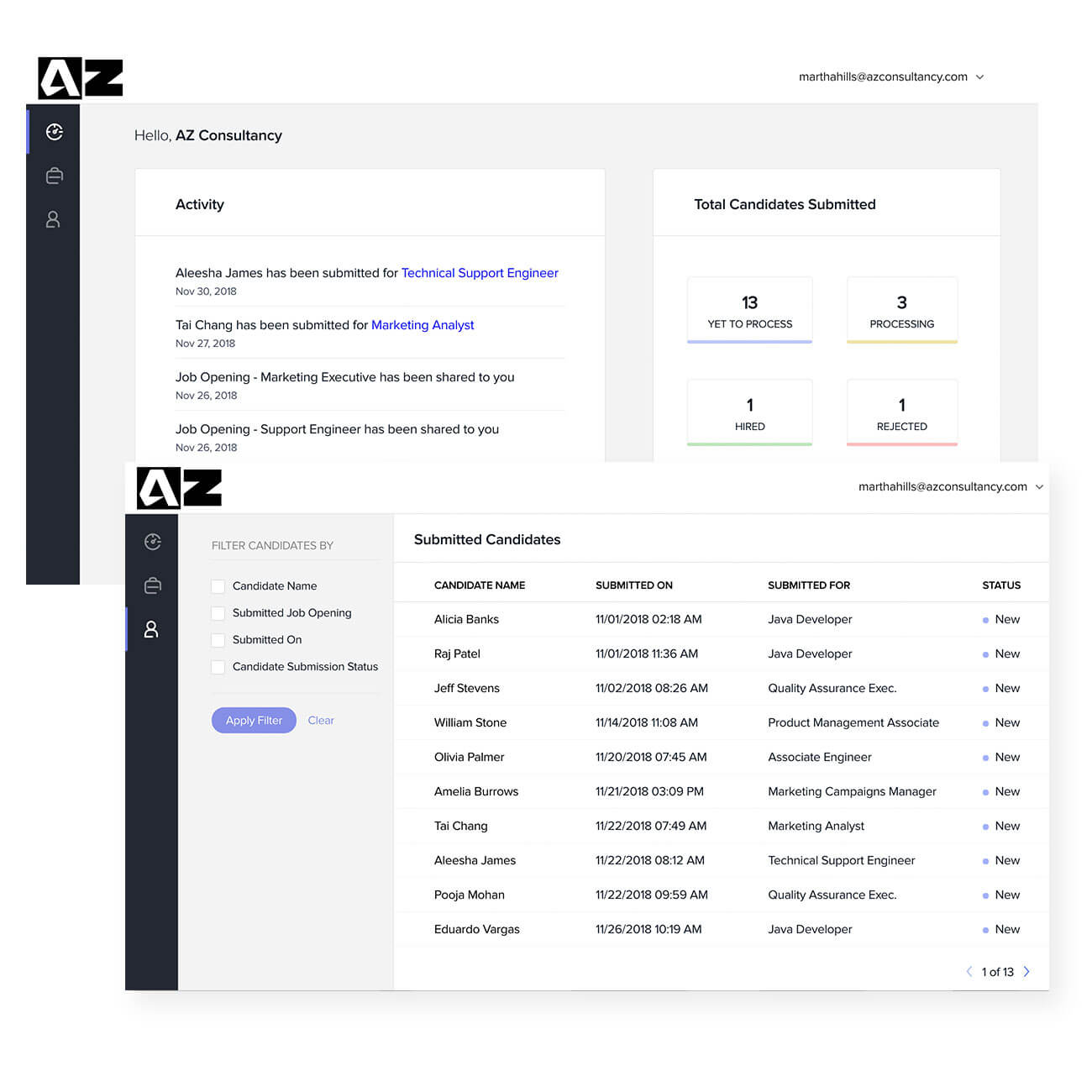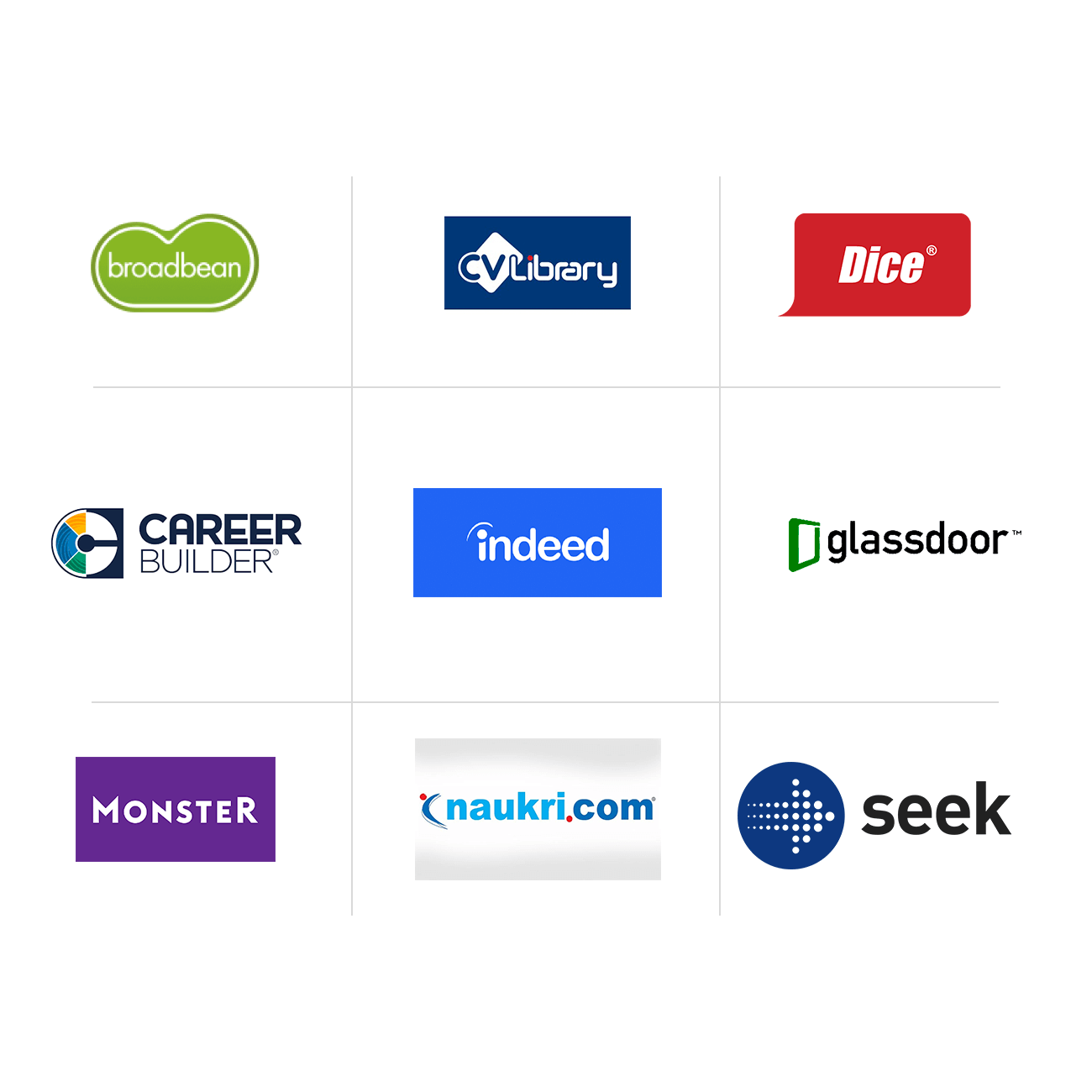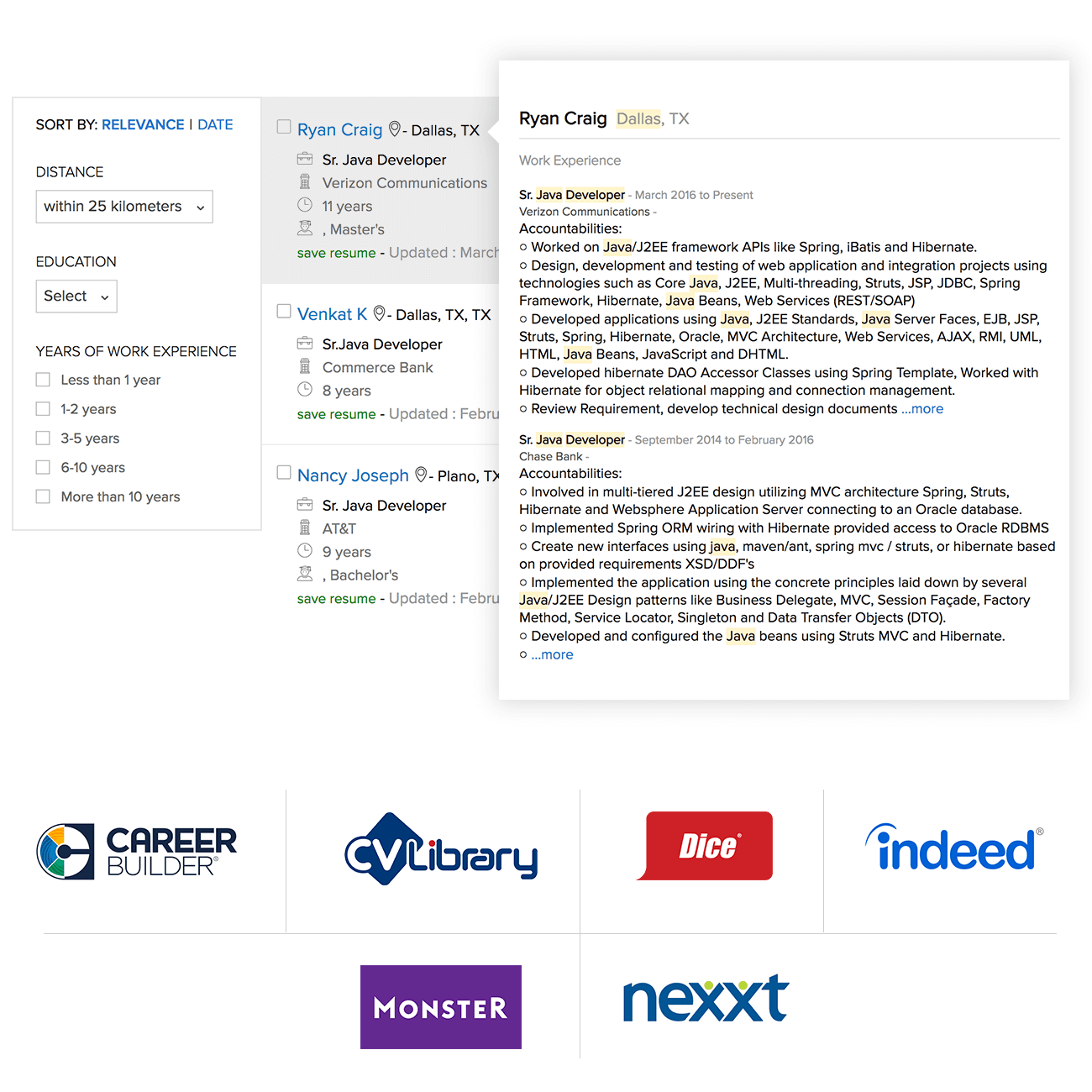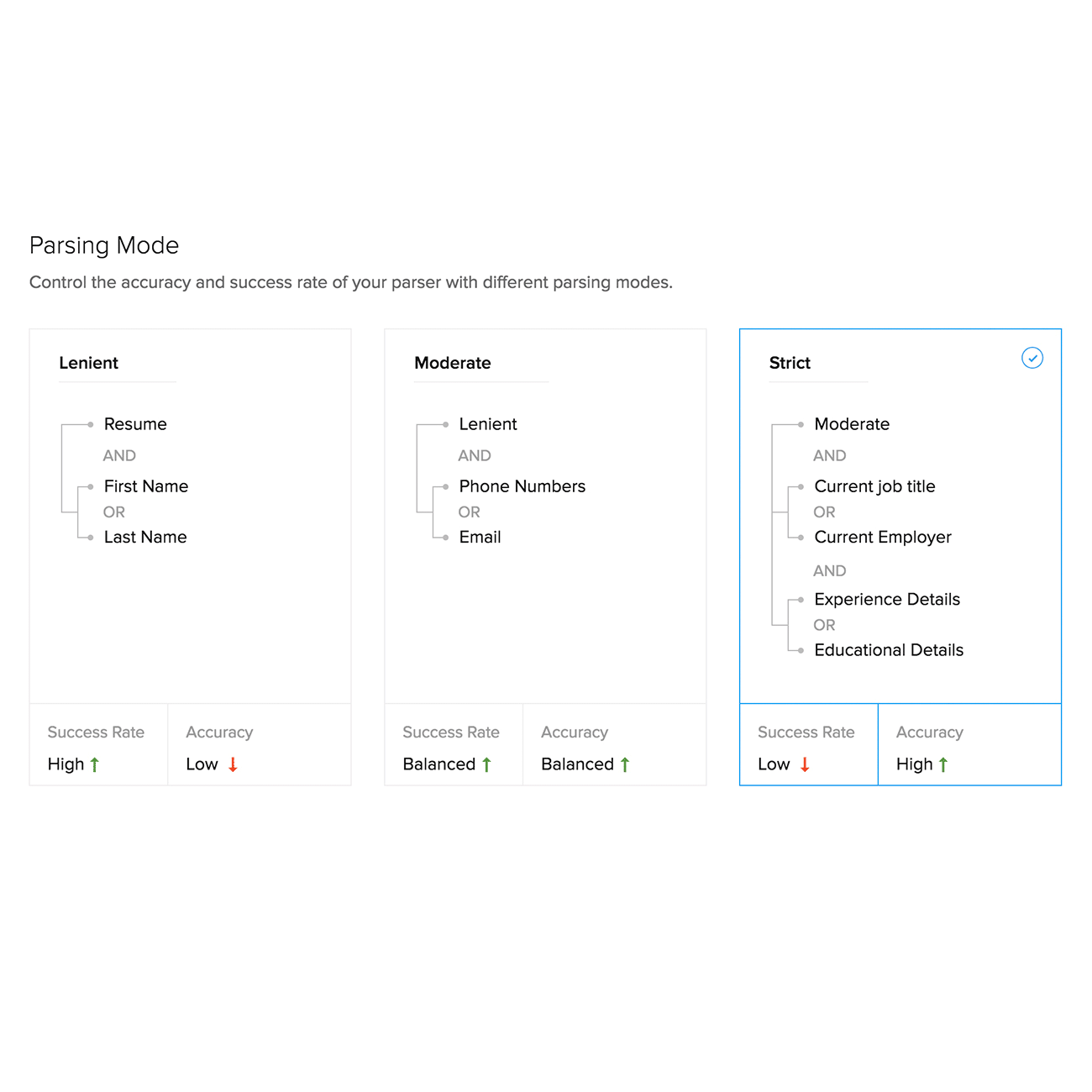 Your own employee referral portal
Vendor portal
Multiple Job postings
Source Talent Faster
Resume management
Your own employee referral portal Use your workforce as a sourcing extension by asking your employees to refer trusted friends and colleagues from their networks.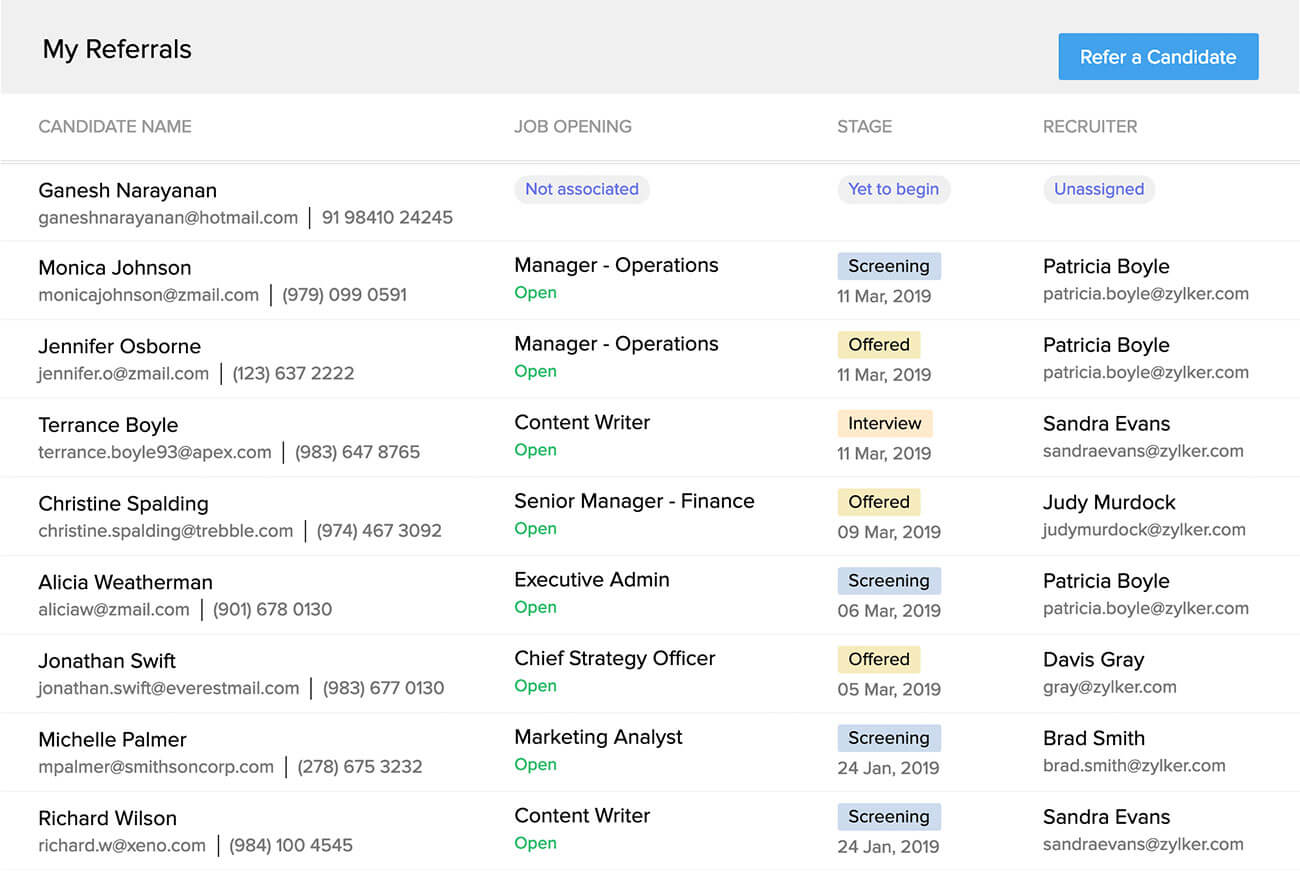 Vendor portal Manage your vendor relationship through a branded Vendor Portal. Invite recruiter's to add candidates into your database directly for the job opening.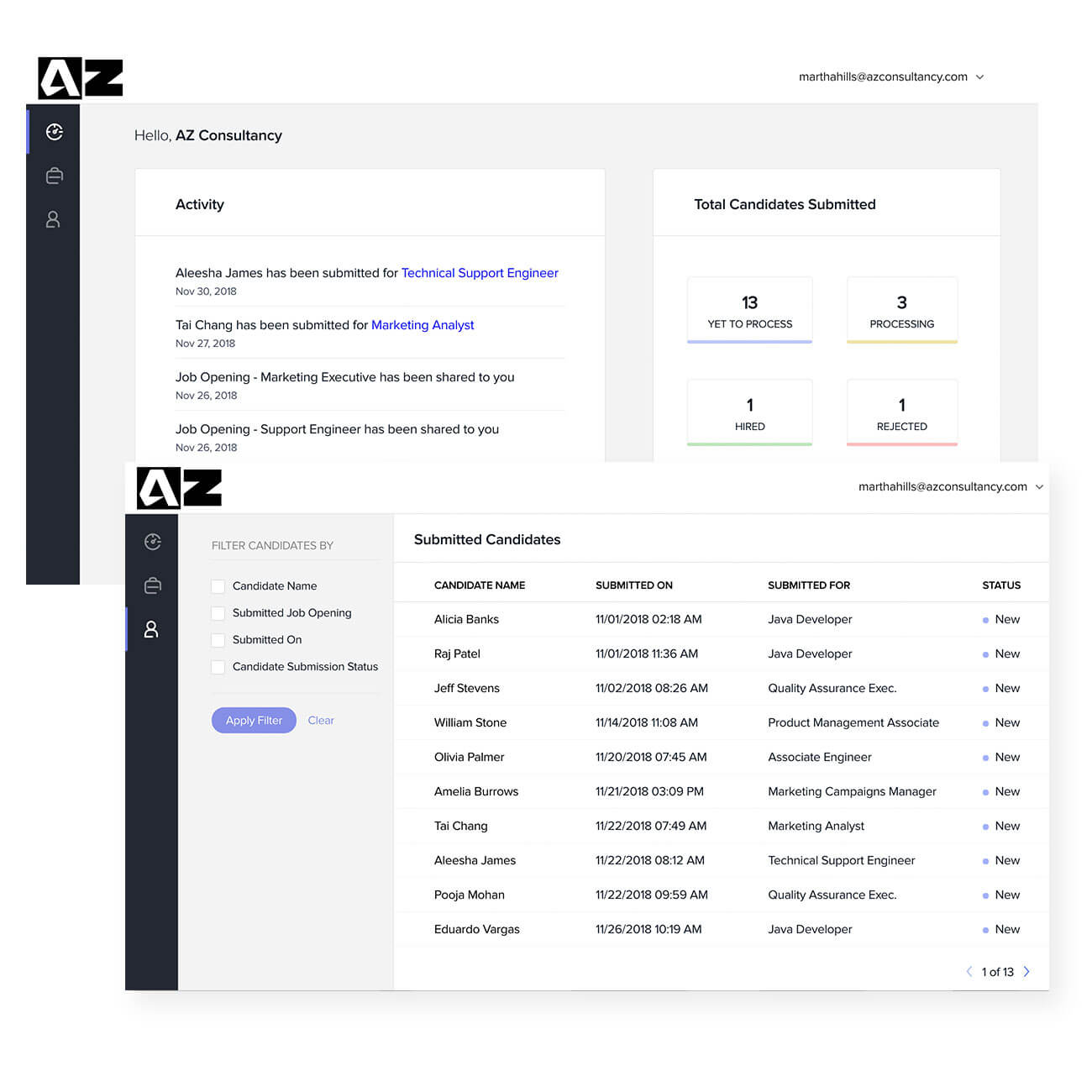 Multiple Job postings Post once. Publish everywhere. Extend your reach by posting your jobs to the best job boards to improve the quality of hires.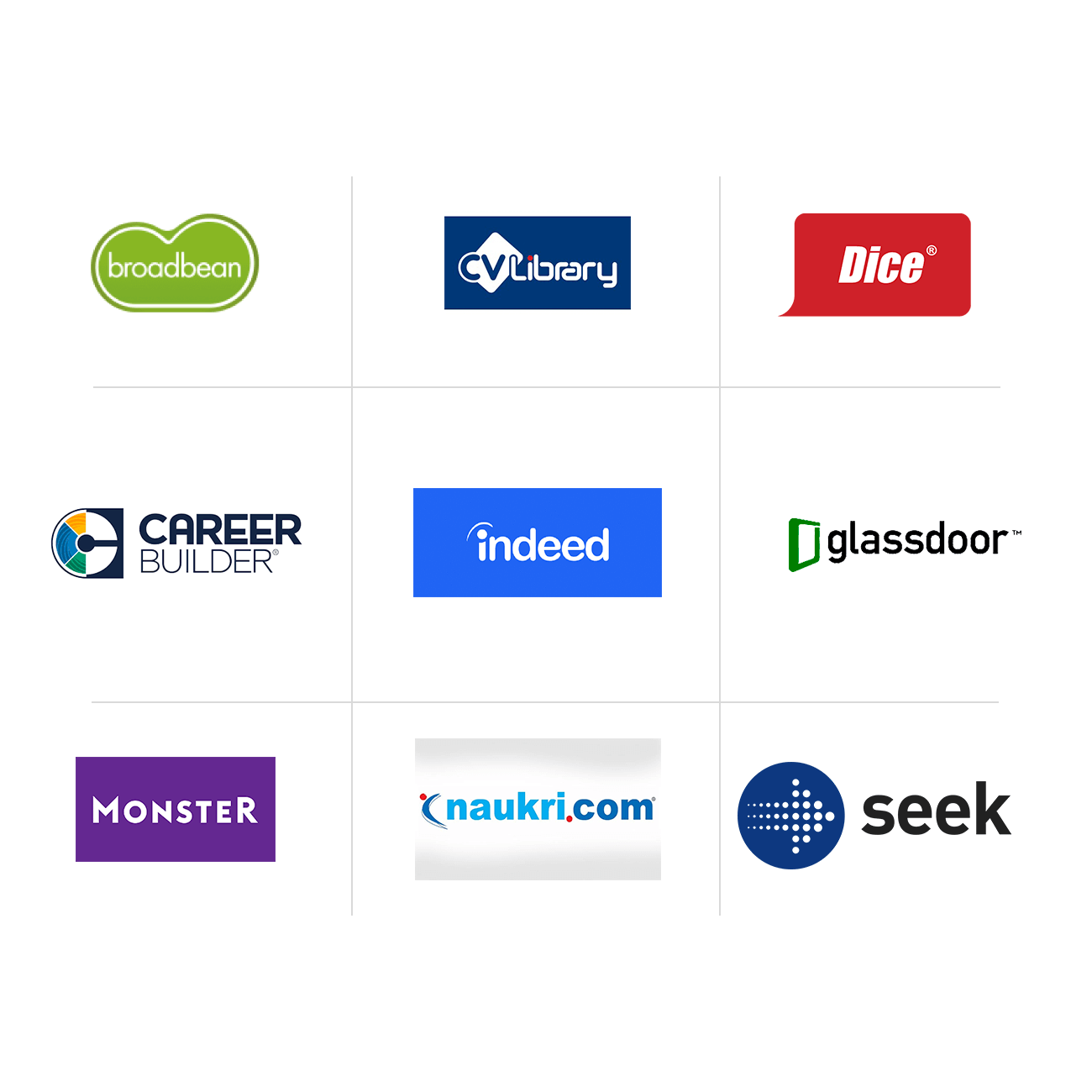 Source Talent Faster Instantly search candidates who are the best fit for your organization, access resumes, and initiate the hiring process with our powerful source boosters.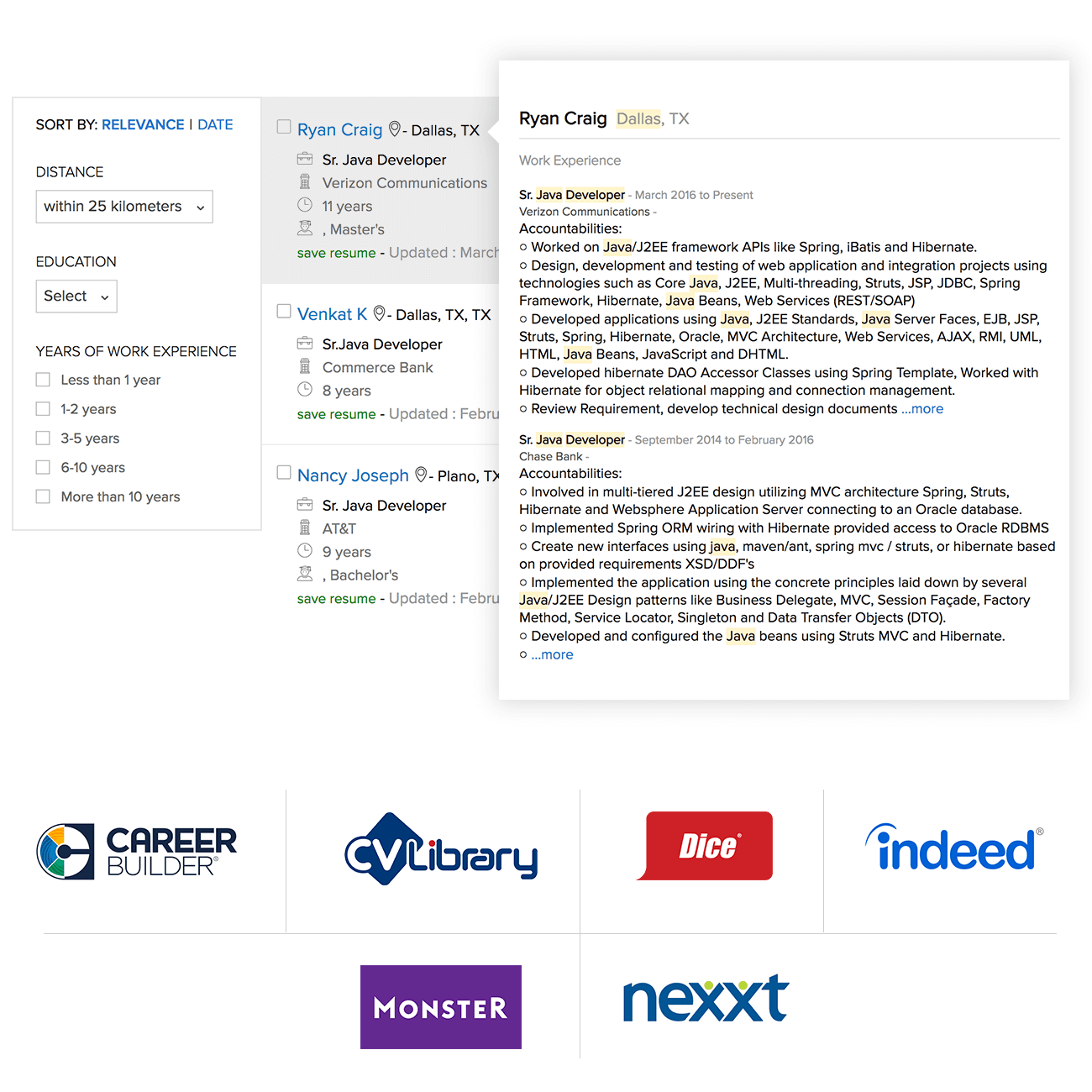 Resume management Standardize your organization's resume structure with effective resume management tools like Resume Inbox, Resume Extractor and Formatted Resume.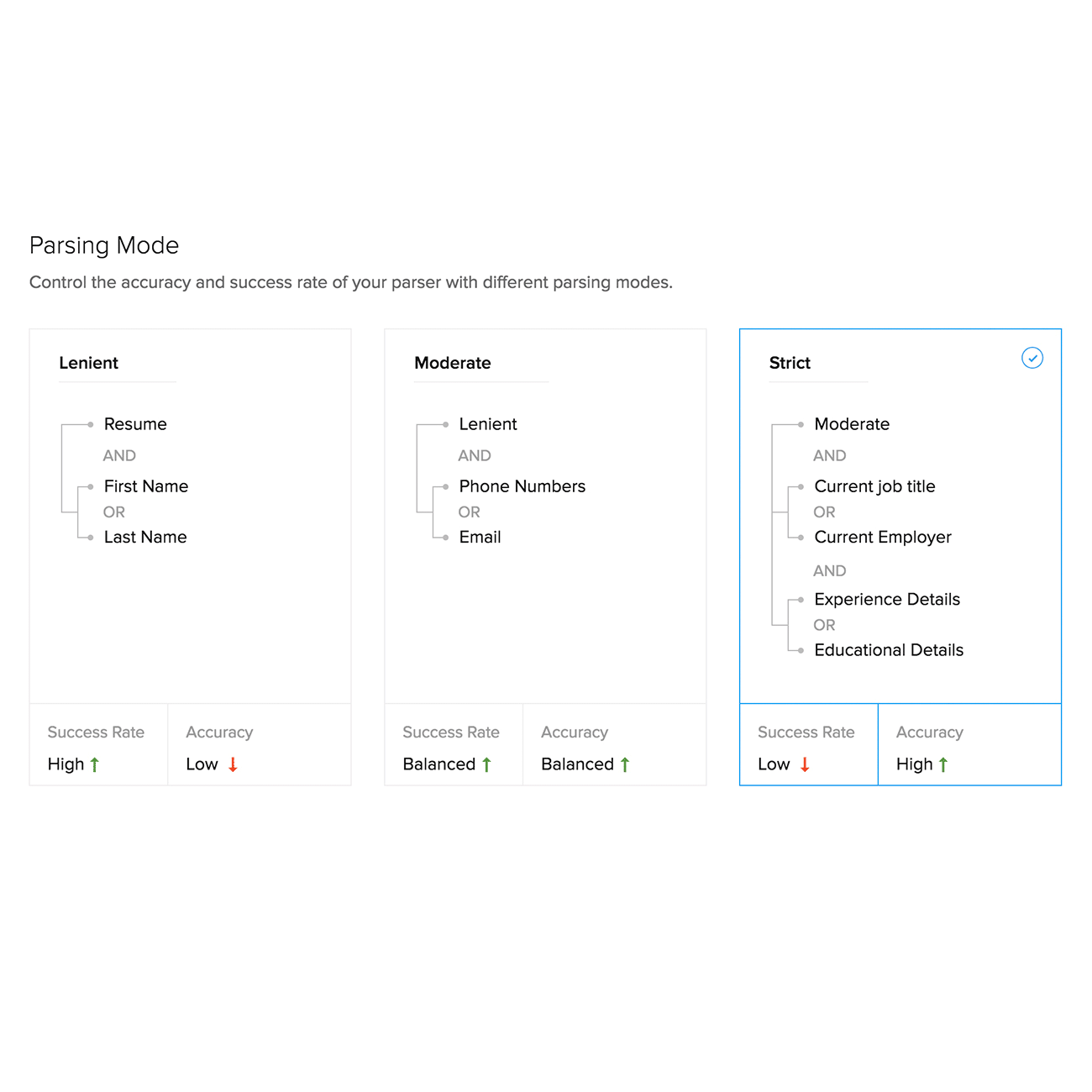 AI Assistance
From identifying talent to mapping behavioural assessments of candidates, our powerful artificial intelligence features can help you select the right talent.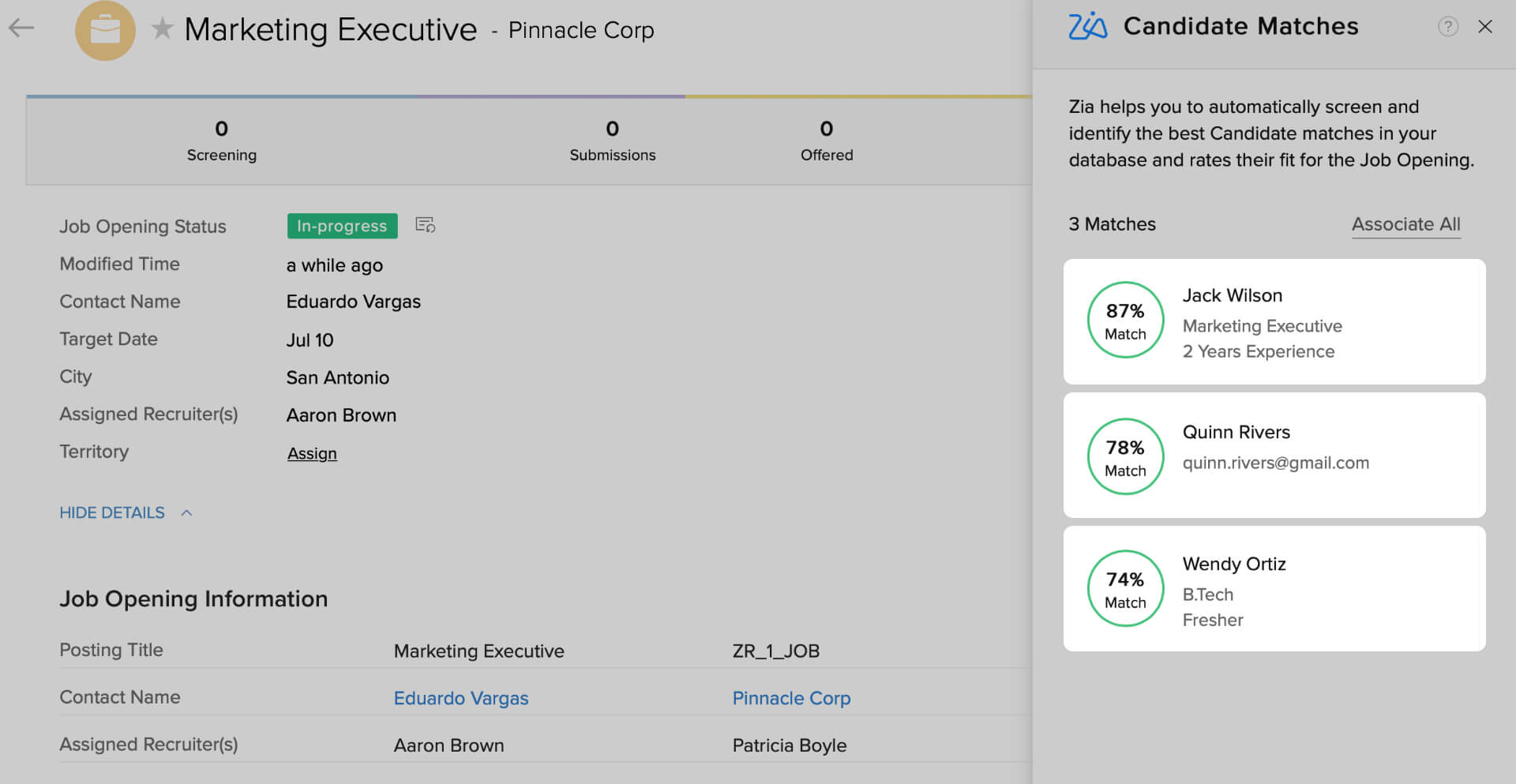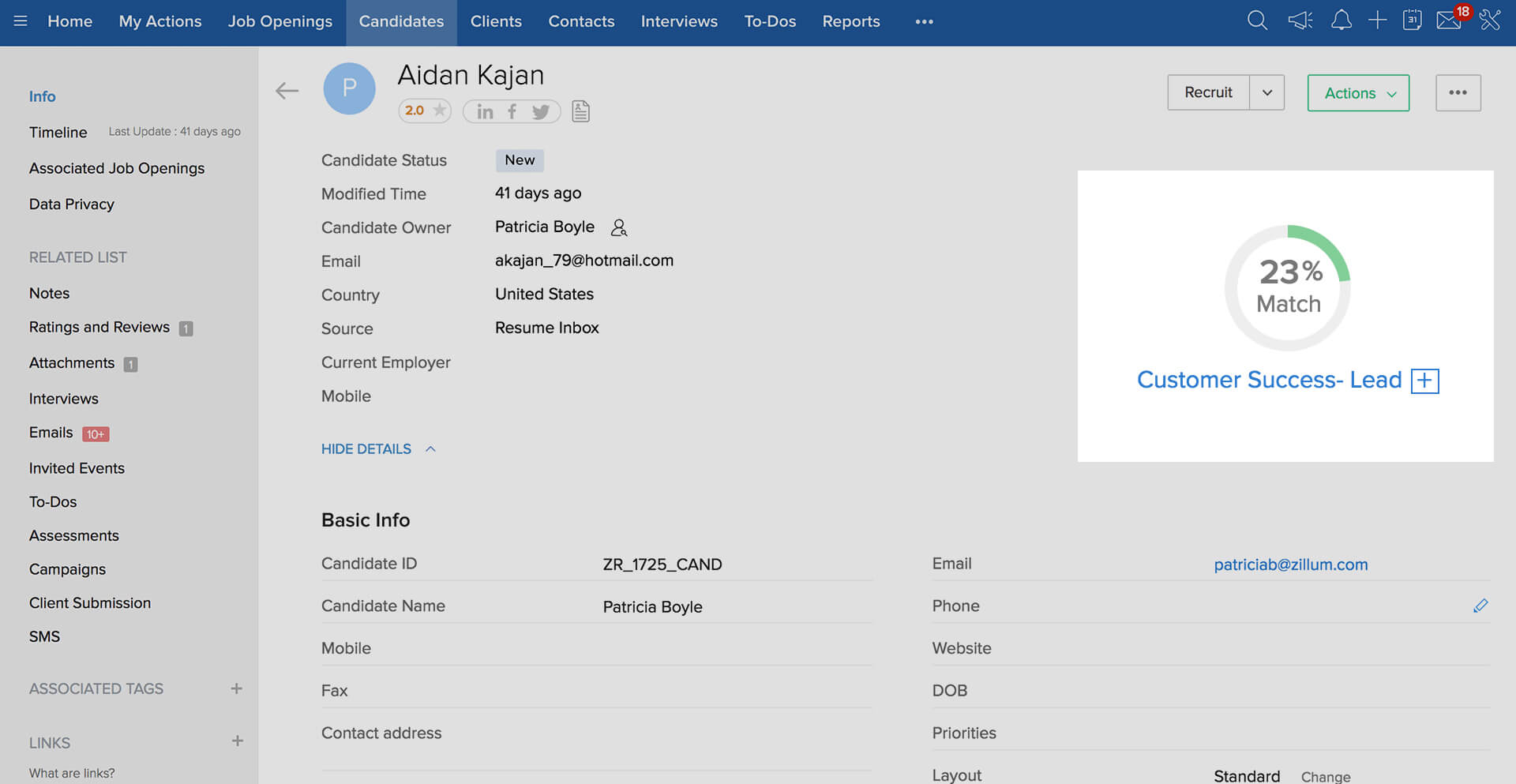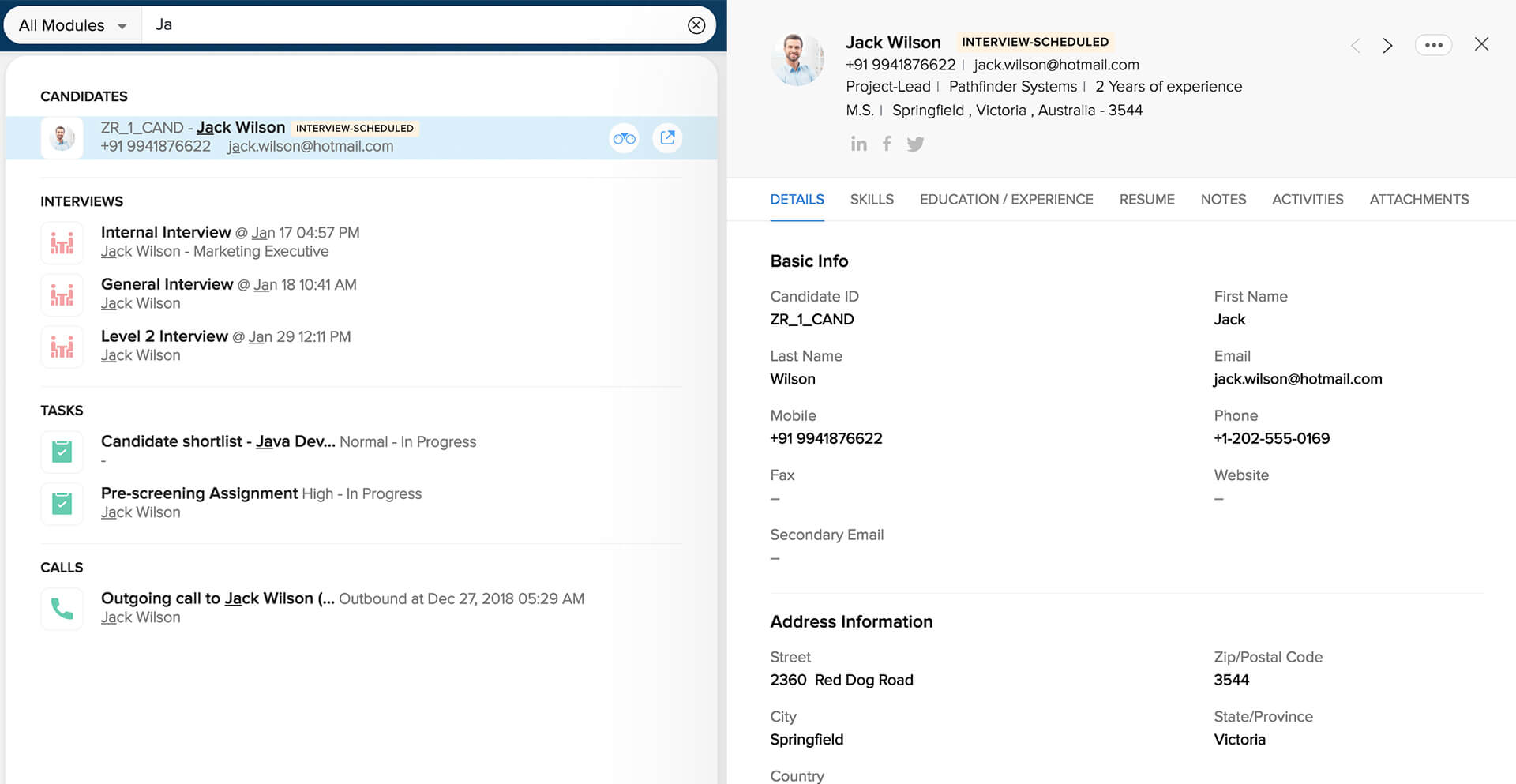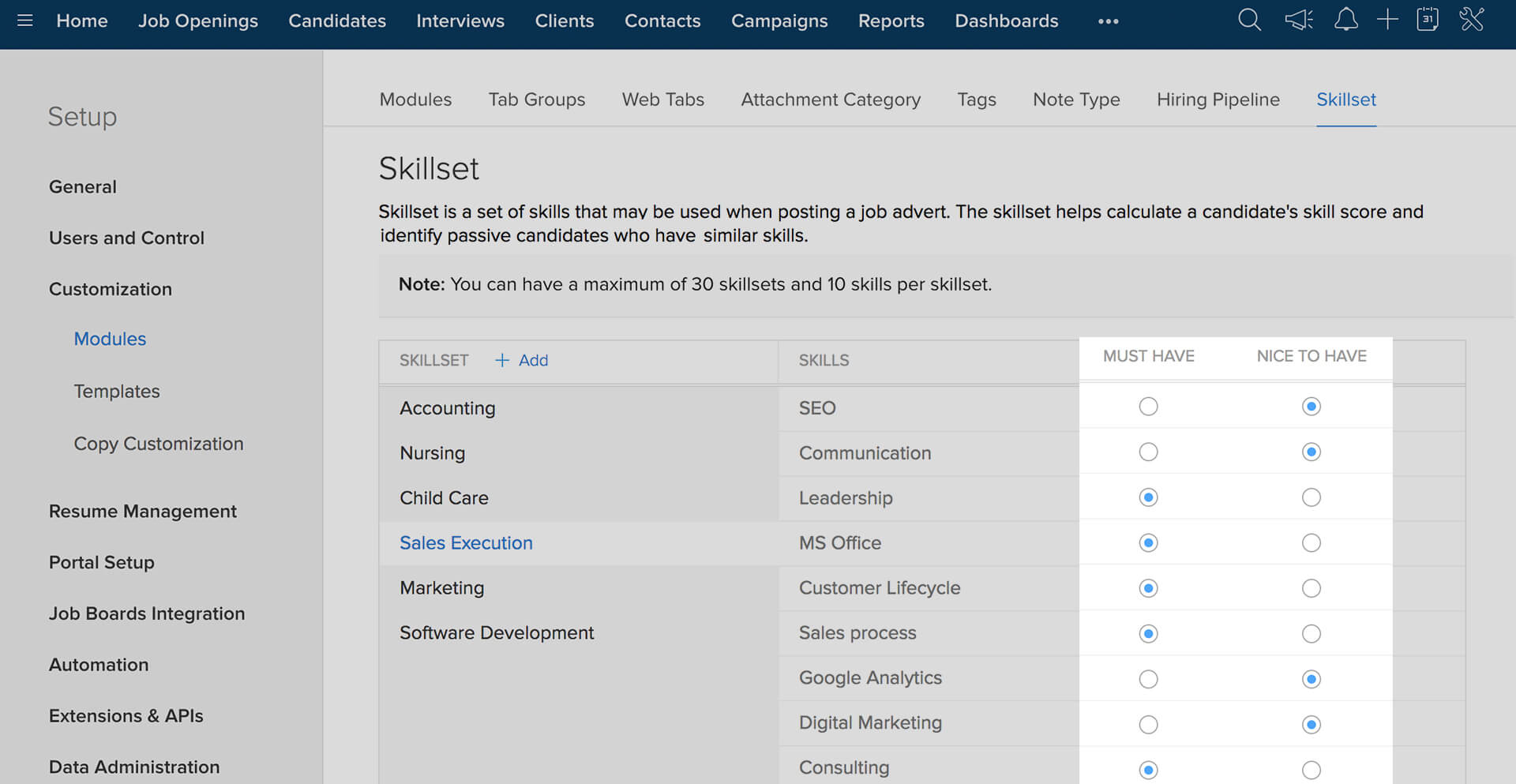 Perfect candidate matches Match and associate the right candidates exponentially quicker with Zia. Get a list of candidates that are graded and ranked based on how much they match with the job requirements.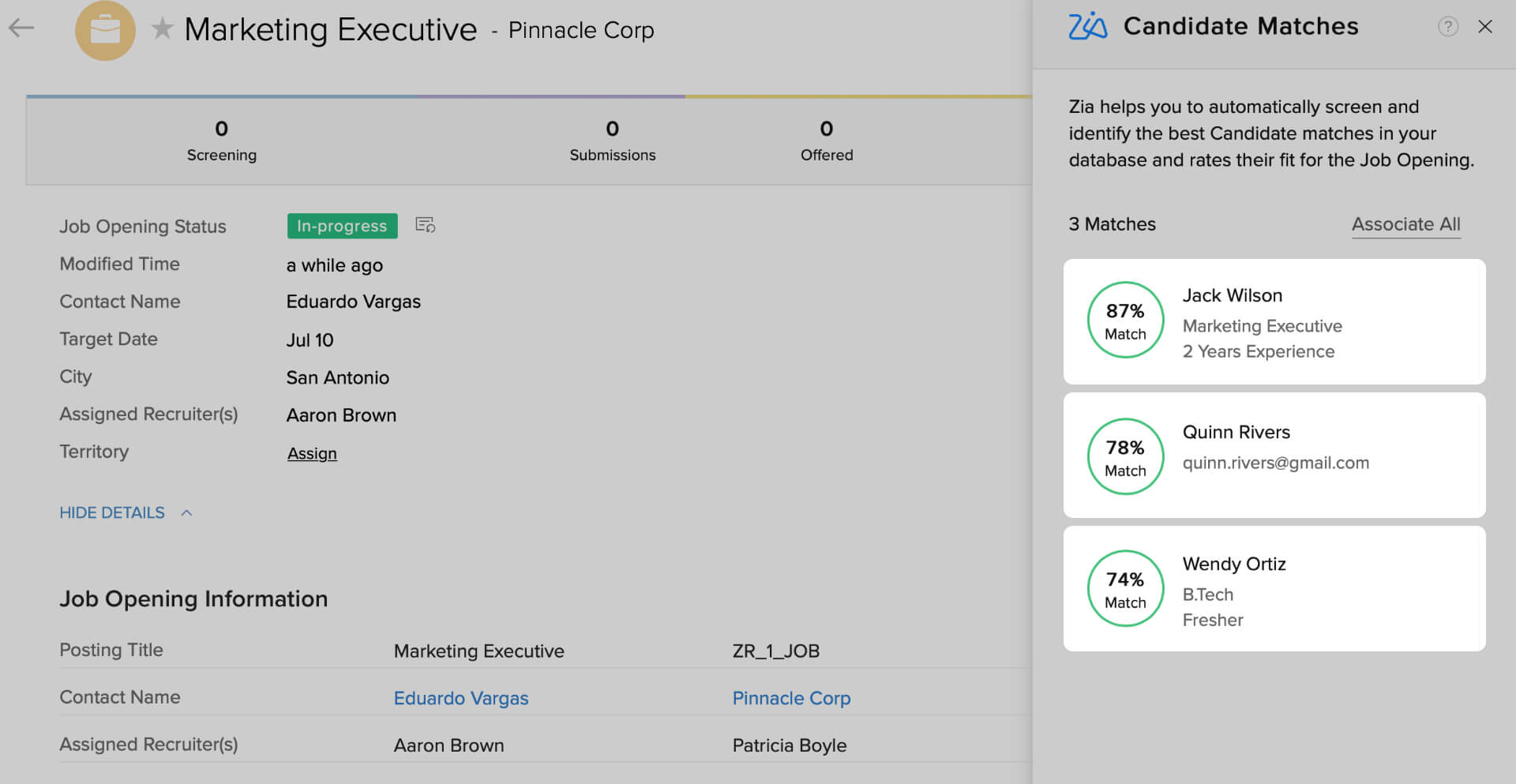 Increase search accuracy Semantic search helps you to reduce time-to-hire by matching all key criteria outlined in your job description within a few milliseconds, no matter how expansive your candidate database is.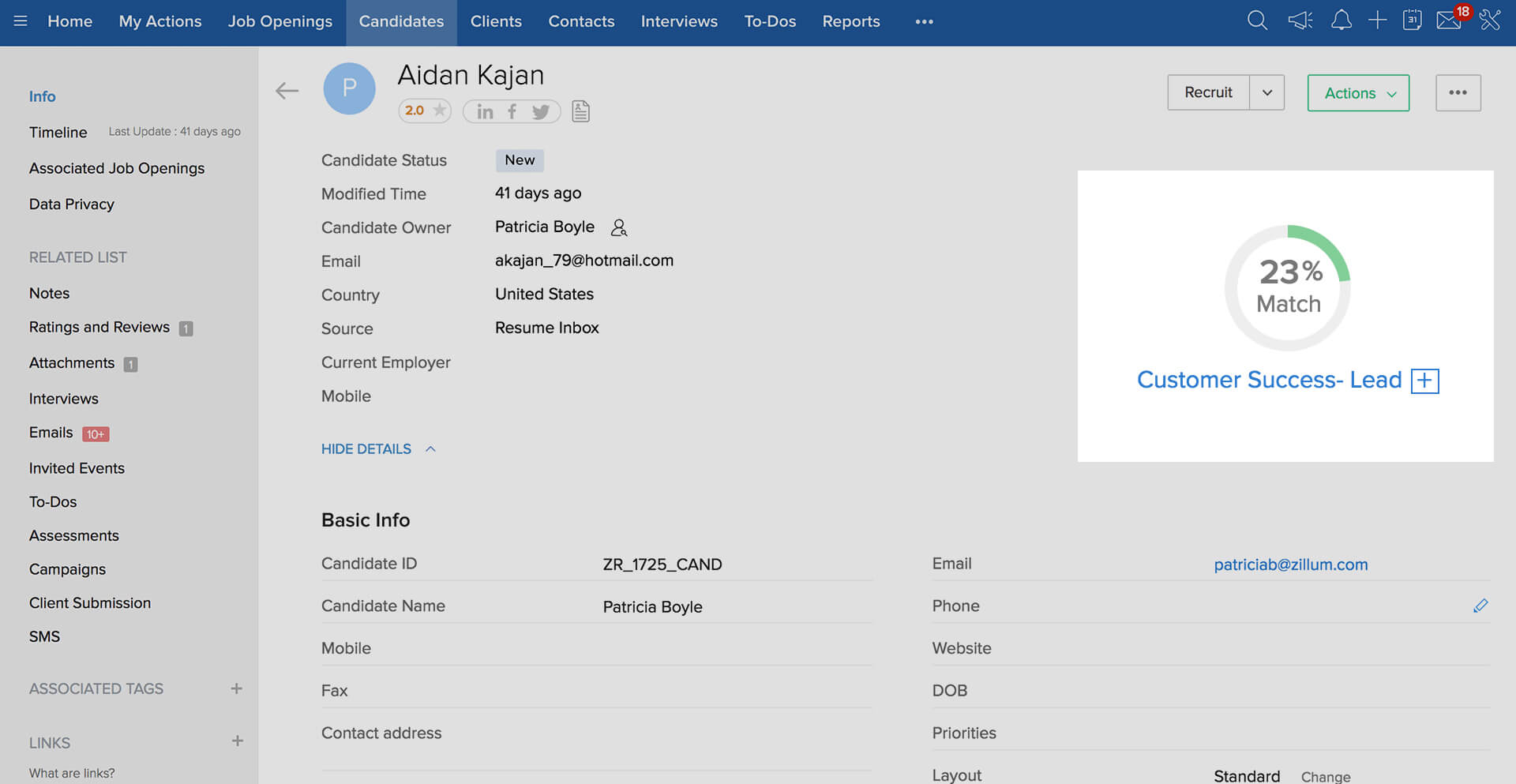 Say "hello" to Smart Search Search and find records instantly with Recruit's Smart Search feature, which starts searching as you type, so your search is over before you even finish typing.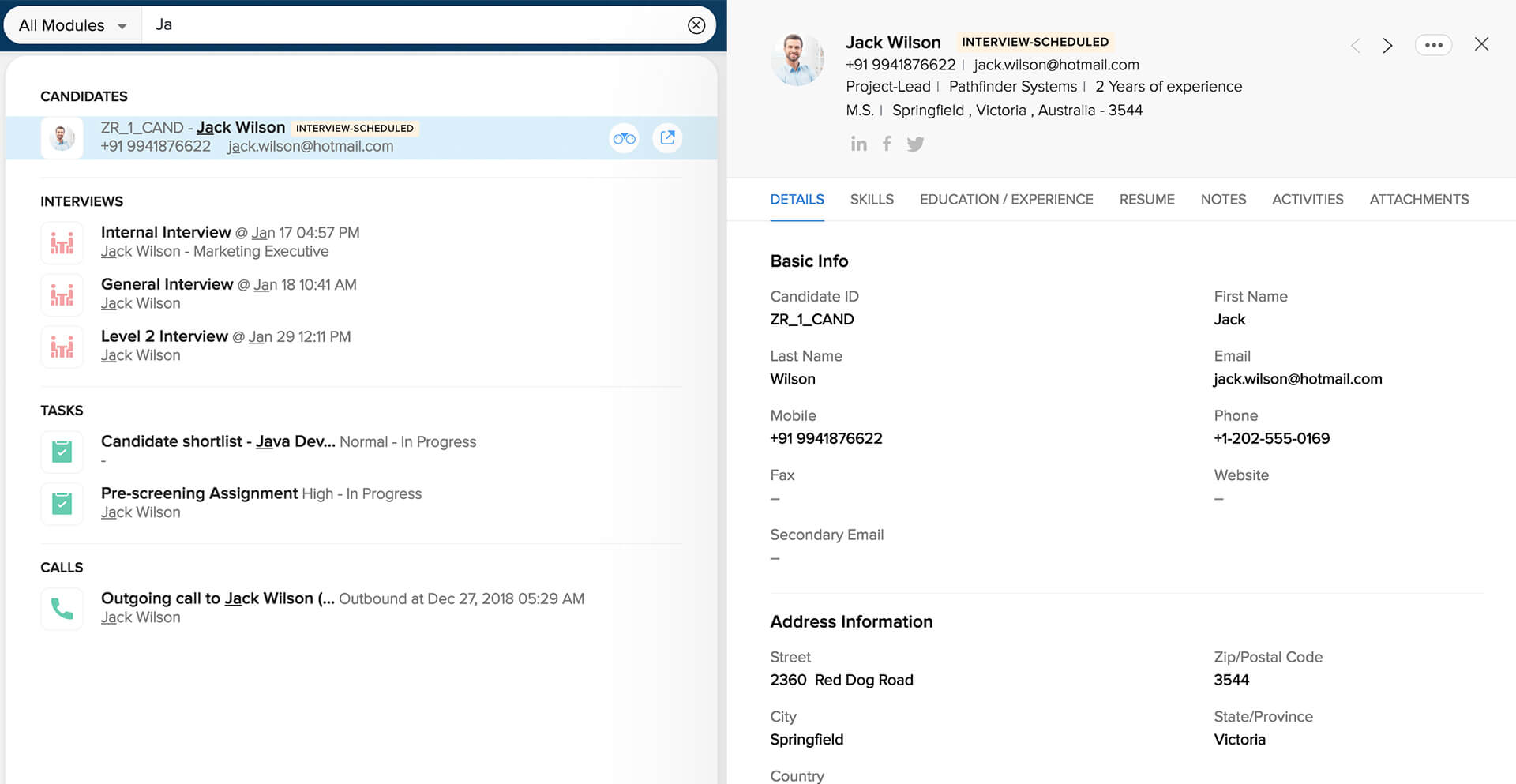 Hire people with right skillset Set must-have and nice-to-have skills for a job opening even before publishing. Zoho recruit's AI engine calculates the applicant's skill score and identify candidates within seconds.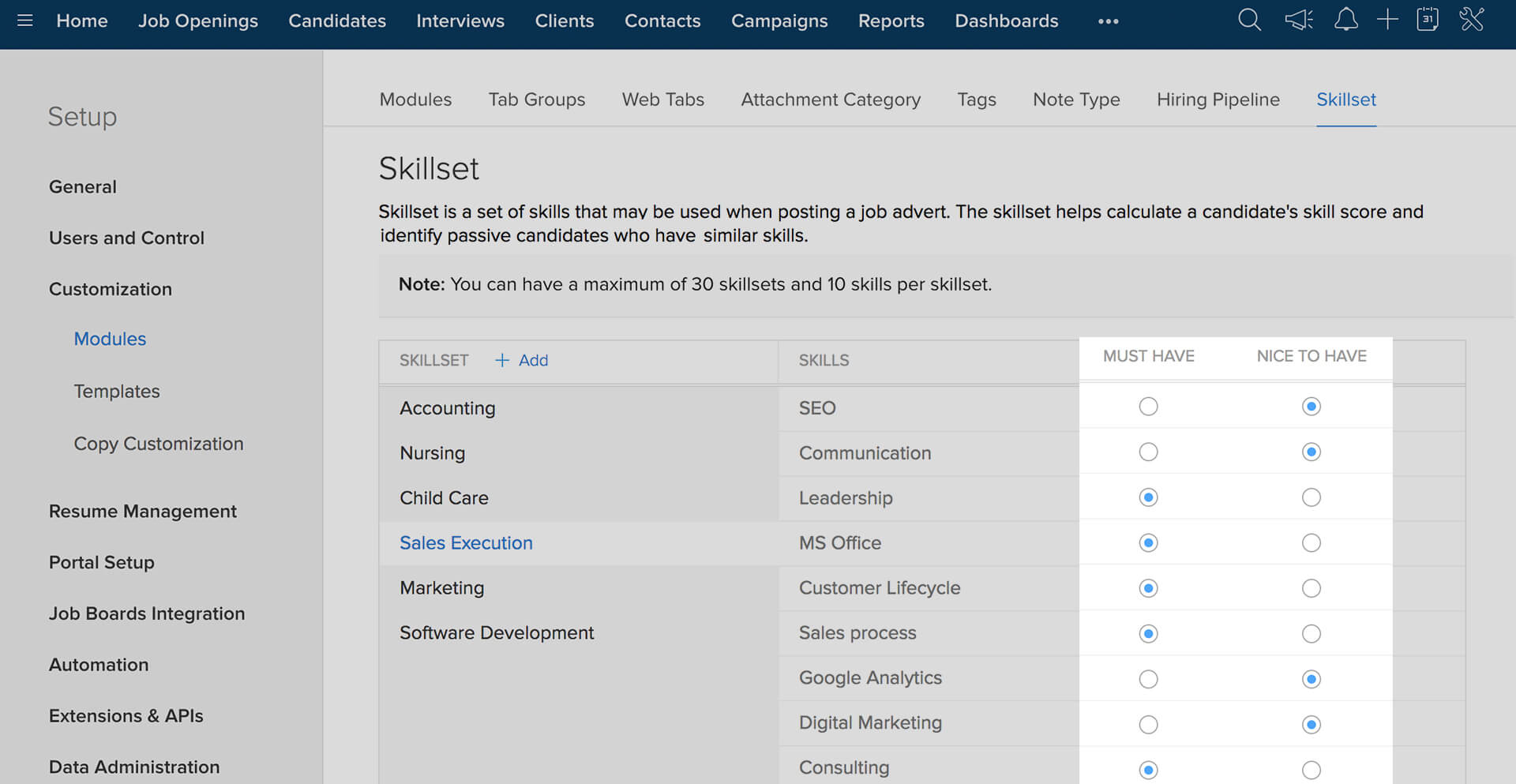 Parse Resumes Reduce clicks by leveraging Zoho Recruit's effective resume parsing tool to extract details and populate candidate, contact, and job records.
Perfect candidate matches
Increase search accuracy
Say "hello" to Smart Search
Hire people with right skillset
Parse Resumes
Assess and Evaluate
Every organization has their own way of assessing candidates. Use templates for consistent assessments and collaborate with your hiring team.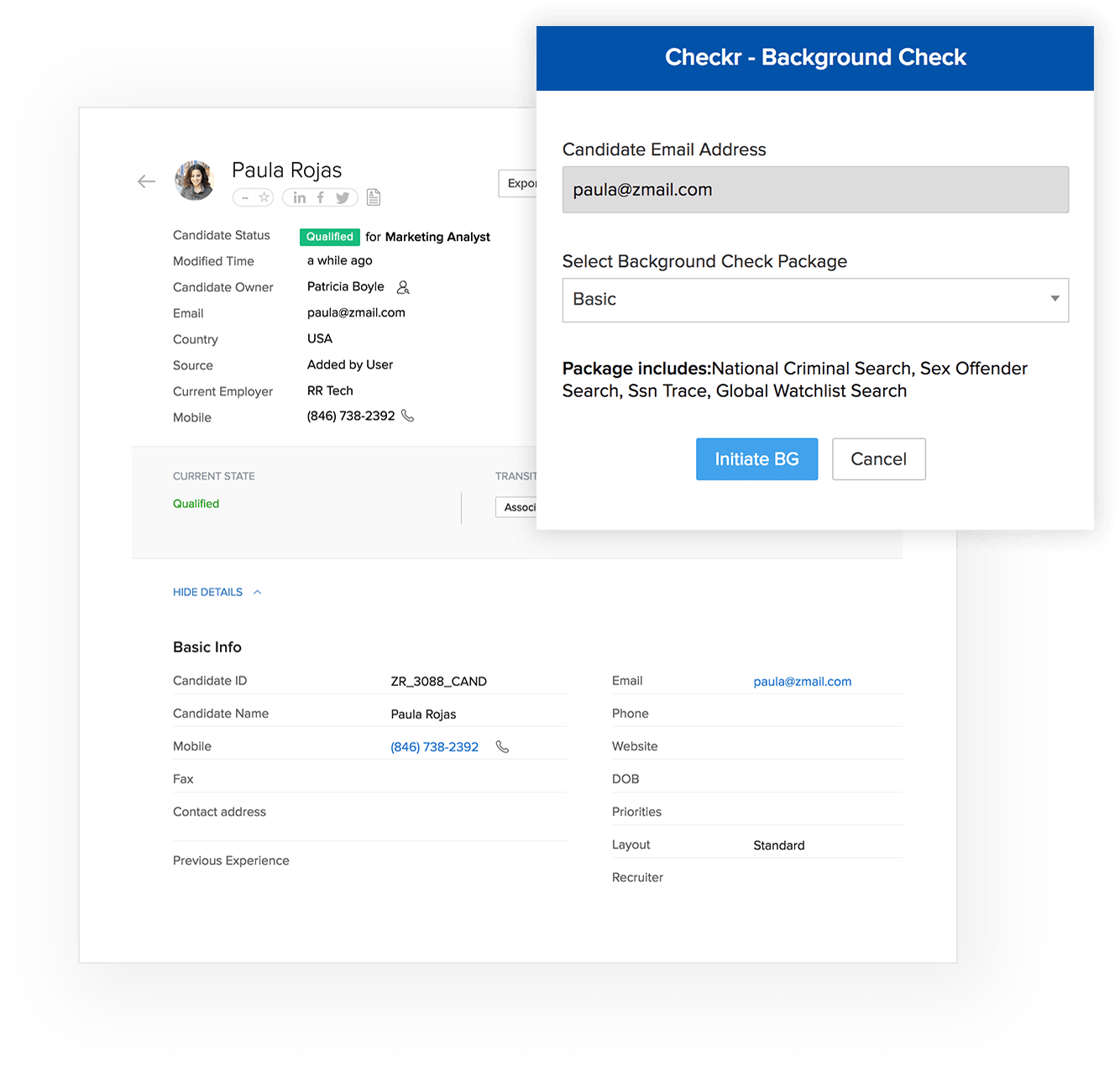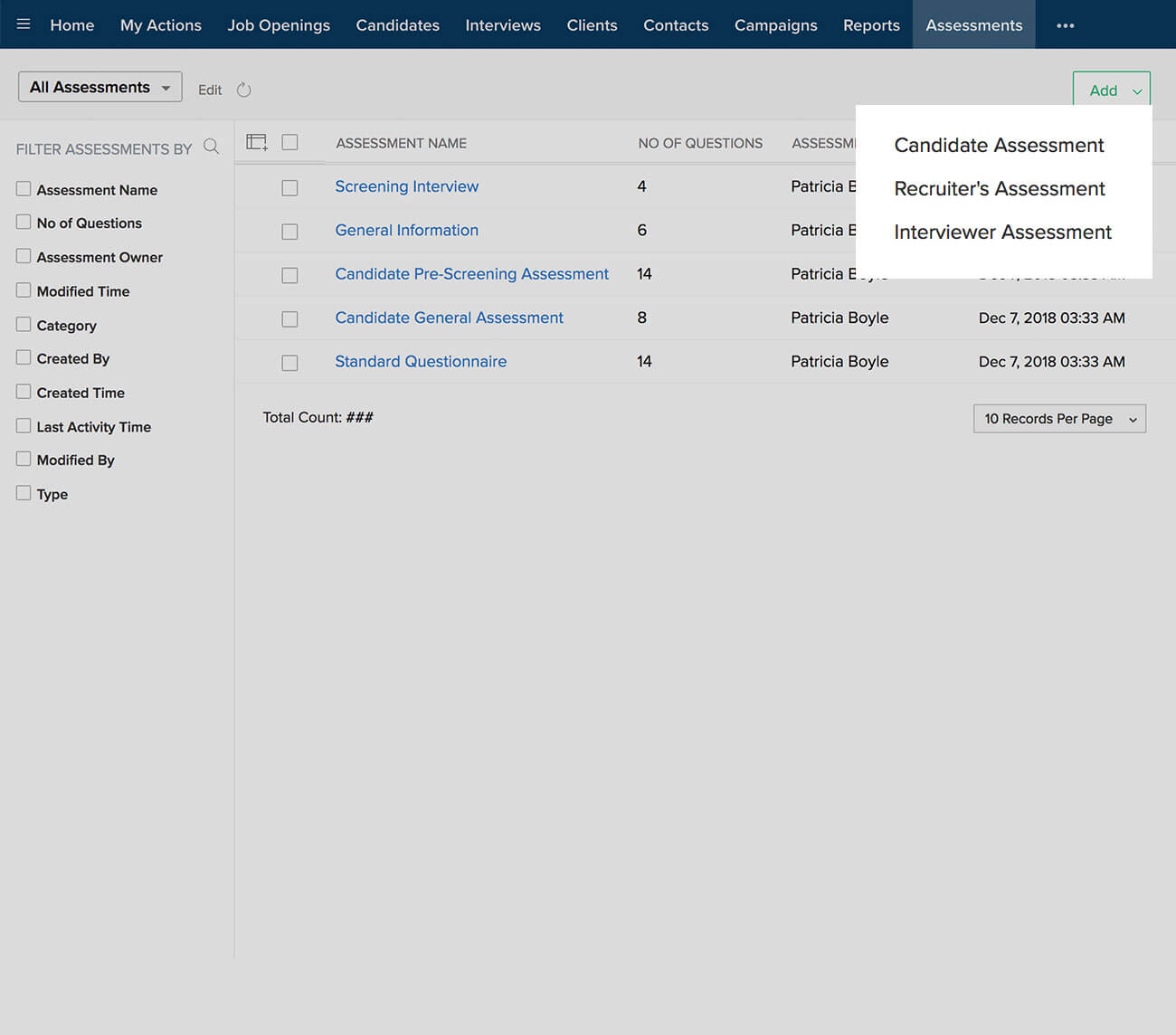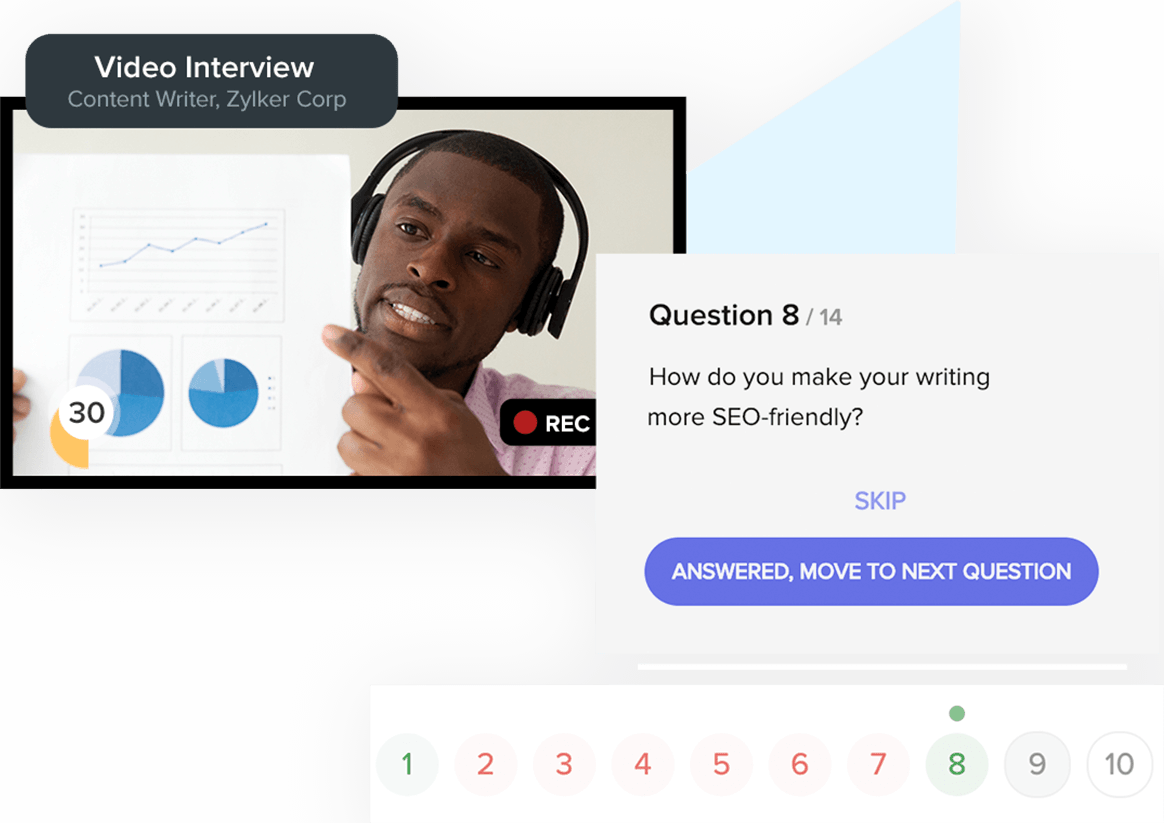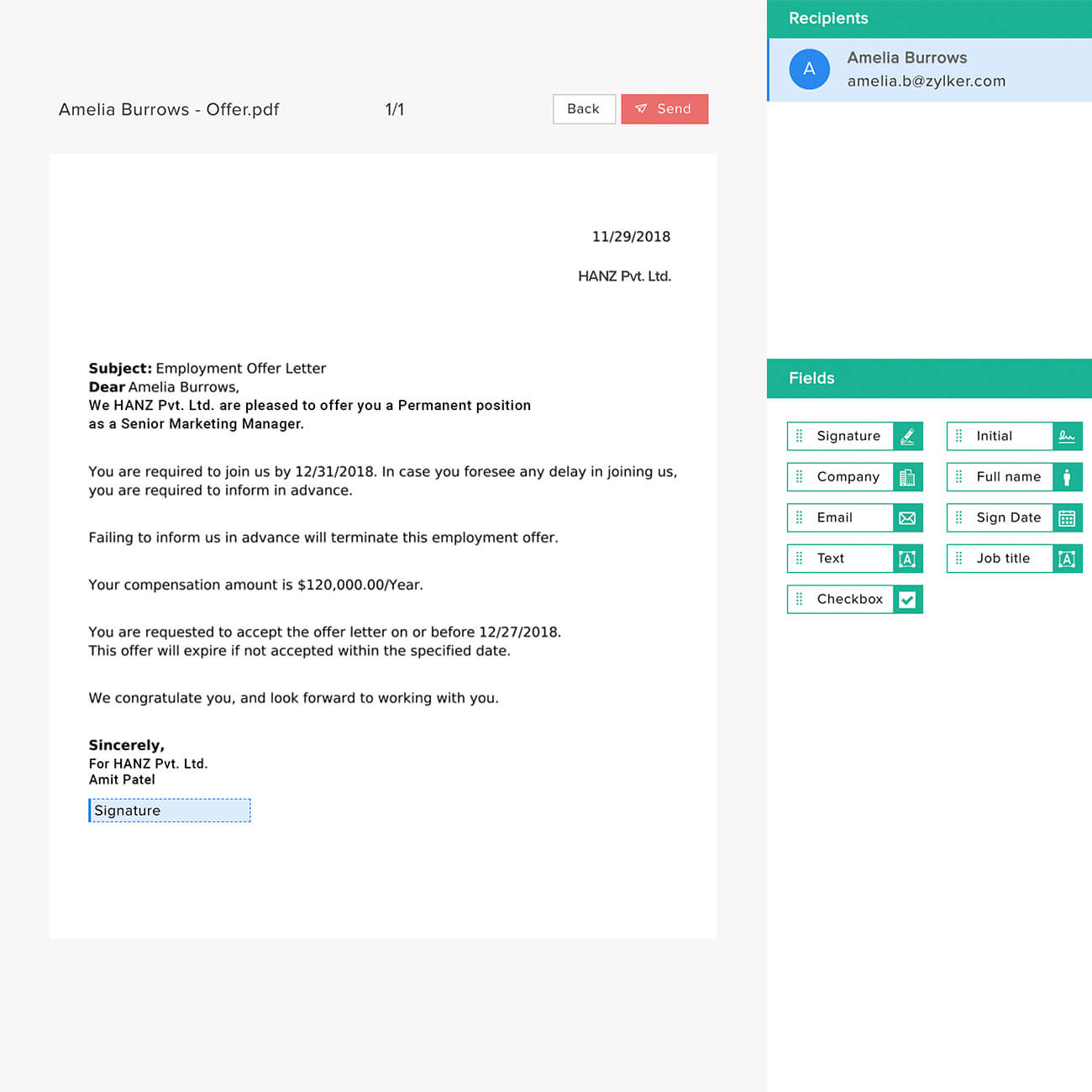 Run background checks
Assess first, then interview
Leveraging Video Interview
Offer letters made easy with e-sign
Run background checks Maintain safe, compliant, and inclusive hiring practices with Zoho Recruit's background screening functionality.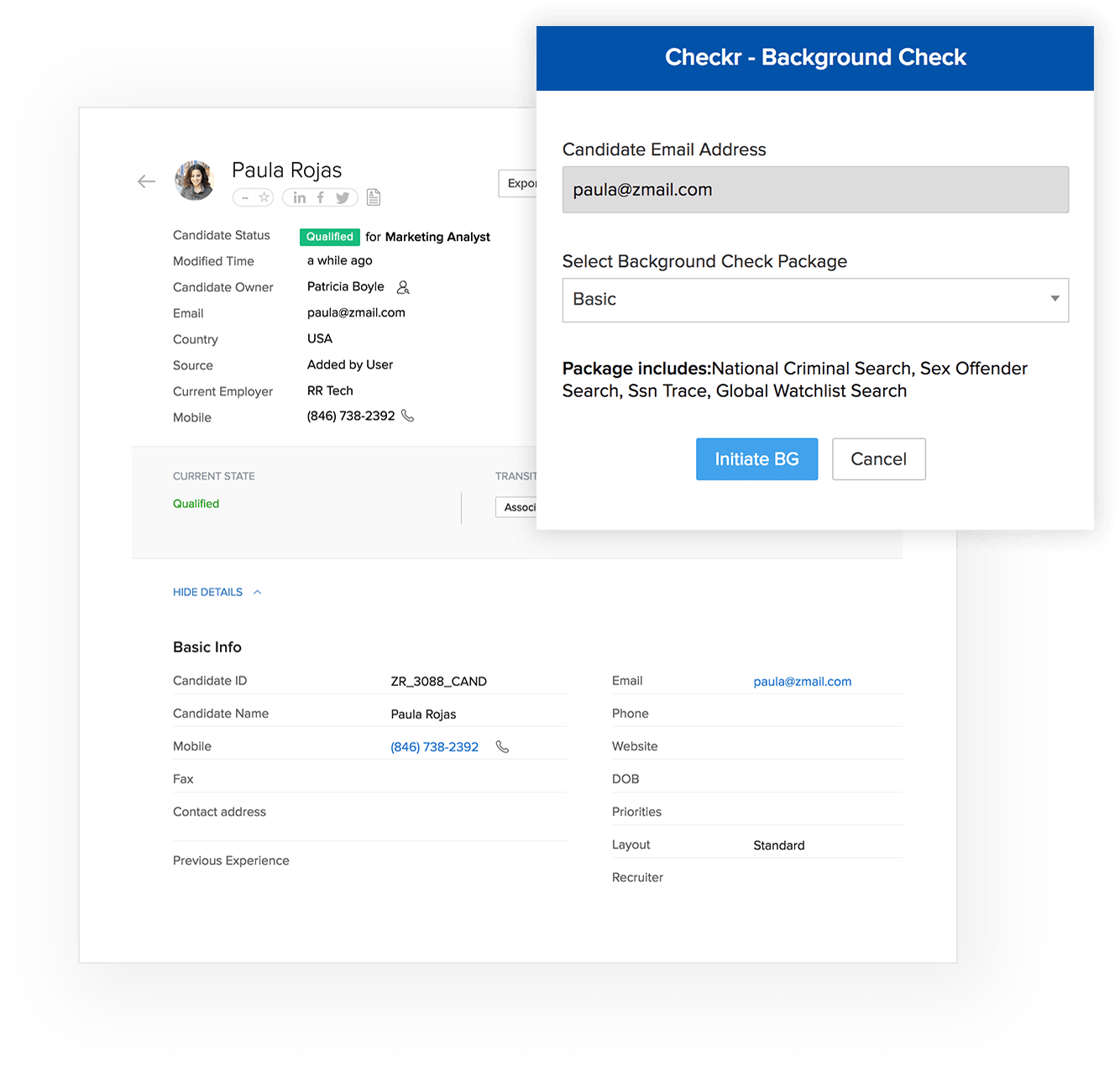 Assess first, then interview Resumes alone don't give you all the information you need to choose the right person. Create pre-screening assessments to measure candidates' skill, and direct applicants to the jobs they fit best.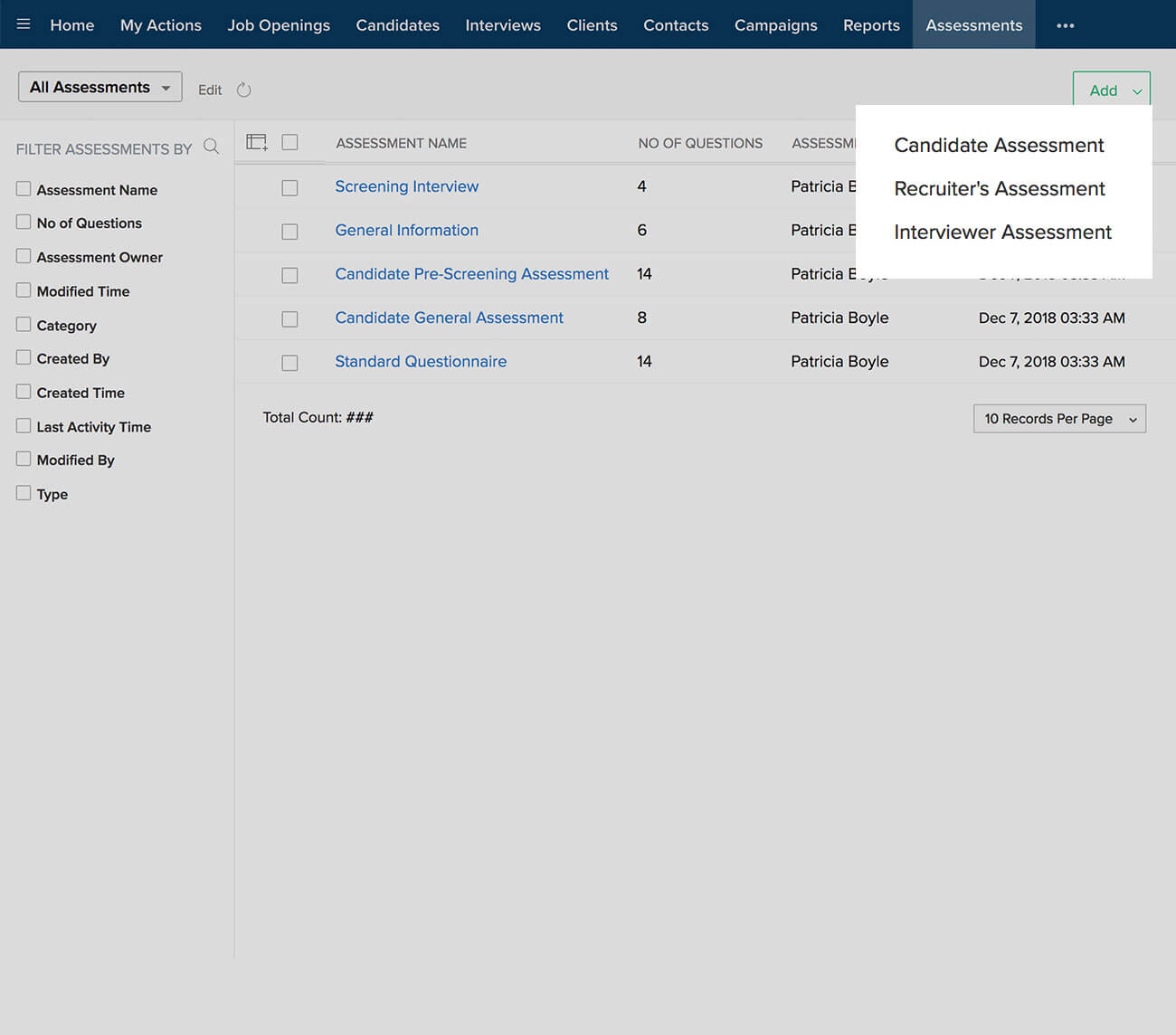 Leveraging Video Interview Go beyond the typical hiring borders in search of top talent. With one-way video interview assess more candidates in less time.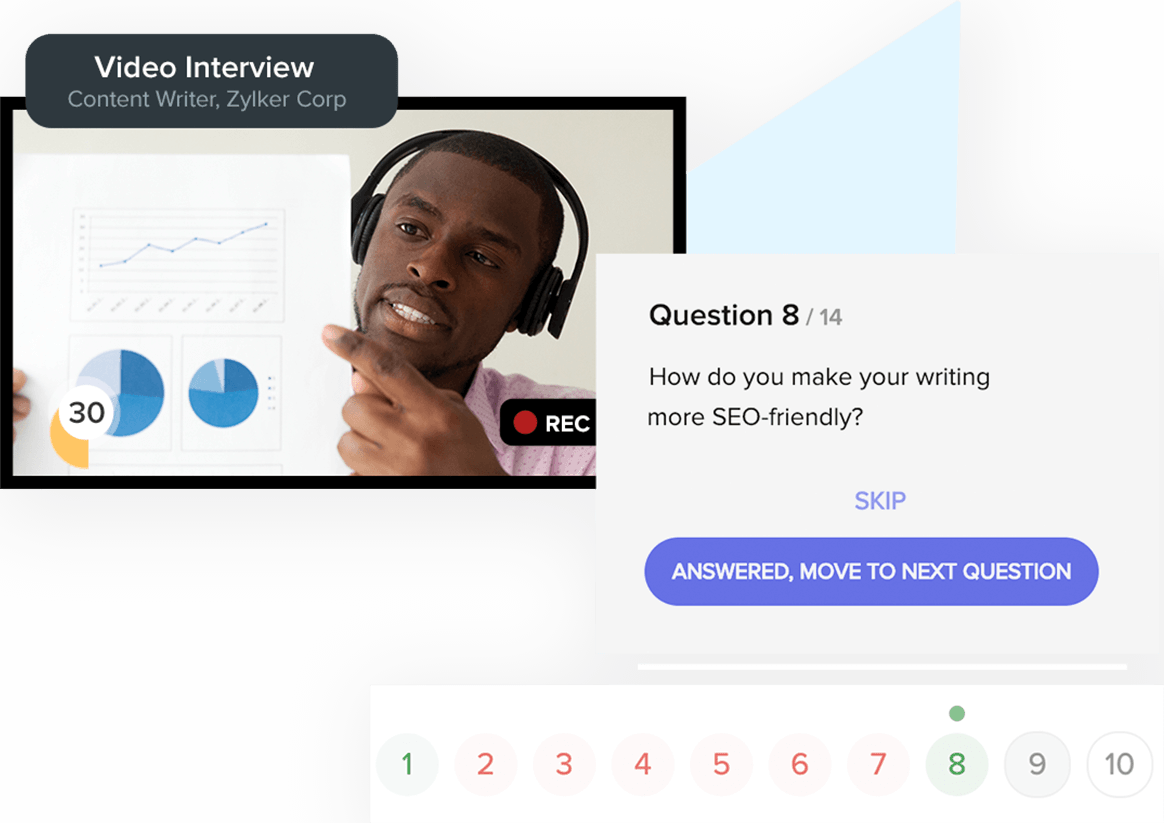 Offer letters made easy with e-sign Get your digital candidate acceptance with Zoho Sign / Docu Sign / Adobe Sign. With just a few clicks, start sending offer letters with your e-signature.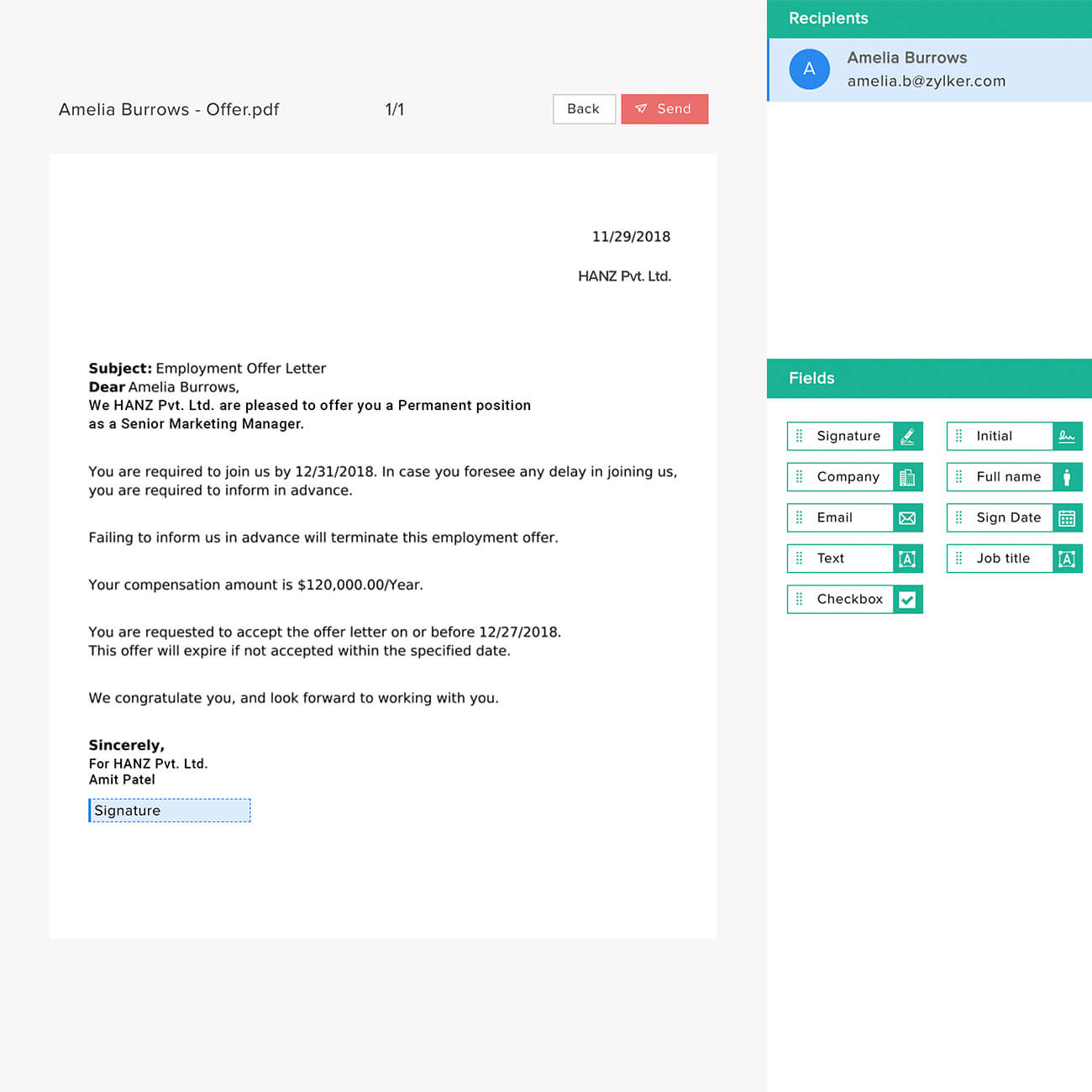 Candidate Experience
The current job market is 90% candidate driven. Leave lasting impression on candidates to join your organisation and keep them in the know.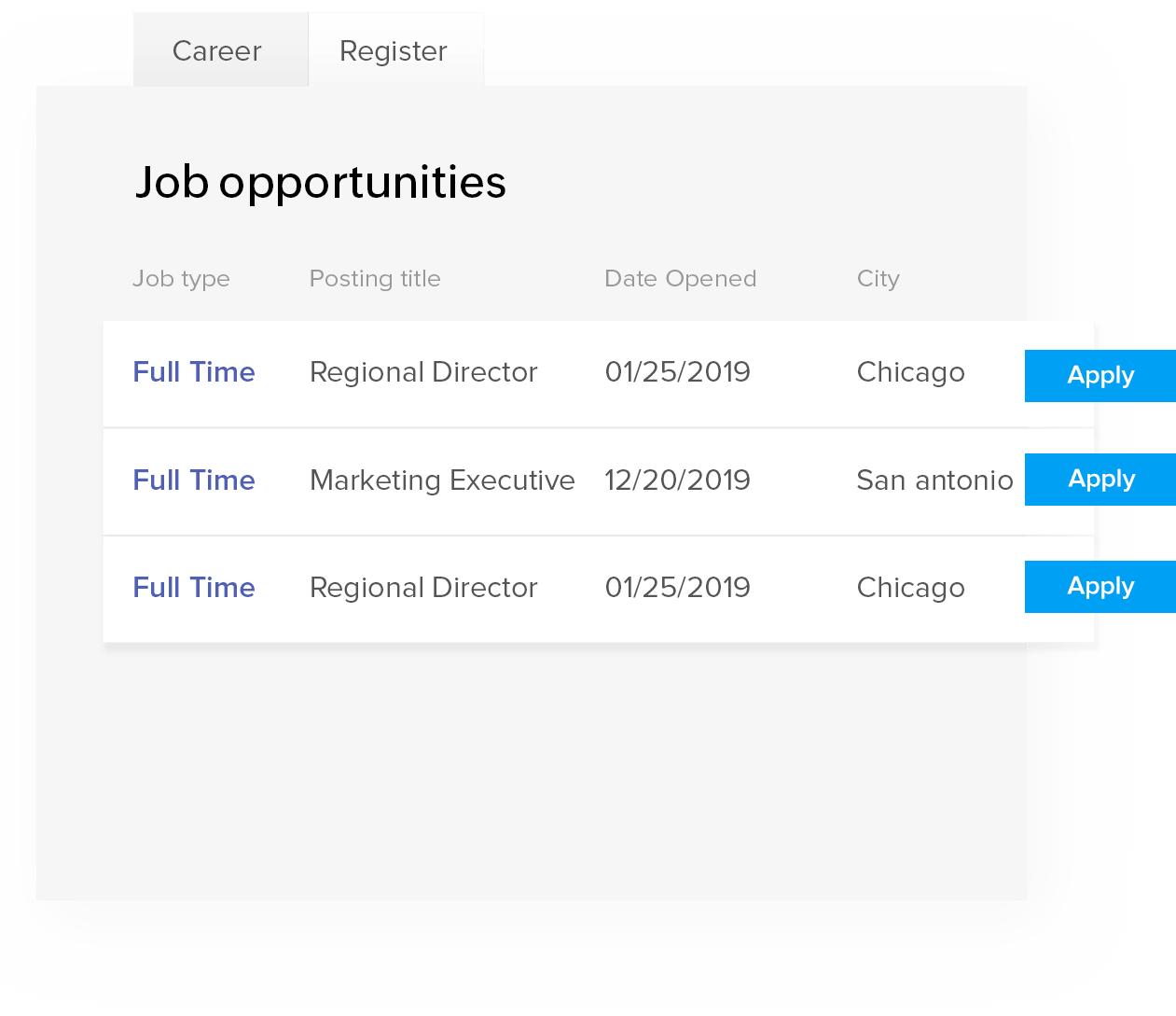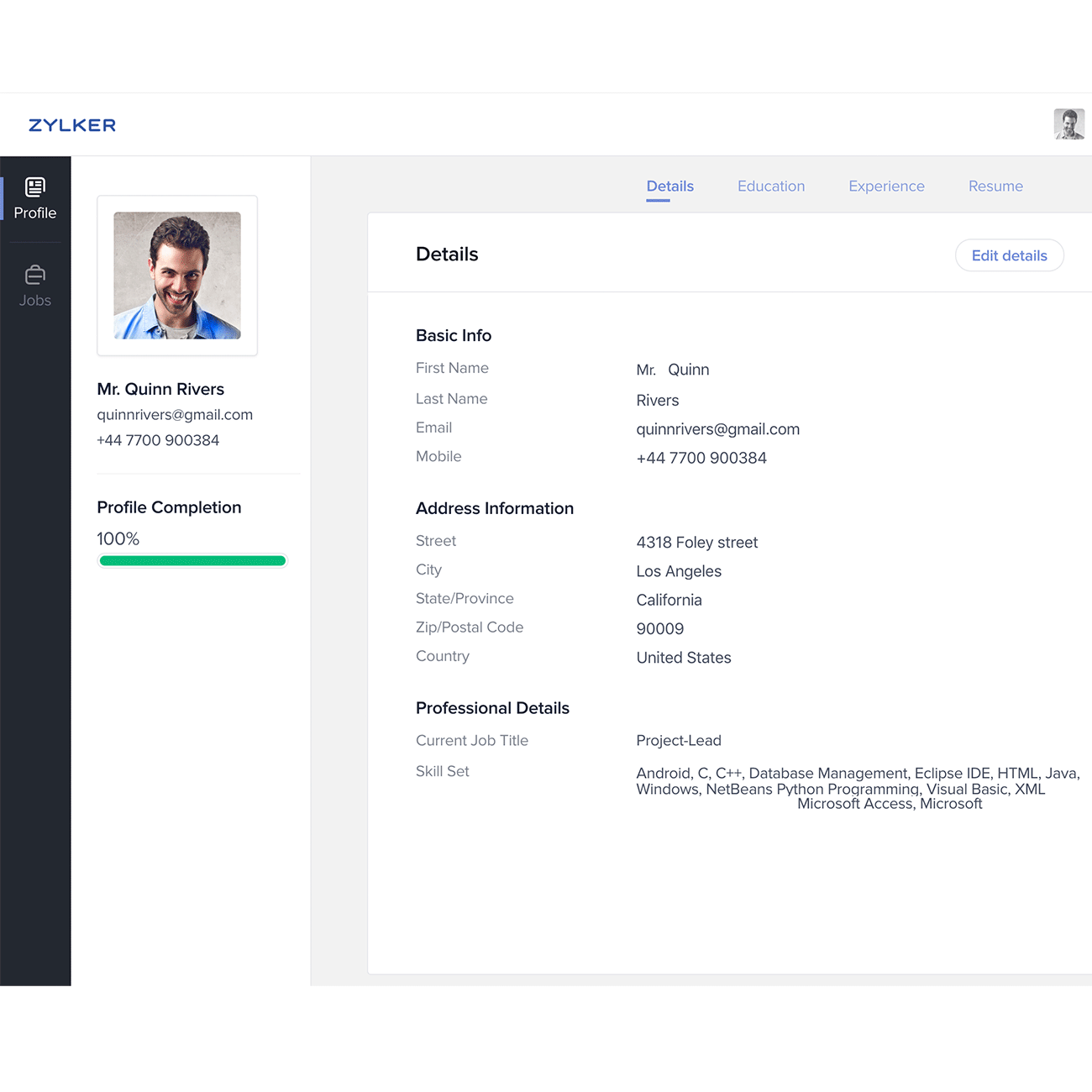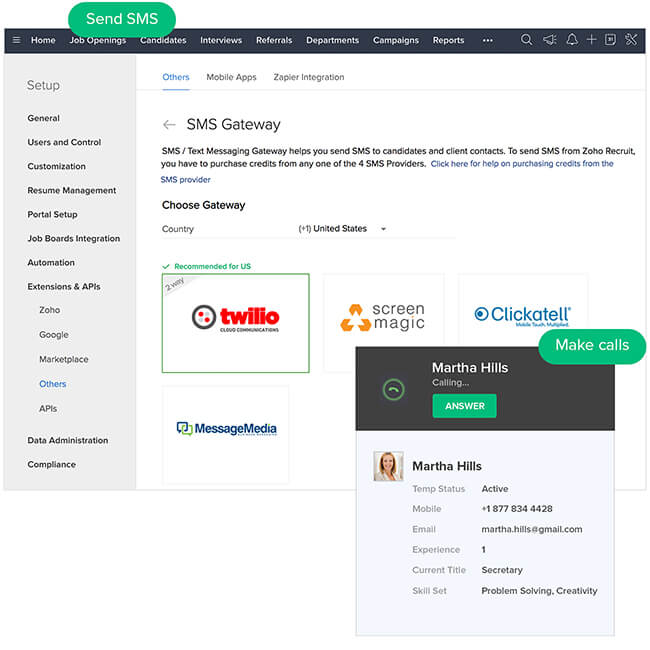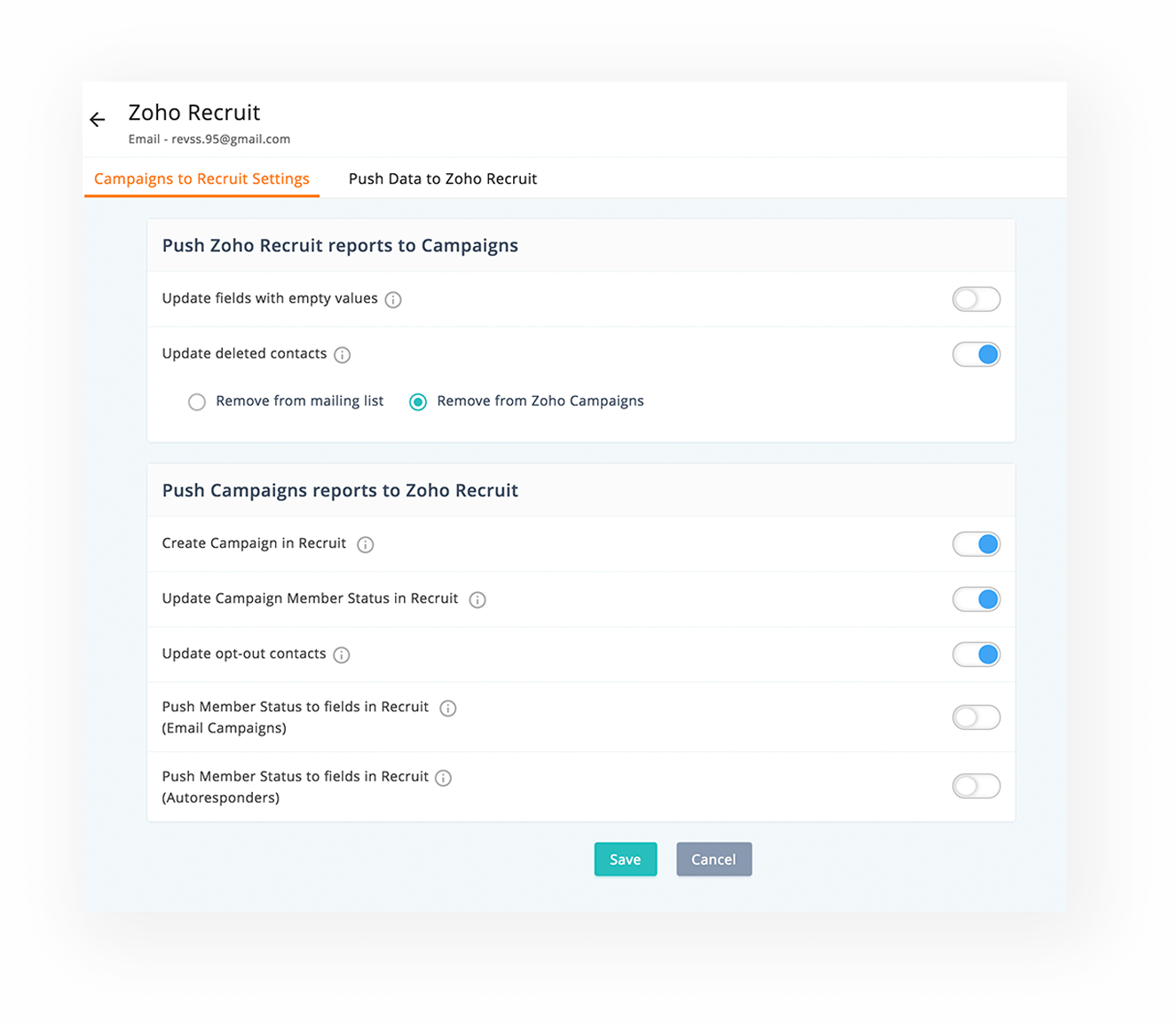 Build an employer brand
Candidate portal
Send SMS/ Make calls
Email marketing with Zoho Campaigns
Build an employer brand List all your job openings on a custom career page to ensure it's easy for candidates to apply for the right position.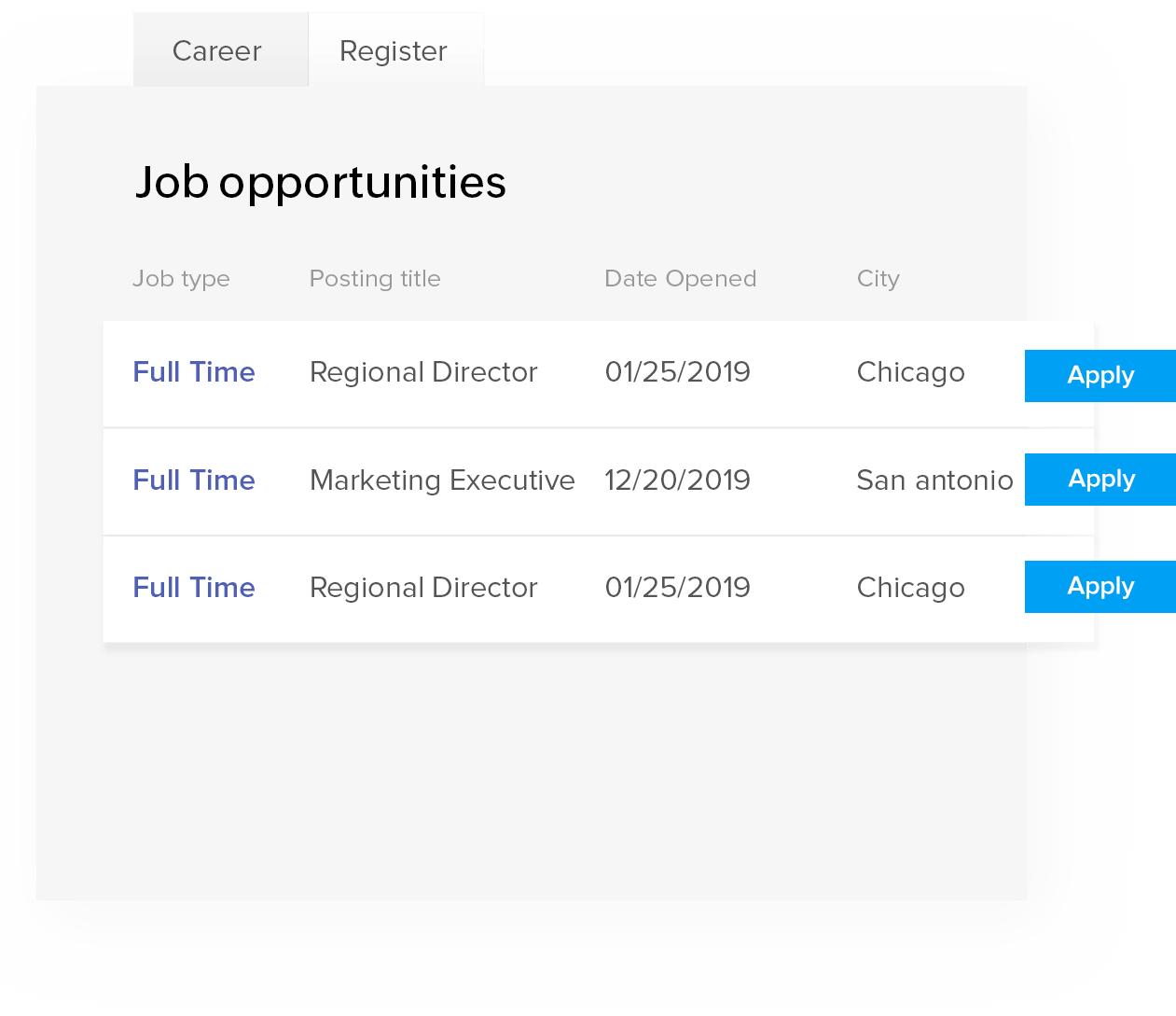 Candidate portal Bring candidates directly to your recruitment system and qualify suitable candidates. Candidates can apply to a specific job, submit information for future opportunities and track job status.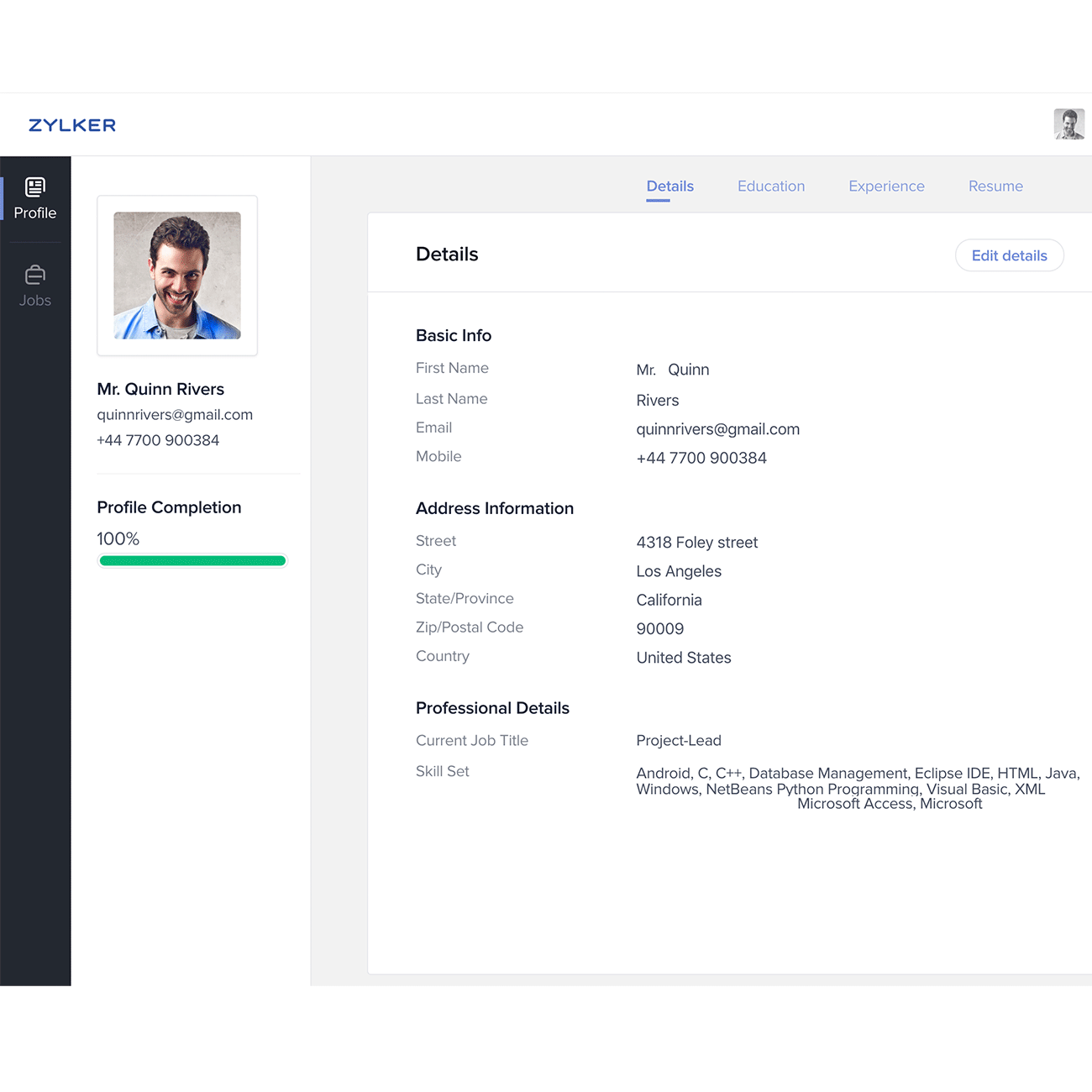 Send SMS/ Make calls Think outside the inbox and use text message services to notify candidates and clients from the app. Zoho Phonebridge enables recruiters to make phone calls and send reminders from the Zoho Recruit interface.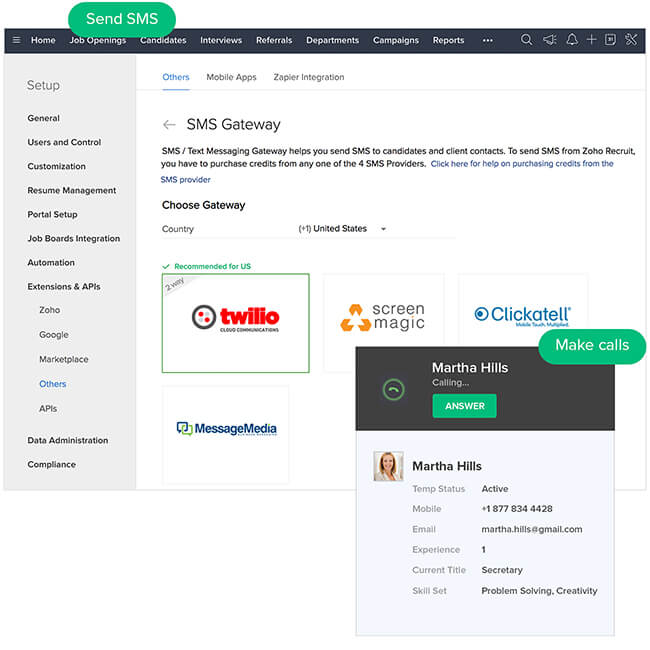 Email marketing with Zoho Campaigns Manage your entire email marketing process by tracking responses from candidates and clients. Send out campaigns, measure campaign effectiveness and analyse results.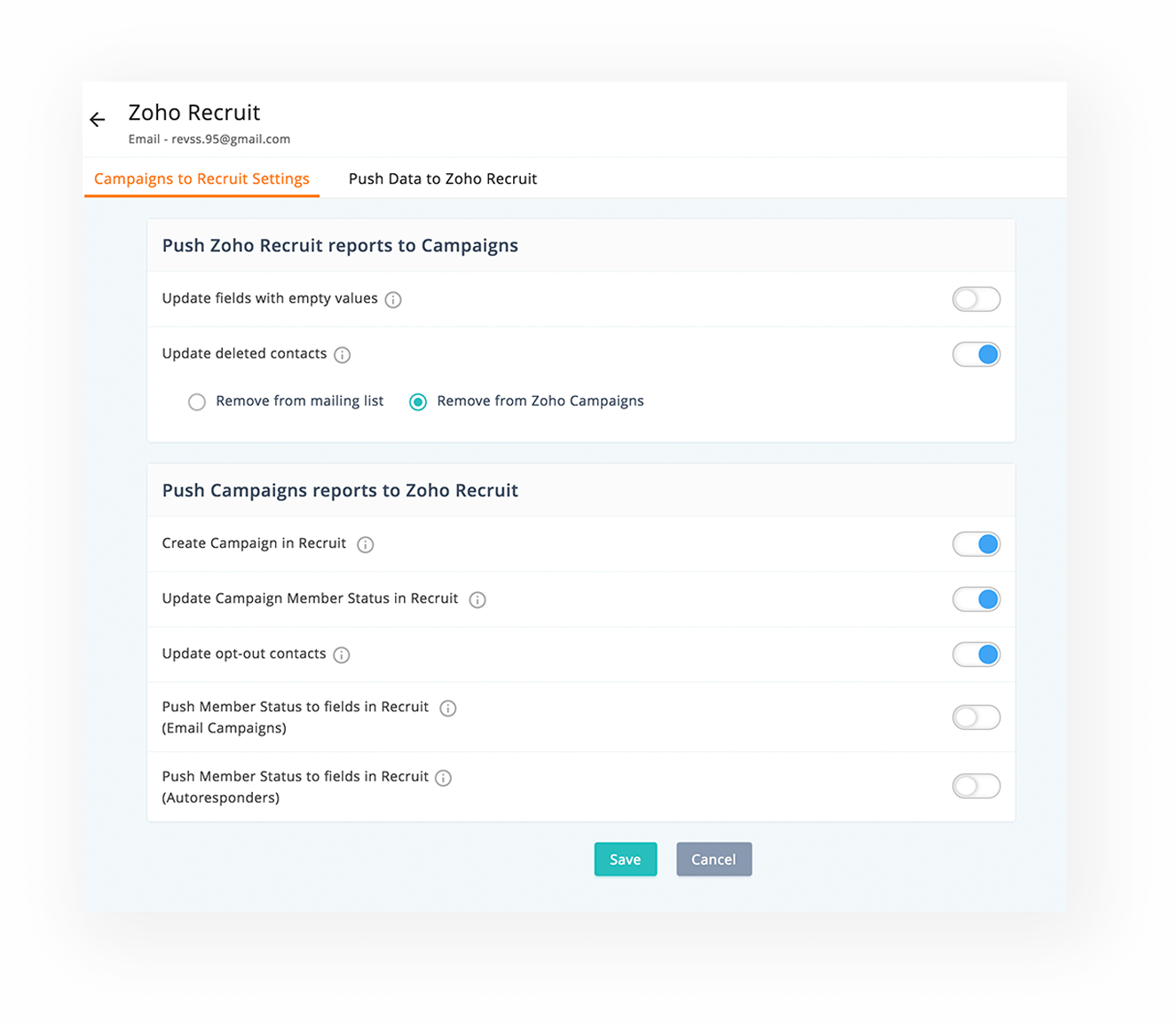 Applicant Tracking
Make the right hiring decision with the right information at your fingertips. Let your recruitment process be data-driven.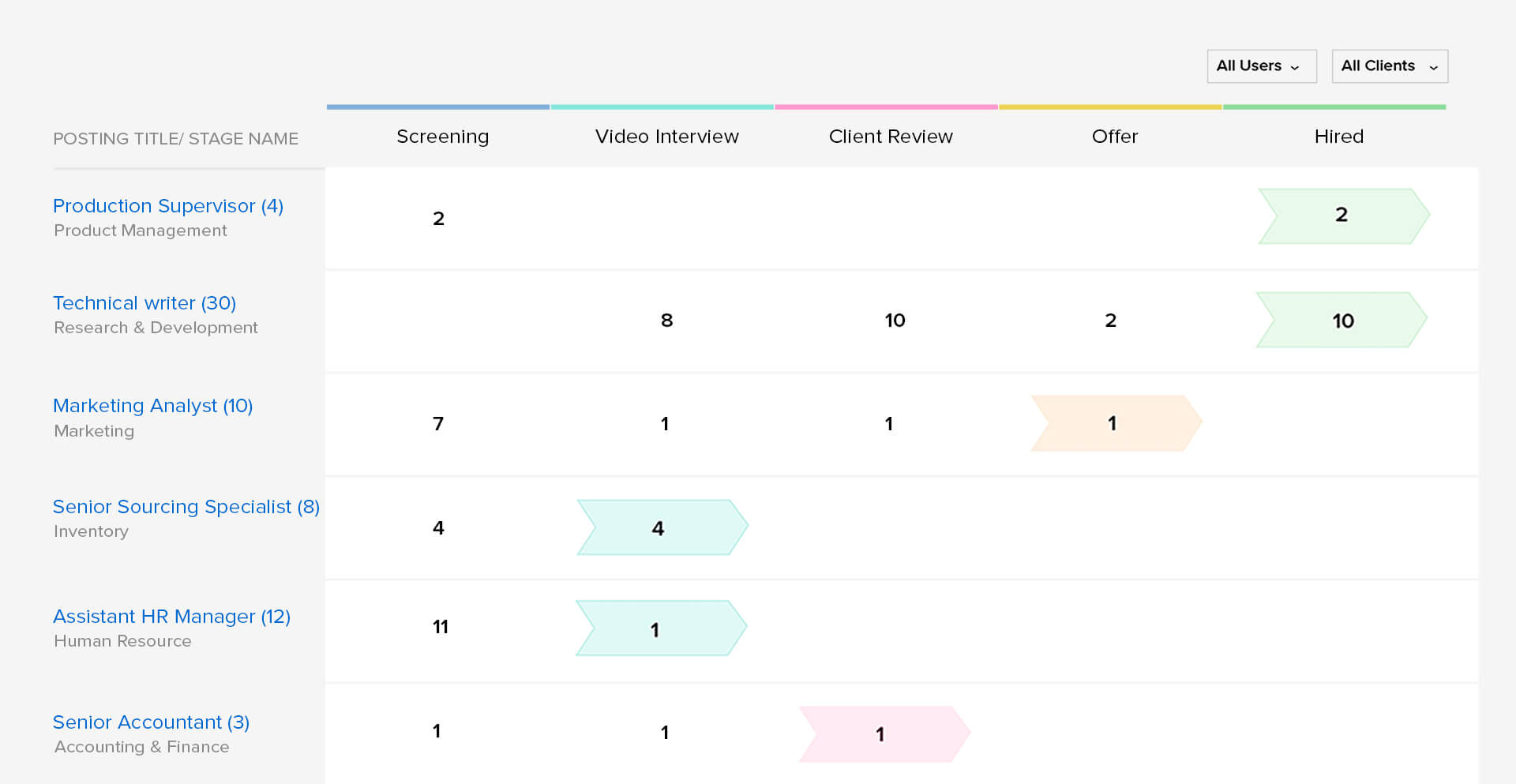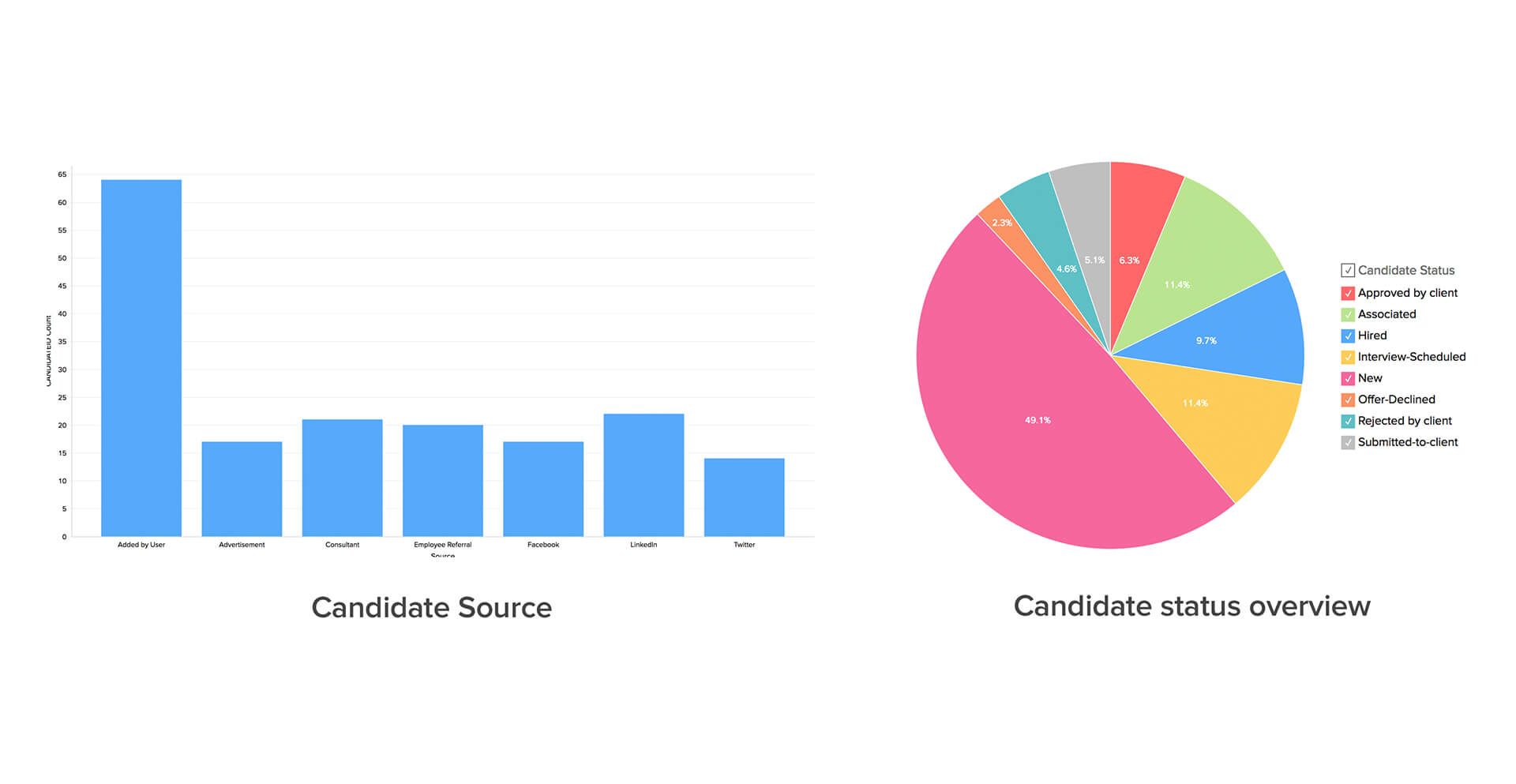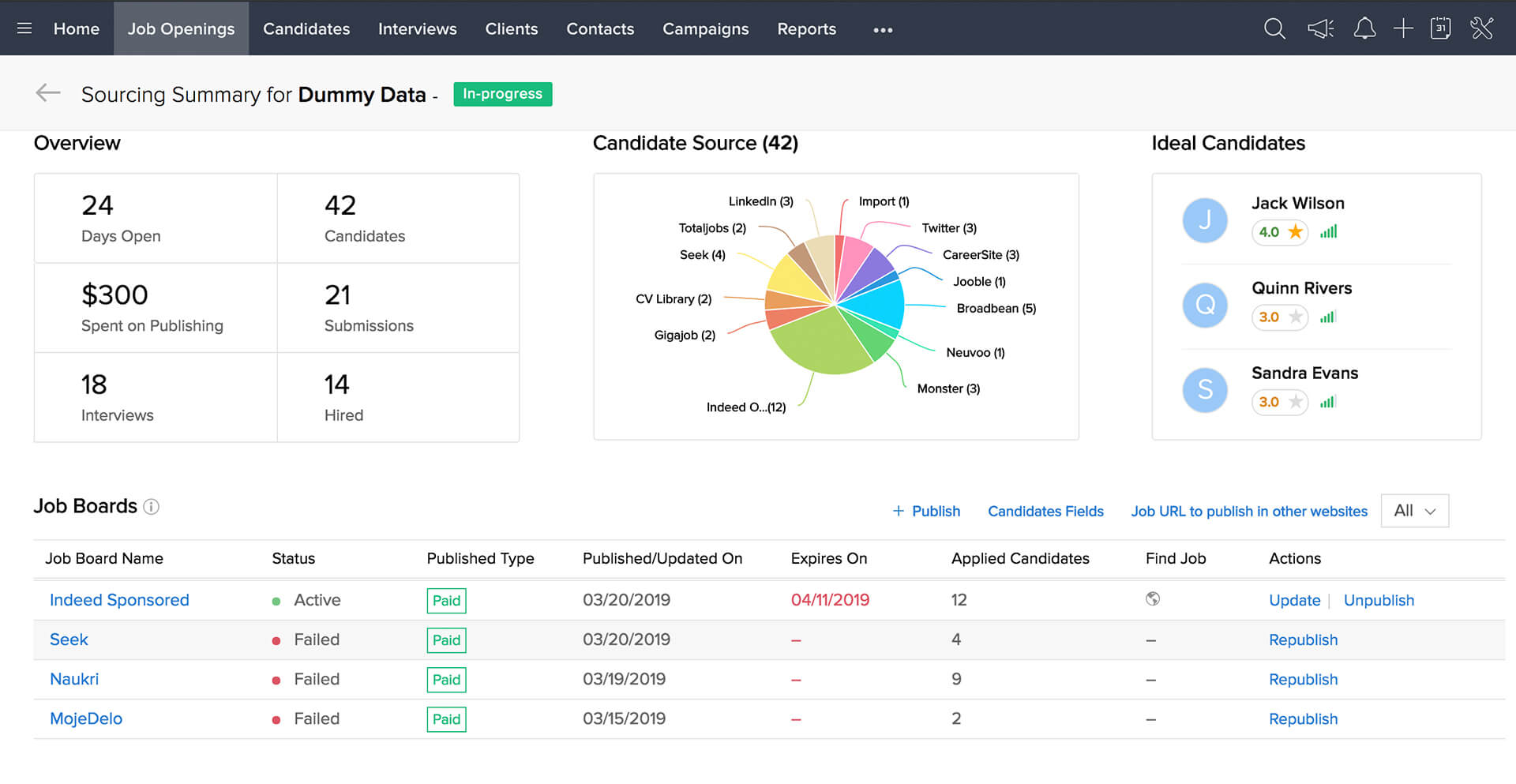 Candidate hiring pipeline Get a panoramic view of job openings. From screening to hire, view the candidate status in the recruitment process.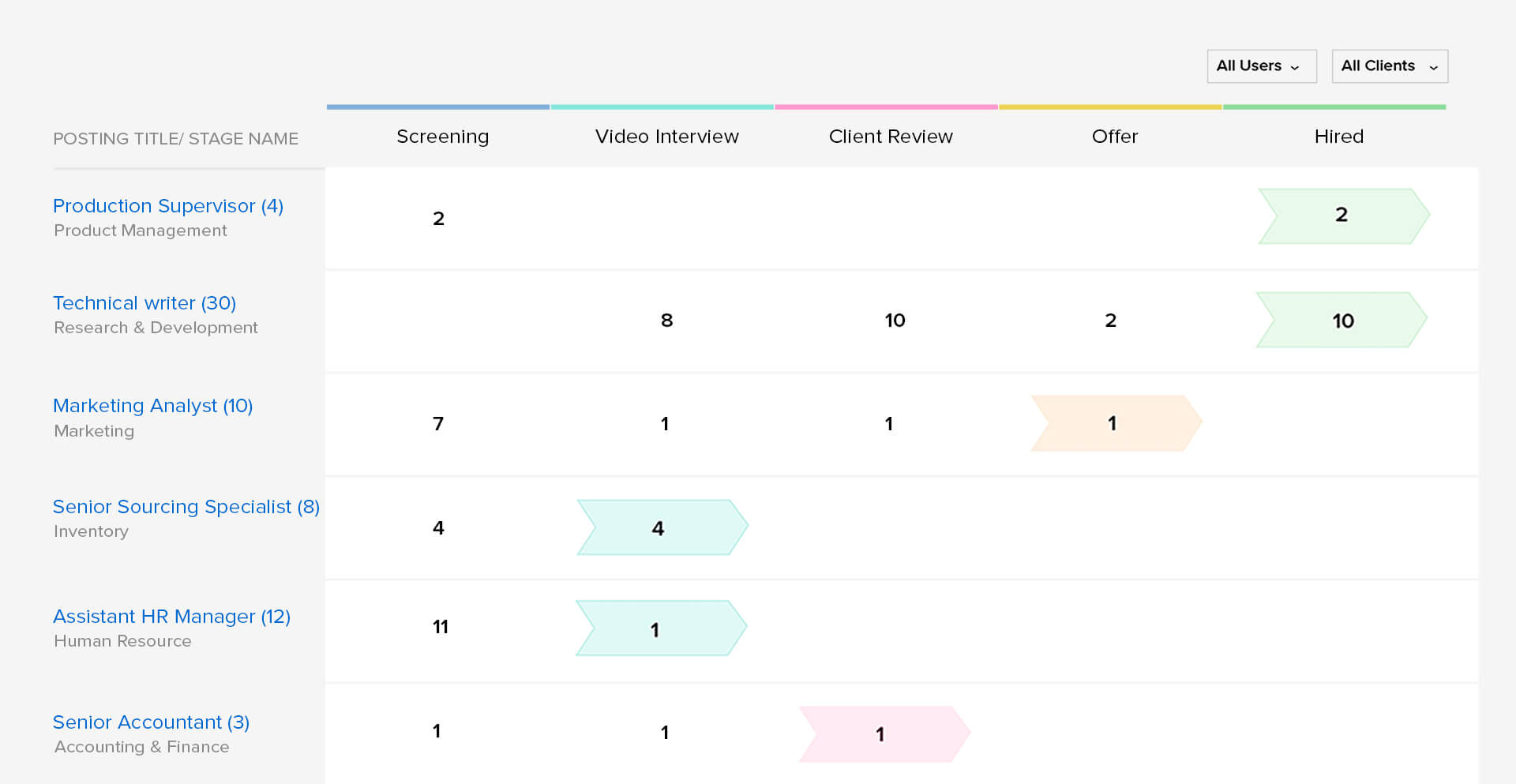 Optimize recruiting KPIs Track recruiting key performance indicators like time-to-hire, time-to-fill, age of job, offer acceptance rate and optimize the process of hiring candidates.
Analytics that lead to strategies Generate reports with advanced Recruit analytics to get insights into candidate interview status, job opening status and much more.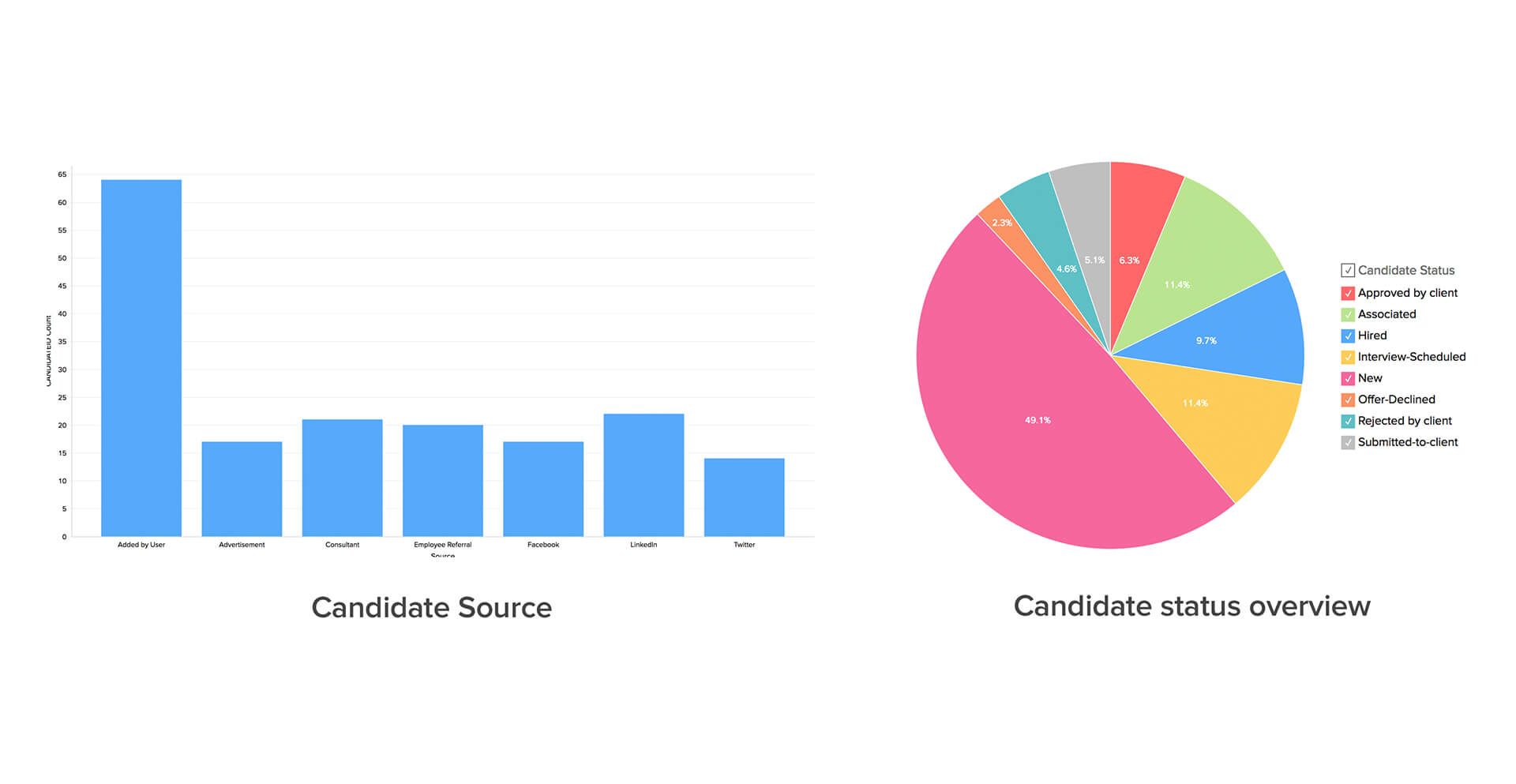 Source Analytics Monitor the status of your job posting with sourcing summary. Get an overview of job openings, source of candidates, list of ideal candidates and performance of the job opening on various job boards.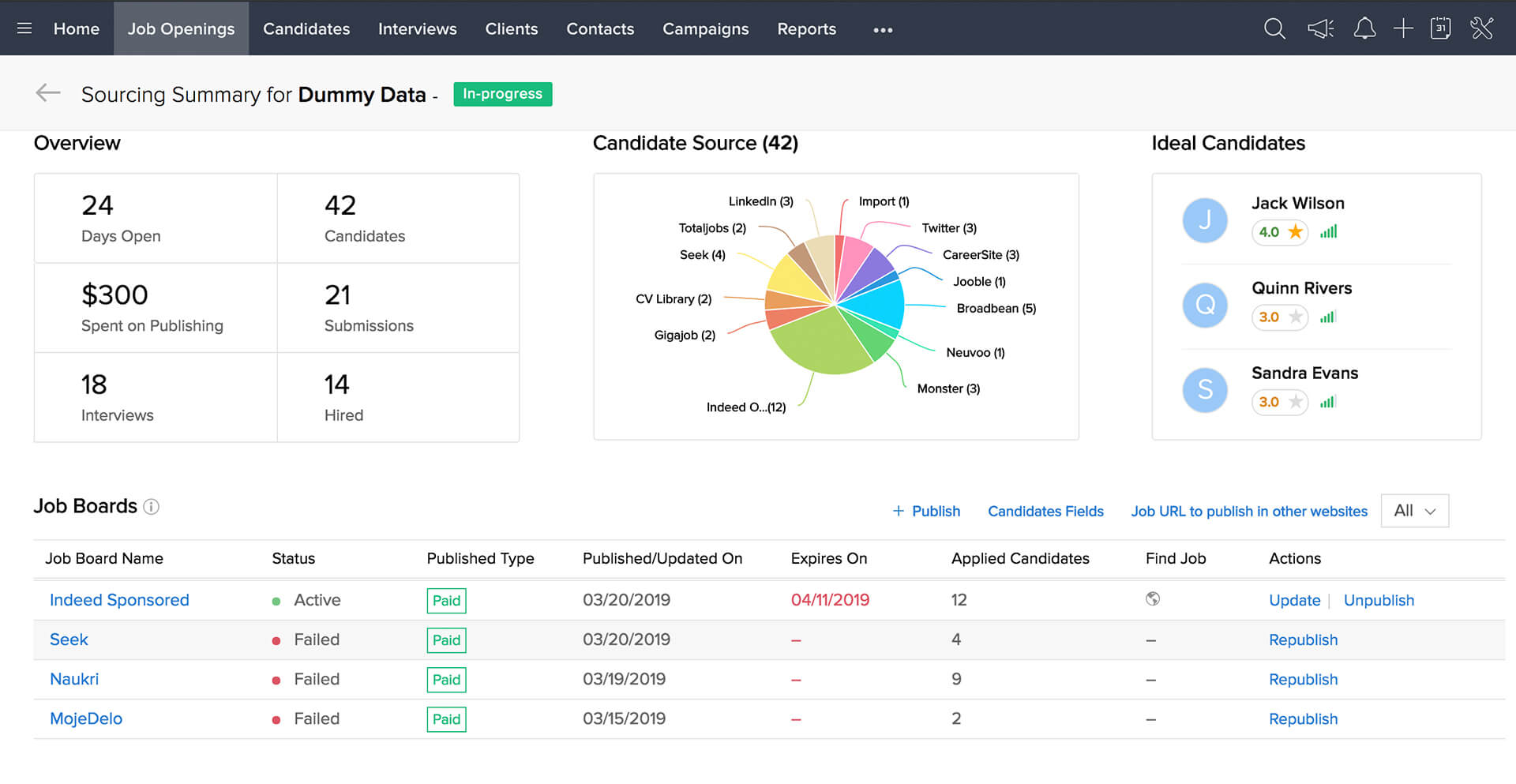 Candidate hiring pipeline
Optimize recruiting KPIs
Analytics that lead to strategies
Source Analytics
Recruiting Automation
Spur up your end-to-end recruitment process by automating all your time-consuming tasks. Set up automatic replies, alerts and notifications in advance and more.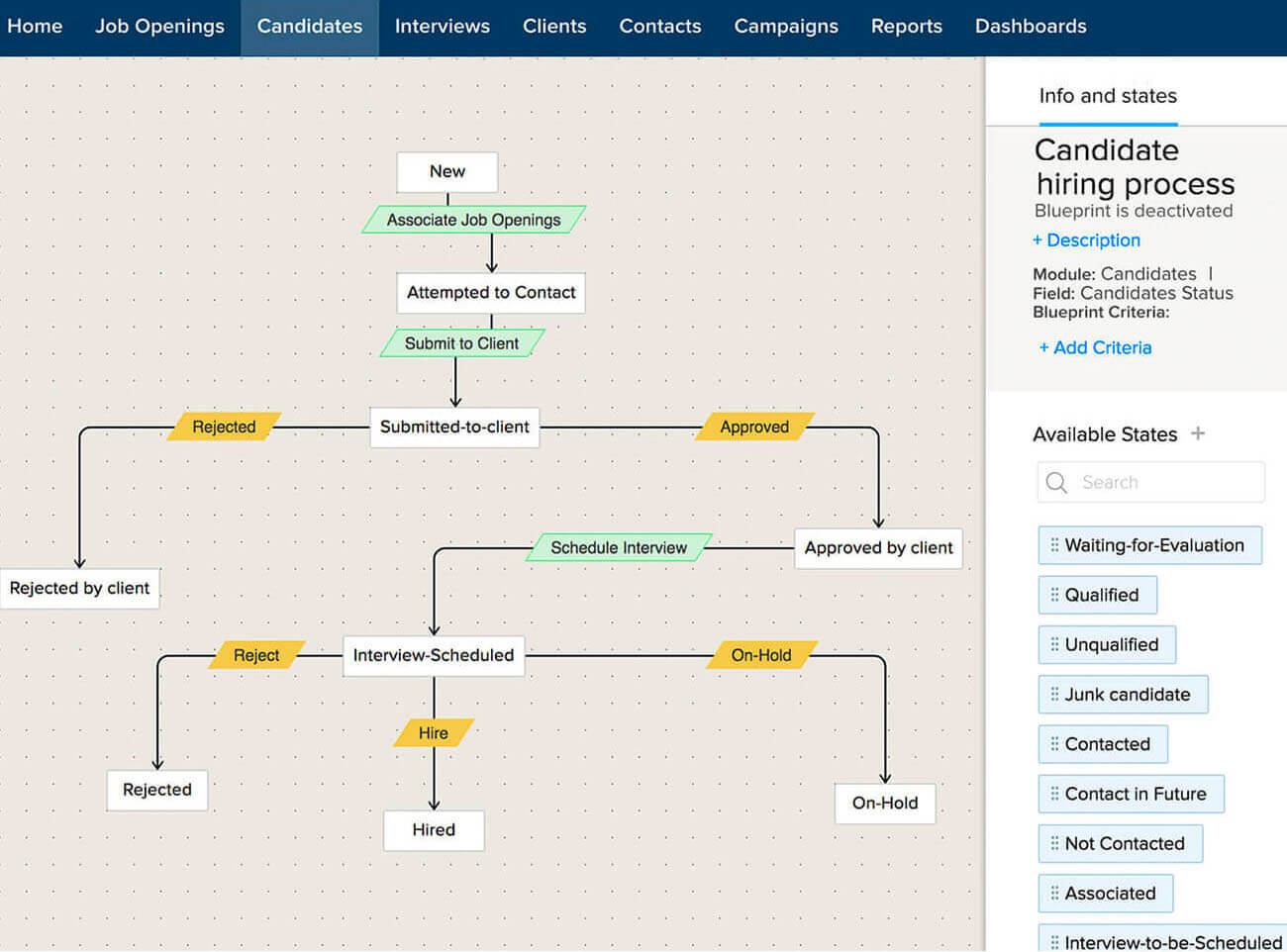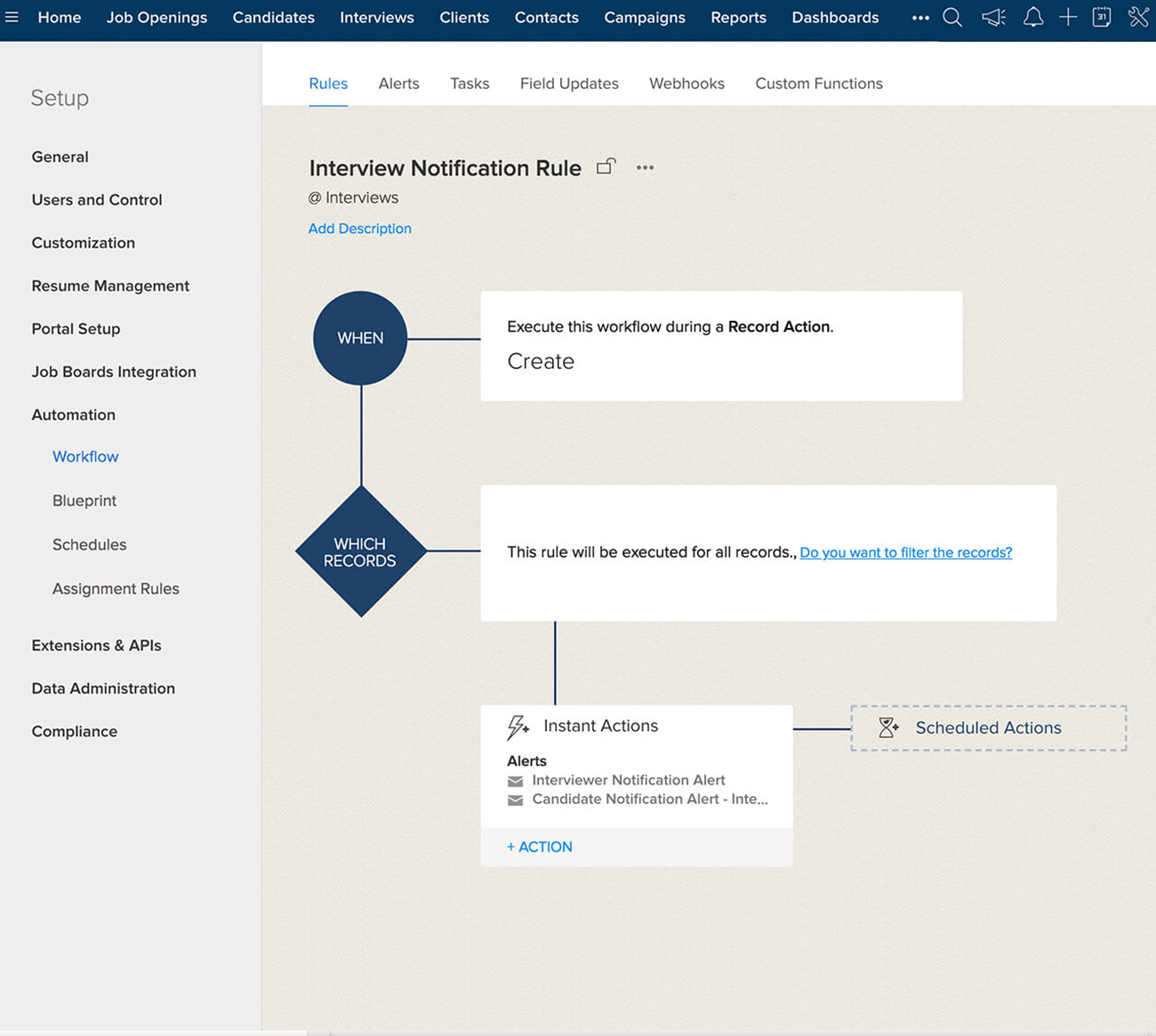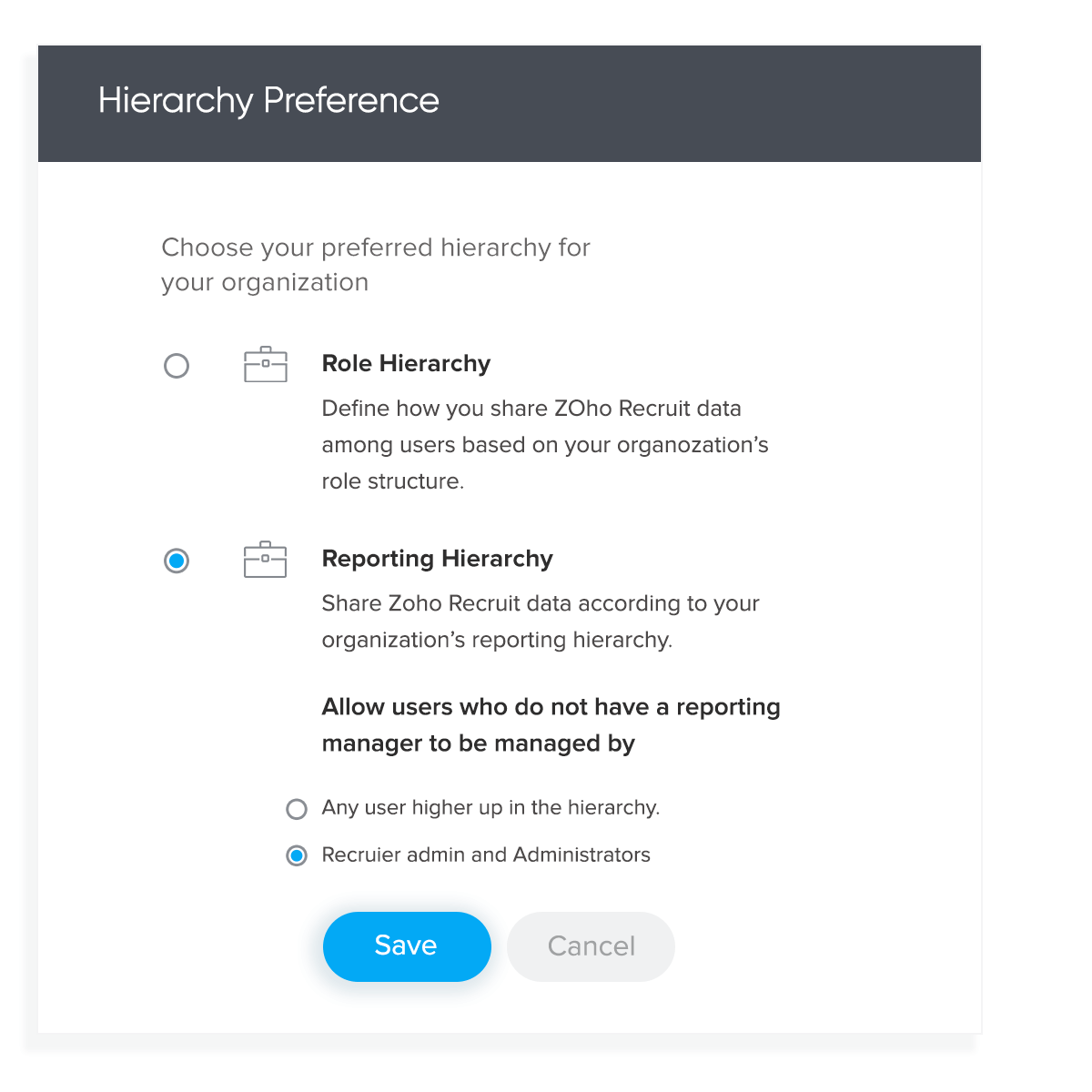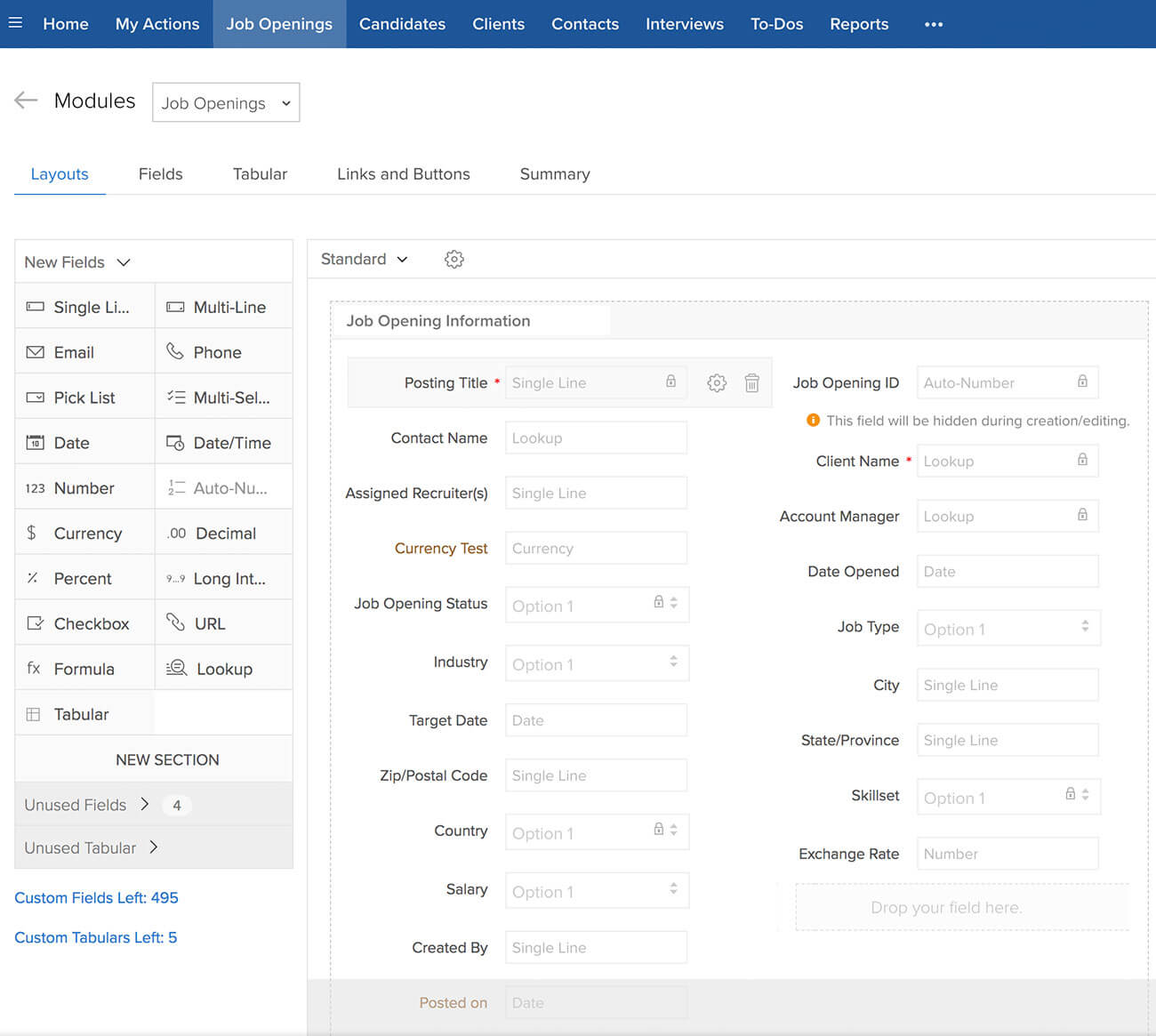 Structured hiring
Automate your recruiting process
Set up a Reporting heirachy
Customize your experience
Structured hiring Create a blueprint and capture every detail of your entire offline process, from validation to collaboration among your hiring team, within the software.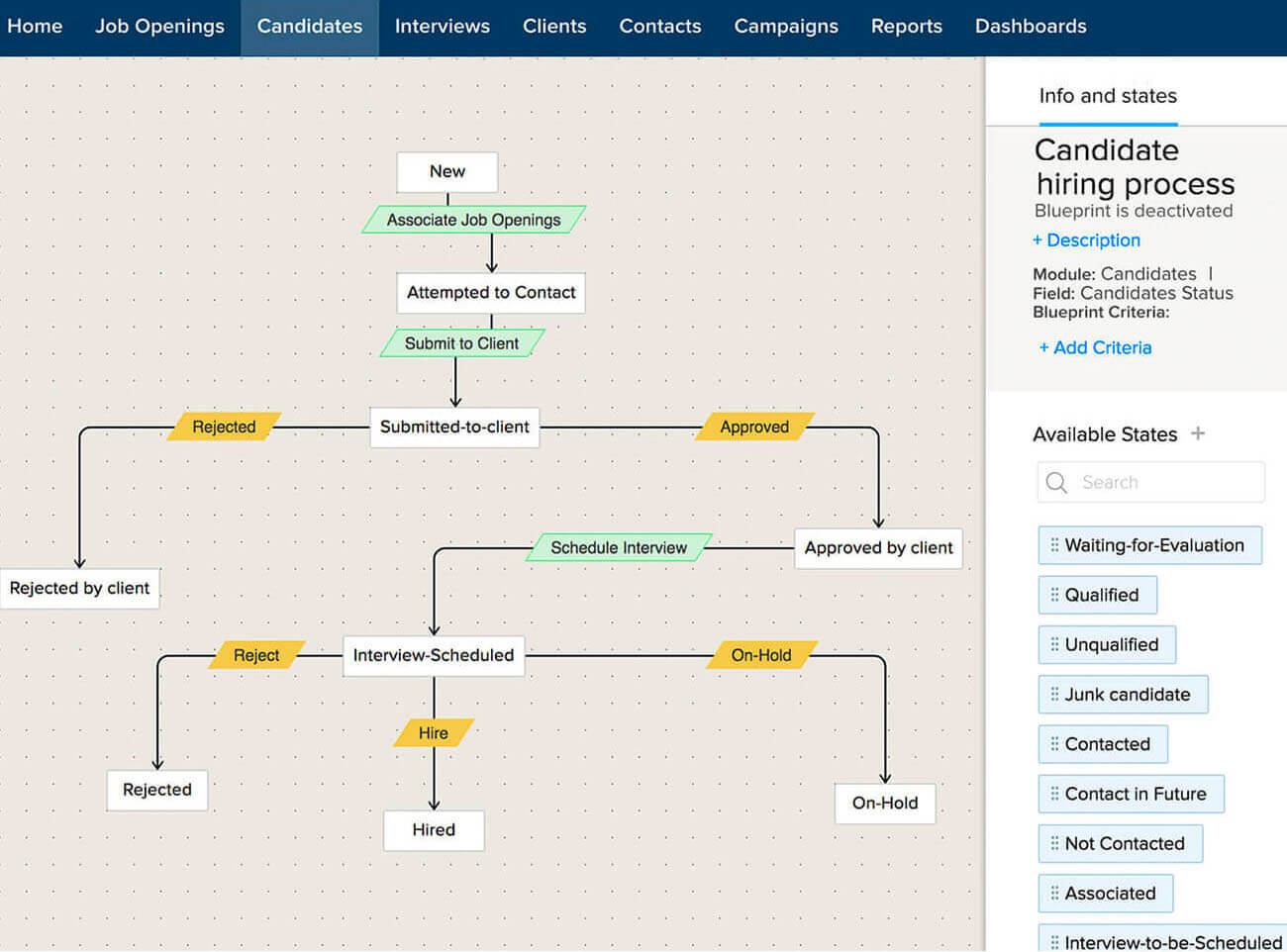 Automate your recruiting process Assign tasks to users based on pre-defined criteria. When a rule is triggered, the alerts, tasks, and field updates associated with the rule will perform the action.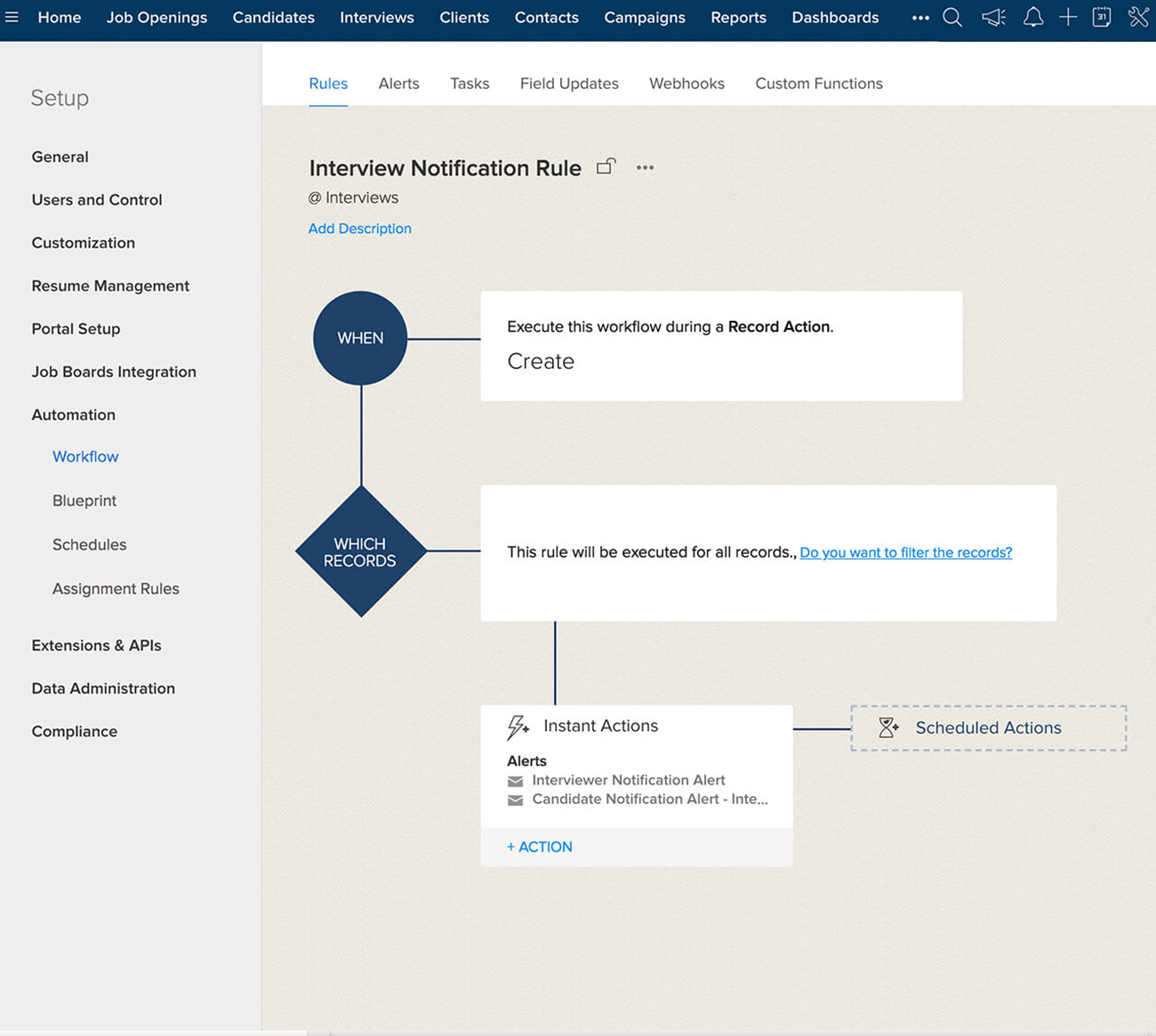 Set up a Reporting heirachy Define how you share your Zoho Recruit data among users based on your organization's role structure and assign who's entitled to access or view the data.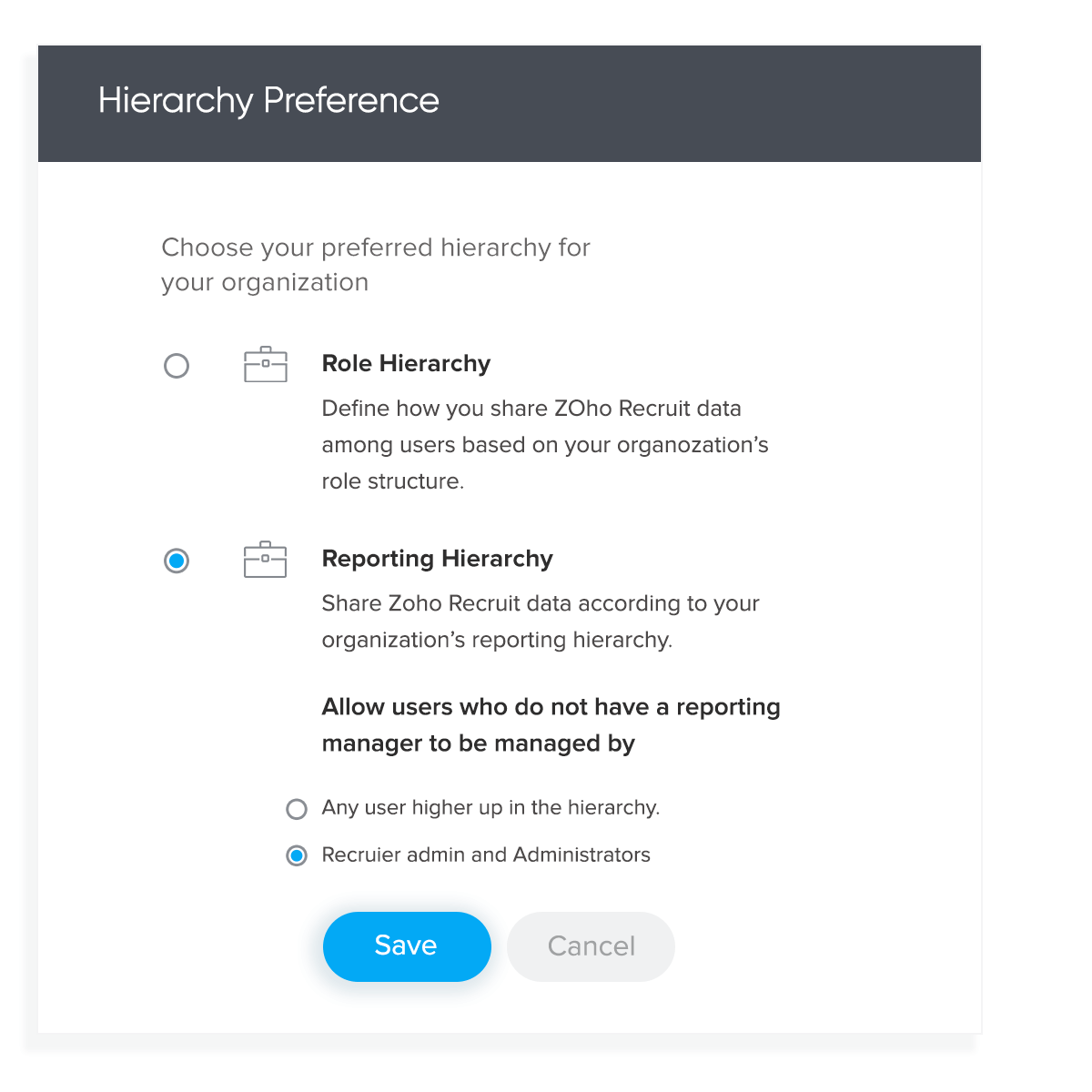 Customize your experience Set up Zoho Recruit to work the way you want it. Right from custom modules, tabs, records for easy recall, personalize all your organization settings.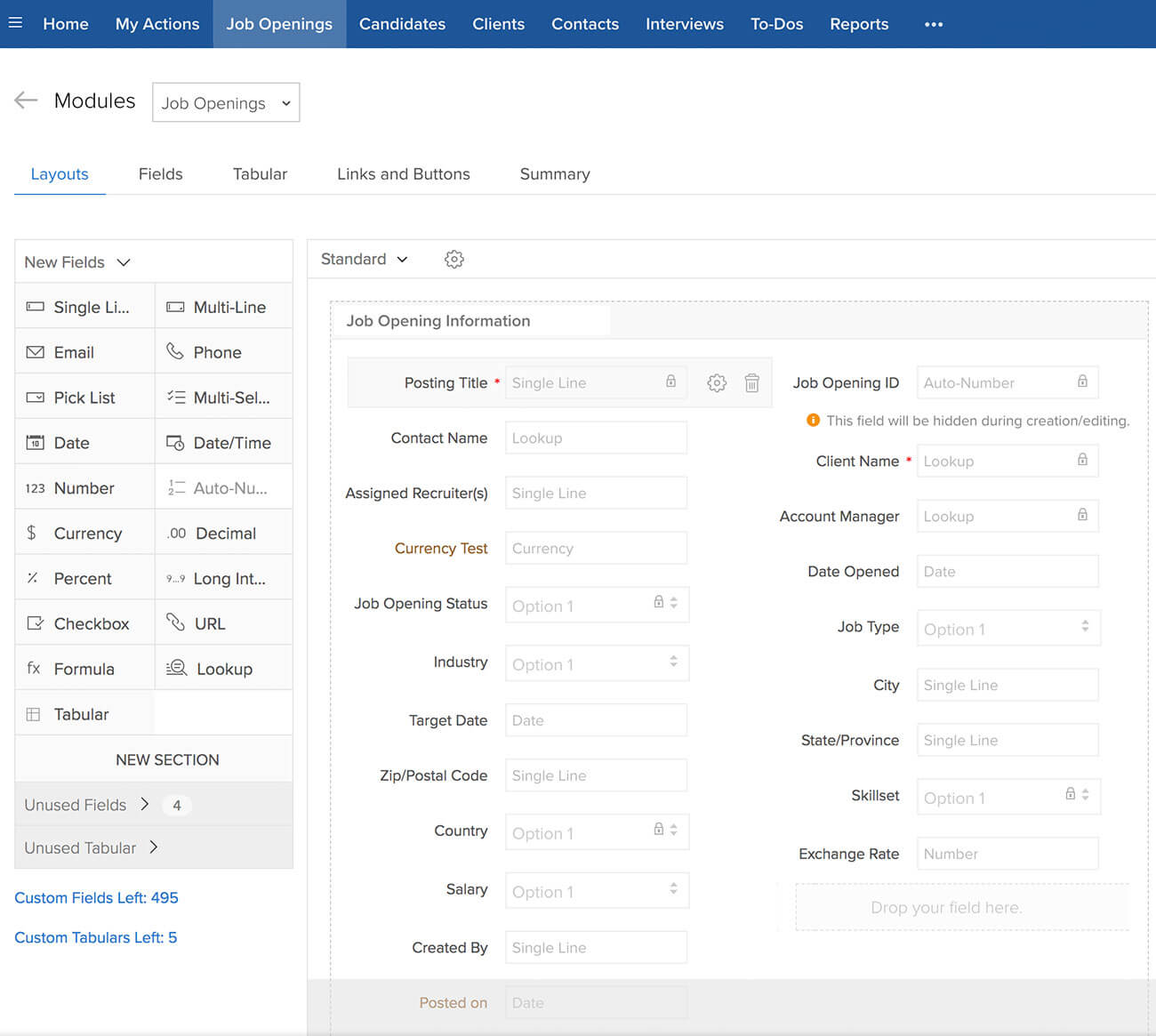 For Staffing Agency
Our enterprise-ready platform comes with a built-in client portal, resume processing tools and more to ensure hiring processes are fool-proof. Agency recruitment is definitely effortless now.
For Temporary workforce
Built to simplify and speed up hiring processes within temp agencies, Zoho Workerly ensures conflict-free scheduling faster time-sheet management and invoice generation.
Traction. Transition.
Growth.
Applicant Tracking System that helps you recruit best talent.