What is the role of smart recruitment ?

Artificial intelligence recruitment reduces the workload for recruiters by automating all the mundane tasks. With AI powered recruitment, increase quality of hires, alleviate repetitive tasks and use time effectively. Hire best talent based on real potential and reduce bias. AI recruitment is not only beneficial for you and your team; it is also beneficial to enhance the candidate experience.
 
Machines as matchmakers - Faster initial selection process.
Curate the best candidates for the job you need to fill. With candidate matching across resumes, job descriptions, locations, industries, and any other metrics, your search will come together all in one place.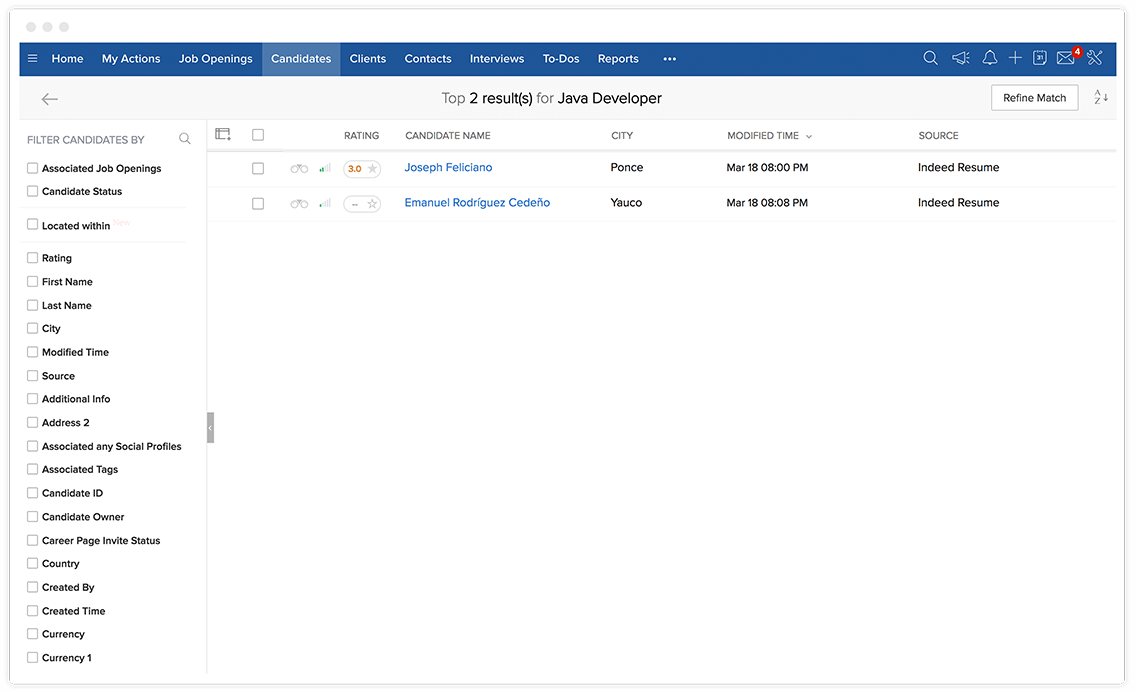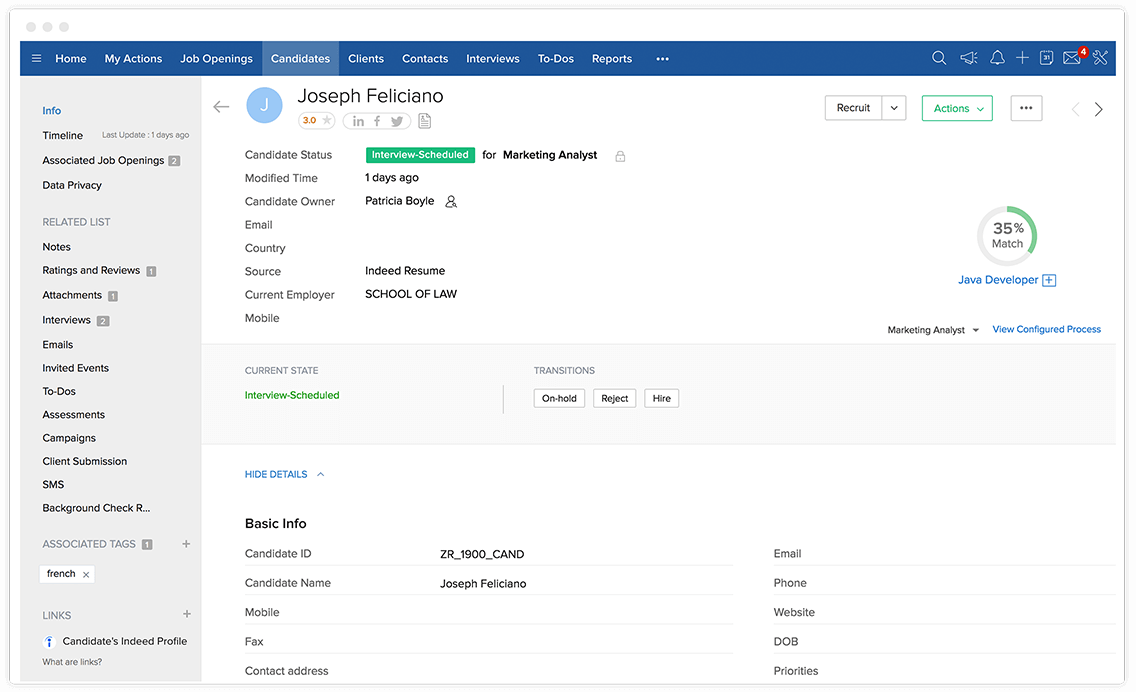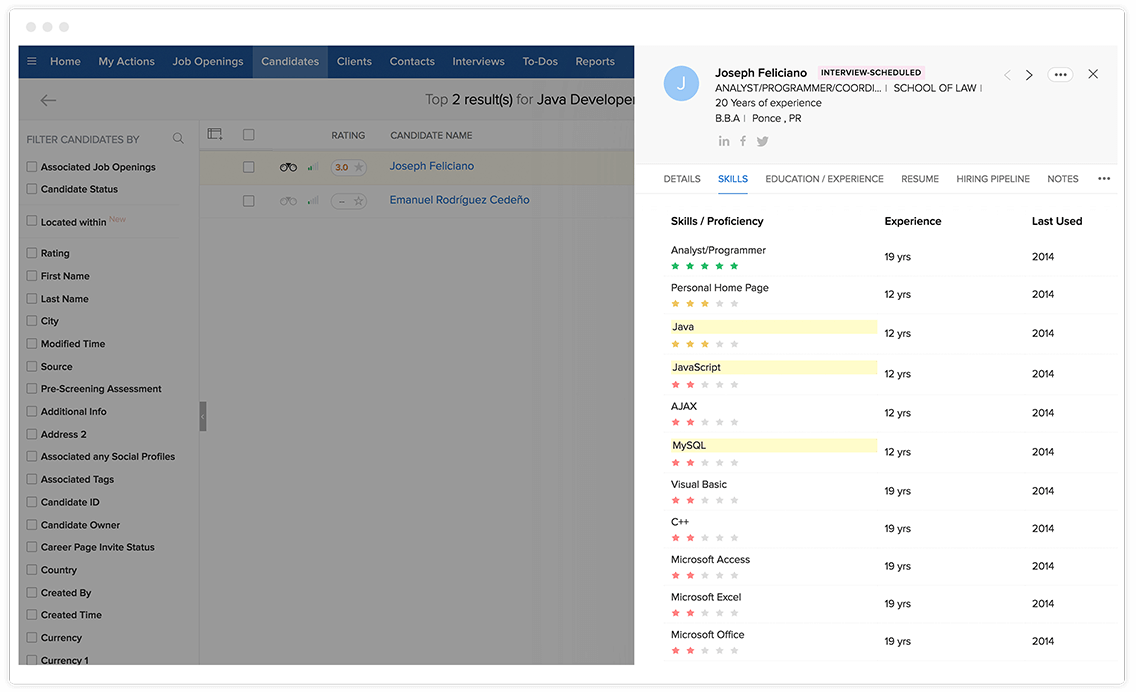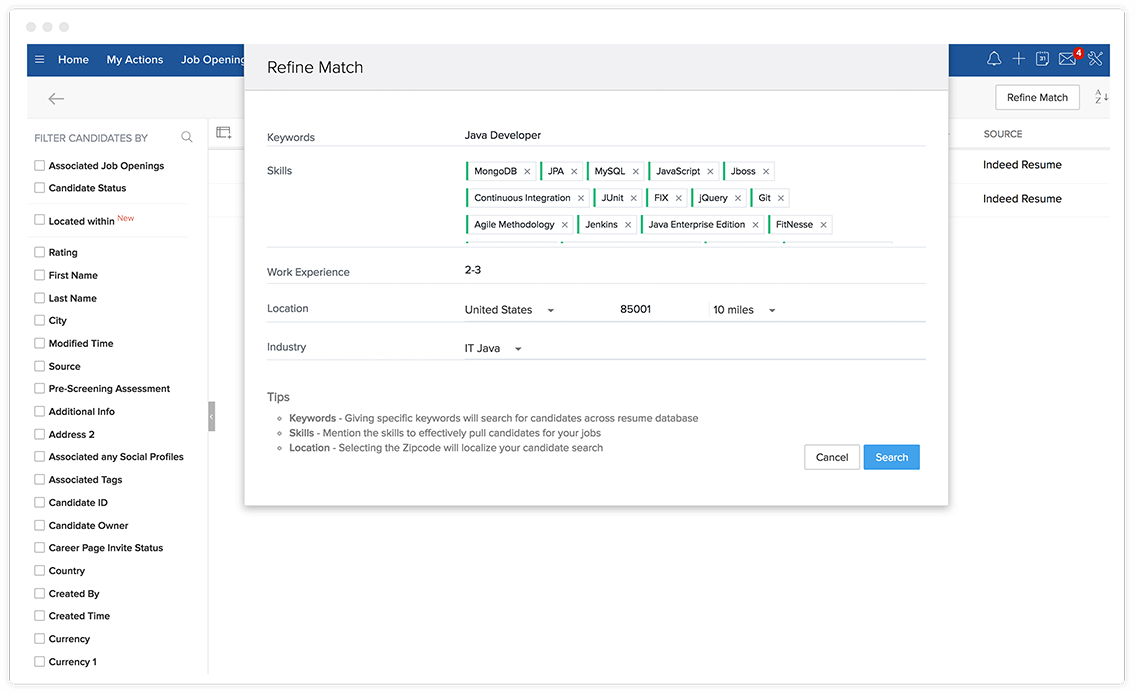 Perfect candidate matches

Finding the perfect candidates for a job opening is now more straightforward than ever with Zia's Candidate Matching. Match and associate the right candidate exponentially quicker based on their experiences, skills, and proficiencies with your requirements and grade them accordingly.

Reduce time-to-hire. Increase search accuracy.

Zoho Recruit's algorithm matches all key criteria outlined in your job description within a few milliseconds, no matter how expansive your candidate database is. With a single "Find Matching Candidates" action, you'll get a complete list of suggested candidates in seconds.

Play tag with candidate skills.

Our powerful search console--coupled with focussed search bases on keywords and skills--gives a percentage rating for each candidate record. Plus, you can tag the skills you need for every job; with these add-ons, you're sure to pick the right candidate from your talent pool.

Say "Hello" to a quick view.

With a quick view tab, you get a holistic view of candidate profiles, and filter them based on sources, ratings, and more. Reduce time to hire by reviewing candidates and sending them pre-screening assessments. Select the candidates you want, and apply all handy bulk actions, like sending bulk emails, submitting candidates to clients, scheduling interviews, and more.

More highly targeted candidates

Zoho Recruit delivers the most relevant candidate near you, down to the zip code with Radius Search. Target your search results by opting for both skills and location so you can get on with what really matters. Save time with our default data matched from the job description.
Instantly source talent with Boosters
Source Boosters are a powerful recruitment ai tool that makes your talent acquisition process a breeze. Enter your requirements for the job, find candidates who match the profile, add them to the Zoho Recruit database, and kick start your recruitment cycle--all in a matter of seconds.
Find what you're looking for.

Instantly access an infinite number of profiles with our advanced yet easy-to-use candidate search. Fill in basic requirements--such as job title or necessary skills--and look for superior talent. Also, use our advanced search filters to funnel your candidate search.

Quickly access resumes.

Conduct a complete search of resumes that match the recruiter's requirements in a snap. Based on the instant search, the most suitable candidates are listed. Recruiters can take a quick view of their resumes and decide whether to proceed.

Drag and drop.

Find the candidates who are best suited to the opening, select their resumes, and simply add them to Zoho Recruit in the click of a button. Later, the candidate status can be moved to the next stage if they go through further rounds of interviews.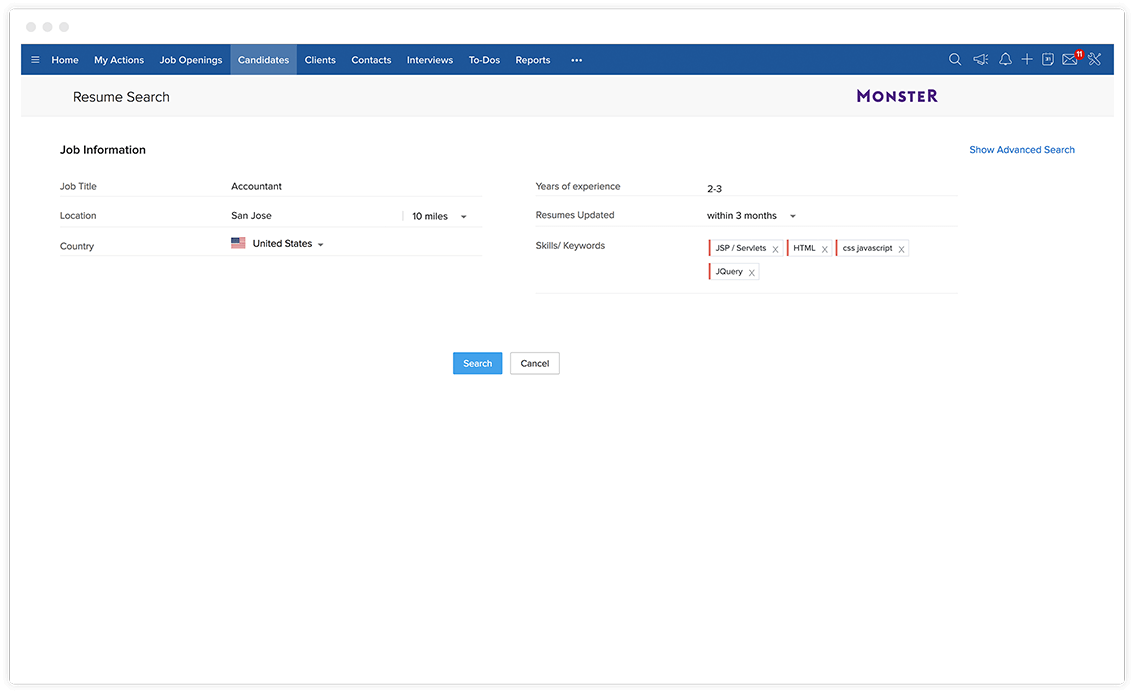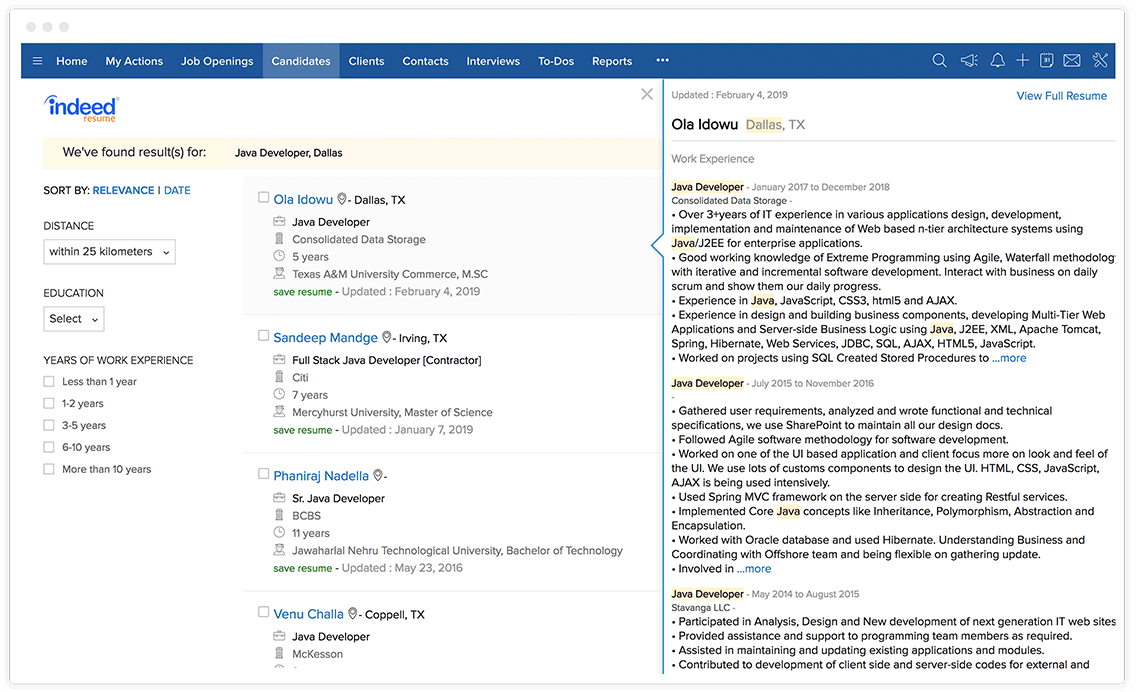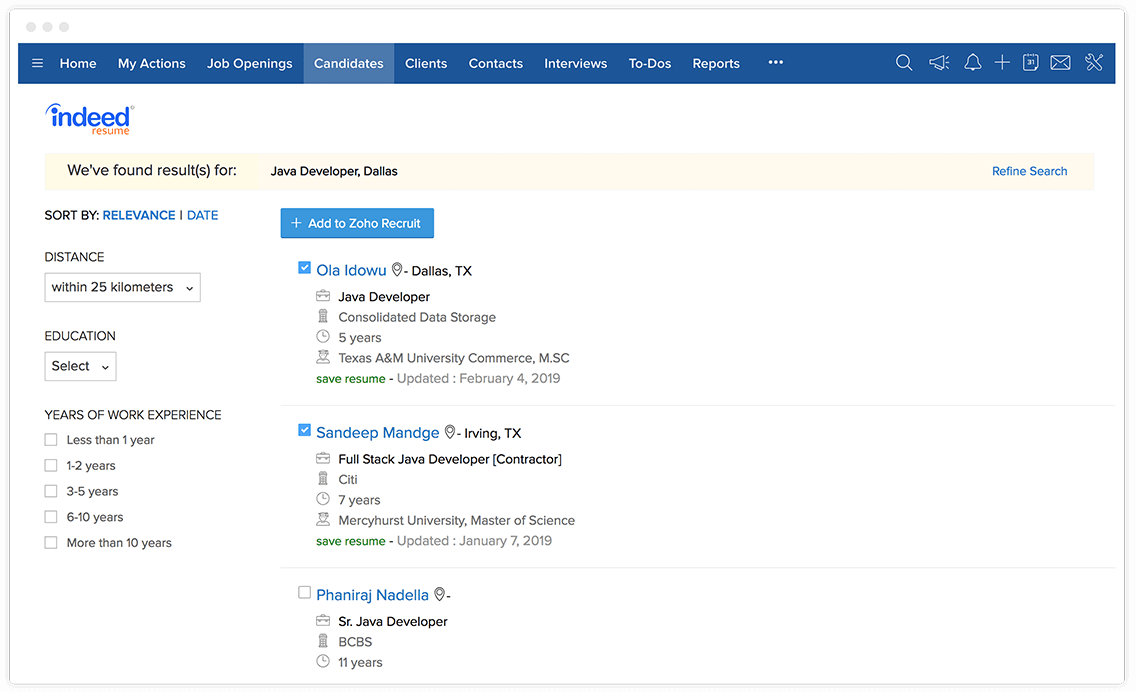 Powerful Resume Parser
Zoho Recruit's Resume Parser is robust, fast and accurate. Resume Parser Mapping powered by AI and proprietary algorithms helps you standardize and align the parsed resume structure to the form supported by your organization. It allows you to map the Zoho Recruit fields with the respective fields in the parsed resume. Reduce manual resume segregation while our Resume Parser does the job in a split-second.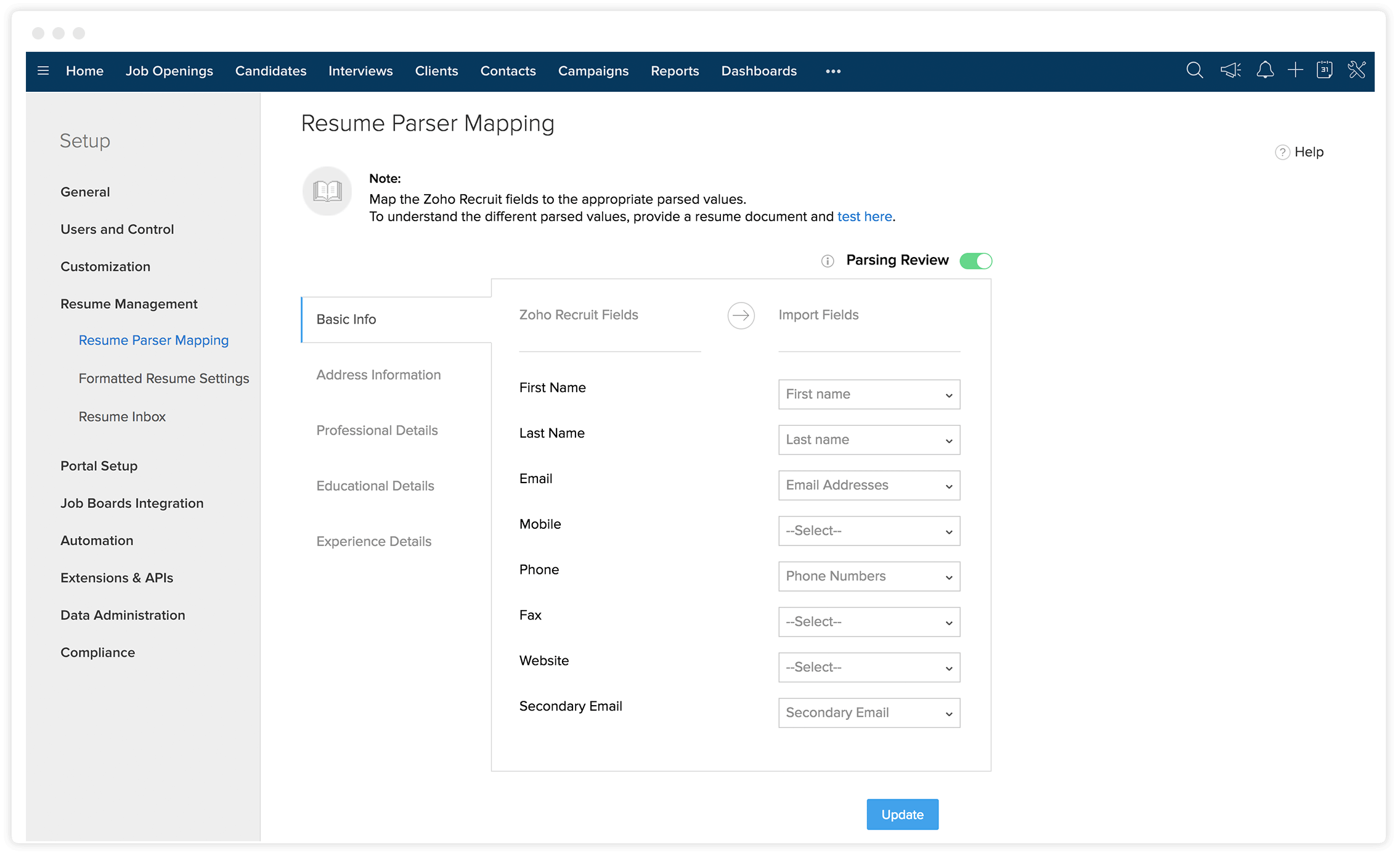 AI Powered Candidate Screening Workflow
Improve business processes through standardized working methods. No two businesses are the same and their recruitment process vary. Zoho Recruit's ai based recruitment platform allows you to customize the existing custom fields, add extra custom fields and add custom statuses. Automate your recruitment ai by assigning tasks to users, based on the defined criteria. When a rule is triggered, the alerts, tasks and field updates associated with the rule will also be triggered to optimize recruiter's productivity.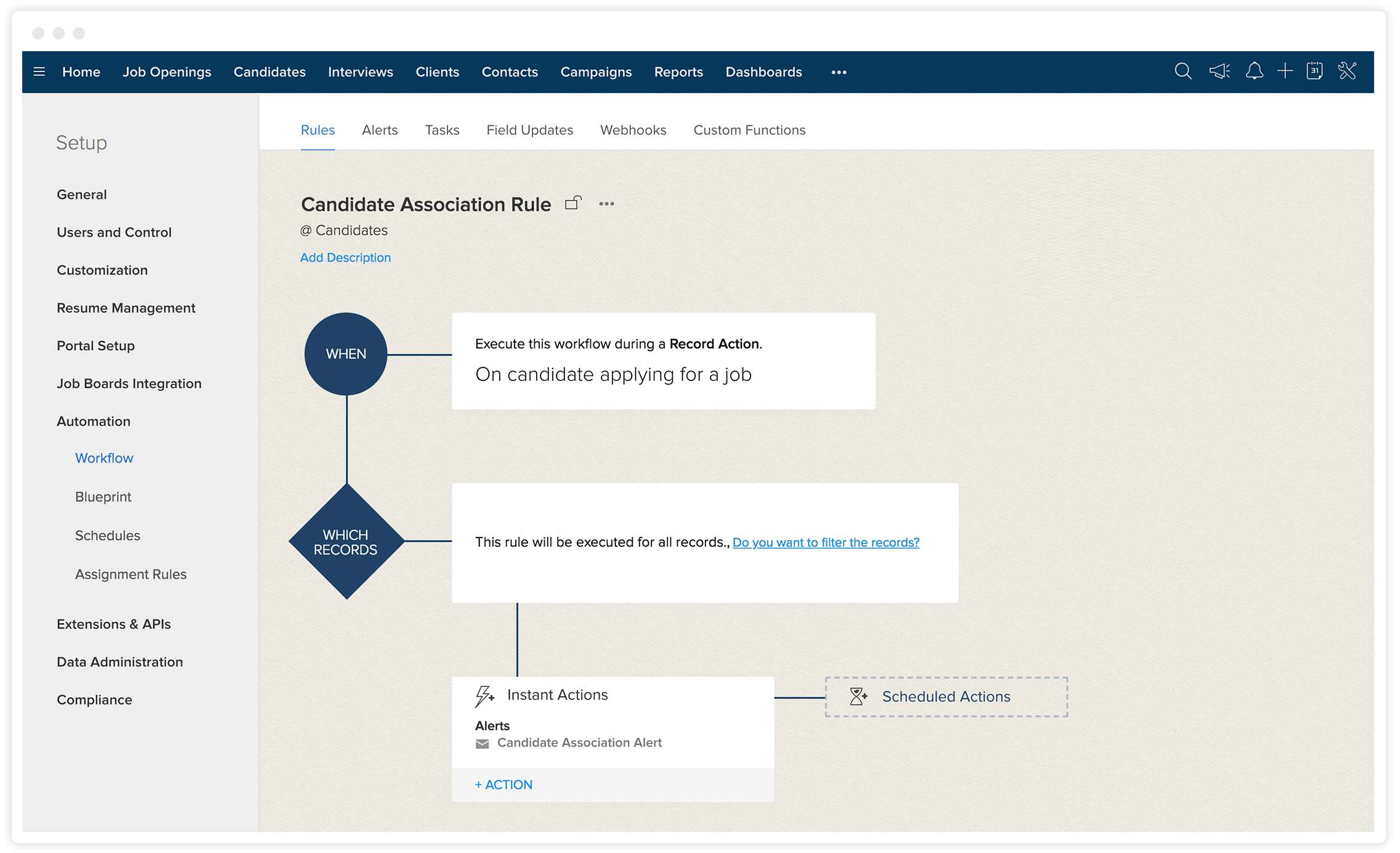 Smart Search
Search and find records instantly with Recruit's Smart Search feature, which starts searching as you type, so your search is over before you even finish typing. Your keywords are matched with records in the module you are currently in, and the corresponding results are displayed. You can then access the quick view or the detailed view of the record from the search results for more information.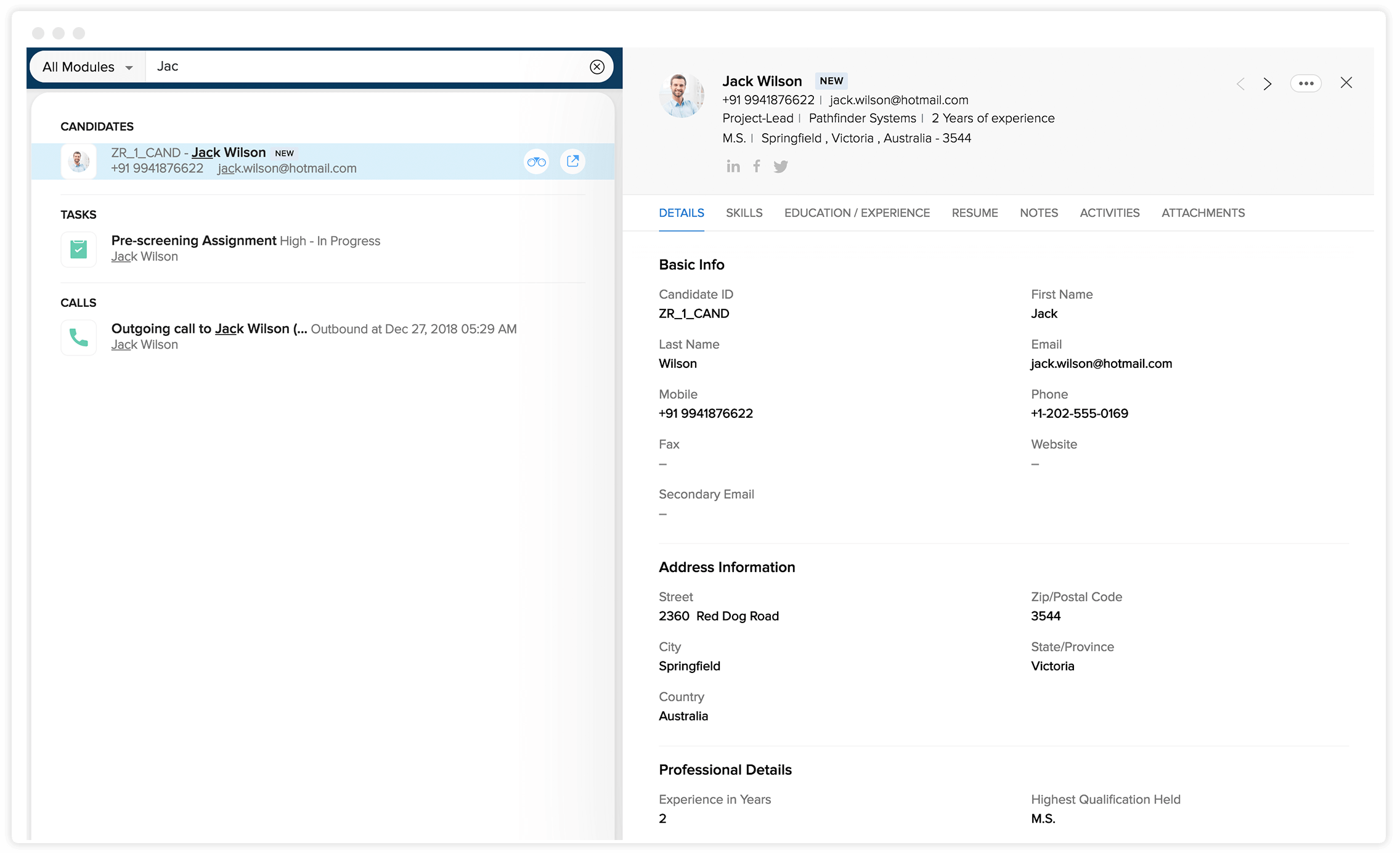 Hire people with right skillset
Set must-have and nice-to-have skills for a job opening even before publishing. Zoho recruit's AI recruitment platform calculates the applicant's skill score and identify candidates within seconds.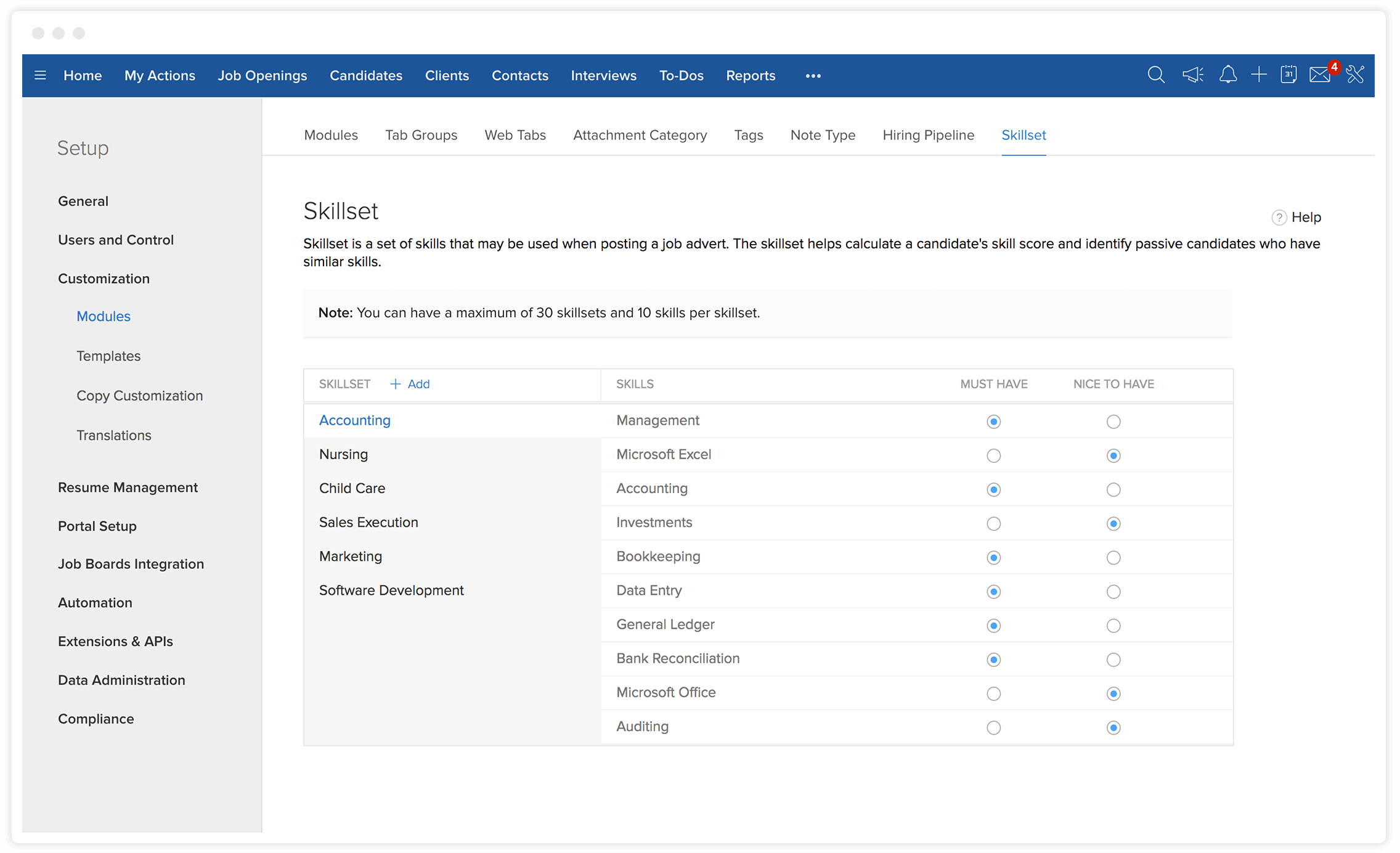 Chatbots: The modern marvel

The way you communicate with a candidate can make or break their opinion of your organization. With ZIA, Zoho Recruit's Chatbot as your personal AI assistant, it works in synergy with Zoho Recruit's Career Site to keep candidates updated on job availability and help them track their job applications. Find the ideal fit for your jobs, build a diverse talent pool and improve your candidate experience.