Issue Management Software
Issues, bugs, defects and faults are an unavoidable part of any undertaking, be it a high level software development project spanning several months, or a short term collaborative effort for a group event spanning days; because to err is human. How these issues and bugs are tracked, followed and fixed makes all the difference between a great job and an ordinary job. And great jobs are the ones that are recognized and valued.
The process of exclusively handling these issues or bugs in any project is called Issue management or Bug tracking in software development terms, with bugs and issues used alternatively these days.
Why would I want a Bug tracking software as a part of my projects?
Whenever people work as a team, there is every possibility for some errors to be overlooked, things to be left unfinished, misplaced etc., because the working style and functions vary from person to person. Just making a list of bugs that one comes across and sending it by email or posting them in a document or web page will not suffice, with the plethora of emails, tasks and other duties a person needs to go through everyday, every hour.
In the process, these issues and bugs slip into oblivion and later on puzzle project members in the completion of other related tasks and makes them wonder:
With an exclusive bug tracking or issue management software all of the above questions will be answered not in hours or days, but in minutes, allowing your project management team to focus on the main tasks and still keep them bug free. This is why Zoho Projects' BugTracker add-on comes in the form of a separate Bugs module.
Here's a short video which explains ways to make issue tracking painless and simple.
Key Benefits of Issue Tracking Software
Get a complete visibility of unresolved issues with views filtered by severity, category and due date.
Give a structure to how bugs are handled by defining a bug cycle based on various stages.
Organize how project members deal with bugs with customized work flow and business rules.
Motivate team members to fix issues with quick access to resolutions, history, comments for each issue.
Automate reminding and notifying members in charge of fixing bugs by setting notification patterns.
Improve productivity and avoid wasting time by exactly knowing which bugs are reproducible and to what level.
Submit and Organize Issues
Bug tracker allows administrators to configure permissions based on status, move the bug to another status, or delete the bug. It helps you to simplify every step of tracking bugs. With bug tracking you can now manage bugs along with all other project tasks and keep your projects on track.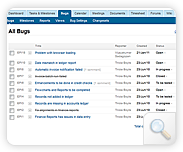 Custom Workflow
Issue tracker's flexible custom workflow pattern lets you define individual workflows for different projects. Each workflow can have as many steps as required. It's easy to configure workflows in Zoho Projects to reflect your company's unique needs.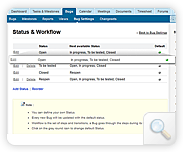 Define Business Rules
The way issues are reported in a bug tracking software is very important. You can define Business Rules that will enable you to organize the issues and perform actions such as changing the severity, priority, the module, the issue type and assigning the issue to a user and do more.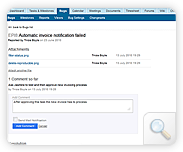 Configure Notification Patterns
Bug tracking module can send e-mail notifications to the users for various events happening during the issue tracking life cycle within a project. You can configure notifications when a bug is assigned to you, when it is created or resolved as per your project needs.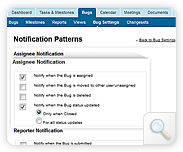 My Bugs View
My Bugs view provides a consolidated view of bugs reported by a particular user and it doesn't stop there you can see the bugs assigned to you. By this you can get to know the number of bugs that needs to be fixed and removes the hassles of remembering all the bugs.