Why do you need a document sharing software?
We live in a world where chasing the information that you need has become increasingly an herculean task. So a document sharing software provides the technologies, tools, and methods used to capture, manage, store, deliver and dispose of 'documents' across an enterprise. It makes your documents work for you instead of you working hard to organize and manage your documents.
Zoho Projects has your document sharing tool
Zoho Projects has your document sharing tool allows you to centrally store and share your documents over the web securely with your project members. With document sharing, your project files are always available on-demand for everyone in your project team and access them from anywhere in the world.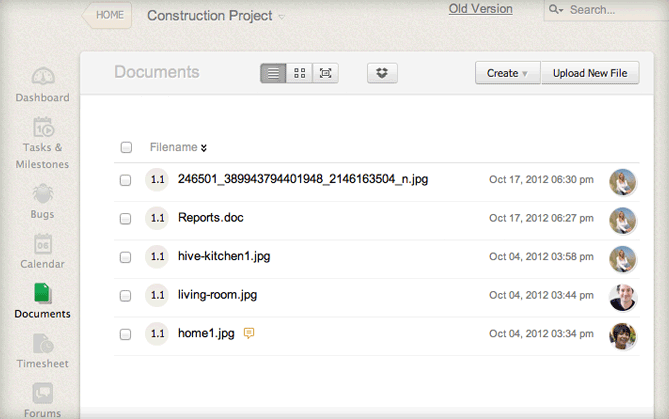 Key Business Benefits of a Document Sharing Tool
Browse and upload files stored from your desktop, zoho docs and google docs
Automatically tracks iterations of uploaded documents and maintain detailed history of each file
Support various file types like .doc, .ppt, .pps, .xls, .pdf, .avi, .jpeg,. png, *.bmp, *.mpeg, *.zip etc
View all documents using award-wining Zoho Office suite like Writer, Sheet, Show and Docs
Add intuitive tag labels and define your own tagging structure for a quick search of documents
Search project documents quickly using intuitive tag labels with a powerful search facility
Upload project documents
Upload files from various places and keep your information accessible for the team. You can store different file types like .doc, .xls, .pdf, .avi, .jpeg, *.zip and embed videos all in one place. Apart from attaching files from your personal desktop you can also attach files from zoho docs and google docs.
Organize project documents
Organize and share files of your entire organization from a single place. By this avoid email clutter and make life easier for your clients.
Version project documents
Store all versions of your crucial project documents with the notes, dates and the author information. Create and maintain multiple versions of a document with Zoho Projects.
Search project documents
You can search project files quickly with a powerful search facility. Make an effective search based on file names, extensions, titles. Furthermore, add intuitive tag labels to documents and create your own tagging structure.
Sign Up for Free in just 60 seconds
Twitter Updates