Why cloud-based time off management?
If you're managing employee time off with spreadsheets or time cards, manually calculating days of leave, reduced pay pool, and payable days can be a chaos. You may spend hours solving miscalculations or errors. That's where a cloud-based leave solution comes to the rescue.You'll get built-in, automated features such as:
Customize leave policies
Every organization has specific requirements when it comes to leave, depending on company culture, experience, legal guidelines, and more. With Zoho People, calculating leave entitlements, PTO, rollovers, and accrual is a whole lot easier.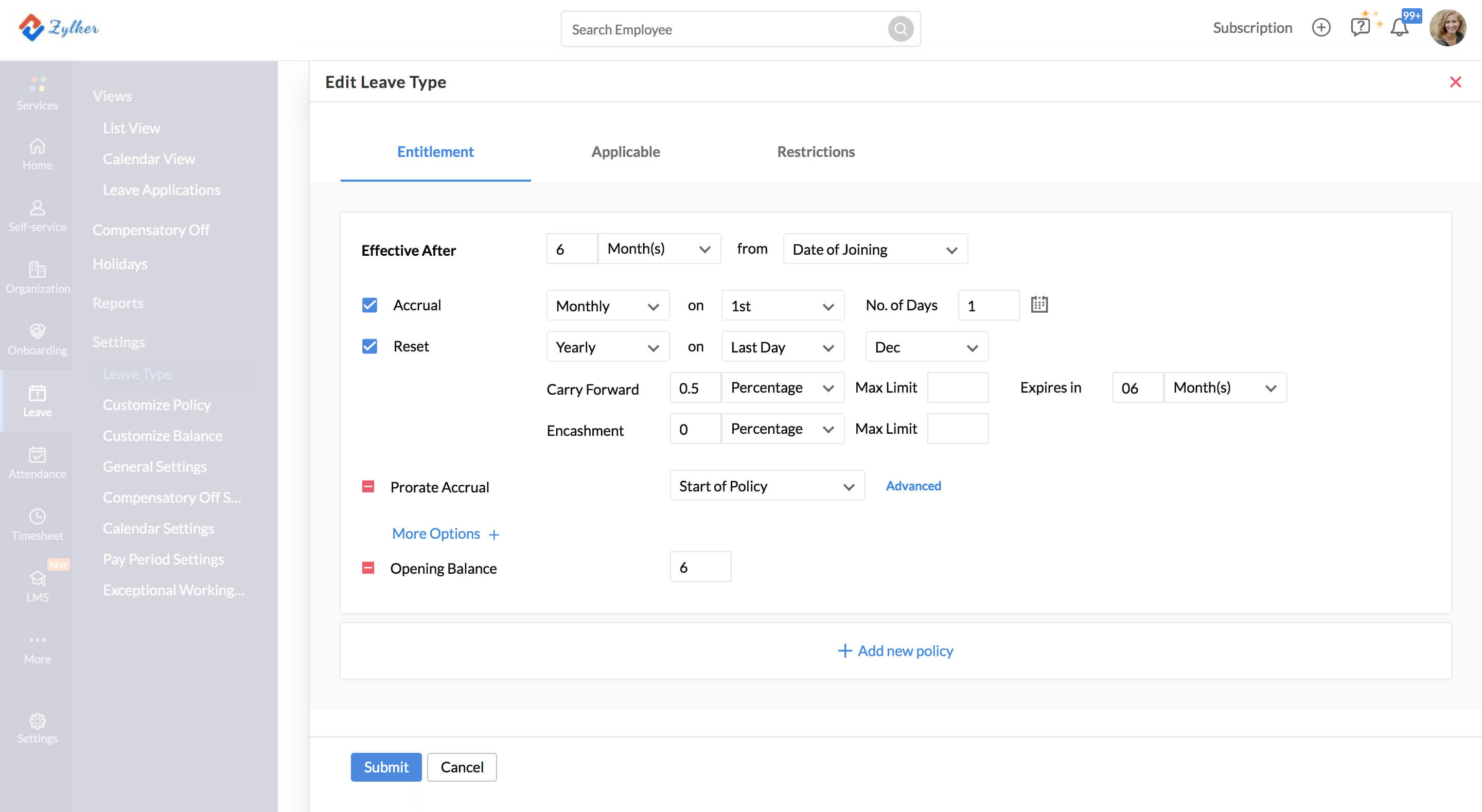 Manage holidays
Even though you may operate globally, organizing time off and holidays shouldn't be a hassle. With Zoho People, manage holidays for multiple locations from a centralized application.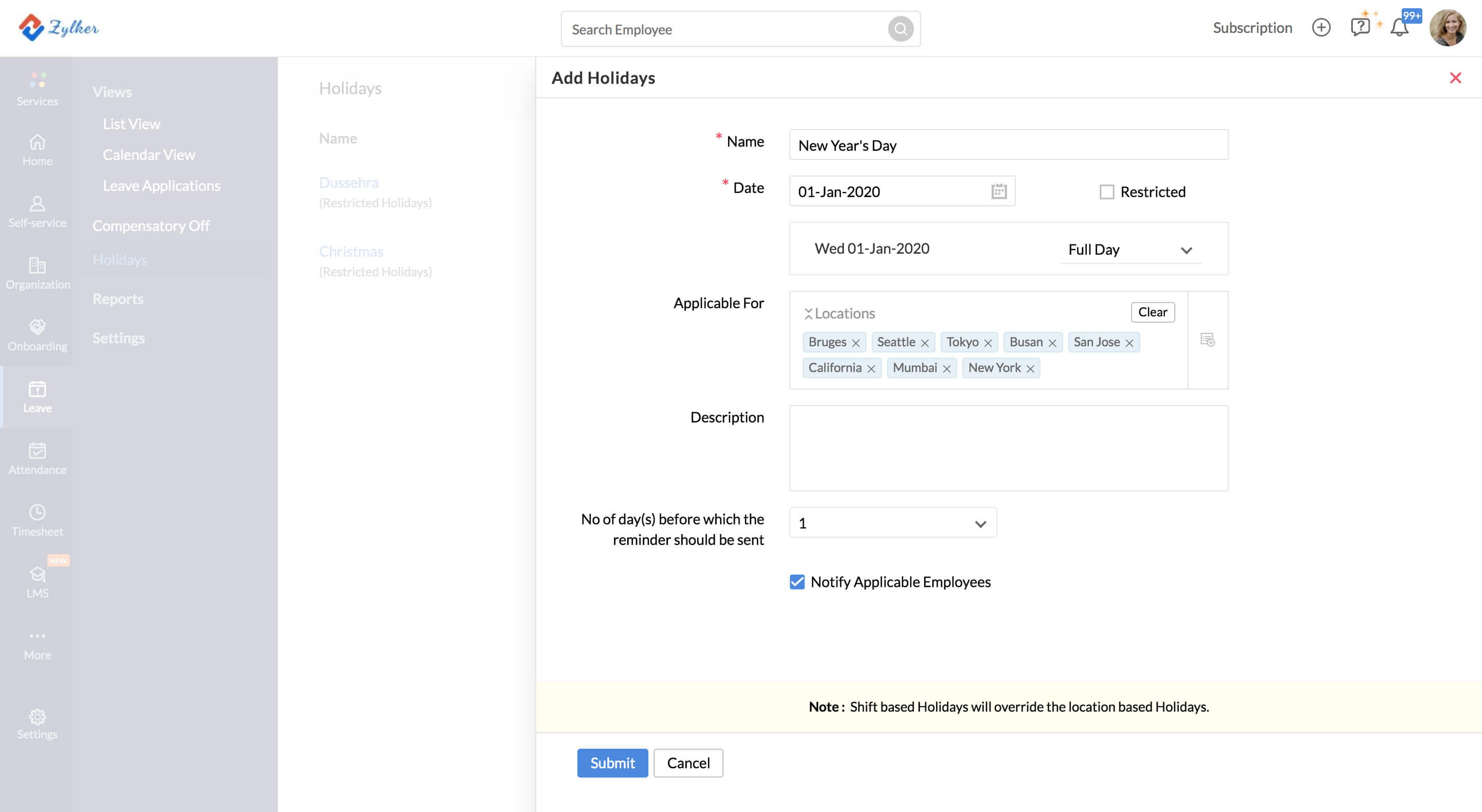 Simplify absence management
Employees can see how much leave they've taken, how much remains, and apply for time off from the web or their mobile devices. Know who is in and out of the office, and schedule meetings easily. Take advantage of automated workflows, and send email alerts for actions like approvals.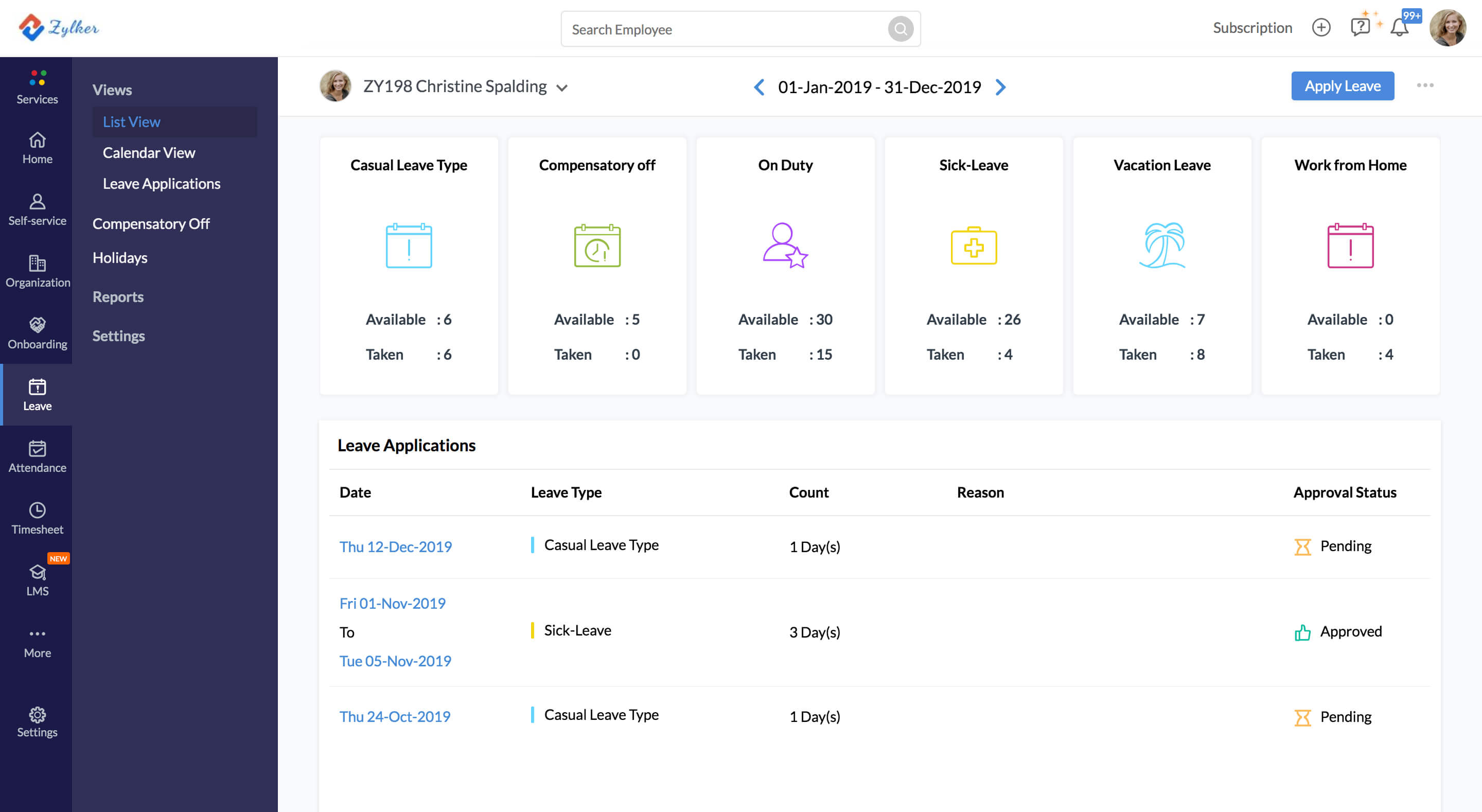 Manage unplanned absences with Bradford score
Unplanned absences can have a negative effect on team productivity and business in general. Bradford score, a widely popular absence management method helps in reducing unplanned absences, giving better visibility into employee absence patterns.
Bradford score in Zoho People is highly customizable, ensuring complete control. Set your threshold scores, adjust levels for genuine absences, and identify critical trends at an earlier stage.

Leave Grant
Special time off requests like maternity or paternity leaves, and Covid that lie outside existing leave entitlements can be hard to manage and track without the right processes. Leave grant in Zoho People simplifies this process, enables a smooth approval flow and ensures special time off requests are tracked without any glitches.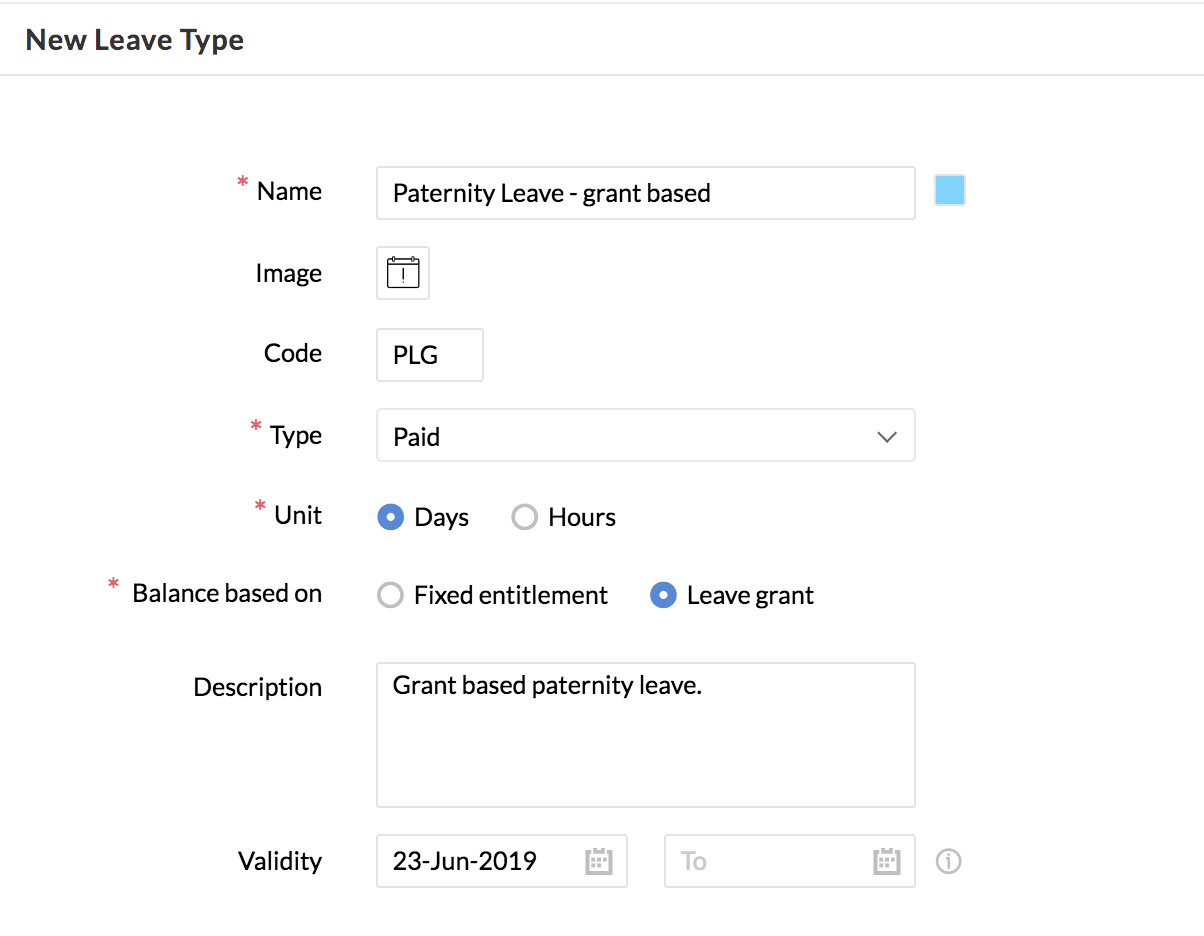 Track leave trends
Zoho People provides detailed reports on things like employee availability, payroll, and lost pay days. Access reports for employee leave records as well as daily and overall employee availability, so you can schedule accordingly.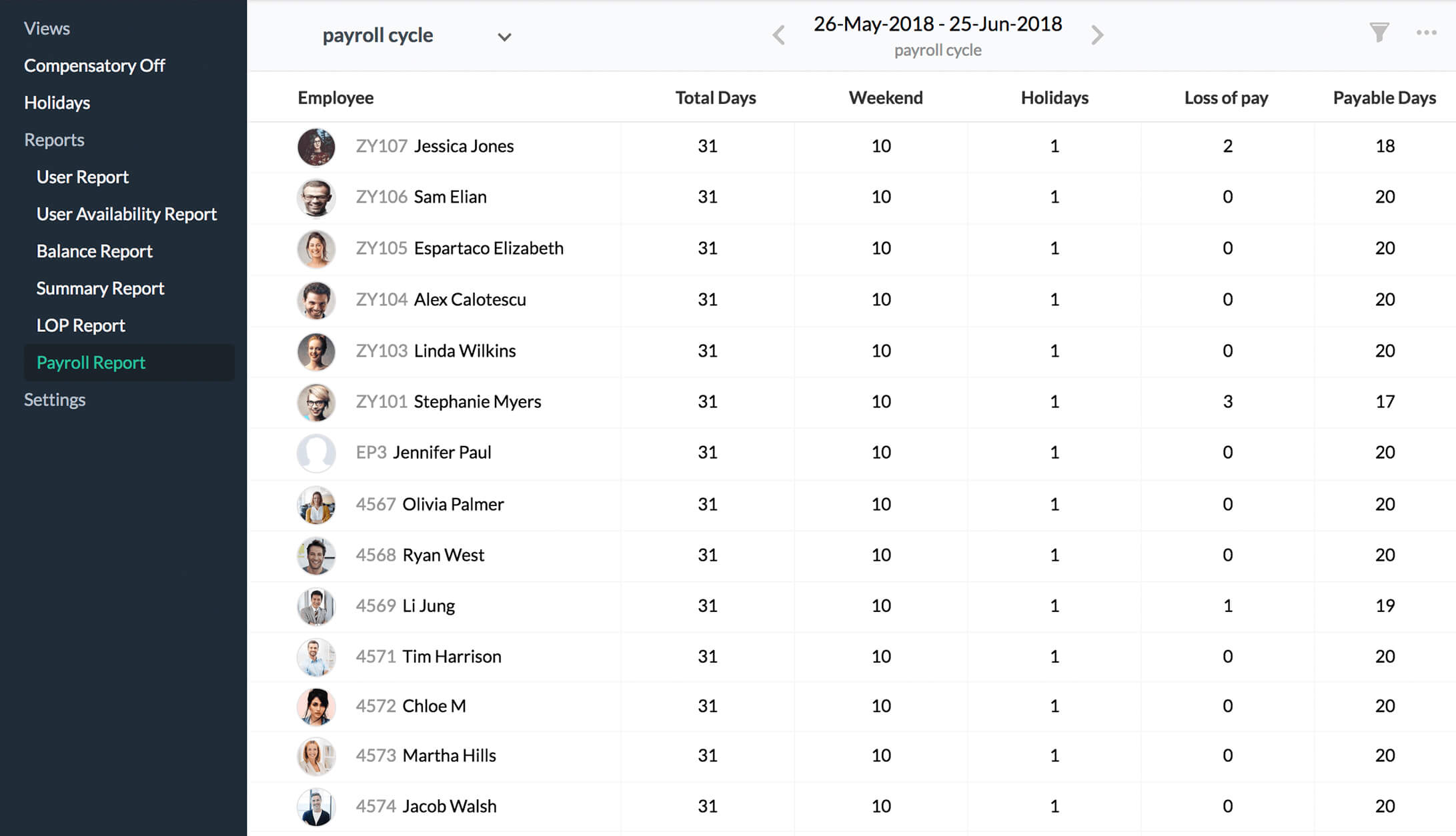 Configure leave settings
Zoho People's highly flexible settings give you complete control over your leave system. Decide whether to count holidays and weekends as leave days when employees take long vacations. Configure how leave days factor into your pay periods, and decide how compensatory time off is calculated.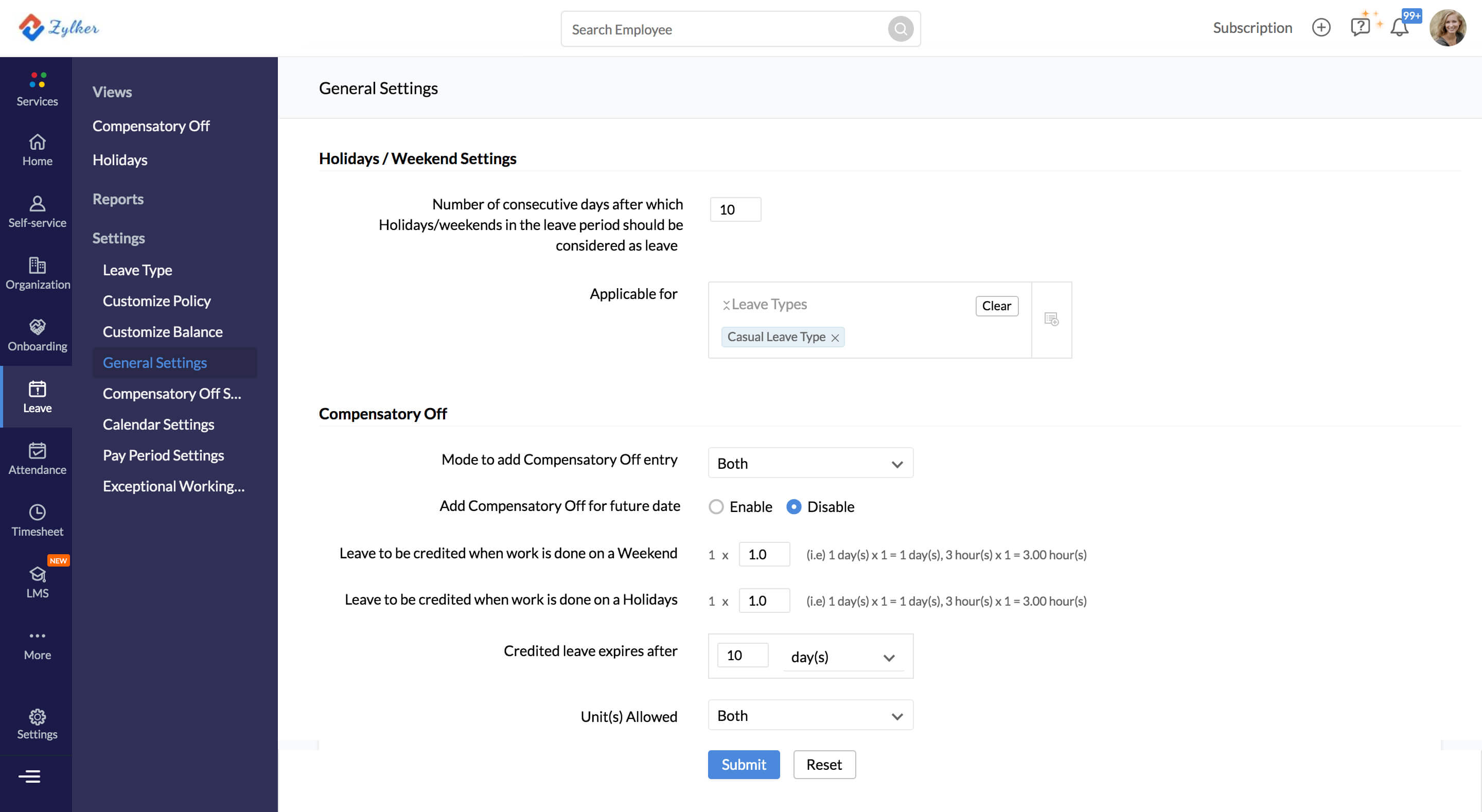 Time off management made simple.
30-day free trial. No credit card required. Sign up in seconds.
Get Started