A simple time off management tool your team will love
Time off tracking and calculations can be a hassle. Zoho People will set you free from the chaos of complicated systems and spreadsheets. Create PTO policies based on every location, set entitlements, manage holidays, and do much more! It's fast, efficient, and user-friendly.
Sign up for free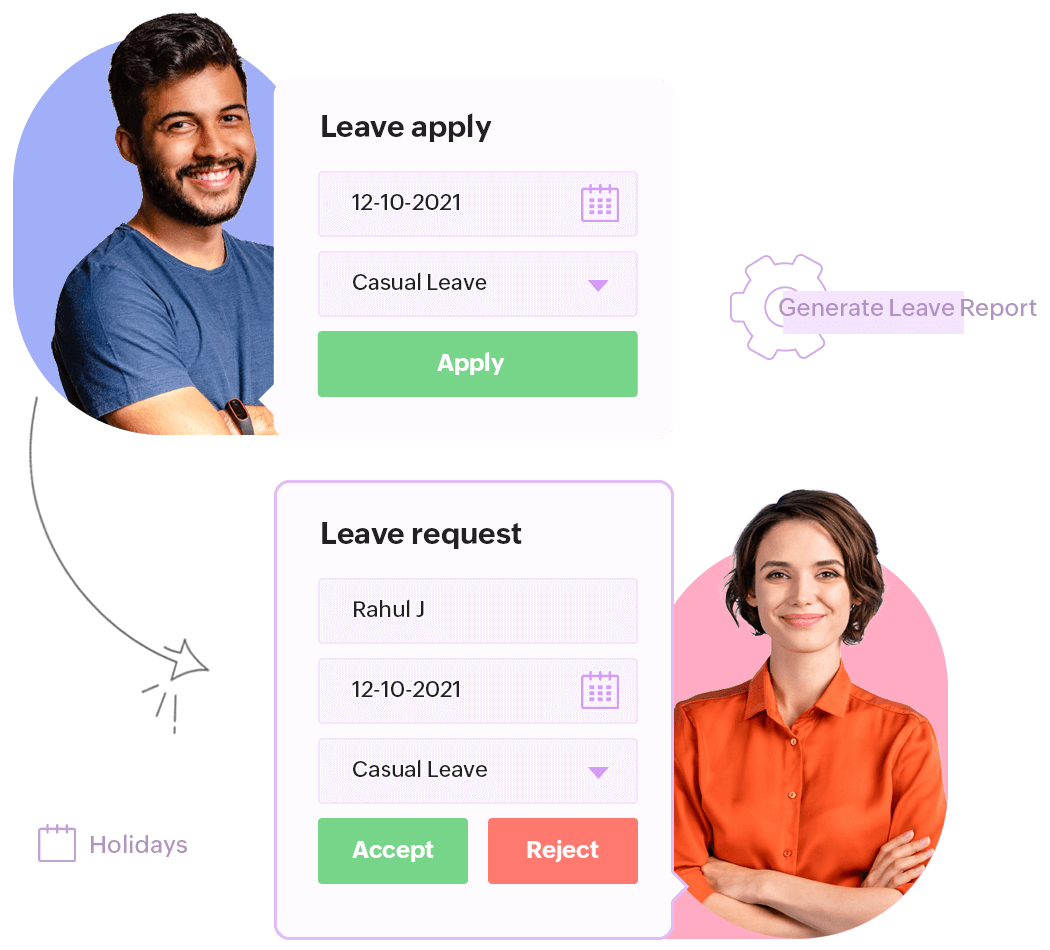 Leave policy compliance
Instant access to employee leave history
Mobile leave applications and approvals
Multi-location time off and holiday management
Manage time off the easy way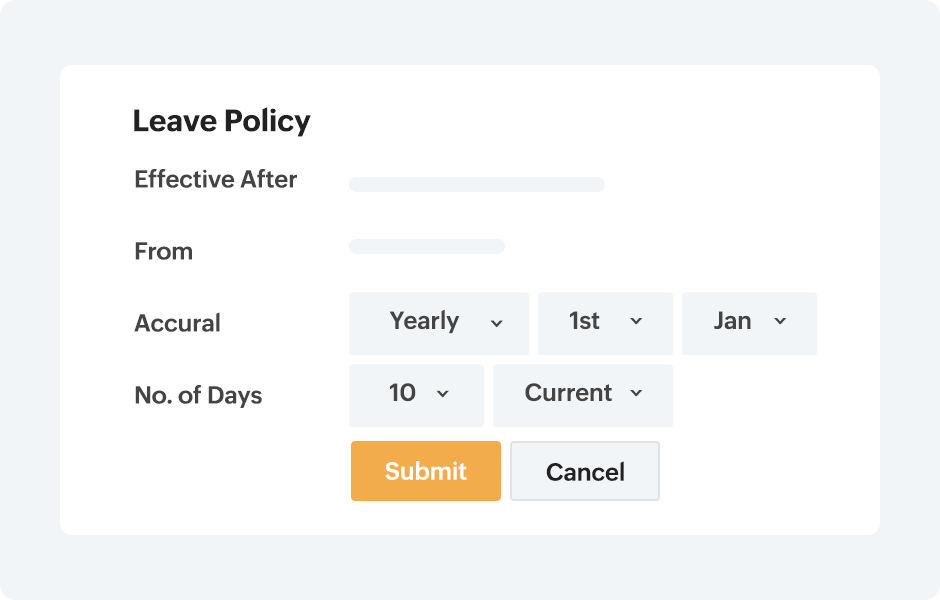 Truly customizable leave policies
Every organization has different requirements for time off depending on its culture, size, industry, legal guidelines, and more. With Zoho People, you can introduce new leave types and customize policies for particular locations, job roles, or departments. Zoho People can do exactly what you need, every time.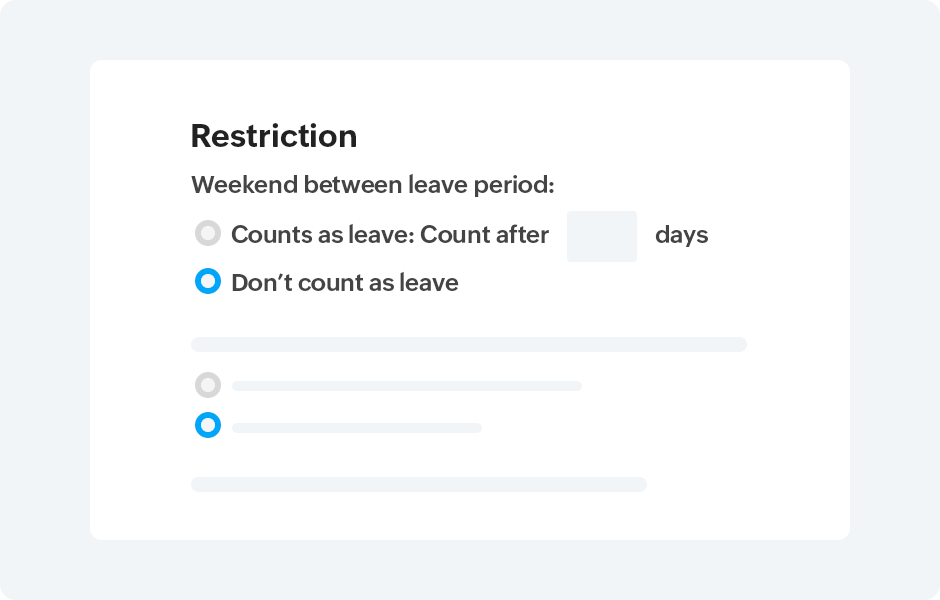 Time off management tailored to you
Zoho People's highly flexible settings give you complete control over your leave system. Decide whether to count holidays and weekends as days off, configure how days off factor into your pay periods, choose the duration of each leave type, and more!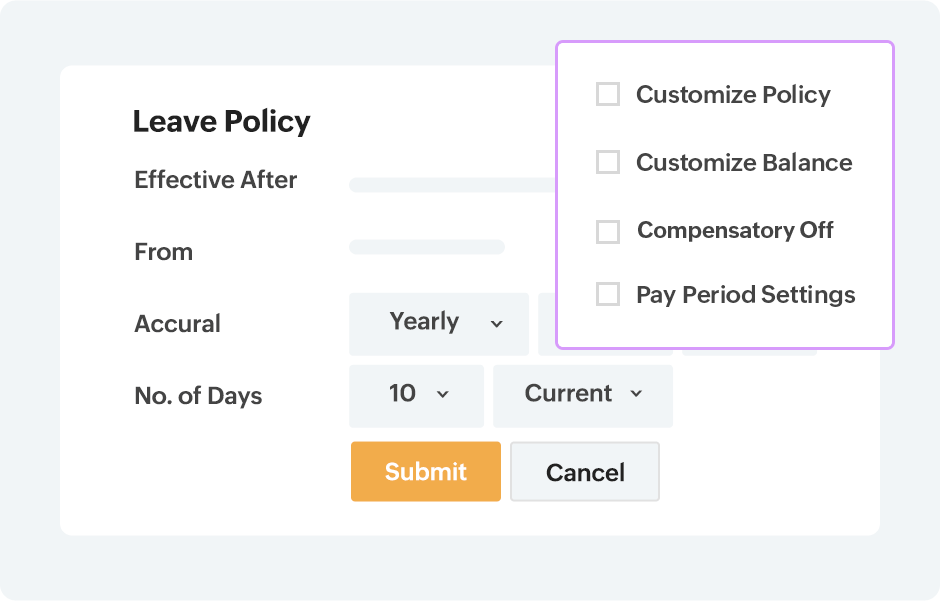 Take advantage of multiple policy options
Zoho People ensures you have an array of options for setting PTO policies. Configure multiple leave policies for a leave type based on how long an employee has been with your organization.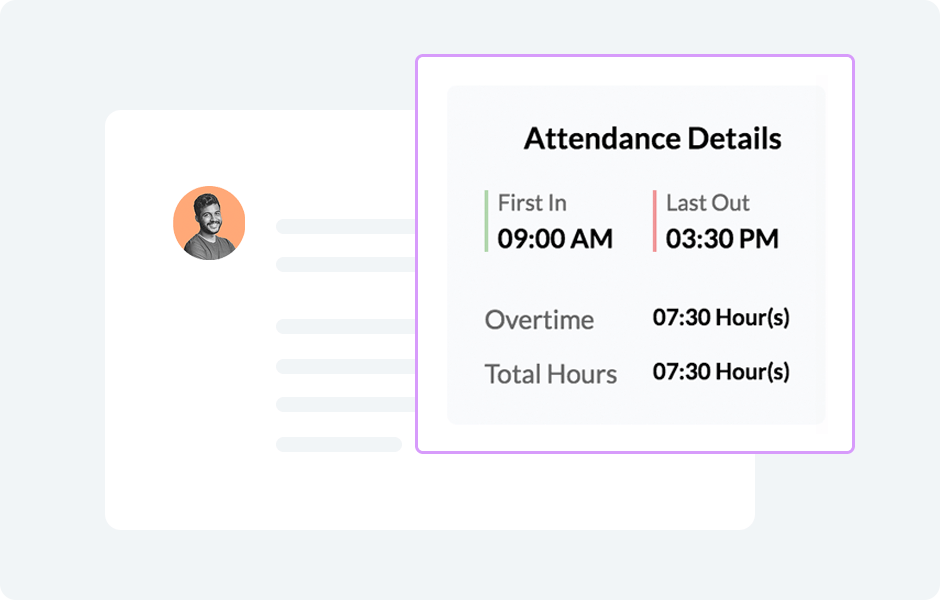 Compensatory off for better work-life balance
Ensure the employees who spend their free time finishing critical projects get compensated with a day off. Set up a simple approval workflow to validate compensatory PTO, and you're good to go!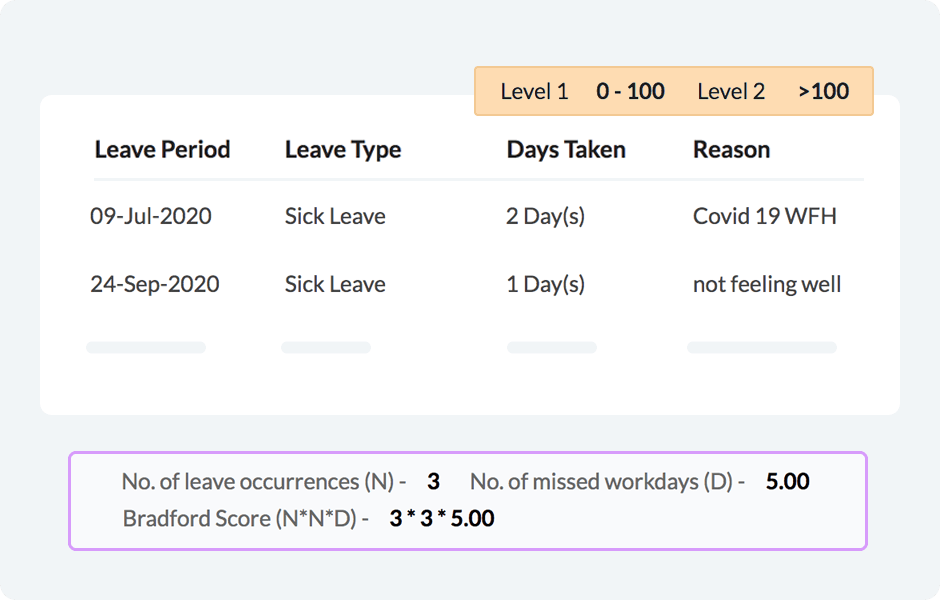 Manage absenteeism with the Bradford score
The Bradford score in Zoho People is highly customizable, which means better insights. Set your threshold scores, adjust levels for genuine absences, and identify critical trends at an earlier stage.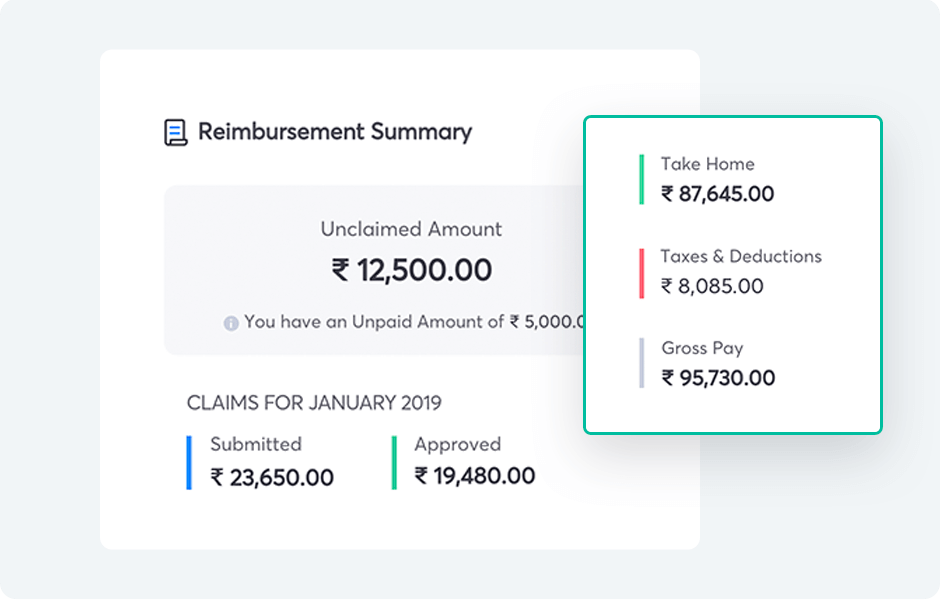 Create your holiday calendar
Define and manage your holidays based on every work location you have! Assign specific policies based on every region or shift.
Self-service for employees and managers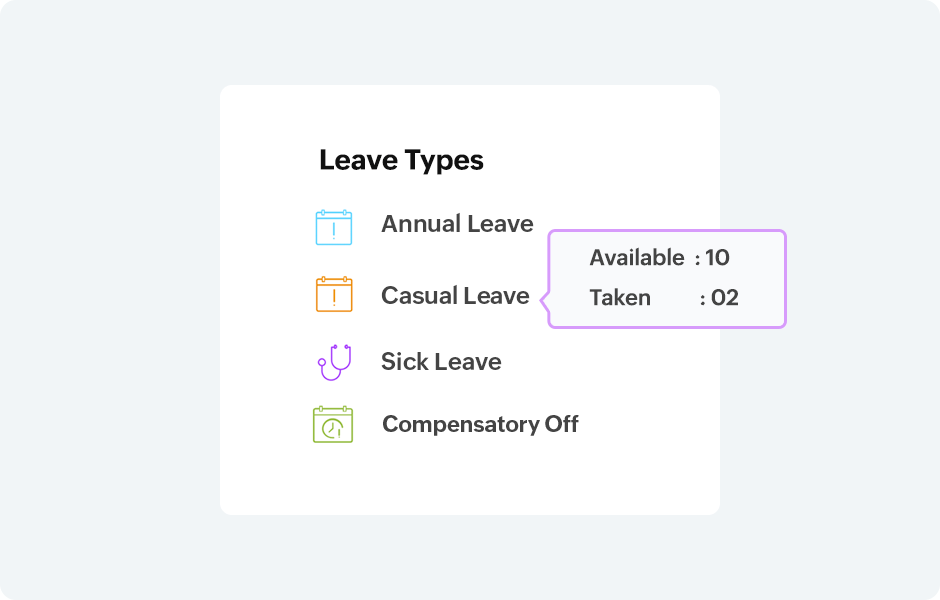 Time off dashboard
Our comprehensive dashboard gives a rundown of all the PTO that applies to employees, the days they've taken, and what's available. It'll also lists the future holidays and dates they've planned to take off and the ones that they can still claim.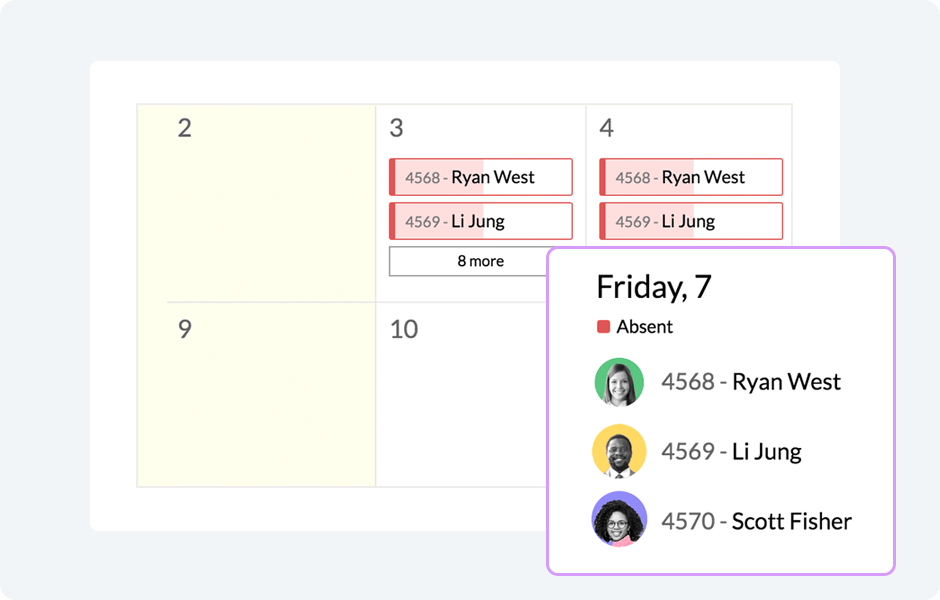 Time off calendar
The time off calendar informs managers about holidays and team members that are on leave, helping them check employee availability and better plan their work distribution.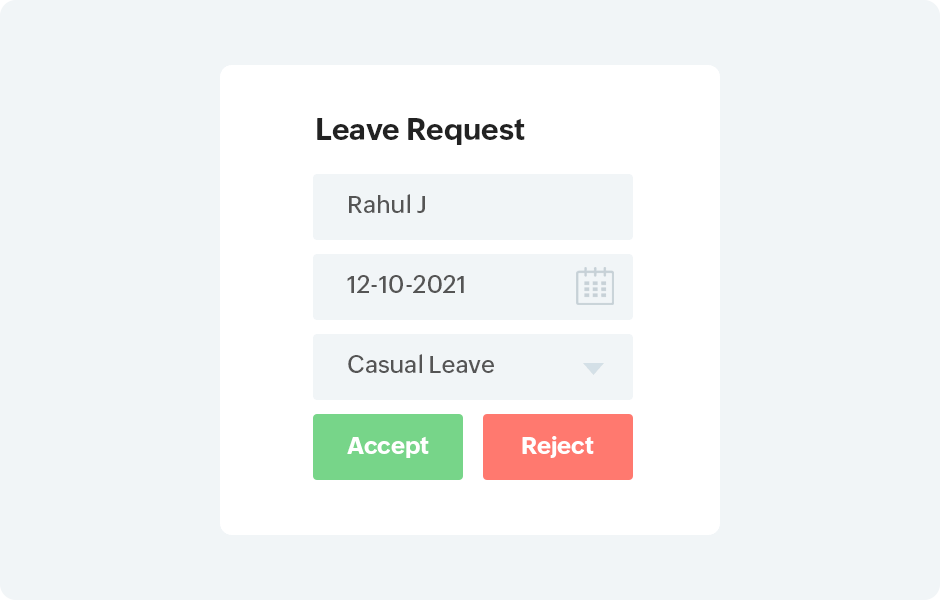 Leave requests and approvals
Employees can request days off from anywhere through the web or our mobile app. Input the specified dates, state the reason, and Zoho People will take care of the rest. Email and push notifications are sent to the respective manager for approval. It's that simple!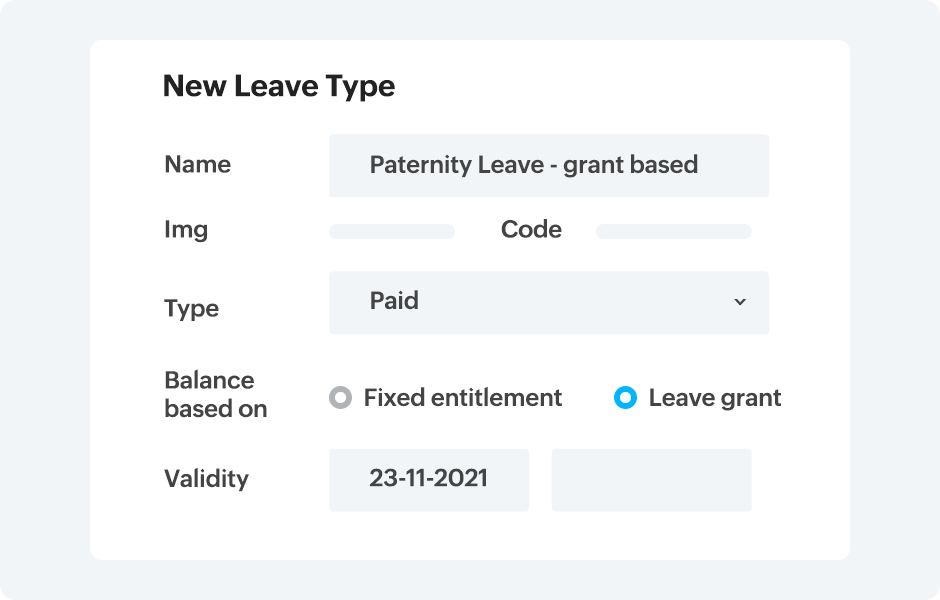 Leave Grant
Special time off requests like maternity or paternity leaves, and Covid that lie outside existing leave entitlements can be hard to manage and track without the right processes. Leave grant in Zoho People simplifies this process, enables a smooth approval flow and ensures special time off requests are tracked without any glitches.
Insights at your finger tips
The Bradford score, reduced pay pool data, and an overview of payable days are all critical for accurate payroll processing. Zoho People gives you access to this information right when you need it. You also get detailed reports on employee availability, daily reports and specific user-based reports. These reports come together in Zoho People to enable better planning for HR initiatives and scheduling.
Everything you need for effortless time off management
Sign up for free
30 day free trial. No credit card required.