Top 5 benefits of LMS for the IT Sector
Top 5 benefits of LMS for the IT Sector
Last Updated: August 11, 2020
2.1K Views
4 Min Read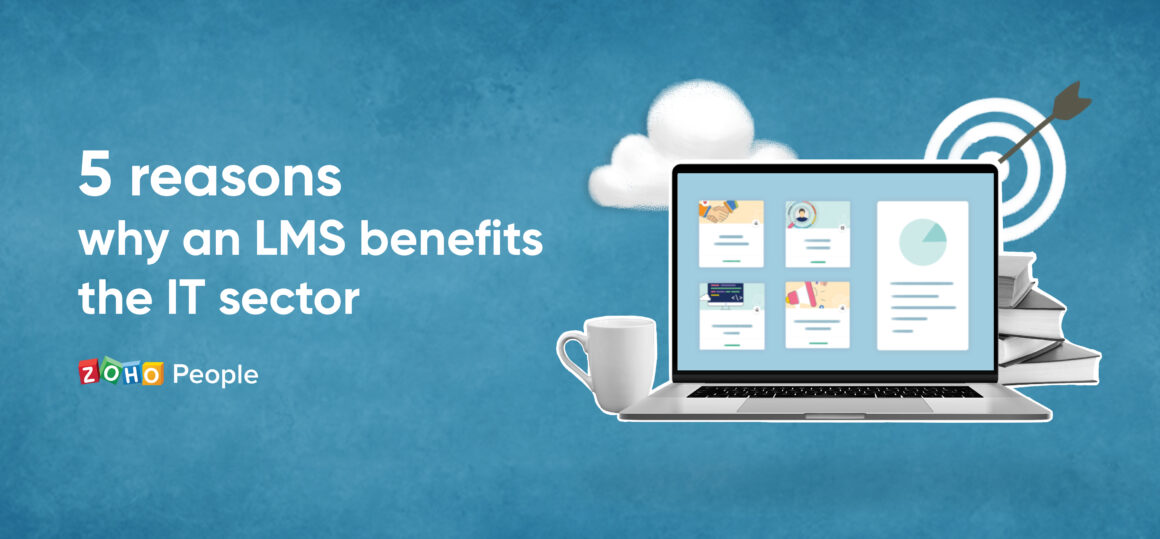 Millennial and Gen Z employees, who constitute more than 75% of today's workforce, expect their organizations to provide training and development opportunities. They see this as a way to gain more relevant skills for their role or industry and improve their professional development. Organizing employee training programs frequently also allows your organization to respond and adapt to industry changes quickly. It constantly improves the quality of work your employees deliver. This is very important for a vibrant sector like IT that offers a wide range of services. Continuous training and development opportunities enables IT employees to better cater to client needs and improve their satisfaction. Properly training employees also helps make your organization more resilient to the economic fluctuations that the IT sector often faces.
However, organizing training programs regularly can be overwhelming, especially with a large workforce. With a suitable Learning Management System (LMS), you don't have to stress about conducting training programs. It transforms the way training programs are managed and run and saves a lot of time for you and your employees. Here are some of the ways that an LMS facilitates training and development for the IT sector:
Supports different types of training
Employees in the IT sector often undergo different types of training, hitting topics such as role changes, new technology, privacy and security, and soft skills. With an LMS, any type of training can be created from scratch and made available to employees in just a few steps. You can provide training to the relevant audience based on their designation, role, years of experience, location, and more. All learning materials, including documents, PowerPoint presentations, URLs, videos, and podcasts, can be uploaded. Online sessions with course instructors can also be organized for more complicated topics. Overall, the LMS serves as a centralized hub for all the training that your organization could need.
Enables you to track learner progress
Tracking the progress of your employees and determining the effectiveness of a training program can be very difficult with in-person training. If your training program is not working, your employees may end up not gaining the required skills. On top of this, the money, time, and effort spent on the course may go to waste. This can be avoided much easier with an LMS. Reporting managers and course administrators can gain more clarity over completed courses, ongoing courses, and the progress of each of their employees from a single tab. Detailed reports that indicate the learning trends of your organization can be generated in just a few minutes.
Makes training cost-effective
Conducting in-person training programs regularly can be very expensive both in terms of money and time. Your employees have to take a substantial amount of time away from work, and you may have to rent a separate learning space or conduct a course in multiple batches if a large number of employees have to be trained. With an LMS, all these additional costs can be prevented. Multiple employees can be trained at once as everything is online. Employees can be evaluated with online tests, which saves time and cost on materials. Selecting the right LMS can bring a good ROI for your organization.
Provides a tech-enabled learning experience
Employees belonging to the IT sector are tech-savvy and keep themselves updated with the latest updates in technology. Having technology-enabled learning programs can motivate your employees to participate in them regularly. Your employees can take up courses no matter where they are whenever it's suitable for them because an LMS supports mobile learning. They can refer to the learning materials online whenever necessary. An LMS also facilitates constructive discussions between fellow learners and course instructors through an online forum. The interactive virtual classroom, which connects learners instantly, is another major highlight. Having this kind of learning system makes the learning process easier for employees and makes them feel valued.
Improves employee satisfaction
Employee satisfaction is one of critical factors that influences your organization's overall productivity and bottom line. Learning and development is a great way to keep your employees satisfied, happy, and productive. Using an LMS gives your organization an extra edge. Employees can provide their feedback about the course and course instructors. This allows you to modify the course in a way that is suitable and useful to your employees. Also, as an LMS supports both blended and self-paced learning styles, your employees can choose the learning style that is most appropriate to them.
Final words
IT companies need to keep pace with rapid industry fluctuations. Having a comprehensive LMS streamlines training and development and allows employees to train even while they are working remotely.
Zoho People's Learning Management System is a powerful corporate training tool that simplifies and automates every aspect of employee training and development. It provides a seamless e-learning experience by catering to the learning needs of your organization. Learn more about Zoho People's LMS here.
Also read: 5 features to look for in your next LMS
Tarika

Content Specialist at Zoho People
Leave a Reply
Your email address will not be published. Required fields are marked