Tips to build a healthy remote work culture
Tips to build a healthy remote work culture
Last Updated: December 11, 2023
4.0K Views
4 Min Read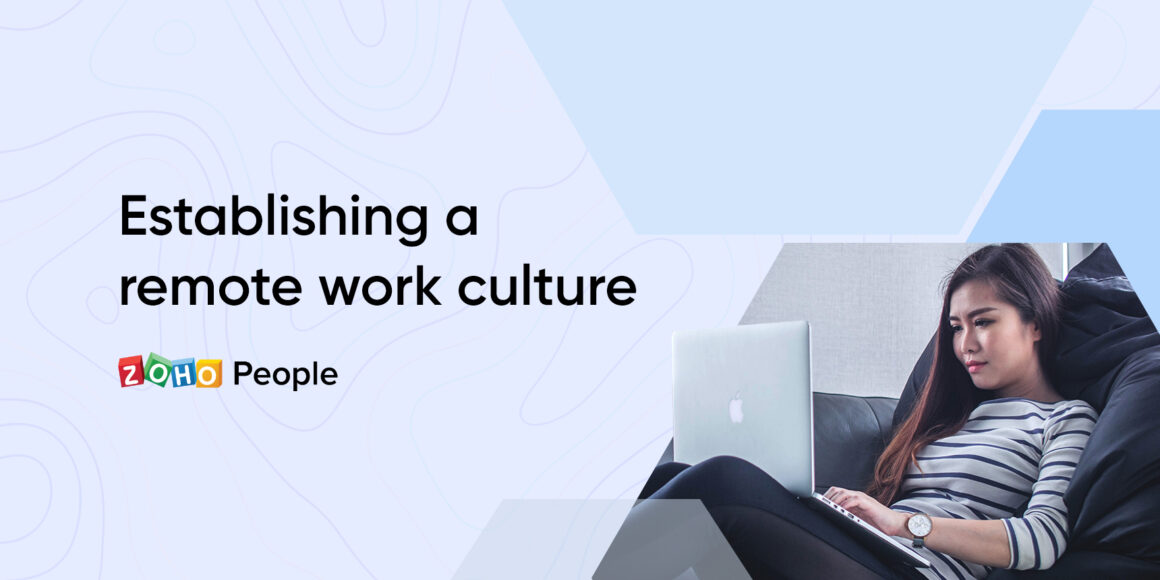 In the past two months, several organizations have embraced remote work to help slow the spread of COVID-19. While employees work remotely, your organization's work culture shouldn't be ignored. Don't compromise your company's core values because of remote working. Maintaining a consistent and healthy remote work culture is necessary for your employees to stay engaged, happy, and productive. Aspects like management, leadership, technology, employee behavior, and more impact work culture. Fostering a healthy work culture among remote teams can be challenging, but with the right adjustments and measures, you can build a great culture that your remote employees will love. Here are some tips to help you get started:
Foster trust and transparency
Trust and transparency are the two major pillars of a healthy remote team culture. However, there is a high chance of unknowingly withholding important information due to the lack of face-to-face interactions. With everyone working from a distance, it might take more conscious effort to build trust and improve transparency among your teams. Ensure that every person in the team is aware of what's going on in the company. Encourage managers to focus on their employees' output rather than overcompensating for the distance by micromanaging them. Just like in an office environment, everyone should be able to talk about their achievements and mistakes without any fear, and employees should be included in the decision-making process.
Prioritize communication and collaboration
Proper communication among employees goes a long way in building a positive remote work environment. How information is shared among your employees is an important part of the remote team culture. It's important to streamline how employees interact. Having an internal chat system is a great way to facilitate transparent and efficient communication. This is much easier than making phone calls and sending emails back and forth. Organizing a video conference at least once a week helps employees to feel connected. You can also create an internal social media platform to help employees discuss relevant topics. All these tools will help prevent the feeling of isolation.
When used correctly, technology can help in creating a productive and healthy remote work environment. The right tech tools will enable employees to organize and complete their work tasks effectively. If your business is moving to remote work, it is your responsibility to ensure employees have access to the technology they need. Virtual Private Networks (VPNs), firewalls, project management tools, time trackers, and e-learning platforms are some most essential tools for remote workers.
Without fun activities, your employees will start to feel disconnected, which will hinder their productivity and morale. Having fun together virtually should be a regular part of your remote work culture. This will help employees connect and socialize in a more informal and comfortable environment. Employees will also be able to build and maintain a better rapport with their peers by participating in such fun activities. This will develop a successful culture of trust and teamwork among employees. If you need ideas, check out our list of six virtual team building activities for your remote teams.
Due to the lack of face-to-face interactions, you may forget to recognize and appreciate your employees' hard work. Managers must keep track of different projects that employees are working on. Recognizing your employees' work even when they are not in the office makes them feel valued, and this is one of the easiest ways to keep your workforce motivated. Make conscious efforts to thank employees whenever their work makes a difference to your organization. Use internal group chats to appreciate employees publicly. This will improve their satisfaction, morale, and productivity.
Your employees need to be aware of your remote team culture before they begin working from home. Help them understand your remote work culture and how it aligns with the organization's vision, mission, and strategy. This way, your employees will also be able to work in line with your company culture. Create a document that clearly states your company culture, and ensure that your employees read it. Stick to the remote work culture values that you outlined, and lead by example. Your employees won't work according to your corporate culture and vision if you don't follow it yourself.
As many organizations are shifting to remote work, it's important to establish a remote work culture that keeps employees happy, engaged, and motivated. Building trust and communication, implementing the right team activities and tech tools, and recognizing employee efforts will go a long way toward maintaining the success of your remote teams. Furthermore, a healthy and productive work culture will make weathering the current crisis that much easier, and remote work won't seem so challenging later on should your company need to adopt it again.
With Zoho People, our HRMS, healthy remote work culture can be developed easily and effectively. It keeps employees engaged and productive, even while working remotely. It's a one-stop solution to improve communication, collaboration, transparency, accountability, recognition and much more. Click here to know more.
Also see:Tips to provide an exceptional working experience to your remote employees
Tarika

Content Specialist at Zoho People
Leave a Reply
Your email address will not be published. Required fields are marked