Tips for creating learning and development programs for SMBs
Tips for creating learning and development programs for SMBs
Last Updated: August 25, 2020
3.6K Views
4 Min Read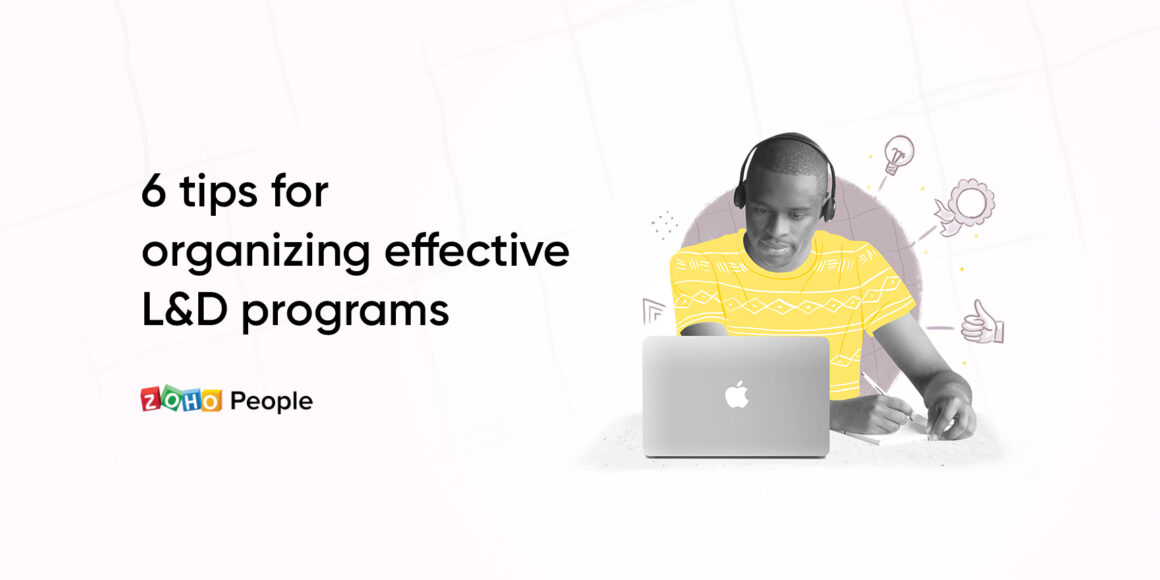 Learning and development programs are essential for small and medium-sized businesses (SMBs) now more than ever. Employees in SMBs have to update their skills regularly to keep up with market trends and grow their organization. According to a report released by IBM, investing in learning and development programs improves organizational productivity by 10%. This productivity boost is vital for SMBs to expand their innovative capacity and carve a niche for themselves in their respective industries. If that wasn't enough of a reason, millennial and Gen Z employees prefer to stay in an organization where there are opportunities for professional growth.
So L&D can not only improve the productivity and creative power of your workforce, but it also helps to keep your employees motivated and happy at your organization. However, creating random learning programs without a direction will not help. To benefit the most from your L&D strategy, it should align with your larger organizational goals. Here are some tips to help you get started:
Assess your organization's training needs
Aimlessly conducting learning programs could result in developing irrelevant courses that your employees will be less motivated to engage with. Don't waste money on learning programs that might not work. Instead, try doing a skill gap analysis to align your learning program with your long-term business goals. This will reveal what training your employees need to improve performance and work effectively toward those milestones. Not sure where to start? Read our step-by-step guide to skill gap analyses. Once you've narrowed down your topics, check in with your employees to be sure you're on the right track.
Define your learning goals
Learning goals help you to understand what you wish to achieve from your learning and development programs. This will steer the learning program in the right direction and help you assess if the learning program has been useful to your organization. These learning goals should be realistic, meaningful, and time-bound. For instance, if you wish to provide software training, the learning goal might be to ensure employees are proficient in the software within three months. Once you set the goals for your training, don't forget to communicate them to your employees. This helps them to understand what is expected from them during and after the training.
Take advantage of e-learning technology
Using e-learning technology to level up your training programs is wise, especially now that remote work is becoming more prevalent. Traditional classroom training will not be effective when your workforce is dispersed. A Learning Management System (LMS) centralizes learning by hosting courses online. All learning materials can be uploaded to the cloud for employee reference. An LMS supports blended learning, so your employees can learn difficult topics from a tutor and easier topics on their own. For instructor-led training, virtual classes can be conducted to connect your dispersed workforce, but self-paced courses can be created as well.
When employees are given control of their training, they will be more active and engaged in the learning program. Try to avoid micromanaging. Communicate the timeline in which they are expected to complete the training, and enable learners to train whenever they're free. This will make them more attentive and improve knowledge retention. Create learning materials that are engaging and easy to digest. Provide mobile learning facilities so that learners can have access to these materials 24/7. Make communication between the learners and tutors (if any) as seamless as possible. These small improvements will go a long was toward providing the best learning experience to your employees.
Measure the impact on performance
Considering the amount of time, money, and effort spent on learning programs, you'll want to make sure you're achieving the desired results. Some of the common factors that are measured after training include employee performance, retention, engagement, growth or decrease in the bottom line, growth rate, customer service, teamwork, time management, and more. Encourage your employees to put what they've learned into action. This way, you'll be able to understand if your learning program has been successful or not. Your employees will be motivated to take up more courses if they can see that the training works. If it's not working, you can analyze what went wrong to improve future courses.
Also read: 5 training reports every organization need to track
Gaining feedback from your learners allows your organization to adjust the program according to learner needs. In turn, this further engages learners and motivates them to complete courses faster. Make it a point to gain feedback from all the learners once the training is over. Surveys, one-on-one meetings, and focus groups are just some of the many ways to gain feedback. Go for anonymous surveys if you think your employees will be hesitant to provide honest feedback during in-person meetings. Be sure to address any concerns and implement the feedback in your training.
Training and development programs are highly essential for SMBs to stay competitive in their respective industries and improve their bottom lines. Having a trained workforce will improve employee retention, productivity, engagement, performance, appreciation, and more.
Zoho People's Learning Management System can help your business by automating and simplifying learning and development. All courses can be made available to employees online and employees can learn from anywhere they are. Learn more about what Zoho People's LMS has to offer for your organization.
Tarika

Content Specialist at Zoho People
Leave a Reply
Your email address will not be published. Required fields are marked