Employee wellness programs: Creating the right one for your organization
Employee wellness programs: Creating the right one for your organization
Last Updated: March 13, 2020
3.0K Views
4 Min Read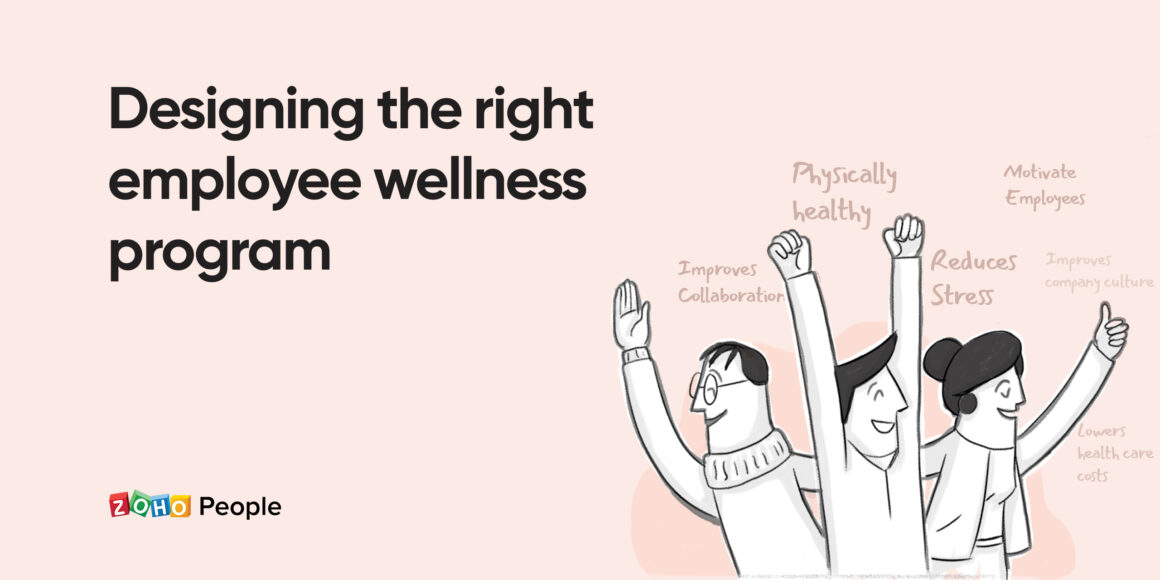 Today, stress and anxiety among employees are high, especially among younger workers. Erratic work patterns, heavy workloads, long working hours, lack of proper sleep, career concerns, and more are all increasing employee stress and hindering productivity. This is why it's necessary to introduce wellness programs to help your employees lead healthy and stress-free lifestyles. According to research done by Statista, 83% of organizations believe that wellness programs have a positive impact on their employees' health and well-being, and 84% of organizations believe that wellness programs increase the productivity and performance of their employees.
Why employee wellness programs?
Employee wellness programs benefit both employees and employers. The following are some of the key advantages of employee wellness programs:
Helps employees build habits for staying physically healthy

Reduces employee anxiety and stress
Getting the most out of these benefits depends on how well the program you implement suits your organization and workforce. Here are some tips to create effective and engaging workplace wellness programs for your employees.
Assess the current state of your employees
Employee wellness programs work well only when they suit the needs of your people. Before even planning to implement a wellness program, gather information about the health of your employees. Conduct surveys to obtain information and feedback. Organize health checkups because your employees may not even be aware of their health conditions. Taking these introductory measures will help you to personalize any wellness programs according to the needs of your employees. If your organization has several employees, it may be difficult for you to cater to the different preferences of each one with a single program. If this is the case, suggest a list of wellness programs and select the one that gets the highest number of votes. You can also try to implement more than one program if you have the resources and budget to do so.
Plan well and set goals for the program
An employee wellness program is a huge investment, so good planning is essential. Employees should be able to make the most out of the programs you offer. For this, you'll need a proper plan to outline the design, budget, vision, goals, and objectives of the program. Strong, achievable goals are the most important to have. Without goals, you won't be able to evaluate if your wellness program is effective or not. Some common goals of employee wellness programs include:
1. Improving the overall health and lifestyle of employees by next year
2. Reducing unscheduled absenteeism and improving employee retention
3. Decreasing the number of employees who smoke regularly
4. Increasing employee productivity by "X"% .
Endorse the benefits of the wellness program
Not all employees will be willing to join the wellness programs. They may look at them as extra work. Some employees may also be hesitant to give up the unhealthy habits that they are dependent on, and you should understand the fact that changing lifestyles immediately is not easy. Give your employees some time to adapt to the change. Do your part to spread awareness about the benefits of wellness programs. Tell them what they will get out of participating, and it will better motivate your employees to attend.
Introduce an element of gamification
Gamification can take your wellness programs to the next level. It increases employee engagement and motivates your employees to participate. Friendly competitions can make the wellness programs more interesting and help employees to take responsibility over their health and progress. Giving points for achieving goals or implementing a leveling structure makes the program more like a game rather than an activity. Use technology to help employees monitor their progress and see what they have achieved.
Provide better incentives to your employees
The right incentives can help your employees to give up unhealthy habits and change their lifestyle. Employees tend to participate better when they are rewarded for their behavior. Certificates, discounts, offers, gym and yoga memberships, gifts, etc. are some of the common incentives given for attending wellness programs.
It's important to evaluate your employee wellness programs every now and then to ensure that your employees are consistently being benefited. Send out surveys, requesting feedback on how your employees like the program and what can be improved. This input can help your employees to become healthier and work well. You can then observe how the lifestyle of your employees becomes better over time.
Employee wellness programs are a great way to improve the mental well-being of your employees and help them adopt better habits. When they are healthy both mentally and physically, they will be able to be more productive at work. In turn, this increases your organization's bottom line. We hope this information helps you implement employee wellness programs that suit your organization's specific needs so you can build and maintain a healthy culture for your workers.
Also read:Everything you need to know about employee financial well-being
Tarika

Content Specialist at Zoho People
Leave a Reply
Your email address will not be published. Required fields are marked