A guide to using cases in Zoho People
A guide to using cases in Zoho People
Last Updated: December 16, 2019
2.6K Views
5 Min Read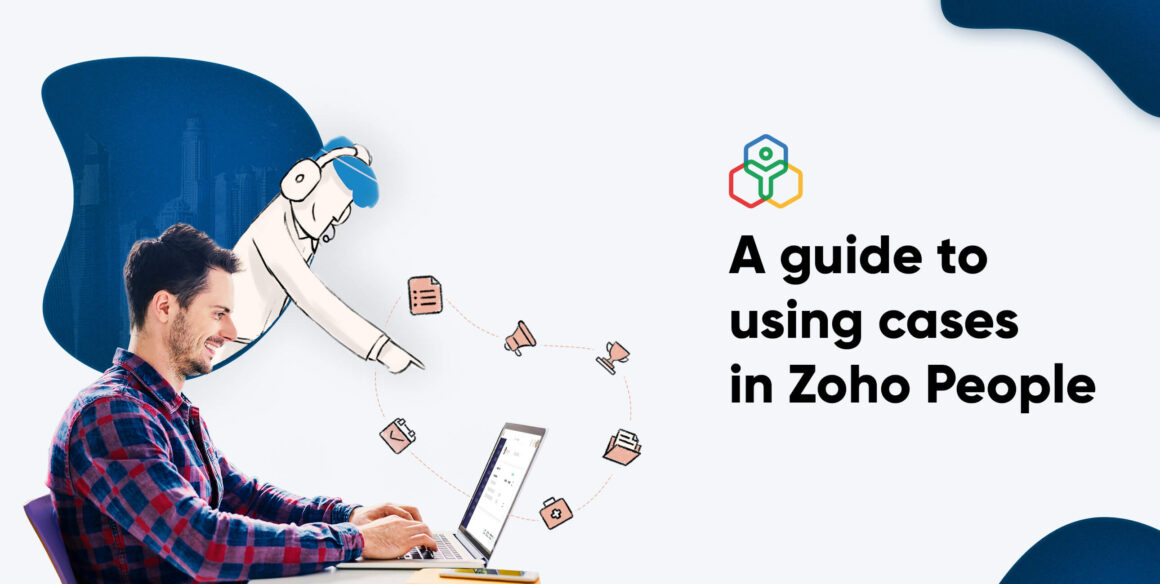 If you've been working in the same office for quite some time, you'll probably know which HR staff to contact when you have a question or where to look for a particular person or document. This familiarity comes with time. However, what about new employees or people without years of institutional knowledge?
Delivering quality HR service depends on multiple aspects: employee satisfaction, processes, engagement, and productivity. One way to look at the nuances of these aspects of good HR service delivery is query handling.
A study by HR Daily Advisor discovered that 73% of organizations are handling employee queries, problems, and grievances through paper or through conventional methods like emails, one-on-one meetings, and phone calls. While tweaking your IT case management tool or customer help desk might seem like the best alternative, that won't solve the problem entirely.
Six cues that tell you your employee query handling system is dysfunctional
Your employees are not sure whom to contact for a particular query
You're not sure how many cases are handled by each member of the HR staff.
You're unable to track the status of each case
You're not able to categorize queries and respond quickly
You're receiving similar questions on the same topic
Cases are being resolved slowly.
Tracking down answers even for the simplest of questions or keeping track of all the questions asked becomes an exasperating task in itself, slowing down service. The multitude of email exchanges, calls diverted, or repeated follow-ups makes your HR team less productive and employees more frustrated.
What do you need instead?
Whether your organization has five employees or five hundred, employee questions come in all shapes and sizes. From leave to payroll, benefits to performance, travel to onboarding, the list never seems to end. To handle them efficiently, you need a centralized, cohesive system, a case management system.
What is HR case management?
HR case management is a process that lets you track and document your employees' problems and queries, ensure the service provided is consistent and prompt, maintain compliance, and store all records in one central location. This will alleviate the confusion and burden of your HR team, making sure they give your employees the best service experience right from their desks.
Why case management within your HRMS?
Employee concerns are not just aimed at the HR department. The finance, payroll, and administration teams receive their attention as well. When you have a system that effortlessly syncs the services you provide with a direct line of communication between employees and HR agents in a single place, it lightens the workload of both your HR staff and your employees.
Now that we have a better understanding of case management, let's get into the workings of Cases in Zoho People.
Using cases in Zoho People
Configuring your case management system
Create categories to classify questions
Your services to employees are varied, and questions can arise in any of them. What you don't want to see is one random list of questions on a variety of topics. Create different categories for all the services you offer to your workforce, so employees know the right place to post their questions and you, as an admin, will also be sure about the inflow in every category.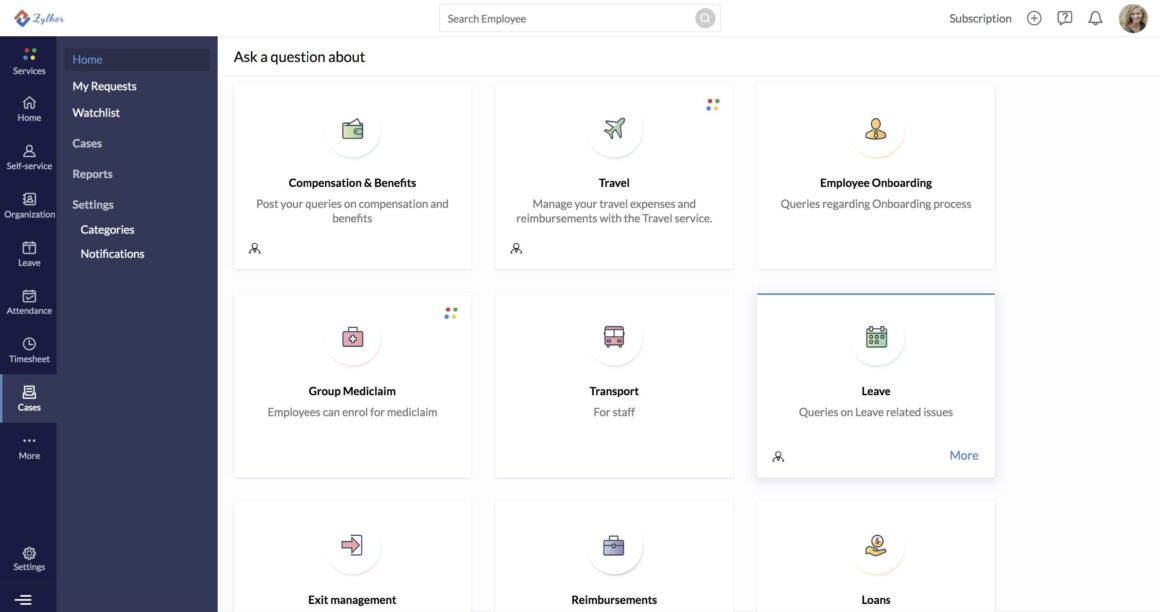 Assign agents
It's important that you use your resources efficiently. Assign a dedicated member who is proficient in that particular category so that cases are resolved quickly and decisions are made without confusion.
Did you know? Zoho People allows you to add more than one person as the agent to a category. You can create a group with the best-suited members and add that group as the agent.
Tailor to your location
Take for example, leave management: Leave policies differ based on the location of your office, and so do the questions. In that case, you can create location-specific categories and assign agents who are well aware of that particular region's policies and compliance.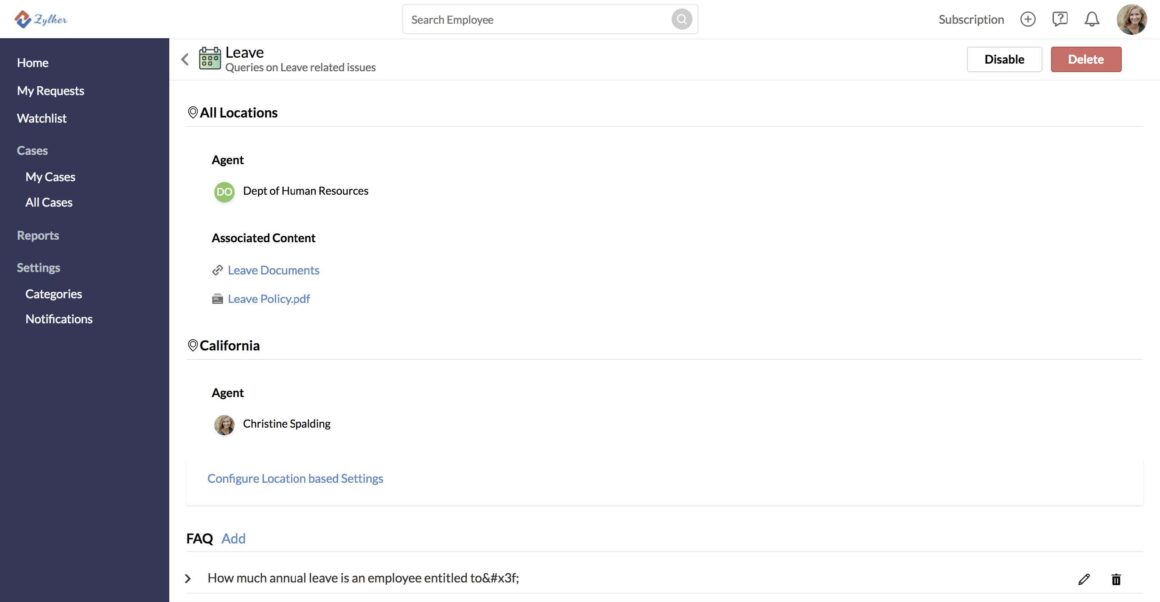 Build a knowledge base
Imagine an agent answering ten similar questions, ten times a day—exhausting, right? Simple questions should be answered by people themselves. That's why Zoho People lets you build a knowledge base with FAQs, essential documents, and policies that your workforce should be aware of. This ensures a transparent and positive culture, so you can know that everyone in your organization is on the same page.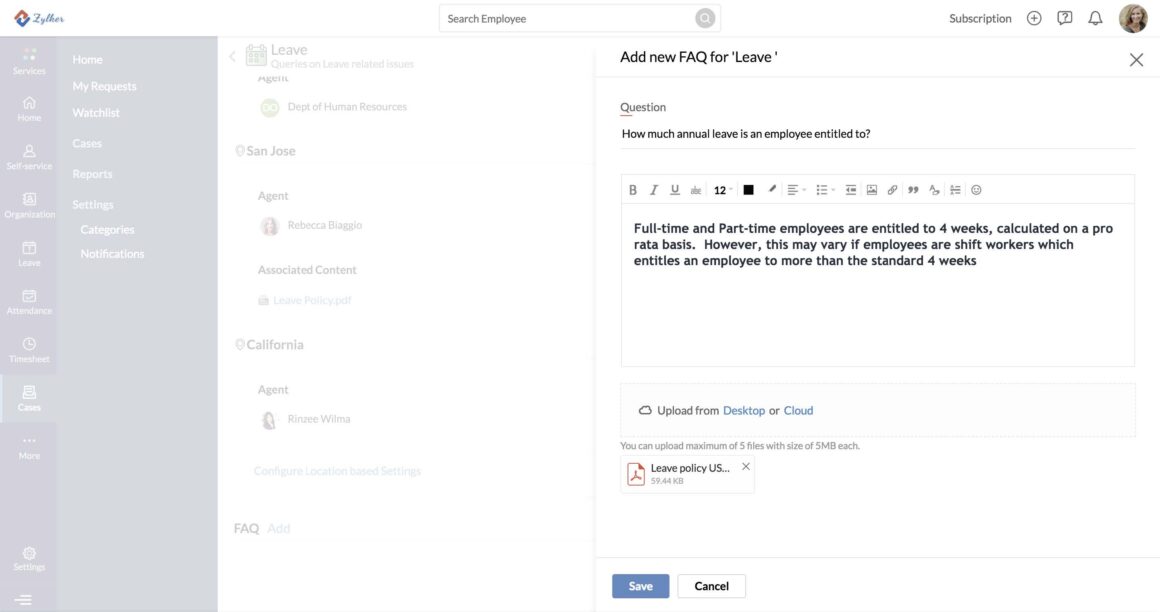 Now that we've seen the different aspects in configuring a case management solution, let's get into the details of solving a case.
Resolving a case: The agent and the requester
Notifications are automatically routed to the respective agent and employee at every stage of resolving a case. Also, the status of every case can be tracked with ease.
Tip: You can reply to comments or change the status right from within feeds, the collaboration space within Zoho People or in the notification center itself.
Though HR agents generally prefer emails or one-on-one chats over any other means of communication, it becomes a little too overwhelming when your inbox is bombarded with multiple queries and it becomes time-consuming to meet every employee. What if you had a system where there are no emails involved and yet you're able to solve employee queries efficiently? Zoho People can do that for you.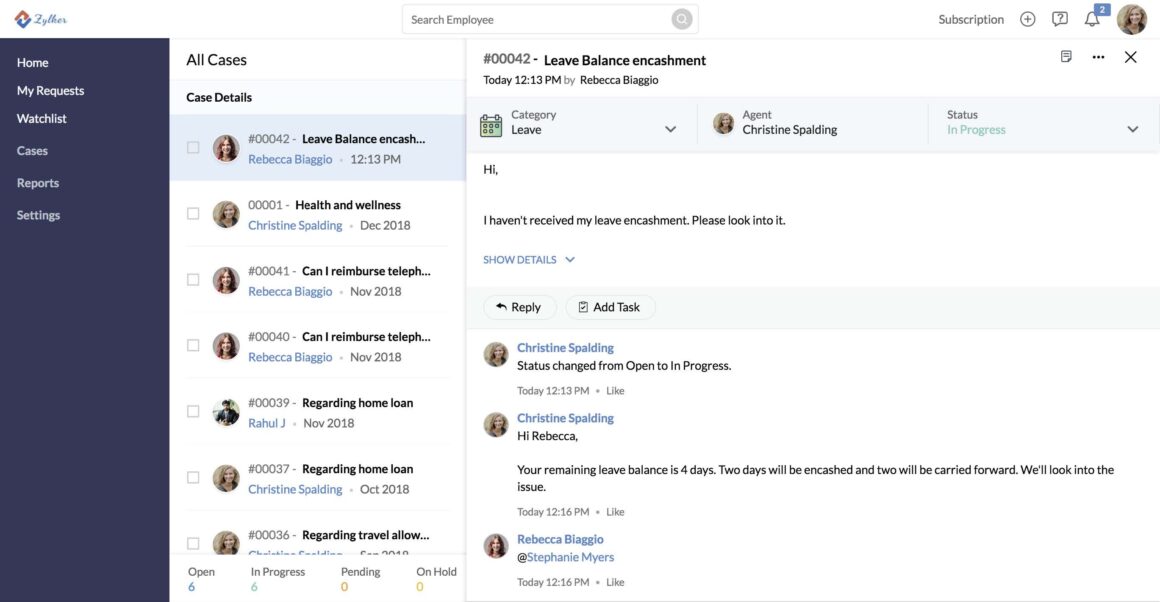 Agents and employees can interact better by using comments, without back and forth emails—more like our modern social media interactions. To ensure a strong shield of privacy, the interaction in every case stays only between the employee and the agent.
If an employee feels that someone else should be in the know about the issue, they can just @mention that person, and from that moment that person will be added to the watch list.
Assign tasks and get work done!
When you find that there's a glitch in her benefits statement. Now that you require your finance team's help to have the case resolved, assign a task to that individual from within the case itself.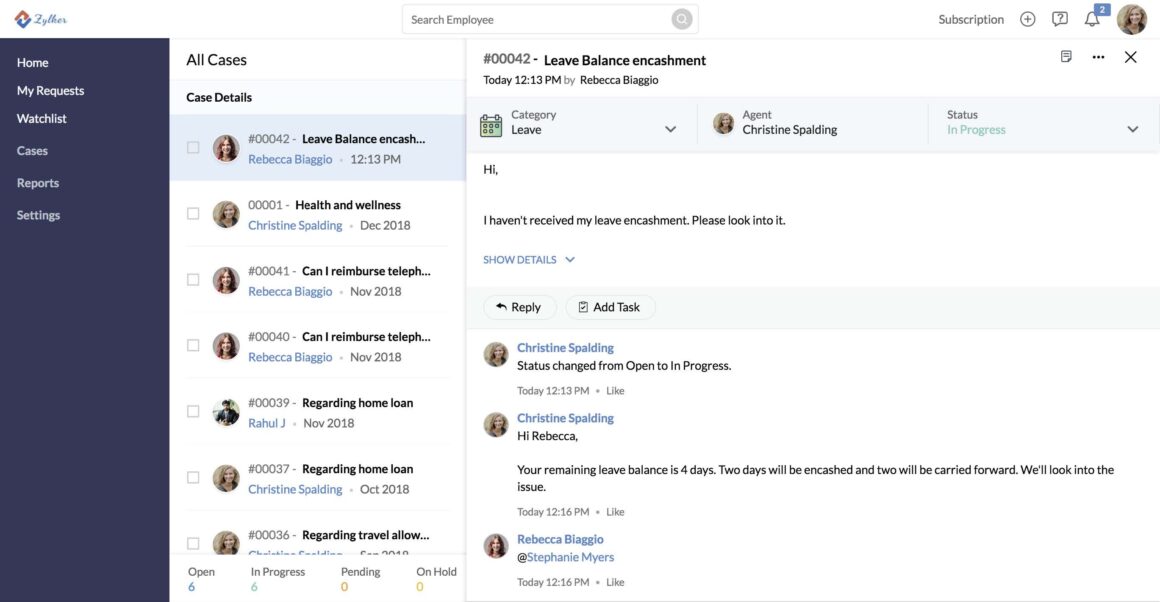 Get real-time insights into case activities
Case management doesn't just stop with resolving employee questions. Using the same data to derive insights takes you a step further in delivering better HR service. It helps you identify potential areas of improvement. Cases in Zoho People lets you get an overall view of the number of cases and their status, across and within categories and also a requested vs closed report. This data helps you figure out which issues need immediate attention and take the required action.
Identify trends and patterns
It also helps you identify trends and patterns in the inflow of queries; peak time for particular categories, the average time to resolve a case, or the frequency of questions in every category. Such insights will help you re-examine your policies or improve your processes and suggest appropriate ways to provide better services to your employees.
Building a positive work culture is key. When employees know that their problems are heard and answered, it reflects your company's values and reinforces how much it values its employees. While query management boils down to the human element, drawing attention to employee relations, software will only help make the process better.
Get the advantage of a complete HRMS
If you're an organization looking to enhance your HR operations and manage your workforce better with technology, then be sure that Zoho People can always help. Having been serving the HR community for over a decade, Zoho People provides all the tools you need to automate your HR processes and set an efficient system. From onboarding new hires to managing core HR activities like time and attendance and performance, Zoho People also provides you with insightful analytics.
Princy

Content marketer at Zoho People.
Leave a Reply
Your email address will not be published. Required fields are marked