What makes a hybrid workplace popular?
What makes a hybrid workplace popular?
Last Updated: August 23, 2021
661 Views
4 Min Read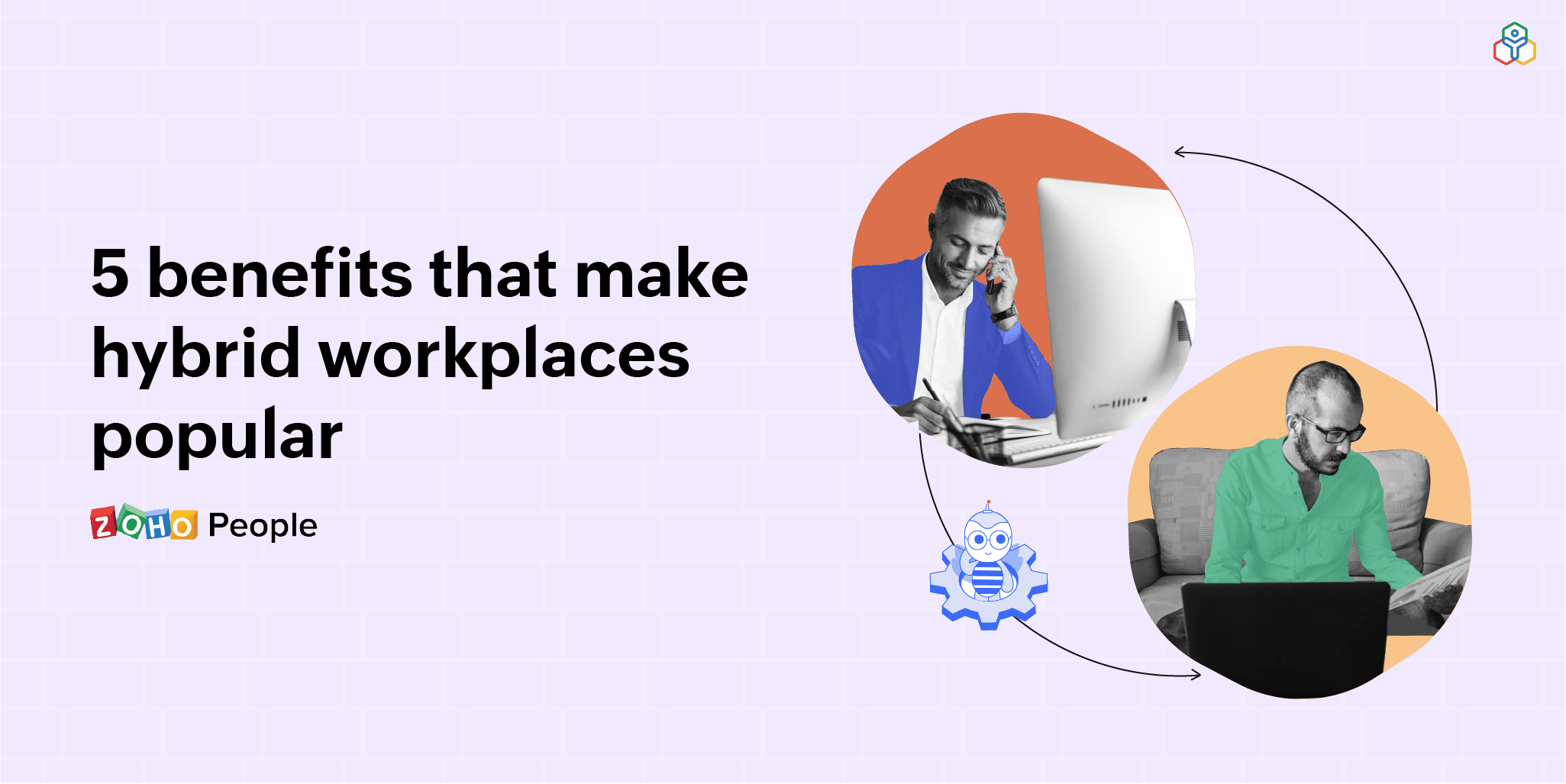 No aspect of the workplace has been left untouched by the COVID-19 pandemic. From shifting to remote work to adopting new technology tools, we've all made a lot of changes. However, remote work is not everyone's cup of tea. Lack of communication, isolation, and distractions can make remote work hard for some employees and they may not want to adopt it in the long run.
To meet the needs of all employees, more organizations are moving towards a hybrid workplace model, which is a combination of in-office and remote work. Under this model, employees who want to work from home can continue to do so, while headquarters and spoke offices offer a workplace for employees who prefer to work from the office. In some organizations, employees can even alternate between remote and in-office work. If you're wondering whether a hybrid workplace model will be useful for your organization, here are some of the benefits that come with it:
Provides greater flexibility
One of the foremost benefits of the hybrid workplace model is its ability to allow employees to work from wherever is most convenient. This empowers them to have greater control over their work lives and strike a better balance between their professional and personal responsibilities. For instance, employees who have children or elders at home may find remote work helpful, while others may find it hard to draw a line between their work and personal life while working from home and prefer to work from the office. Adopting a hybrid workplace model allows you to accommodate both groups of employees. This can significantly increase employee satisfaction and morale and help save your workforce from burnout. It's hard to overstate the importance of flexibility to employees—in one recent study, 97% of surveyed employees felt that flexibility at work could influence their quality of life positively. In another, more than 25% of respondents said they would even take a 10-20% pay cut in exchange for flexible working conditions.
Leads to a wider talent pool
With a hybrid workplace model, you can make your workforce location independent, which allows you to source talent from any part of the world. Having access to global talent means being able to widen your search and recruit the most talented candidates from anywhere. When used effectively, this can take your diversity, equality, and inclusion initiatives to the next level and enhance your corporate image among your candidates and customers. Employees from diverse backgrounds with different experiences can also bring different ideas and better decisions to the table. One study from Boston Consulting Group showed that diverse teams bring 19% more revenue than non-diverse teams.
A hybrid workplace can be an excellent way to keep your employees safe and reduce the spread of COVID and other viruses. When all of your employees don't have to work from your office, social distancing measures can be implemented more effectively. It's easier to empower your in-office employees to follow safety precautions like wearing masks and using hand sanitizers when the office is comparatively less crowded. Still, some of your employees may not be ready to return to the workplace due to safety concerns. They may be hesitant to take public transport or work in enclosed spaces. With a hybrid workplace model, you can respect their concerns and allow them to work remotely as long as they want to.
A comfortable work environment can elevate your employees' moods and make them more productive. Because a hybrid workplace allows employees to work from wherever they're comfortable, it can help them bring their best selves to work. In a recent survey conducted by The Harris Poll on behalf of Sungard Availability Services, 78% of the surveyed remote workers said they would be most productive if they could choose to work remotely or in an office as needed. Leadership can also be improved by a hybrid workplace model. When teams are distributed, leaders are more likely to measure productivity by the work their employees are doing, rather than the hours they spend in a seat. This meaningful evaluation, coupled with increased autonomy and less micromanagement, can go a long way toward making employees productive.
Reduces environmental impact
A hybrid workplace could potentially reduce your organization's carbon footprint as your employees alternate between working in the office and at home. Working from home reduces pollution caused by the office commute, and can reduce the energy consumption, waste generation, and supplies used by your physical office. However, this largely depends on how you adapt your workplace to hybrid work. For instance, to reduce energy consumption, you may choose to consolidate your in-office employees on certain floors of your building, while being careful not to crowd them or increase their risk of disease transmission.
Wrapping up
The hybrid workplace can be a real game-changer as it provides your employees with the flexibility to choose where they work, and flexibility is one of the most important benefits that employees expect from their workplace. Because a hybrid workplace removes location restrictions, you can recruit talented employees from any part of the world. It's a great way to establish a safe, productive, environmentally friendly work environment!
Tarika

Content Specialist at Zoho People
Leave a Reply
Your email address will not be published. Required fields are marked