International HR Day 2022: 5 reasons why you should appreciate your HR teams all
International HR Day 2022: 5 reasons why you should appreciate your HR teams all
Last Updated: May 20, 2022
643 Views
3 Min Read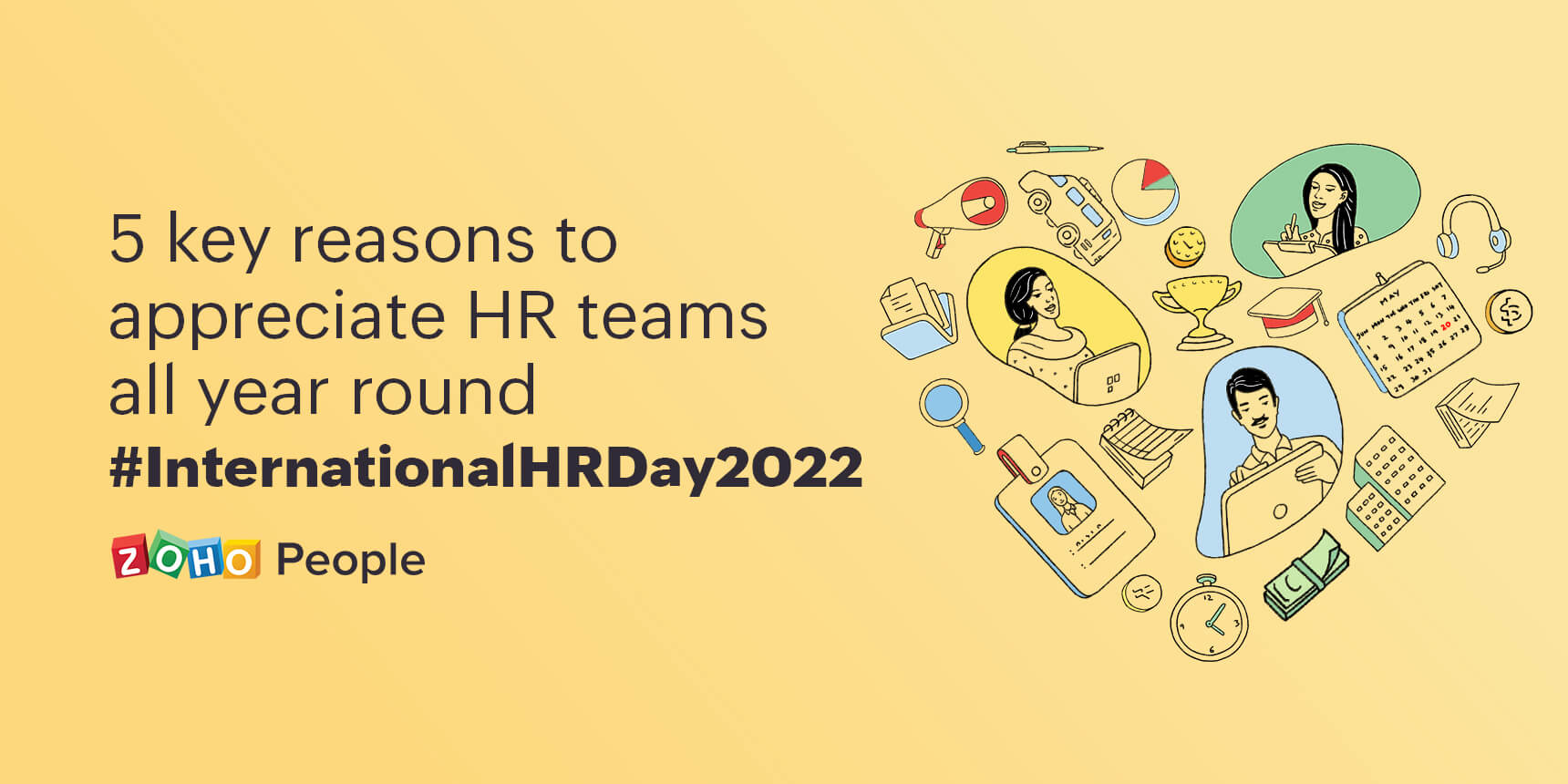 In the last two years, the role of HR professionals has evolved greatly. From introducing entirely new ways of working to quickly realigning their existing management practices, HR teams have done everything in their power to build a culture of compassion. These teams have been busy introducing strategies to keep employees engaged and improve overall well-being. On this International HR Day, we've listed five essential reasons to appreciate your HR team.
1. They oversee the entire employee lifecycle
HR professionals play a significant role in an employee's journey within the organization, from recruitment and learning management to performance and exit management. HR professionals strive to provide an exceptional working experience for their employees at every stage.
For instance, HR professionals are moving toward a paperless onboarding process so new hires are not swamped with paperwork on their first day. They are also adopting new technologies to evaluate employee performance. This allows companies to assess employee performance through different means, including self-appraisals, concrete measurement of goal progress, and 360-degree feedback, so they can provide recognition and fair raises. In addition to this, more and more HR teams are automating their everyday operations when it comes to attendance, leave, and employee queries management to make sure employees have time to concentrate on their strategic tasks.
2. They balance employee and organizational needs
HR professionals are typically the intermediary between employees and their management, which often puts them in a tight spot. Gone are the days when organizations prioritized customer satisfaction over anything else. Today's HR teams understand that taking care of their employees and prioritizing their satisfaction ultimately leads to greater company success. These teams are often involved in introducing strategies that both serve employees and benefit the organization itself. HR professionals are at the forefront of establishing employee-centric initiatives like flexible work schedules, mentoring opportunities, feedback exchanges, inclusive work environments, diversity in hiring, greater autonomy, and much more. These strategies keep employees engaged and happy, which eventually leads to higher employee retention and productivity.
3. They look out for employee well-being
Well-being has assumed an indispensable position in the workplace, thanks to relentless HR team efforts to improve employee mental health during the pandemic. About 68% of senior HR leaders see employee well-being and mental health as a top priority. HR professionals are involved in introducing strategies that strengthen the physical, emotional, and mental well-being of their employees. This often includes making sure employees are tasked with reasonable workloads, supporting employees through counseling, establishing wellness practices like yoga and meditation, facilitating social interactions, building employee assistance programs, and improving work recognition initiatives.
4. They define the organizational culture
Company culture is everything to an organization. It determines how an organization works, how its employees are managed, how happy and engaged its employees are, and how outsiders perceive it. Establishing and maintaining a company culture that is consistent with the organization's goals, mission, and values is one of the major activities that HR professionals manage. They make it a point to hire candidates who are consistent with their organizational values and culture, and they shape their employee management practices in a way that aligns with their company culture and employee needs. They also enable C-level leaders and managers to understand their company culture and lead in a way that demonstrates their values.
5. They manage overall communication
Streamlining and managing workplace communication is the key to ensuring transparency, improving productivity, and establishing better workplace relationships. In an organization, HR teams often make sure communication flows well by establishing multiple communication channels that accommodate a multi-generational workforce. They are responsible for keeping the entire organization updated about major developments, and they often facilitate communication between upper management and employees through meetings, emails, and internal forums. They also take steps to improve collaboration through team-building activities. All of these activities are highly necessary to keep employees on the same page and prevent workplace silos.
Honoring HR teams
HR professionals play a huge role in bringing out the best in every employee and providing the support they require. Without HR teams, many organizations wouldn't have such favorable work environments. We're wishing every HR professional out there a very happy International HR Day!
Tarika

Content Specialist at Zoho People
Leave a Reply
Your email address will not be published. Required fields are marked