Improving your remote team's productivity 
Improving your remote team's productivity 
Last Updated: July 22, 2021
914 Views
4 Min Read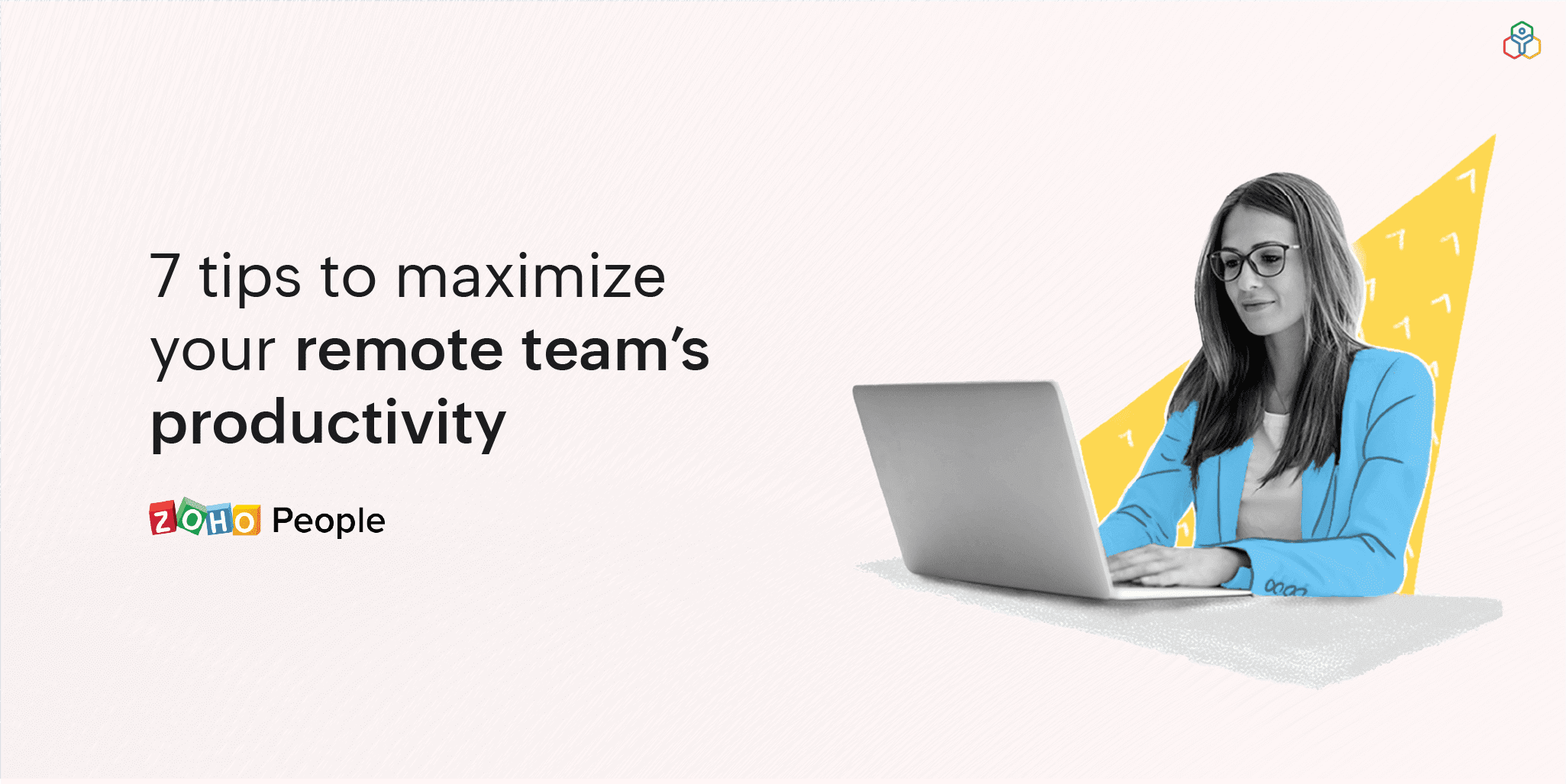 COVID-19 has completely changed the global business environment. Several organizations have required their employees to work from home for a longer period of time as a way to practice social distancing. Some of these businesses are accustomed to their employees working remotely for at least two or three days a month. Some of the organizations are still struggling to get used to remote work. Regardless of previous practices, working from home has never been seen on this scale before, and managing a completely remote workforce is a challenge many were understandably unprepared to face.
While employees work remotely, your business can remain productive. Not by forcing employees to work throughout the day or rejecting their time off requests, but by adopting a people-first approach. Here are some tips to improve the productivity of your remote employees:
Encourage your remote employees to schedule their work. The lack of a proper system can cause them to unintentionally waste time and energy. A schedule helps your employees plan their work activities better and achieve their goals within deadlines. Instead of setting work and break times, a day can be planned according to work items that need to be completed. Doing this may help employees stay focused and remain productive. Ask them to set aside time for meetings and break times and plan what they can achieve during the day.
Without a proper internal communication channel, your remote employees can't be productive. An open and transparent line of communication enables your remote employees to be engaged and connected with their teams. This makes it easier to exchange ideas or make informed decisions. Use an internal chat so that your employees are not dependent on calls and emails for small questions. It's also a good idea to set up an online forum where important announcements can be made, employees can interact with each other either casually or about work items, and everyone can share feedback on important business dealings.
Make video calls a regular practice
Daily physical interaction among employees plays a huge role in improving their productivity. With a video conferencing tool, your employees will be able to virtually meet up and discuss work-related issues or situations. Many video conference tools also allow employees to share their screens with their peers, which leads to better collaboration and less confusion. Having video meetings can also motivate your employees by making them feel more involved in the organization even while working remotely.
Provide emotional support
Many employees are now working remotely for the first time, and this sudden transition can be emotionally stressful. Depending on where your team members are located, their mental health may also still be suffering due to the ongoing pandemic and vaccination delays. They may be feeling lonely due to social distancing, frightened by the news, or anxious due to the health risk the virus poses for themselves and their loved ones. Empathize with your employees and show compassion, respect, and politeness. Help your employees understand that all of you are together in this situation. If need be, encourage them to take some time away from work to de-stress.
Watch out for micromanagement
While your employees work remotely, there may be a tendency to unknowingly micromanage due to the lack of physical interaction. Constantly checking on your employees and asking for status reports can cause stress and reduce their productivity. Your employees may adopt an unconventional working style that is suitable for their remote work environment. It's more important to focus on their output rather than the process. Express your expectations clearly, and allow employees to work in a way that is suitable for them. This will yield better results, and if it doesn't, explain the situation to your employees and encourage them to adopt a better way of working.
Urge your employees to avoid overworking
Remote work often makes it easier to blur the line between an employee's professional and personal life, and some may start to overwork themselves. Overworking every day can cause severe burnout, emotional and physical exhaustion, and a worsened mental state. Avoid assigning multiple tasks or setting unrealistic deadlines. Distribute the workload equally among available employees, and make sure they have the right tech tools to carry out their job responsibilities. Encourage your managers to listen to the concerns of your employees and receive feedback from them. Lastly, make flexibility a top priority when your employees are working from home.
Take advantage of HR software
Using cloud-based HR software, employees can remain productive regardless of where they work from. When all essential HR functions are simplified and automated, your employees can focus on more important tasks. Using timesheets, they can also monitor their time spent on different jobs rather than relying on constant supervision from managers. Online training can be conducted, allowing employees to gain or improve skills, and the software may also come with an employee self-service portal where your workers can find all their necessary HR information in a single place. Most importantly, all the tools required by your remote employees, including an internal chat, timesheets, video conferencing, and a common online forum, can be included with the software program.
Final thoughts
When managed correctly, remote work can bring several benefits to your organization and your employees. By helping your employees to stay productive, you can improve your organization's bottom line even during the current economic situation. With some small changes to your usual management practices and the right technology, nothing can stop your employees from getting their work done and driving the overall success of your business.
Tarika

Content Specialist at Zoho People
Leave a Reply
Your email address will not be published. Required fields are marked