6 simple ways to celebrate Employee Appreciation Day virtually
6 simple ways to celebrate Employee Appreciation Day virtually
Last Updated: February 26, 2021
1.1K Views
4 Min Read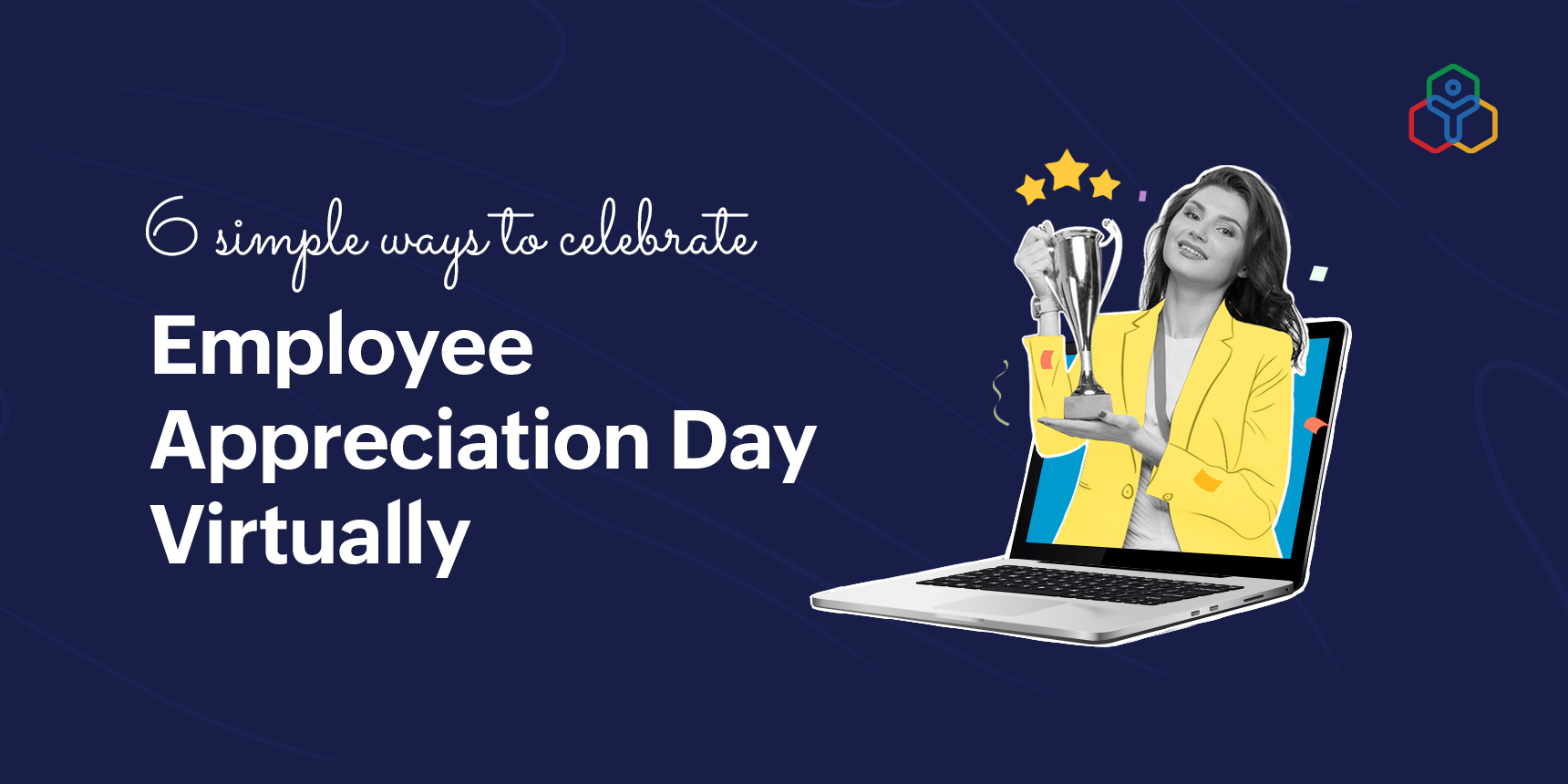 Employee Appreciation Day is just around the corner on March 5th, and there's no better time to celebrate and appreciate your employees. Last year was a tough one, and many of the challenges that the pandemic brought about are still impacting employees today. Disrupted work-life balance, remote work, isolation, stress—you name it. Now is a great time to use Employee Appreciation Day to show how much you appreciate their hard work and resilience.
Establishing a culture of appreciation and recognition also fosters an open work environment where peers support each other. This builds strong workplace relationships, which is even more vital now that so many employees are working remotely. Just because celebrations will likely have to be done virtually this year is no reason to skip out on Employee Appreciation Day. Here are some fun ideas and activities to make your employees feel valued, appreciated, and recognized:
Distributing appreciation awards and certificates is a great way to make Employee Appreciation Day memorable for your employees. Awards let your employees know that good work will be recognized, and this will motivate them to push themselves in their roles. Be sure to align these awards with the organization's current goals so your employees can understand the true impact of their efforts. Instead of hosting an award ceremony that might be difficult to manage virtually, you can highlight each of your employee awards on your social media channel and tag the recipients in the posts.
Throw a virtual happy hour
Organizing happy hours helps your employees unwind and interact with their peers in a relaxed environment. They get to see the fun side of everybody, including their managers. Let your teams know about the virtual happy hour event well in advance so that they can plan their work accordingly. During the virtual meeting, encourage managers to share a few words of appreciation about each employee. Then, employees can go on to appreciate their managers and teammates. After this, you can organize team-building activities to double the fun. Never Have I Ever, Truth or Dare, Charades, and Pictionary are just some of the activities that can be organized virtually with very little effort.
Appreciate through online sticky notes
Sending appreciation through sticky notes has always been a huge part of Employee Appreciation Day celebrations. Celebrations may be going virtual this year, but you can still use online sticky notes. There are digital platforms such as Miro or Lucid Chart where your employees can come together and leave little notes of appreciation for each of their teammates. If this sounds a bit challenging, you can stick to the conventional way by adding a little twist. Encourage your employees to write their messages on sticky notes at home, take pictures of them, and post them in your internal chat channels.
Prioritize employee wellness
Many employees are struggling to complete their work or stay motivated due to difficult situations brought on by the pandemic. That's why this is a perfect year to focus on employee wellness. You can hire yoga or meditation experts to give virtual group lessons. Stress management workshops can also be a simple virtual way to improve employee wellness. If you want something a little more involved, organize wellness challenges and award employees who complete them. It's a good idea to run a survey and ask your employees what they feel they will benefit from most because each organization's workforce will differ.
Sending gifts is a great way to let your employees know that you care about them and appreciate their employment with your organization. Be thoughtful while selecting your gifts. They should be unique but also useful. Engraving their names and a small appreciation message on the gift can add a personal touch. You can also add it as a note and pin it with the gift. If you are not able to ship gifts to your employees, you can consider sending gifts in the form of subscriptions and vouchers.
Focus on their career development
There's no better way to appreciate employees than by helping them progress professionally. You can gift a short course from a reputed university that'll help your employees develop their skills. Alternatively, try booking an appointment for your employees with a career coach to help them overcome their career challenges and improve their professional lives. You can also organize virtual upskilling programs with specialized course instructors. All of these activities will help employees achieve their full potential at work.
If there was ever a year to celebrate Employee Appreciation Day, this is it. Get creative with the activities and let your employees know that they are an integral part of your organization. And this doesn't have to only be for Employee Appreciation Day! Try out a few of these activities throughout the year to ensure your employees are getting consistent recognition. By making it a habit, you're sure to build a happier workforce!
Also Read:8 small but meaningful ways to help your employees feel appreciated and valued at work
Tarika

Content Specialist at Zoho People
Leave a Reply
Your email address will not be published. Required fields are marked