6 major factors that impact employee productivity
6 major factors that impact employee productivity
Last Updated: April 1, 2021
6.3K Views
5 Min Read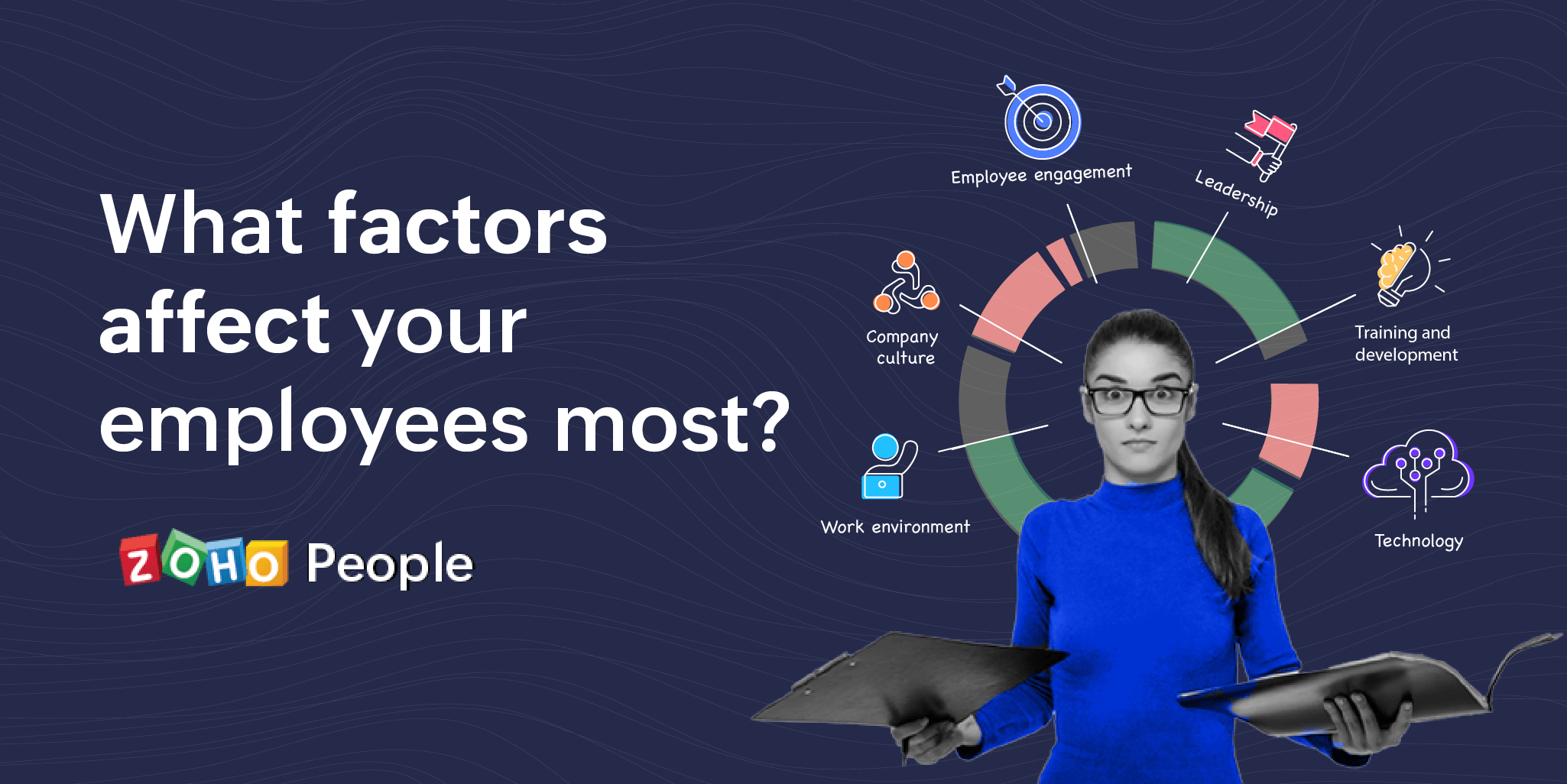 The financial impact of the pandemic have made the global market more competitive than ever. Consumers are being more selective about where they spend their money, and it's forcing organizations to review their business practices at a deeper level as they try to attract and retain customers.
People management is a great place to start that review. Your employees drive your business, so it's important that they stay productive. But just asking them to work longer hours or resorting to micromanagement will do more harm than good. Prioritizing productivity at the expense of your employees' well-being will create a toxic work environment where your teams are burned out, overwhelmed, and demotivated. And if your employees are not happy, your customers won't be either.
In this article, we've broken down six factors that affect employee productivity the most. Among them, you'll find a common theme: employee satisfaction. Encouraging genuine productivity from your workforce requires you to take a good look at what shapes the overall employee experience at your organization.
Let's get started.
Nothing ruins productivity like a negative work environment that is filled with gossip, rumors, or backbiting. Even if some employees genuinely want to work better, that toxicity can sap their motivation in an instant. The first step to improving productivity is to create an environment where motivation and engagement can thrive. This can be done in many ways, including being more transparent with your staff, listening better to their concerns, encouraging two-way feedback, and prioritizing a healthy work-life balance. Employees should feel safe and heard at their workplace.
Also, don't discount the effect of the actual workspace they're operating in. Lighting, ventilation, decor, equipment, desk layouts—when done correctly, these small aspects can boost your employees' spirits in no time. Offices should be clean and organized, and wherever possible, try to provide ergonomic furniture such as standing desks and office chairs with proper support. For jobs that require more manual labor, always make sure your employees are given the proper safety equipment and tools they need. Whenever you're dealing with remote work, whether long-term or short-term, encourage your offsite employees to set aside a dedicated space for their work and tailor it to their needs.
In a Small Business Pulse survey, 86% of entrepreneurs agreed that company culture helps improve productivity. Company culture is how employees feel connected to the work they do and the organization they work for. Ideally, the people you hire believe in the mission and values your company upholds, but that belief does employees no good if they don't see those values being put into practice at work. A healthy and strong company culture that aligns with your core principles will help drive motivation and employee loyalty. If your employees see the values they support reflected back to them on a daily basis in their workplace, they'll be more encouraged to bring their best selves to every task they perform.
The more engaged your employees are, the more productive they will be. When employees are treated properly, they tend to feel more confident in the work they do and care more about their growth within the company. As employees develop a good relationship with your organization, they'll understand its goals and purpose better and streamline their work accordingly. Engagement is the foundation for this relationship. Keeping employees engaged means giving them the freedom to try new ideas, appreciating their hard work, providing feedback to help them improve, and supporting them with the tools and training they need to be successful. Check out our infographic that explains everything you need to know about employee engagement.
It all starts from the top. How your employees are managed can make or break their productivity. Everything from how managers interact with their team, conduct performance reviews, provide feedback, communicate their expectations, set goals, prioritize tasks—it all makes a difference. Employees expect management, from their own manager all the way up to the CEO, to set the standard for caring about the people they employ. Organizing training programs for managers can help them better understand the impact they have on their teams, and it also gives them the opportunity to revisit their management techniques to ensure they are consistent with your company culture.
It would be a mistake to think training is just for managers. Offering training and development opportunities to your employees is also great for productivity. When your employees are not trained properly, they'll spend more time trying to figure out how to complete a task rather than actually doing it. This leads to frustration and negative self-criticism. On the whole, your employees want to perform well in their jobs. So if they aren't, first evaluate if there is anything more you could be doing as an employer to help them. Proper training and development programs are a great start. This way, they'll be able to grow their confidence, succeed more, and ultimately improve your customer satisfaction as a result. It should also be noted that many employees value opportunities for career advancement within an organization as well, so training that focuses on this can also improve engagement and productivity.
It's always been that technology enables more productivity, but considering the present remote work situation, that's even more true. Without the proper technology, your employees will be stuck doing repetitive, manual tasks that leave them no time to tackle more complex projects. If productivity is dipping in your organization, try reevaluating the technological needs of your workforce and implementing new solutions that will suit your employees. For example, does your organization use fifteen different applications that don't communicate with each other? Are you still relying on that legacy software system from a decade ago? If so, it may be time for some changes. Modern cloud-based business apps can be customized to the job role, and data flow between them is smooth and secure. In today's work environment, many of these apps also allow employees to work from wherever they are as long as they have an internet connection and an internet-capable device.
Employee productivity is key to your organizational success, but that productivity starts with your employees feeling fulfilled and happy in their roles. If your management strategies prioritize engagement, satisfaction, and motivation, you'll find that productivity naturally follows. Keeping these practices aligned with your organizational values and goals is also vital. This encourages employees to do their best to pursue a long-term career with your organization.
We hope this article gave you some ideas about the major aspects that influence employee productivity. Try using this as a starting point to improve your people management strategies!
Did we miss something on our list? What do you do to improve employee productivity in your organization? Let us know in the comments section below!
Also see:Tips to improve the productivity of remote employees
Tarika

Content Specialist at Zoho People
Leave a Reply
Your email address will not be published. Required fields are marked