5 ways to build business resilience in 2021
5 ways to build business resilience in 2021
Last Updated: February 12, 2021
937 Views
4 Min Read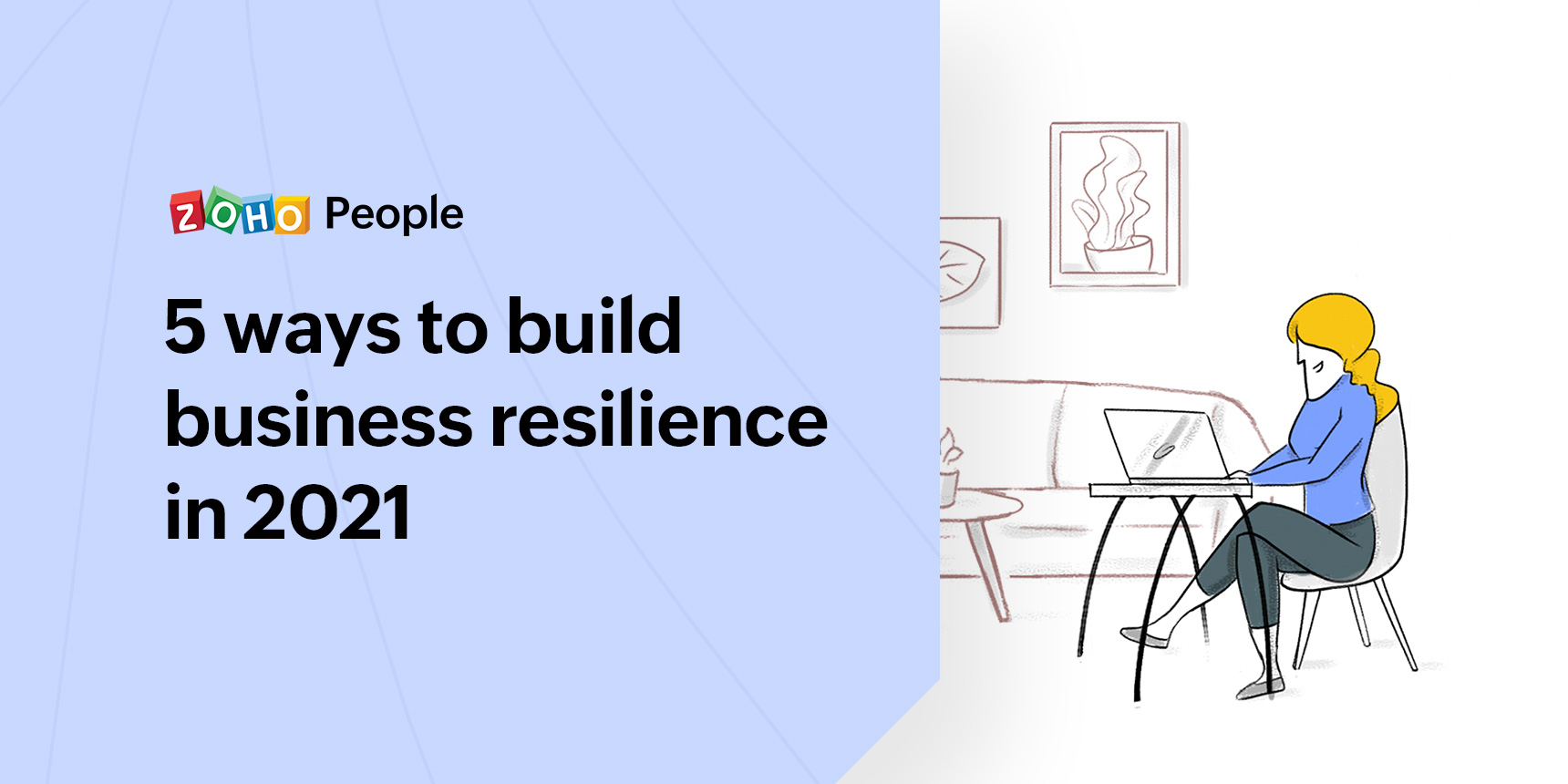 2020 was one of the most challenging years for many of us! Many organizations had to shift to remote work swiftly, make changes to their workplace policies, take drastic measures to ensure employee safety, and find new ways to keep employees engaged and motivated. All these decisions were made very quickly, leaving little time to prepare or adjust. The 2021 Deloitte Global Resilience report has predicted that disruptions will become more regular in the future. That's why resilience is essential now more than ever to ensure business continuity in the face of future crises and challenges. A resilient attitude will help your employees to learn from their setbacks and devise new strategies to come out of the difficult times stronger. As an HR professional, it's your responsibility to foster a culture of resilience that helps your employees and organization bounce back from and even thrive during tough situations. Here are some basic tips that'll help you get started:
During tough times, micromanaging employees, pushing them to work harder, and setting unrealistic targets will only cause burnout, stress, and exhaustion. As a result, your employees will hesitate to participate in new initiatives and their productivity will take a hit. Compassionate leadership is highly necessary to boost employee resilience. Listen to what your employees have to say without judging them and offer help if required. Show that you care about their well-being as much as their productivity. Encourage breaks in between work to gain more clarity and focus. Acknowledge employee contributions and give feedback. These small steps will lay the foundation for stronger workplace relationships where employees respect their peers and are there for each other during difficult times.
Help employees learn from mistakes
Learning how to quickly get back up after you fall will naturally build resilience. See every setback as an opportunity to help your employees grow and develop rather than a reason to punish or criticize. Encourage employees to be decisive, innovate, and take calculated risks. If something doesn't work out, provide constructive feedback that helps them to face and fix their mistakes. Providing coaching or training to help them understand what went wrong and how they could prevent repeating the same error next time. There are usually positive lessons to be learned from every major mistake or failure. If you can shift an employee's focus to that, it will help give them an outlook that is focused on growth and development, and they'll be much more ready to face that next challenge when it comes.
Improve their mental well-being
Being resilient means being able to overcome the stress caused by traumatic situations. Identify large stressors and take quick measures to mitigate their impact on your employees' mental health. Receive feedback from your employees to organize wellness programs that'll help them navigate challenges and develop suitable coping mechanisms. Train them to be more mindful of the current situation and focus on what is happening in the moment—their present thoughts and feelings—rather than worrying about what the future holds. Remind employees to take small steps to improve their well-being each day instead of diving into every strategy at once and burning out.
Provide the necessary support
If you want your business to succeed in a weak global economy, you will need to be ready to provide additional support to your employees. This could include:
Conducting continuous learning programs to help employees develop the skills required to work well under pressure

Providing the tech tools needed to make their work easier

Creating a positive and uplifting work environment that is free from negativity

Improving problem-solving and decision-making skills amongst your workforce

Receiving regular feedback to help employees overcome the challenges they face at the workplace

Giving employees the autonomy to work in a way that makes them more productive

Improve social connections
Building social relationships plays a significant role in developing a resilient mindset. When facing hardship, being together with a group of people allows individuals to feel less stressed and recover faster because it reminds them that they aren't alone. Building strong workplace bonds allows employees to learn from each other and open their minds to more opportunities. Take steps to improve peer and team relationships by organizing fun activities once in a while to help employees unwind and see each other in a less serious environment. Improve collaboration among one another by implementing the right communication tools. Foster a culture of trust and transparency where anybody can get their ideas and opinions across without the fear of being judged.
At a time when the whole world is going through multiple disruptions and changes, it's important to try to build resilience in your employees to help them keep fear, anxiety, and stress at bay. We hope these tips gave you some insight on how to improve resilience among your workforce! If you have any comments about this, feel free to leave them in the comments section below.
Also read: Tips on being more compassionate towards your employees
Tarika

Content Specialist at Zoho People
Leave a Reply
Your email address will not be published. Required fields are marked