5 HR trends that'll shape the work world of 2022
5 HR trends that'll shape the work world of 2022
Last Updated: January 6, 2022
778 Views
4 Min Read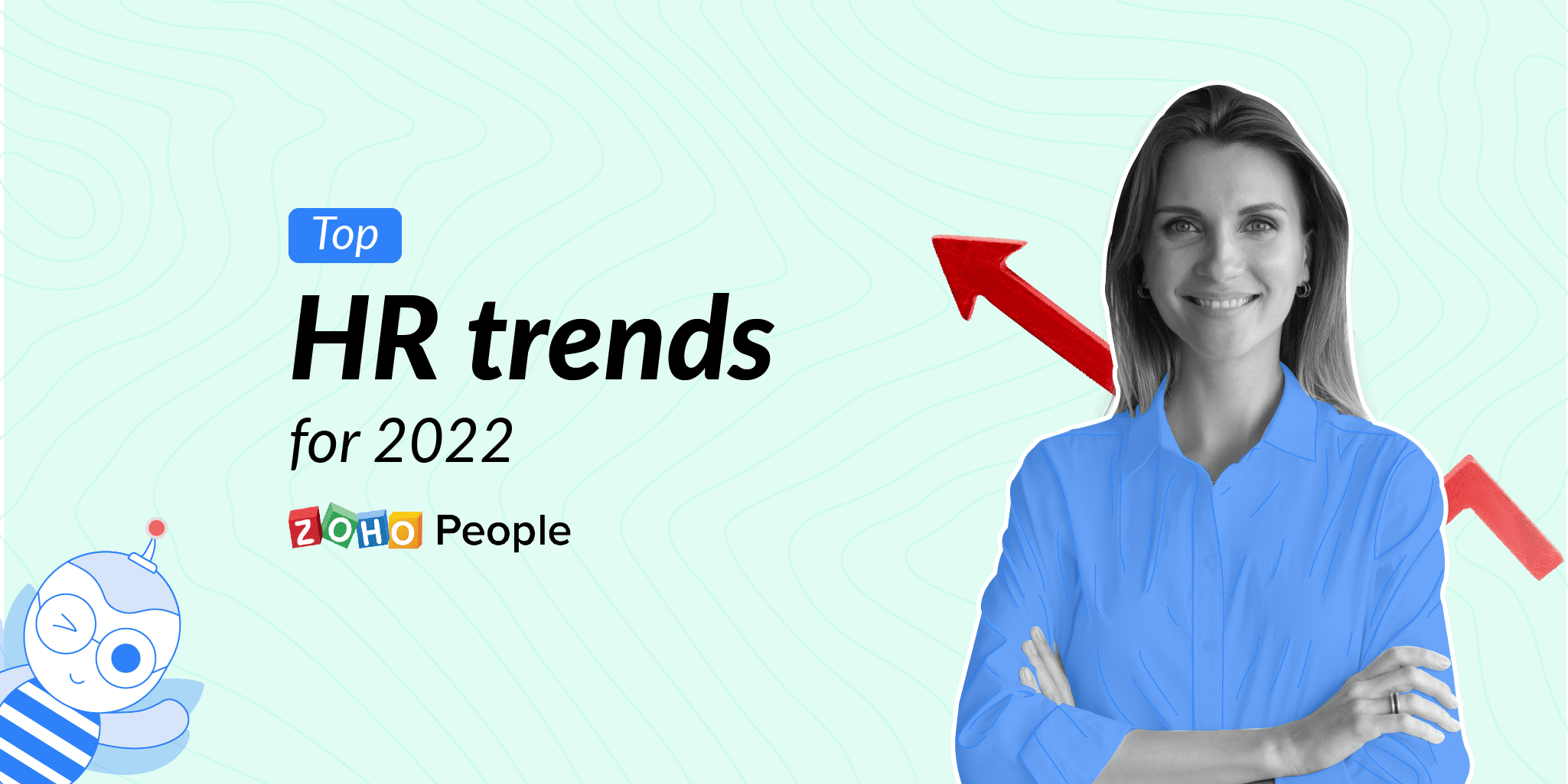 New year, new trends! The HR sector is dynamic, often seeing several new changes every year as the workplace and employee behavior evolves. The ongoing pandemic has also done its part in bringing about some serious changes that'll continue to dominate the HR landscape well into the future. As an HR professional, staying on top of these upcoming trends will help you prepare your work environment to be consistent with the changing needs of your workforce and step up your HR strategies accordingly. Here are some of the major HR trends and events that are expected to play a huge role in 2022:
The Great Resignation of 2021
The Great Resignation of 2021 came from out of the blue, bringing with it chaos and a myriad of challenges for organizations around the world. With thousands of employees quitting at record rates and organizations finding it difficult to find and attract well-qualified candidates, strategies to retain top talent will and should be on the rise. Close to 4.4 million employees quit their jobs in September 2021 alone. Organizations need to understand what will make their employees stay, come up with creative and employee-centric policies, and foster a sense of belonging in their teams to survive this period of increased resignations. Whether it involves making their compensation package more competitive or providing better opportunities to help their employees grow their careers, organizations have to act fast to come out of these tough times strong. Learn more about different strategies to tackle the Great Resignation of 2021.
HR automation is truly the need of the hour going into 2022. As some organizations plan on adopting long-term remote work, it's important to have comprehensive HR technology to automate routine HR tasks and improve employee efficiency. For instance, conducting onboarding can be super challenging even while you are present in the same room as your candidates. In a remote work environment, where new hires neither get a feel for your organizational culture nor get to meet their peers face to face, onboarding can become immensely challenging. Automating new hire onboarding can help new employees complete their paperwork, submit documents, understand their role's requirements, meet their managers, interact with their peers, and learn a lot about their organization—all through a single, centralized system. Similarly, every HR function from employee attendance and time off to professional development and exit management has to be automated as well. This gives you and your team more time to focus on crafting engaging strategies to retain the great talent you already have.
People analytics will become the go-to tool for organizations to gain vital insights into their workforce's needs and interests. Many organizations are finding it increasingly difficult to understand how employees perceive their jobs, why they leave, whether they are happy with their compensation, why they perform in a particular way, what they expect in return for great performance, and more. One of the reasons for this is the increasing adoption of hybrid workplace and remote work models. No matter where your employees work from, a people analytics tool can analyze their data and provide key insights to drive your decisions about people management practices. For instance, if you are looking to build your employees' competencies, a people analytics tool can immediately identify competencies that employees on different teams lack based on performance and training data.
To thrive amidst the challenges triggered by the pandemic, we'll see more and more organizations continuing to strengthen their employee upskilling programs. According to a report by PWC, about 77% of surveyed workers are ready to learn new skills. Upskilling employees can prepare your organization to face what the future holds while also fostering a culture of learning and keeping employees engaged and productive. It's important to perform a skill gap analysis to understand what employees truly want. Because work has become remote, we'll see increased adoption of intuitive learning management systems to enable employees to take on training courses from anywhere at a pace that is convenient to them.
An important realization that organizations gleaned during the pandemic was that their workforce's well-being is as important as their financial success. In 2022, we'll start seeing organizations taking steps toward strengthening their workforce's mental, physical, and emotional fitness. Organizations that dismiss employee well-being will face severe attrition rates because employees are no longer willing to work for organizations that expect productivity at the expense of their well-being. Organizations need to uphold compassionate leadership, flexibility, and empathy to make employees' lives less stressful and more enjoyable. Here are some tips to help you enhance employee well-being in your organization.
Wrapping up
With 2021 coming to an end, it's important to embrace these upcoming HR trends and make your workplace practices consistent with workplace norms to adapt to the future of work. 2022 will be about putting employees before profits, understanding their needs, making work easier for them, and strengthening their well-being to attract and retain top talent. We hope this article gave you a fair idea about the different trends that are expected to shape the world of work going forward.
Do you have insight on trends that we missed here? Drop us a comment below! We'd love to hear from you.
Tarika

Content Specialist at Zoho People
Leave a Reply
Your email address will not be published. Required fields are marked