4 challenges that impact employee experience management
4 challenges that impact employee experience management
Last Updated: May 23, 2022
1.6K Views
4 Min Read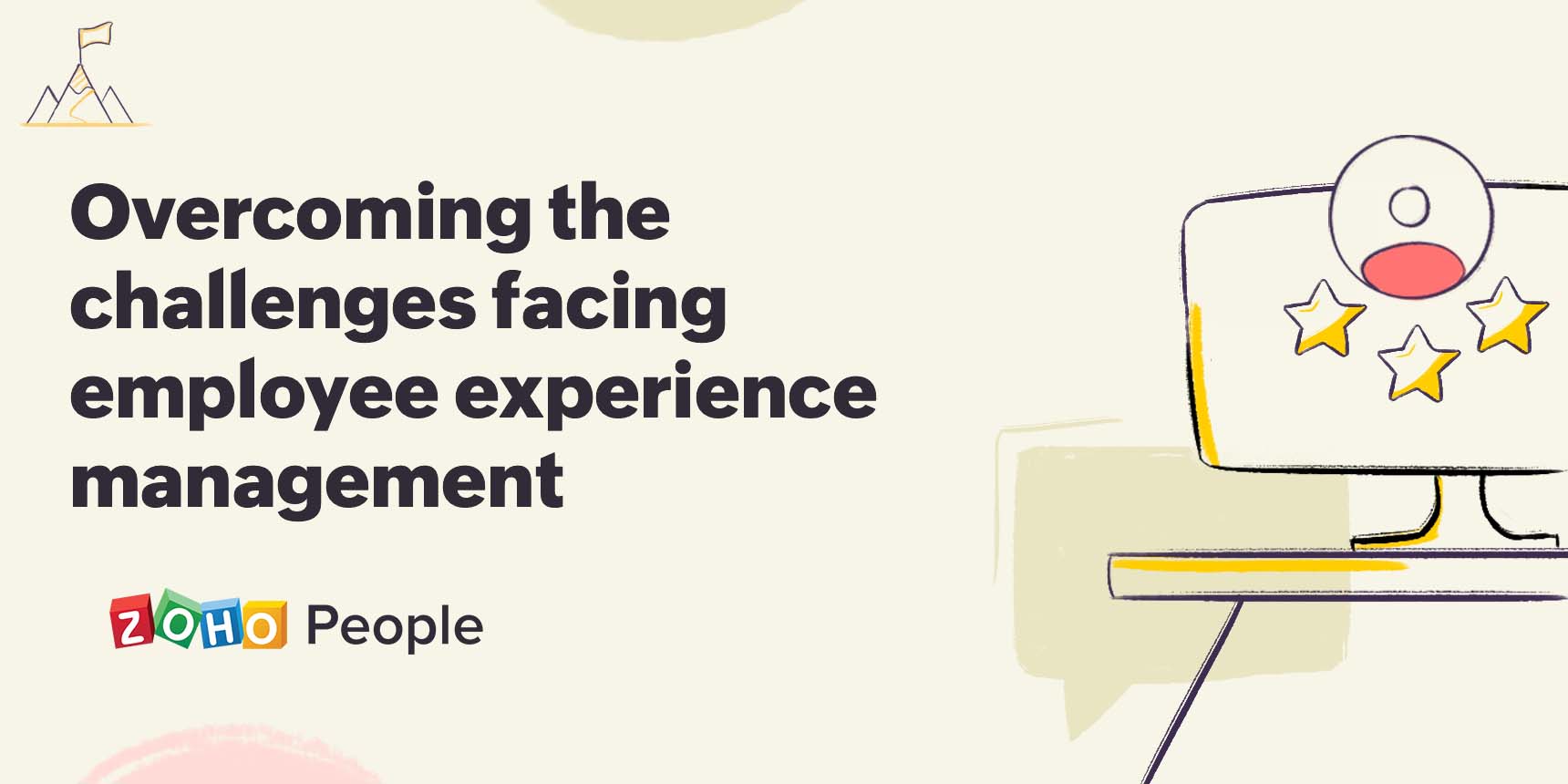 In the last two years, the world of work has evolved considerably. Employee expectations have shifted, and many workers are hesitant to join organizations that put their profits above their people. Instead, they seek out companies that follow humane practices and use modern technology to optimize internal operations. That's why it's crucial to prioritize the employee experience so that each employee's journey with your organization goes smoothly.
The first step towards an improved employee experience involves identifying current challenges and addressing factors that may prevent your organization from delivering an exceptional employee experience. Here are four employee experience-related challenges and their possible solutions:
Challenge #1: Implementing the right tech tools
Technology has an immense impact on the employee experience. It can either enable your employees to complete their work efficiently and effortlessly, or it can cause more problems that it solves. Employees don't want to deal with administrative burdens or constant technical difficulties. Rather, they want modern tech tools that are user-friendly and facilitate their workflow.
That said, organizations tend to choose tools without fully considering employee needs. The wrong technology can make work even more challenging for your employees, so it's important to find out what they expect from the tech tools they use. Software applications should be simple and flexible. Ideally, they should integrate with your other systems so that employees don't have to navigate between multiple platforms.
Challenge #2: Improving the employee experience for remote employees
Enhancing the employee experience can be even more difficult when you and your employees are not under the same roof. Communication and collaboration efforts in particular can be tough when your employees work remotely. In some cases, transparency may also take a hit, as organizations may struggle to keep employees and management on the same page. Onboarding also plays a key role in fostering a solid relationship between employees and their organization, and this process may suffer if not carefully planned for a remote workforce. Further, managers may miss opportunities to appreciate team members, recognize efforts, or provide feedback if they are not in the same workspace. All of these things, when left unchecked, can harm the employee experience.
If your employees are working remotely, we recommend establishing strong communication channels that keep your employees connected with their coworkers, managers, and C-level management. You can also create a remote onboarding experience that provides a clear layout of your organization's mission, provides the necessary tech training, explains key job responsibilities, and introduces important resources.
Also see:8 tips to enhance remote employee experience
Challenge #3: Understanding what employees want
Catering to employee needs is a huge part of improving the employee experience. Until you know what matters to your employees and integrate these values into your strategy, your employees can find it difficult to work at your organization. That's why it's crucial to understand what employees expect and find a middle ground that enables you to balance your organizational and employee needs.
Surveys with thoughtful questions can help you understand employee perspectives. You can also encourage managers and C-level leaders to ask employees questions and request feedback to further discover what they expect.
Zoho People offers an analytics tool that you can use to effectively pinpoint why employees behave in a certain way and what they need to excel.
Challenge #4: Measuring elements of the employee experience
Some organizations go above and beyond to establish different employee experience strategies, but fail to measure if these strategies are actually having the desired impact. They may not understand what's working and what's not, and this means they could end up prioritizing strategies that don't work. In this situation, the time, effort, and money they spend on improving the employee experience go waste.
That's why we recommend establishing KPIs to measure important aspects of the employee experience. Employee satisfaction, engagement, retention, and even customer satisfaction are some of the KPIs that can help you improve your strategies. Employee experience surveys are another excellent way to gauge employee satisfaction. At every stage, from onboarding and learning to performance management and offboarding, these surveys can provide you with useful insights.
Overcoming employee experience challenges
A great employee experience strategy is no longer just an option. If you want to have loyal employees, you'll need to prioritize this element of your organizational approach. We hope this blog gave you a clear idea of how to overcome some of the common challenges that can impact the employee experience.
Zoho People, our employee experience platform, comes with a multitude of features to help you provide an exceptional experience to employees, right from the time they join your organization. Learn more about Zoho People.
Tarika

Content Specialist at Zoho People
Leave a Reply
Your email address will not be published. Required fields are marked