Document Management
In Zoho People, you can have a central repository for all your files. There are three categories - Organization Files, Employee Files and Personal Uploads.
Organization Files are for the Files like Employee Handbook, Policy Documents of your organization that need to be shared with everyone in the organization. They are typically files that apply to employees at large.
To add Organization Files, follow the steps given below:
From in your home page, go to Files > Organization Files > + Add.
Select the file you would like to add. You can either upload the file from your desktop, from Zoho WorkDrive or other cloud services.
Name the file.
Select the entity to Share With. If you have not enabled organization structure, location and department will be listed.
If you want to share this file with everyone in the organization, select Share with entire organization.
Provide a description if needed.
Under Folder, select the folder or add a new folder.
If you want the file to have an expiration date, provide a valid until date.
Enable Acknowledgement, if you want the employee to mandatorily acknowledge reading the file.
Check Employee under File Permissions if you want the employee to be able to download this file.
Select the relevant options under Notifications through which you want users to be notified.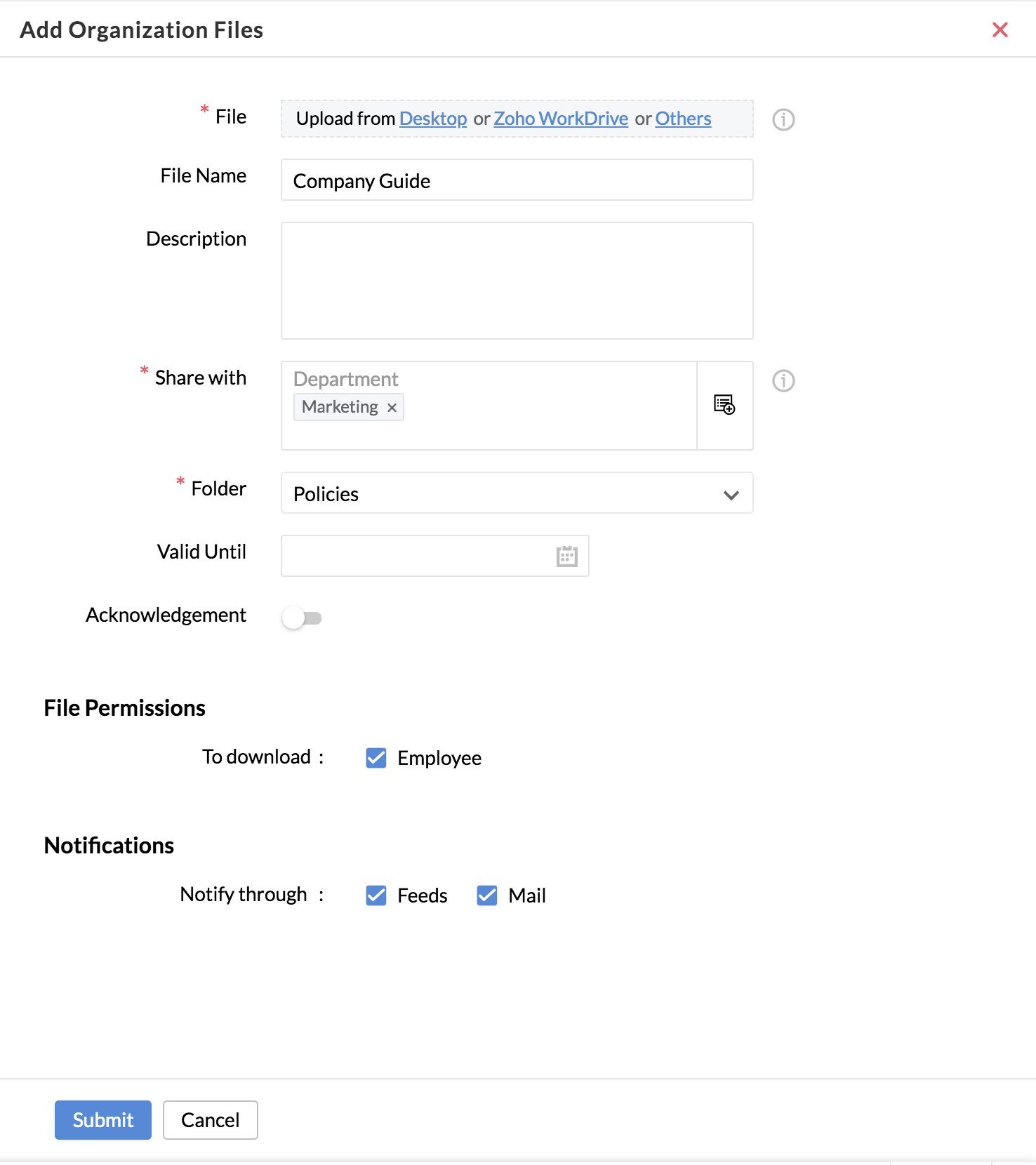 Employee Files are confidential in nature that belong to specific employees such as a promotion letter or an increment letter.
To add an Employee file,
From your home screen, go to Files > Employee Files > Add.
Upload the file.
Enter the file name.
Select Role Based or Active Employee Based under File View.

Provide a description if required.

Select the folder under Folder.
Under File Permissions, select the view and download permissions for employee and reporting manager respectively.
Under Notifications, Click Mail or Feeds, if needed.
Click Submit.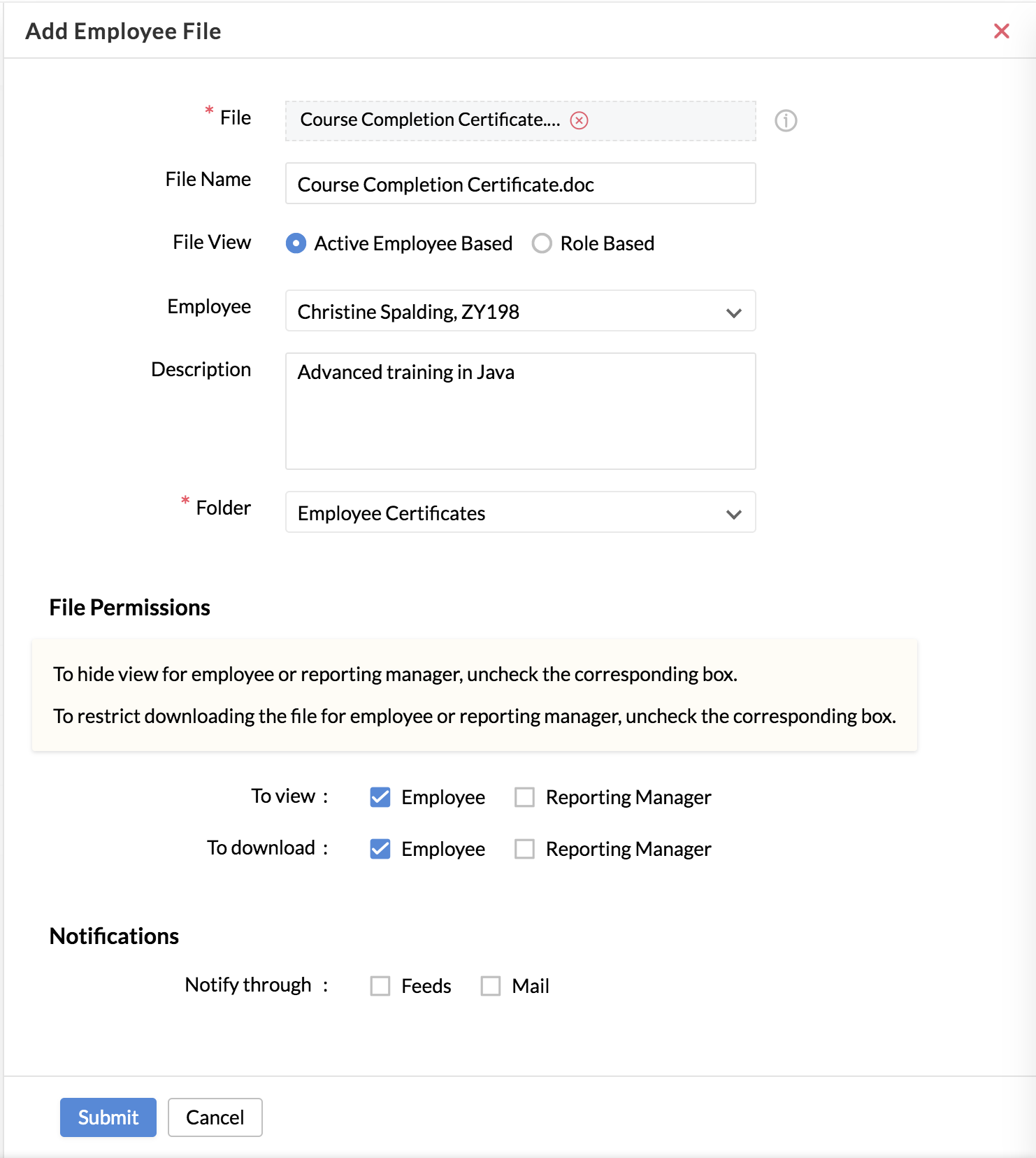 IP and Geo restrictions can be set to limit access to certain files. Learn more about IP and Geo restrictions.
Personal Uploads is an exclusive space for employees to store their personal documents such as passport, license etc.
To add a Personal Upload,
Navigate to Files, and then Personal Uploads.
Click + Add.
Upload the file.
Give a name and description.
Click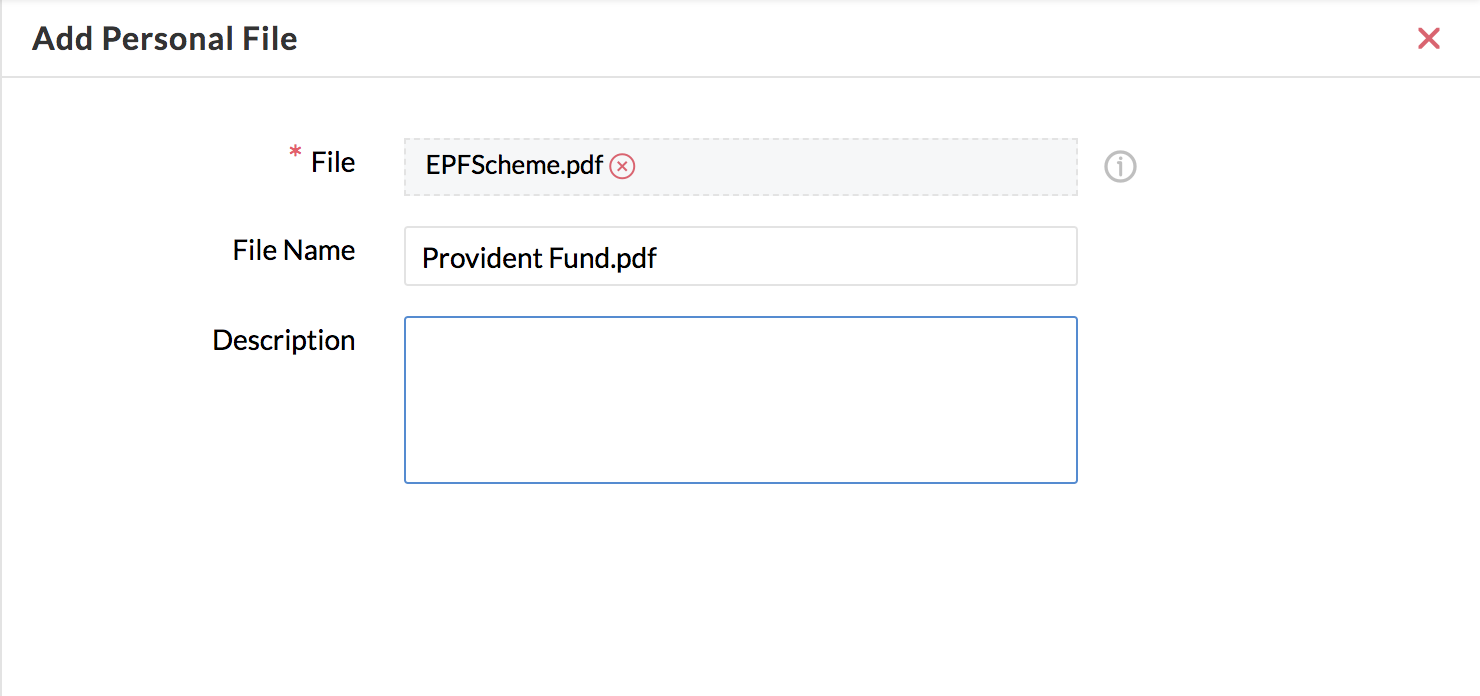 E Signature
Zoho People is integrated with Adobe Sign, Docu Sign and Zoho Sign to help you generate e-signatures on important contracts like Employment Contract, Offer Letter etc., thereby making your documents legally valid.
Visit the links below to know more: