E Signature
An electronic signature is intended to provide a secure and accurate identification method for the signatory to provide a seamless transaction. E signature is imperative when it concerns employment contracts or other important agreements. E signatures are:
Accurate
Secured
Time-saving
Easy to track and manage
Using Zoho People, you can:
Have agreements sent to the desired recipient(s) for e signature
Have employee related documents (like Probation confirmation, Salary revision letter etc) sent to a single or a set of employees for e signature.
Setup a signature template or use a previously configured template in Organization files. This repository of e-sign templates makes it easy to use the template for e-sign.
Follow these steps to setup a new signature template for e-sign:
Go to Files > Organization Files > hover pointer over an existing file and click on the ellipses icon and select Setup signature template.

Now enter a name and a descriptive message if required. Select a folder and set an expiry date with reminders if needed.
By default Employee will be part of recipient list (you can later select which employee the files are to be sent when sending a file for esign) or you can also search and add employees who will be part of this template.
Use the + Add Manager option if you would like the template to automatically include the reporting manager of the employee (for example: If Pedro is selected, the document will also be sent to Christine who is Pedro's reporting manager) automatically.
Use the drop-down to choose a role of the added employee or for the manager:
Sign role would mean that they would be required to open and esign the document.
View role only requires the recipient to open the document once.
Approve role requires the recipient to approve the document when sending.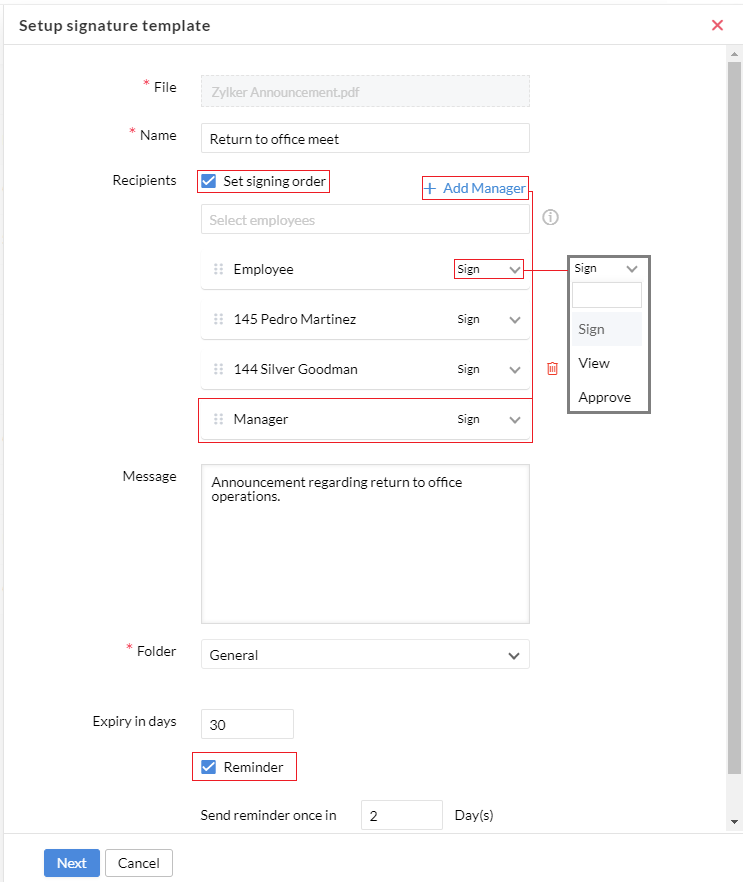 Now, click Next to setup the zoho sign template. You can select a recipient, drag and drop the corresponging signature fields into the documents. Other fields can be added too as required or use can use the Actions > Apply Field Template option to select a previously used field template. click Save to finish.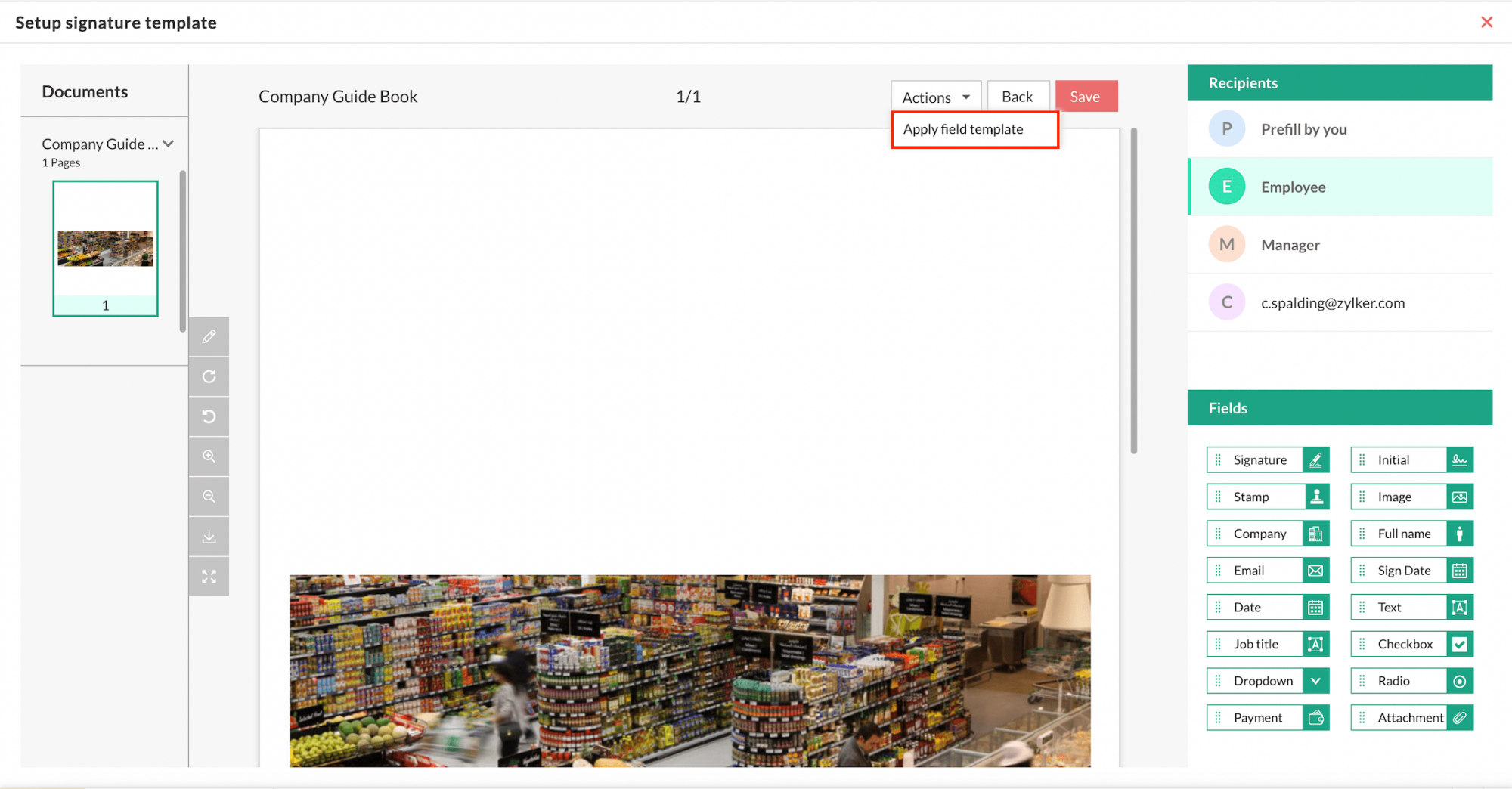 Now you can send the file for esign using Send for Signature option. You can choose to either Send to all employees or use the Select Employees option to search and add recipients. Since the + Add Manager option was enabled, the manager of the intended employee will also be a recipient, and in this case, they would would also have to sign the document.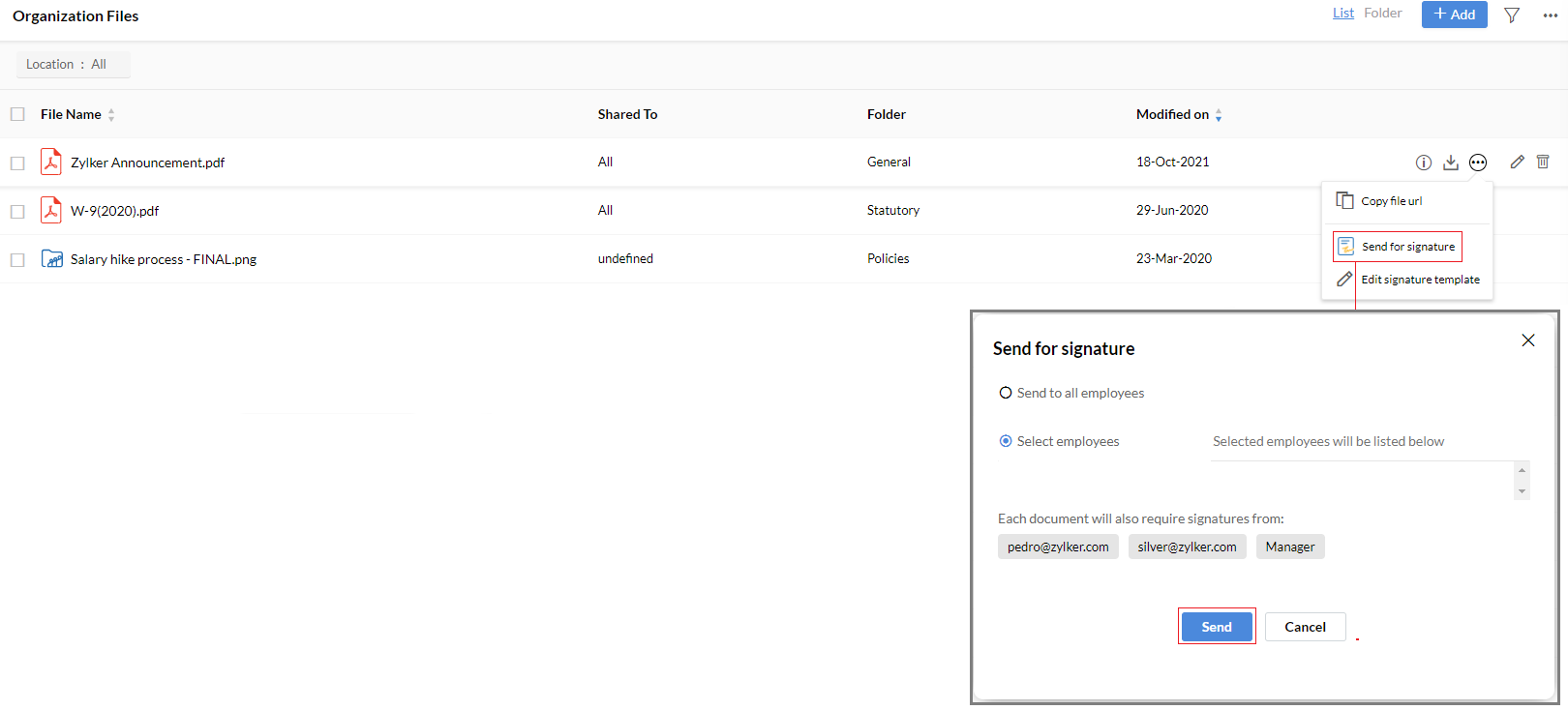 Click Send
Follow these steps to use an existing template for e-sign:
Go to Files > E-Signature > Templates.
Click the ellipsis icon beside the template you want to send for e-sign.

To send for signature directly, select Send for Signature. If All Employees is selected, then the file will be sent to all the employees for e-sign. Otherwise choose Select Employees and add employees.
Click Edit Signature Template if you want to make changes to the signature fields before sending it for e-sign.
Zoho People has integrated with Zoho Sign, Adobe Sign and DocuSign- three among leading digital signature software. The below sections explain elaborately on how to send documents for e-signing and tracking progress of documents from a central portal.